Brilliant use of an off-season chicken tractor: thwarting the black opossum
Brilliant. . . if I do say so myself . . . (cough) . . . I'll own up to it. Occasionally I come up with a good idea or two. 🙂
Gentle readers. We have an opossum problem. I just realized it earlier this week. It only took me a couple of months. I know. How brilliant am I, really? You know how necessity is the mother of invention? Well . . . in the same way, desperation is the mother of . . . of . . . new creative solutions.
I guess I'm a little dimwitted distracted these days, as I have a crazyhundredmillion few things going on in my life, all at once, but a few weeks ago when I found in our garage a little sample-sized bag of dog food that we had picked up (5 lbs, for those of you with really specific imaginations) that was torn open, completely emptied, and licked clean, AND the next morning when I found the cat food bin turned over on its side and half the cat food missing, AND still later when I found the 50-lb bag of wild bird seed that we bought to feed the (yes) wild birds torn open and scattered around . . . AND EVEN LATER when I discovered one of the heavy-plastic-paper bags of chicken feed out by the coop torn into and partially emptied . . . well, you get it already, I'm sure.
I stopped for just a moment to ponder it all.
And when these events all happened in turn, your astute and gentle blogger's reaction was . . .
"Gosh, this place is a mess. Somebody should really come in here and clean it up. I wonder if I could pay Reubsy to clean my garage. Naw. Maybe I'll just shut all the doors and not look at it for a few more months. Yeah, that's what I'll do."
When possibly my reaction should have been . . .
"Hmmmm, what on earth is emptying the dog food bags, and turning over the cat food bin, and eating half our winter's supply of wild bird seed?! Maybe I'd better figure this out, before whatever it is moves into the house and starts eating my canned tomatoes and snerly sweet potato harvest, too!" But no. And alas. Your gentle blogger didn't think any harder about the matter than to feel just a teensy bit irked at the mess in the garage. (cue Maxwell Smart voice) Wouldja believe it??! I know. *siiiigh*
I, too, find that very hard to believe.
I had to be pretty distracted not to think a little harder on this at the time. IN MY DEFENSE . . . the garage is an absolute wreck. (Reubsy would concur.) You might say "It wants cleaning, Amy," and you might be spot-on.
But. To continue. I missed all the very obvious clues that some wild critter was slipping into our horrid mess of a garage (I know! I could blame it on the earthquake that we actually felt here in Nebraska earlier this summer!) and feasting on all our pet/wild bird/chicken foods, but one evening when I stepped into the garage and came face-to-butt (my face, his butt) with the HUGE OPOSSUM, himself, who was doing all this cheeky pilfering, I didn't miss a beat. I am, after all, nothing if not a Woman of Action.
I stood absolutely stock-still for at least three minutes, staring at this opossum's butt and long, thick, naked tail, wishing mightily that I had the courage of my Facebook-friend Jessica, who—when her friend asked for help in ousting an opportunistic opossum that was eating her chicken eggs, pulled on her gloves, marched right into the chicken coop, grabbed the offending creature by its scruff, and tossed it out on its butt—but no. I formulated my cunning plan.
And instead . . . when I started breathing again . . . I stepped quietly over to where the critter was perched and studied his backside. I (bravely) gulped. He was the biggest opossum I'd ever seen; he had his greedy face deep into a big bag of wild bird seed (which I had lifted onto a firewood box, and secured the top so nothing would get into it, ironically); and he was (I am not making this up) glossy and utterly and completely black. 
Have you ever seen a huge glossy black opossum before? I certainly haven't. In fact, it wasn't until the critter turned to look at me, placidly crunching down that seed, that I was sure it wasn't some sort of grossly obese rat. *shuddering*
For a point of reference, here's a picture of the opossum that we caught in a live trap a couple years ago, during the disastrous and vile dreaded varmint siege. You can see that he has a rather handsome coat, but it certainly is not black.
Now I consider myself a fairly brave person. Keeping critters and living in the country, tracking mountain lion tracks across your property and seeing coyotes often in your windbreak; setting live traps for foxes and raccoons, all this makes you laugh merrily at once-scary things like spiders and mice, but that huge black glossy opossum, just crunching away and staring at me calmly over his shoulder, really freaked me out.
It was the devil in marsupial form, I was sure of it. Worse, it was in my garage.
I picked up the only thing close enough to toss at him–a little clay pot–since my feet were rooted to the garage floor and I couldn't move at all–and, like the wuss that I was, tossed it gently at that huge black shiny butt. The opossum didn't move. It just grinned its evil devilish grin at me, formed the words with its creepy pointy-teethed maw "That the best you can do?" and kept munching!
Wouldja believe it?
Just then, Scout pushed herself into the garage behind me, and the critter hissed and ambled off the woodbox and through some junk (*wincing*) and underneath some more junk (*bla, whatev*), as fast as an overfed and obese marsupial can move through a junky garage.
I do believe I heard it burp on its way past. Nasty.
Scout went scrabbling after him, but she is not the speedster that Bea was, neither is she as potentially-vicious as Ollie was. She seemed to be more curious and frightened of the furry critter than anything. Later, when I regained my power of speech, and could move again, I did what every prairie woman would do in the circumstances, two things, actually: I sent my son to set up a couple of live traps, and I called my mom.
Mom's advice was what propelled me to real action "You absolutely have to close up your garage," she said, "or put your pet food where nothing can get to it." Of course, Mom was right. As is so often the case. 🙂
Closing up the garage wasn't hard to do, and that kept the cat food, the dog food, and the wild bird seed safe, but I buy a very large quantity of grain and chicken feed from the local elevator every few months. I store it in large bins and plastic trash bins. In fact, I was due to go the next weekend. What to do, what to do? I didn't have room in the garage for all the bins of wheat that I was planning to buy. Furthermore, the shed behind the house had to be devil-opossum heaven. There was no way to close it all up so it was opossum-proof. And that horrid critter would surely tear into bags of chicken food, they could no longer be out in the open, either.
Then—it came to me, one morning on my way out to feed my chooks. There sat my chicken tractor, which I keep in use all spring and summer, raising chickens, separating roos, whatever I need (it is very handy), but which sits empty the rest of the year. It would be my winter-feed storage unit! Of course! It sits out close to the chicken coop, so would be extremely handy for storage. I could put a new tarp on it to keep the weather out, and it had a nice latch on the door.
I was supremely happy with myself for thinking of this. In my o'erbusy addled state, no less! You really can get water from a rock, if you squeeze it hard enough!
The only tricky thing would be scheduling with my o'er-busy hubby to help me load the trash bins of grain into it. A huge trash bin full of grain weighs (literally) as much as I do, if not more, and is not something I can move myself. Obviously.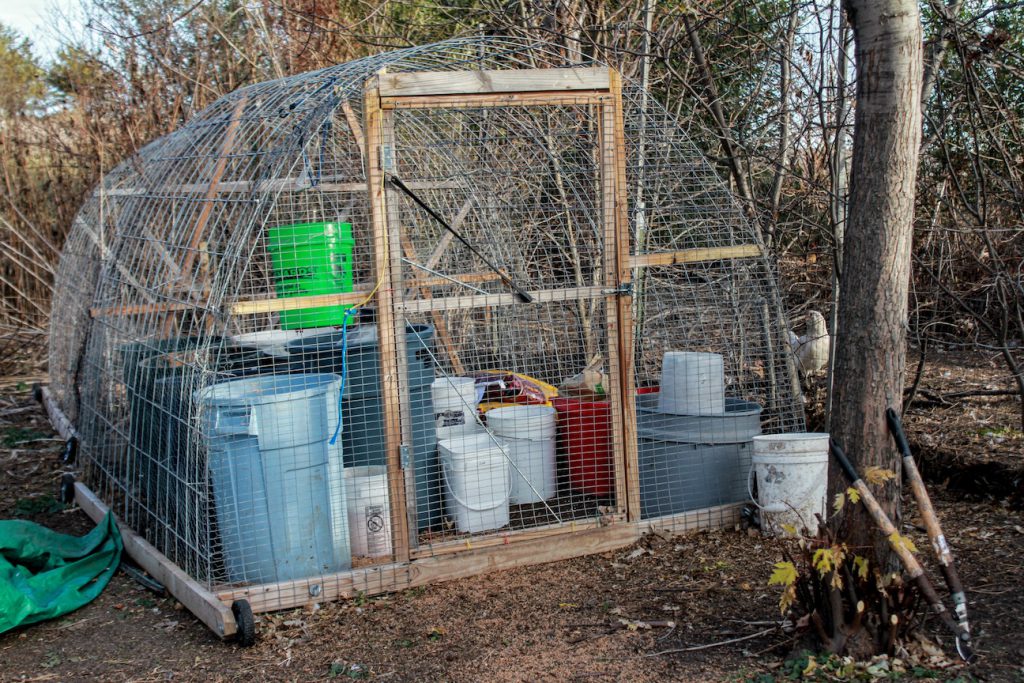 So the rest, gentle reader, as they say, is devil-opossum and chicken-tractor history. I bribed my good hubby to help me (with a fancy coffee from our coffee shop in town and a blueberry muffin) and within an hour or two, we had a winter's worth of feed for my chooks and piggies hauled from the elevator and installed into my new winter feed storage unit a.k.a my old summer chicken tractor, and a new tarp stretched over the whole shebang. Boom, baby.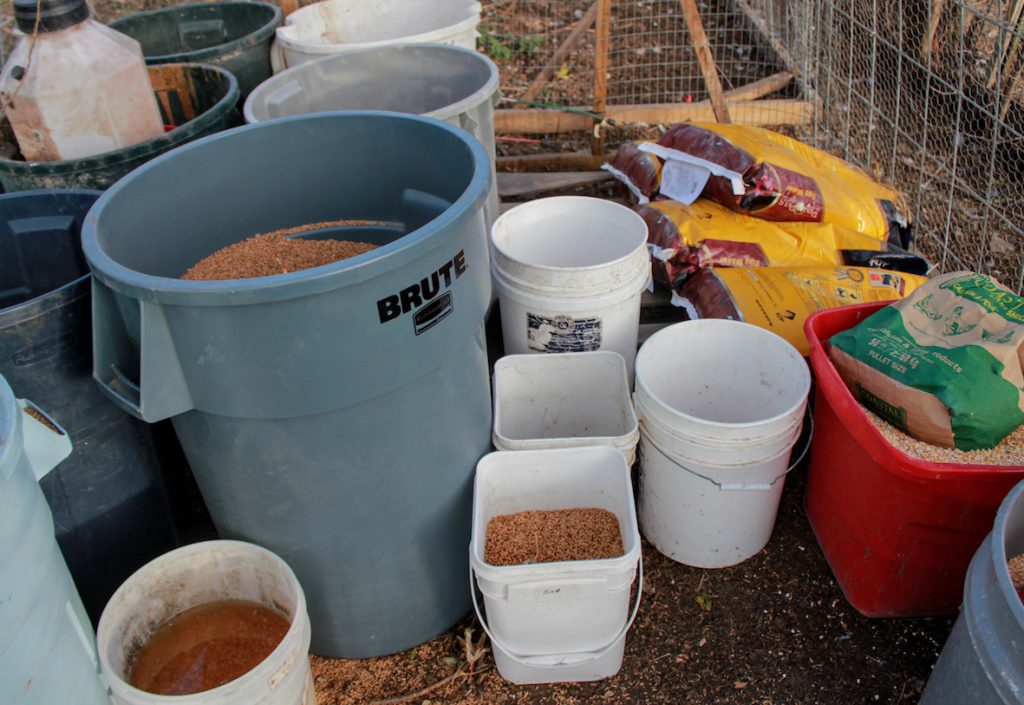 Now I have room in my tractor for bags of feed (loaded onto a pallet, to keep them from getting wet) and several trash bins of grain, some equipment that I don't have room for in the coop, and several 5-gallon buckets with sprouting and fermenting wheatberries, which make up the bulk of what I toss to my chickens. I feel so smart. 🙂 <—–me, feeling whip-smart
A humongous tarp fastened to the tractor with zip-ties completes the unit and should keep it all dry and snug.
P.S. We haven't caught that doggone black opossum yet, in our live traps. If we do catch it, Mack promises me that he'll tan the hide and make me a hat out of it (*shuddering*).
If you want to check out how to make one of these handy-dandy multi-use structures, check out this post.
And. Can I ask a favor? I do spend lots of time writing and putting together these posts. I'd love it if you'd take a few seconds and comment below, even just a few words, to let me know if I'm on the right track here or not. I love having you chime in on our adventures, and whether the information I share is helpful to you or not. Or. Maybe this very thing has happened to you, too! I'd love to hear about it. And if you have friends who might enjoy or benefit from this post, please do me an added favor and share it on your social stuff. And thank you. I do appreciate you!
*hugs*
Save