Happy Fourth Anniversary to my Blog, and BIG Celebration Giveaway!
Oh, Gentle Reader. Hello. Here we are again, eh? 🙂
Four years ago I started writing a blog. This very blog you're looking at, with the redonculous title and silly story from whence it came.
I had been ruminating (to use a nice farm-related word) on the matter of starting it for months—many months!–putting it off, waking in a nervous sweat thinking about it, praying and writing in my journal about it. Deciding. Discarding. Re-thinking. Abandoning. Feeling gently self-critical for not being able to Just Decide, Already.
Should I? Could I? Would I? Around and around I went. No! Yes? Huh-uh. Yup! This blog idea had been a burr underneath my saddle for so long: it hurt; it bothered me; and I couldn't stop thinking about it.
Surely that was a sign that the idea was one that I should pursue?
I decided: YES. I'd do it.
My patient son Timothy sat down with me and helped me set up my blog, line by baffling line. My graphic designer son Andrew designed a new theme for me, which I loved. Hubby Bryan paid for the first year's web hosting. Andrew and Sonia (trusted advisors) applauded the name that came to me early one morning: "Vomitingchicken.com . . . is it too . . . gritty?" I asked them. "No! It's memorable! It's perfect!" they said, and so that's what I chose.
Then . . . despite goodly cases of the jitters and nervous misgivings, I wrote (and re-wrote) a story, prayed over it, gritted my teeth, closed my eyes, held my breath, and pushed "post."  It was Matthew's birthday because it pleased me to start my blog on my oldest child's birthday.
Then–triumph and panic in my heart!–I turned off the family computer with a flourish, hoisted bags and pillows and blankets and cases of food into the car and headed to our family camp-out weekend at Ponca State Park. Of course there was no internet or wifi there, and I was so glad there wasn't! I was happy that I would be in the dark for a few days, internet-wise, very happy indeed!
I felt exposed and vulnerable. What if nobody read my baby blog? Worse, what if somebody did? I couldn't decide which scenario would be most dreadful.
It was a toss-up.
Well, okay, I did want to know, actually, in the worst way. Of course I did. I felt like I'd left my underwear out on the line, for everybody to see. I have been writing stories, after all, my entire life, ever since I could piece together words on a page, but they had always stayed quietly and politely in my journals. To put them out on the internet where everybody and their dog could read them? That took guts, for a shy girl from The Sticks, Nebraska.
I had done it. I quietly chewed on this fact, during the camping weekend. I didn't talk about it, but I thought about it a great deal. Would anybody like it/me? Would I be able to grow an audience? Did the world need another voice to read? Did I have anything unique to add to an already-crowded space? I was/am a quiet gut-less mama with farmer aspirations, but I had started a blog. Back then–four years ago–I didn't know anybody else who had one.
After the weekend came to a close, I went home and unloaded the car, (whistling casually) threw a batch of sandy laundry into the washer, put away camping supplies, unpacked the cooler, and all the while I held myself back. I wasn't sure I wanted to know . . . but finally when there was a lull in the unpacking, I went to our library alone, and quietly powered up the computer, holding my breath all the while.
Had anybody read my story? Had anybody cared enough to make a comment? Were there dreadful aspersions cast at my lack of writing ability?
But no. There were a few very nice comments, and evidence in the stats that dozens (dozens! I was dizzy with joy!) had actually read my story. Feedback: now this was something new. I chewed on it for a minute or two and decided that I liked it. Nobody gives you feedback on stories hidden in journals, after all.
Ever since that day, I've been writing and publishing and posting, taking photos and taking notes. Learning all I could about blogging and writing and technical problem-solving (my sons can't solve all my computer problems, after all), usually only in the wee hours of the morning when the household (and all my critters) are still snoozing. I started a vomitingchicken.com Facebook page (on which gentle readers and I connect and share thoughts and experiences). I opened a shop, featuring some of my favorite things. I picked up a few affiliates, and I wrote one ebook and co-authored another one. I learned how to use Twitter and Instagram and Pinterest. 
We have stayed pretty busy at home, as well, with non-blogging business:
Those are just the high points. Clearly, lots has been happening in our neck of the woods, in the past four years.
Through it all, I've gotten to know you readers through your kind comments and emails and best of all, made friends with so many of you. You gentle readers are such a blessing to me.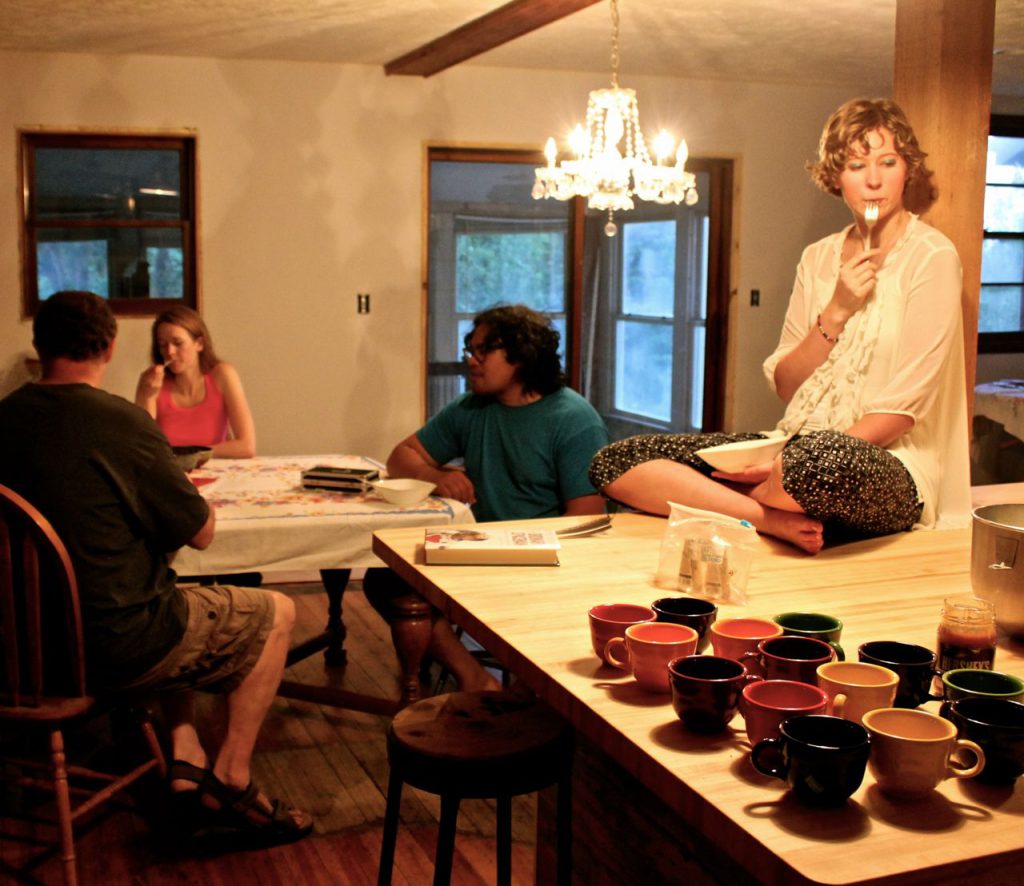 The best thing about writing a blog? Two things actually: connection, and the precious gift of sharing my life with you. In an ironical world where people feel more separated from others, partly due to increasing use of screens to accomplish tasks, I feel quite connected to all of you. I know many of you by name and–though I've never seen pictures of most of you–feel that I'd recognize you on the street if I was lucky enough to pass by you: Pete and Lucy, and Rose, and William, and Nathana and Jillian: And that's a pretty cool thing.

Now in the There's No Accounting for Taste Department, here's Vomitingchicken.com by the stats, for those of you who geek out on such things:
Goals and hopes and dreams for the future? There are many: I have a new chicken-related ebook (hint: it's fun!) in the works; I have another book of stories, with my own drawings to illustrate it, in limbo; Amalia and I are in the beginning stages of working on another Halfling recipe ebook. I want to start a blog shop with my artwork in it. All these things make my heart very excited, indeed. I hope to get to know more of you, and to continue to share the things that are going on at our place.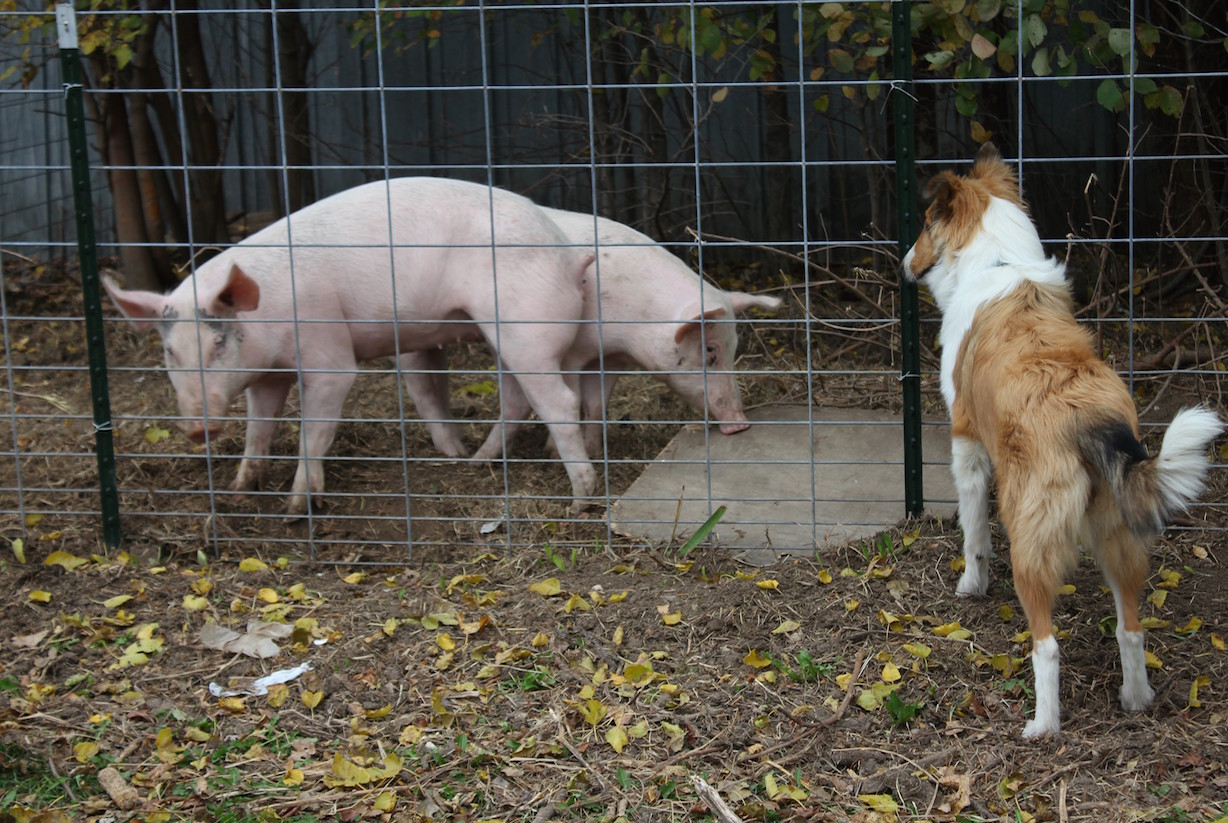 My ultimate goals? To share that this life on earth–while it is as imperfect as it can be–can be very beautiful, indeed. To teach others the simple homesteading skills that I've learned myself. To help as many good folks as possible to learn how easy it really is to bake a loaf of bread; to grow your own radishes; to raise chickens or even a couple of pigs if it is in your abilities to do so. To demonstrate that keeping a few chickens and growing a few veg and connecting intensely with your children and your family can bring joy and intense satisfaction. That a growing relationship with a merciful and gracious God can turn your life around. That it's not all that hard to cook a chicken or make pickles. That baking bread is not rocket science. Pretty simple ideas, really.
Thank you for taking the time to add your comments, for sharing my posts, pinning posts that you want to look at later, heck!-even just telling your friends about vomitingchicken.com. You have hundreds, well, thousands of blogs and other reading material from which to choose, and for some reason you've chosen to spend time here with me. Thank you. Thank you, thank you, thank you.
Thank you for making my life richer. You gentle readers are too good to me. 🙂
I have a surprise for you. When my siblings and I were ornery little kids, whenever Mom and Dad took off someplace without us, we'd always yell "Bring us a Surprise!!" and bless them–they nearly always did. To celebrate my four years of blogging, I have put together four surprise packages that I want to give away. Here's what is in them:
Something creative: A copy of my son Andrew's fabulous coloring book that becomes a big work of art.
Something clean: A bar of homemade goat-milk soap from my favorite artisan goat milk soapmakers at Lomah Acres.
Something with promise: Perennial flower seeds gathered from my gardens at Old Depot Farm.
Something soft: A lovely cotton washcloth knitted by Amalia, my daughter who has her own Etsy shop now (more about that later!).
Something sweet: A bottle of raw honey from our place. 🙂
Something personal: A personal note from me. For what it's worth.
Something rolly: One of the gift packages will include one of my Dad's mini-rolling pins, from my blog shop.
Enter the giveaway below to win one of these surprise thank-you packages. Each package will be a little different from the others.
Oh! If you have a couple seconds to spare, would you please share this post? And if you'd like to continue to keep in touch, please sign up for my email list, above and to the right. Thanks, guys.
Have I told you lately? You're my favorite. You. Are. You mean the world to me, and I appreciate you all. So much.
*hugs*
Save
Save
Save
Save
Save
Save
Save
Save
Save
Save
Save
Save
Save
Save