Twelve Cookies of Christmas: Ironic Christmas Macaroons
Today, Gentle Reader, we will catapult ourselves into Christmas preparations by starting the cookie-baking, stat! (Hang–on–tight!! Those catapults really have some force!) I had specific goals to tackle with the macaroons that we baked today. I decided that I would rescue the boring ole' macaroon, and furthermore, to Christmasify it a bit. And also, I hoped to make it a bit healthier, without sacrificing anything.
A tall order, all those things coming together . . . and then for the cookie to actually be good enough to share? Hmm. Could we do it?
Mack wanted to help, hooray! and so we got started. The first thing we had to do was to toast the pecans. (Ahem. Parenting/cooking tip. While pecans are toasting on the stovetop, you cannot turn your back and walk away and chop up cranberries, for example, or locate the candied ginger. You have to be there, body and soul. If you turn away for even a moment, the pecans will burn–you know they will!--and pecans are too dear to burn. The bag gets smaller and the price bigger, it seems, by the day. BUT putting a little boy in charge, with a well-aimed comment on his sterling qualities of paying attention, and stirring–is a savvy way to accomplish toasted pecans while you are doing something else vital.)
It's possibly a bit of an over-ambitious plan, to determine to bake twelve kinds of our favorite cookie recipes over the next couple weeks and then share them with you (the recipes, not the cookies, although wouldn't a great big Christmas cookie-tasting party be fun?) but what's life without a good challenge or two to fuel our imaginations and energies?
Dull, that's what. And I don't cotton to dull. I have a suspicion that you don't cotton to dull, either. Else why would you read a blog that uses cotton as a verb?
Ha. I just thought of that.
But. Back to the cookies! I shall not get distracted again! I . . . promise . . . !
Well. One last little bunny trail. And then we will focus! On the subject at hand—cookies!

I love to have bags and containers of special cookies in the freezer, to pull out at Christmastime when all the kids are home and my joy is complete, and also to share with friends and neighbors who might drop by for coffee. But.
There's more to it than that, as there usually is. Amalia is on a restricted diet, and I am too, for the time being. She is bravely battling a chronic health conundrum, and I (simply) am her mother so am joining her–so we aren't eating sugar (or a host of other lovely things, alas) but literally are dreaming about it. Misery, in this case, loves company. My daughter has been brave and (mostly) uncomplaining about not eating so many things that she loves, but she did wail quietly about the coming of Christmas, more specifically . . . What about Christmas cookies, Mom?
Gosh. Even thinking about that makes my heart hurt. Ouch. As parents we don't want our children to lack for anything, even the sweetness of cookies at Christmastime. My heart goes out to parents with children who are battling health problems, this time of year, especially. It's a silent, painful, inner skirmish. You worry about it a little (or a lot), all the time, no matter whether you are alone or not. You try not to let anybody know that it is uppermost on your heart. Ouch. There it goes again. You burst into tears at odd times, and wake up in the night and worry, and pray.
Excellent health is not a given. We take it so for granted, don't we, when we have it?
So.  This is the compromise that we are making, regarding cookies and Christmas. We are still going to make the usual Christmas goodies (else the self-pity might be a bit thick around here) but they'll go into the freezer until Christmas and then we'll pull them out and share them with our family and friends, and allow ourselves a taste–a taste!–of each one. Also we'll do our best to clean up the recipes as much as possible, without sacrificing taste or texture or awesomeness or whatnot.
And we'll add a note or two about other Christmas doins' at our house, in each post, just for fun. 🙂
Like this: We bought our Christmas tree, but we haven't put it up yet. All our neighbors have pretty lights on their houses, and we have not even one. Yet. The pressure is on. Now it's your turn: what about you?
We'll blog about twelve different cookie recipes before Christmas—that's the plan!–and we'll photograph and document each one. Mmm. Are you ready? Let's do this thing!
Here's the first Cookie of Christmas: I totally think we should get some Christmas colors in here, don't you?

Ironic Macaroons
Ironic Macaroons! Why ironic, you may well ask? I may well tell you. Ironic in this case means (because, Gentle Reader, I just chose to use the word this way, so I can tell you what it means) surprising, unexpected.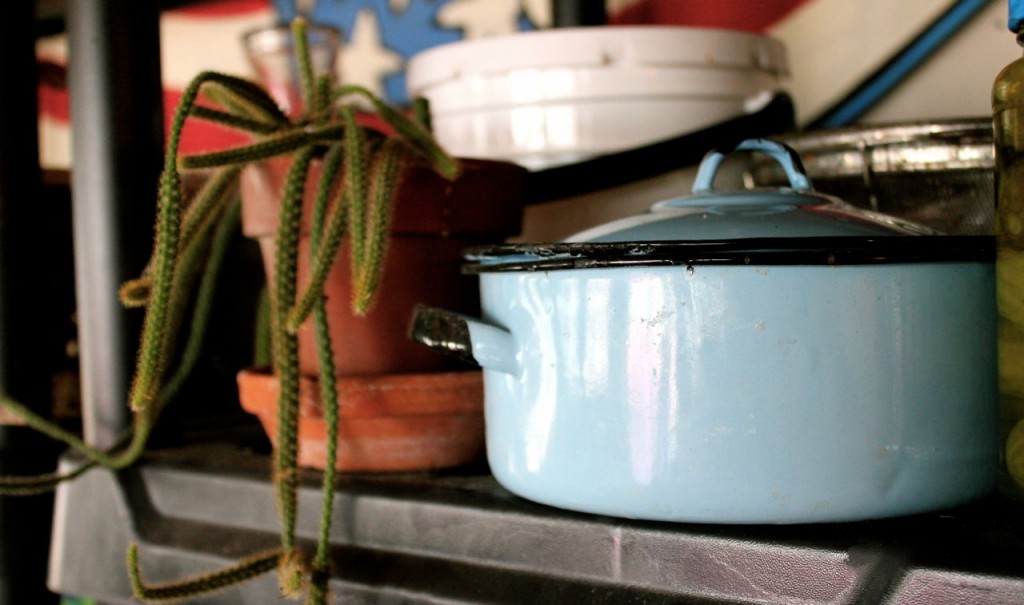 I made some candied ginger, and it is driving me crazy, as I'm trying not to eat sugar, and it is liberally crusted with the stuff. I keep it in this winsome lidded enamelware container on a high shelf in my sunporch-cum-temporary-kitchen, and every time my eyes sweep across it, my mouth waters. Like Pavlov's dog. So silly. There it goes again (swallowing). Only more desperately, pitifully, longingly, than any dog.
Candied ginger. I just love the stuff, but if I start eating it, I can't stop. It's so chewy and sparkly and delicious. It's not Twinkies or chocolate chip cookies or chocolate cake that is tempting to me. It's the candied ginger in the blue enamelware.
Somebody help me. Come eat all this candied ginger that I made!
I chopped up some of it into a batch of ginger-pear marmalade, feeling clever as all get-out, and then my friend Gene said that he makes the same stuff every year! Well. So we are both startlingly clever, I think.
I started eyeing my macaroon recipe. I decided that candied ginger, chopped up fine, might be a dandy addition to macaroons. It certainly would make it a more interesting cookie, especially if toasted pecans, a handful of chopped cranberries, and just a drop of almond extract were also put into play. And replacing the sugar with honey, to make it okay for Amalia to eat? Done.
I'm not such a fan of the typical macaroon. As I mentioned earlier—a bit dull. As a matter of fact, little Mack and I made a batch last week–it was a science experiment, no kidding!–and they are still sitting in a bowl in the kitchen. Nobody is crazy about them. Probably they'll go to the chickens one of these days. My mom's macaroons, on the other hand? Big fan. But everything my mom makes is over-the-top delicious. That's a given. The typical macaroon, however, is too sweet for my tastes, and lacks chew. It oftentimes is dry inside and when you bite into it, bits of dry cookie drop down on your dark sweater front. The rest of the day, you are brushing them off.
It can get annoying.
But these Christmas macaroons we came up with are different. They are anything but dull. Ginger adds such a nice chew and a delicious tanginess that counteracts the o'ersweetness of your typical macaroon. And the cranberry bits and toasted pecans catapult it into the Christmas cookie realm.
And see how nicely that catapulting theme came full circle? (patting back) Guess what? After I made these, I realized that they are, after all, sugar-free and gluten-free too. AND they are worth eating. Score.
Oh, and if you're a chocolate fan (and who isn't?) do feel free to drizzle a bit of melted chocolate on top. Yum. The darker, the better, oh yeaaaaah . . .
Ironic Christmas Macaroons
Recipe Type
:
Christmas cookies!
Author:
Prep time:
Cook time:
Total time:
Adding candied ginger, toasted pecans, and chopped cranberries to my macaroon recipe may sound ironic, but it was total success! These cookies are chewy, crunchy, and satisfying, and freeze well. And they are sugar-free!
Ingredients
14 oz sweetened coconut, blended a bit
1/3 cup honey (raw, if possible)
5 large egg whites
1/4 tsp salt
1/2 tsp almond extract
1/2 cup cranberries, chopped fine in the blender
1/4 cup toasted pecans*, chopped
1/4 cup candied ginger, chopped well
semi-sweet chocolate chips, melted, for drizzling (optional)
Instructions
Preheat oven to 325 degrees, and line a cookie sheet with parchment paper.
Toast pecans* until aromatic, chop, and set aside.
Chop cranberries in the blender, set aside.
Chop candied ginger and set aside.
Use blender or food processor to process coconut into finer shreds and (you guessed it) set aside.
Whip egg whites well, until frothy, adding honey and almond extract.
Mix together all ingredients, with a gentle hand, and then use a spoon to plop out small mounds on a parchment-lined cookie sheet.
Bake cookies for 25 to 30 minutes, until they look a bit toasted on top.
Let cookies rest on the sheet for 10 minutes after baking (or you can let them fully cool in place, if you're not in a rush to use the cookie sheet), as they'll be hard to move right out of the oven.
These cookies will firm up as they cool, if, that is, they last that long.
If desired, melt some chocolate chips and drizzle over the tops.
*To toast pecans: Turn your stovetop on, and dump them into a cast iron pan. Cook, stirring nearly constantly (they do like to burn) on medium heat for about 10 minutes, or until aromatic and golden. If they get black, you've cooked them too long, fyi. Toasting nuts is risky business.
Yum, yum–what are your family's favorite Christmas cookies? I'd love to hear about them in the comments below.
Thanks for reading here, you sweetie. You're the best.
*hugs*