Wait–don't throw those radish leaves away! Make soup, instead!
Perhaps you've been munching away on fresh radishes from your garden or the local farmer's. In Nebraska, the spring radish season is not very long, but it's delightful. The fall radish season, in my opinion, is even better. Cool weather makes for crisp and delicious radishes!
We indulge in radish sammages and slice up radishes in every salad, and we eat them by the handful, sometimes smeared with a bit of butter, always heavily salted and peppered.
And we make soup out of the leaves. Wait. You mean to tell me that you've never made Radish-Leaf Soup?  Oh, Gentle Reader, that is sad. Very sad, indeed. We must fix this problem right now. Radish leaves–wouldja believe it?–are even more nutritious than their roots, being a valuable source of Vitamin C, protein and calcium. They've been used to treat kidney and skin disorders, fight cancer and even soothe insect bites! Cool, huh? Who knew? Well, now you know, gentle reader.
A valid question: if radish leaves are so good for us, then why–oh why?–do we throw them into the compost bucket, I ask you?
We don't, that's what. We make them into soup.  It's easy as 1, 2, 3 and only takes a few ingredients. So what are you waiting for?
Let's make something good from these babies!
Wait–don't throw those radish leaves away! Make soup, instead!
Author:
Prep time:
Cook time:
Total time:
Radish leaf soup is quick, easy, delicious and so good for you! I like to serve this soup with a crusty grilled cheese sammage and some fresh fruit, but you, of course, can eat it with whatever you like.
Ingredients
3-4 cups fresh radish leaves (no pesticides)
1/2 stick butter
2 Tb flour
2 cups water or stock (chicken or vegetable is good)
1/2 cup half and half or milk (half and half is creamier)
1 egg yolk
fresh ground salt and pepper
Instructions
Wash leaves thoroughly.
Melt butter in a pot, add leaves, and stir for about 3 minutes.
Sprinkle flour on leaves, and add water or stock gradually.
Let simmer for 8 to 10 minutes.
Let cool. Blend (in blender or with a submersion blender) until smooth.
At serving time, mix half and half and egg yolk and add to soup. Season to taste.
Heat and serve.
(This soup is also delicious cold.)
Of course you'll only use radish leaves that haven't been sprayed or powdered with pesticides, but you knew that already, right? And a few bug bites won't matter in the slightest. By the way. 🙂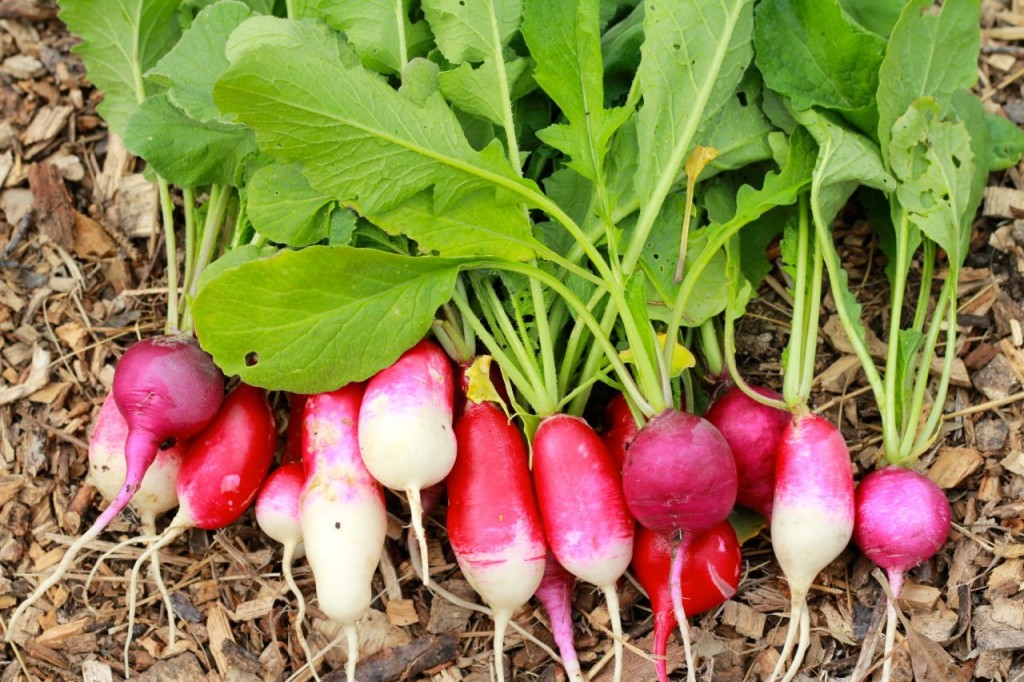 Save