What is saving my life right now . . .
Anne Bogel, the writer of the Modern Mrs. Darcy blog, started a series years ago that resonated with me. The idea was taken from Barbara Brown Taylor's memoir Leaving Church,which I haven't read yet, but intend to. 🙂 (It's fun having a big ole' drooly pile of books to look forward to, isn't it?) 🙂
The "saving my life" concept is this, in a nutshell: while nearly anybody and their dog can make a list of what is killing them at any moment (hmm, for me today: not sleeping well at night, the usual clutter, post-melodrama let-down, dust and dirt, a bad cold) we may struggle to come up with a list of what is saving us right now (um . . . . *thinking* . . . ).
This idea spread through the interwebs like crazy, and I've seen a lot of blog posts (even my own lovely daughter Bethany's) of these lists, primarily (and notably!) published through the gray winter months.
Ergo. My list. The fam and I have been crushingly, happily busy producing our annual (and 15th!) melodrama this last weekend (see photo above), and so I have been operating in that familiar (yet still distressing) Realm of Overwhelm for several weeks. I always get during this time, and join half the cast of our show in carrying around my own personal box of tissues, interrupting conversations frequently with a volley of sneezes, and chugging this tea and a handful of vitamins every few hours.
But. All that said, there are some quite wonderful things that are saving my life right now, to wit.
1. Loaded smoothies
During our melodrama season, the usual o'er-conscientious nutrition at our house goes out the window. We do things we don't normally do, like grab double cheeseburgers and french fries at the McDonald's drive-through window, three–days–in–a—row, because we are rushing over to the theatre to paint set and we have our legal-pad list absolutely hounding us, and we suddenly realize that we forgot to eat lunch. Again.
To counter this dietary carelessness, I make a loaded smoothie nearly every day, and force everybody to drink it. 🙂 Power to the mamas, baby!
It soothes my conscience a little. Into the blender I toss the following:
1/2 container of frozen orange juice
1 cup milk
1 cup water
1 tsp vanilla
2 cups of ice cubes
knob of ginger root, peeled
2 Tb chia seeds, soaked for 15 minutes first
1/2 banana
2 handfuls of frozen aronia berries (blueberries would be great, too, if you don't have aronia)
Though the kids would really just prefer plain ole orange Julius (blend the first five ingredients only, if you want to try our version), they will drink this (said through gritted teeth) and like it, too. I remind them that this smoothie—with the goodness-packed ginger and chia seeds, and antioxidant and antiviral aronia berries, is probably keeping them from getting sick this month.
2. Verdi
What timing! The week before Show Week, our Shimmy (our beloved red Trailblazer) broke down, leaving Bryan stranded halfway between our house and the town where our theatre is, with a trailer-load of set pieces and cans of paint, and a broken transmission. We drive old, used cars, gentle readers. We are not status-vehicle folks, no, far from it. We are practical-vehicle folks, all the way.
With a practical vehicle like a well-used Trailblazer, usually a defunct transmission is the death nell. It just costs more to put in a new one than the car is worth. So we are shopping for a used transmission, which takes time. More than likely we will pass our lovely Shimmy on to Amalia for a college car, once it is fixed. We are shopping now (now that the play is over) for a new family vehicle, but in the meantime . . . . the kids and I are not stranded.
We have Verdi.
Verdi (or Verdigris) was Timothy's truck until he bought himself a new little car. I really admired this pick-up truck of his, and secretly plotted to buy it when he decided to upgrade to a more fuel-efficient car (as I knew that he would). The day came. I wrote him a check for Verdi. And Verdi was mine. I can't tell you how much I love driving this old rusty character around. It is not logical. It makes very strange (and a bit scary) noises. It drinks gas like I drink ice water on a hot day.
We all have warm feelings and associations with Verdi, since it was Timothy's. We all love Timothy, of course. 🙂 And now I am even more devoted to it, as it kept the kids and me from being stranded during the couple of weeks preceding the melodrama. Now that would have been a killer!
There is a town not too far from us, called Verdigris. It is a Czech town, and proudly calls itself "Kolache Capital of the World." 🙂 During the summer, they have a big celebration called "Kolache Days," celebrating the fruit-filled pastry that is so popular around here, especially among those with Czech roots (I just decided that I really need to drive Verdi up there this summer, and take a picture of Verdigris in Verdigris. And maybe enjoy a kolache or two).
Here's more info from Wikipedia, if you are interested in taking in this little town:
During the summer, usually the second week of June, Verdigre hosts a huge festival celebrating the kolache and usually provides rides, tractor pulls, both duck and turtle races, live music, mud volleyball, kolache eating contests, and a variety of activities for the community. Verdigre crowns its annual Kolache Queen during this festival. Kolaches are sold in the local bakery. The city elects Kolache Royalty during the festivities.
Don't argue, kids. We're going. There's polka dancing, after all. 🙂 And both duck and turtle races!
3. My hoop house
I wish that I could wave a magic wand, and give each of you avid gardeners (especially those of you with long gray winters) a hoop house. My hoop house is unheated, but on a sunny day, even during the winter, it is warm inside. I've been harvesting (and selling) edible flowers all winter, and for the past several weeks, I've been sowing cold-loving crops in there: kale, lettuces, spinach, radishes, more edible flowers. I only wish I would have had this structure when I had lots of littles at home. I would have totally had the boys' Tonka trucks and other toys out there, and would have appointed one corner theirs to dig and play in. A load of sand would have been nice, too. 🙂 Ah. "Coulda–woulda–shoulda—" as my Dad always says.
4. This kid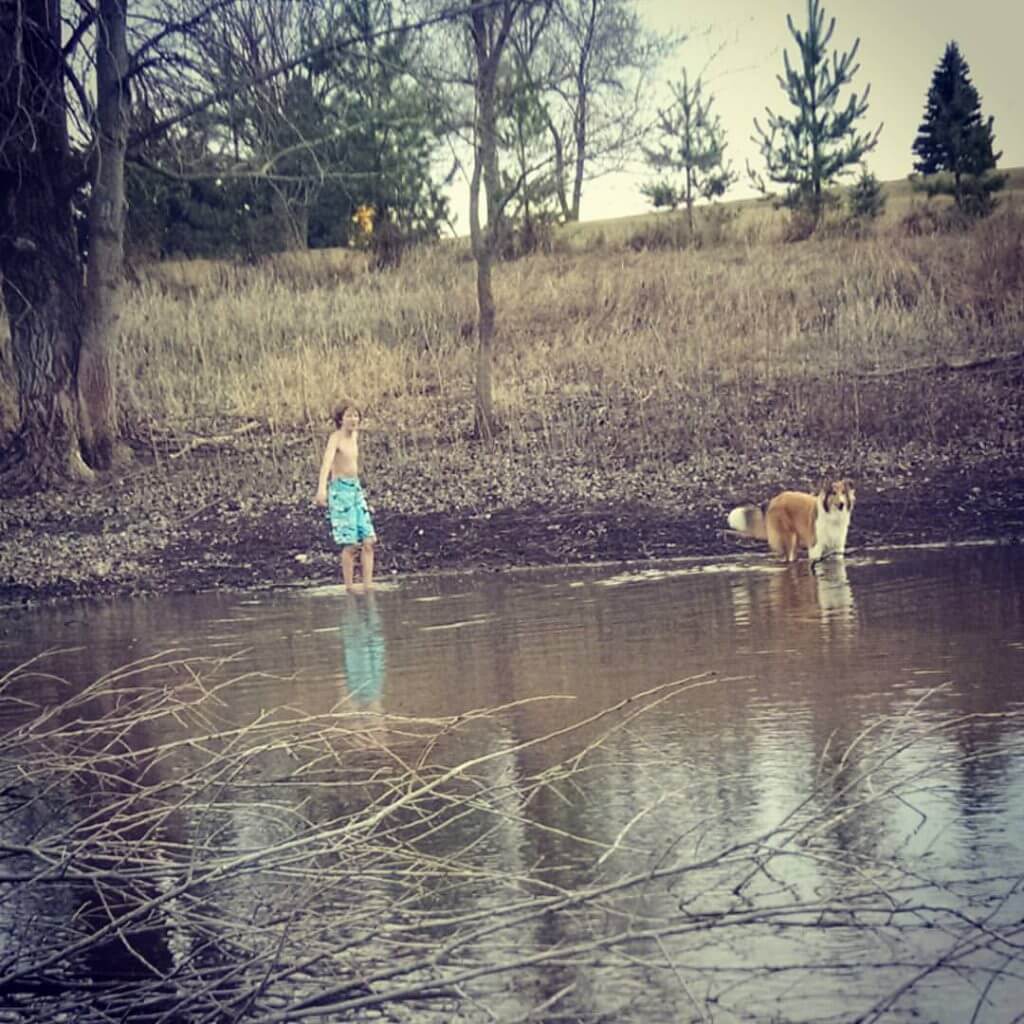 Amalia has had her shares of ups and downs lately, with her chronic migraines. We are continuing to pursue one strategy after another, but they persist. There doesn't seem to be a fix, at least not one that we've found yet.
Through it all, Mack is by my side, helping me with things that Amalia usually would. He is untiring in his efforts to cheer us on her bad days. And he drags me outside to show me things, when maybe I really need to go outside to see things. He is my constant companion and we have much in common: a fascination with the natural world is something we share. He and I keep the wild bird feeders full, draw and paint together, play duets together at the piano, watch the growth of his tadpole Igor, run outside to listen when the coyotes are howling, go for long rambles through the woods, walk out to the chicken coop together at night and look at the stars and talk about anything and everything. He is growing up so fast. I am achingly grateful for him.
He is on the cusp of adolescence. He thinks he knows everything. Sometimes he's a total pain. Truth. But it is time to tie strings, make good memories with him, so when the turbulent and confusing teen years are upon us, he'll still want to talk to his dad and me.
6. This book
I love working out and exercising, I do! I do workouts nearly every day, year-round–I have to stay strong for garden season, ya'all!!–and I love it when I find a new one that really suits me. I started this program after Christmas.
I have no doubt that if you followed the exercise and diet schedules in this book, you'd lose quite a bit of weight and inches. I haven't really been following the diet recommendations (See #1 above), but I've been doing the exercise plan. One thing I really like about the exercises: they emphasize movements that you normally do every day. For instance, the squats and lifts are to strengthen your body to do the same basic movements (like picking up a suitcase with one hand, for example) that you probably do over and over every day. Also pretty sweet: warm-ups with a roller, which feel kind of like a massage. Which I like.
7. Making peace with tator tots
I am a foodie, i.e., I am an unapologetic food snob. I work very hard to feed my family the best: homegrown, organically cultivated veg and fruit. Home-raised meat and poultry. Raw honey. Etc. So I walk past the freezer aisles in the store with a sniff–generally–wondering (I'm sorry for this) what kind of folk buy–and eat–that stuff: frozen pizzas, frozen pot pies, french fries, tator tots, and the like?
(I know. I know. I do apologize.)
Turns out, my kind of people. When the choice is either 1. buy and prepare the ready-made stuff, or 2. go without, I decided . . . that I was buying. We had been quite busy balancing all the last few weeks' of drama tasks with the usual farm and home work, not to mention school for the kids. So we had been really sketchy in our meal choices. The loaded smoothies, above, made for lots of quick meals, but we were grabbing altogether too many of these quickie meals–cold cereal with milk and fruit, toast with peanut butter and honey, etc. I just couldn't fathom taking the time to plan out a "real" meal, like pot roast and vegetables, or roast chicken: the types of meals we usually eat every week.
But I hit a point where I was desperately ready to feed my poor family something better, without an evening's worth of dishes to wash afterwards. I had no time or energy to make a decent menu plan, and I hadn't thought about making a month's worth of freezer meals before the busy time was upon me (next year?).
So I swallowed my pride and joined the tired throngs in the freezer aisle, studying the various options. My goodness. Bryan ought to give me a medal or a crown (or at least a dainty tiara) for saving him money on prepared foods all these years. Turns out, the decent stuff is pricey, compared to what I spend to make it at home. But I bought it, anyway: frozen hamburger patties, pre-made meatballs, tator tots, pot pies, the like. And we started having "real" meals again. Of a sort. Our favorite comfort meal during this time: hamburgers, with all the fixins, tator tots, and roasted brussel sprouts and garlic (c'mon, I am still a foodie, even during desperate times!). *phew*
I hope you aren't too shocked. 😉
What is saving your life right now? I'd love to hear about what is making your life better, in the comments below.
And thank you, lovelies, for joining me in this little corner of the interwebs. It's so nice to be back.
*hugs*