Infinity Jars: Raising the Bar on Glass Jars, and a giveaway!
There are many fun things about writing a blog. This much is commonly known. Or, possibly not?

Here, I have an idea. I'll write a little quiz for you, just for fun, to test your savvy in this area. 🙂 Aaaaand I'll keep it quasi-easy by making it multiple choice, just because I love you so.
Here we go!
Tell me, Gentle Reader. Which of the following list, would you guess, is something that has happened to me since I started writing this blog?
Attractive people have driven up to my house and dumped bushel baskets full of money on my porch.
Television talk show hosts (also attractive, of course) have called me up, asking me for interviews.
I regularly get asked to be a prominent cabinet member for the President ("Secretary of Chicken Affairs.") By stunningly attractive (yet elusive!) Presidential Secret Service Agents, natch'.
I'm digging all these attractive folks, aren't you? If there's one thing I'd like to be, it's attractive like all these people are.
Sometimes companies will send me cool stuff.
Well? If you chose #5, you won! Or passed. Or . . . you got it, baby!
It's fun to meet new people who represent interesting small businesses, and it's cool to get new stuff in the mail, too! You all know full well that I live (basically) under a rock, so learning about JORD watches and sweaters for chickens,and any number of books that I have been given, in exchange for a frank and honest review, is definitely a fun part of writing this blog.
So, when the friendly (and undoubtedly attractive!) Tania at Infinity Jars asked me if I'd like to review some of their glass jars: purportedly "the best jars on earth": well . . . how could I say (and I quote) "No!"? (Answer: I couldn't!)
I am a bottle and jar collector from 'way back. I have them all over the place. I could tell you lots of stories about several of these jars and bottles . . . wait! Do you have time for a short (very short!) story?
Of course you do. 🙂 I'll try to keep it short, at least (hehee).
We were at our big annual family camp-out last fall, and my grandie Anya (aka "Princess Anee") and I had gone for a walk together, through the woods and down to the beautiful trout stream that was a focal point of the area. Here is something you may not know about your gentle blogger: Anytime (anytime, Gentle Reader) I encounter a lovely patch of water like that one–whether it's a mountain stream, a beautiful lake, a rushing river, the ocean, any type of water!–I have to fight a very strong desire to jump in. Me and water: we're like this: (imagine my holding up two fingers, intertwined, like . . .this . . . ).
Picture it: cool, clear water, rushing over sand and rocks, bits of water plants swirling around in the eddies. Absolutely beautiful. Very attractive. Coaxing me to come in . . . I itched to shed my shoes, roll up my pants, and go splashing!
But. Since I had my darling dainty grandie with me . . . and since I knew how cold the water was . . . and also since I wasn't sure how her good folks (*squirming*) felt about her getting wet . . . I held back. I kept control of myself, even as Anya pulled her hand gently out of mine. I tried to be good.
But then. 🙂 Quick movements caught my eye, and I was astonished to glance down to see sweet little Anya, pulling off her shoes and peeling off her little socks. "Amma, can we wade? Can we please . . . just get in?" Her big blues eyes pleaded. Her little voice wheedled. I drew a deep breath. Of relief.
I totally knew where that breathless desire to get into the water came from, that ache to peel off the shoes and socks and feel the sand and the water on the skin: it came from me. And it would be a crime, surely, in this land-locked state of Nebraska, to not get into any beautiful water that presented itself, right?
After all, so much of the water in Nebraska has been muddied by irrigation or spoiled with big agriculture chemicals. But this stream. It couldn't have been prettier.
I couldn't say no. This girl! She is about as big as a minnow, but has the bravery of a . . . a whale! She is amazing. While other little girls her age might be drawing unicorns or ponies (though they have their merit, too!) Anya draws superhero girls, in all sorts of adventures. I love her. She is a remarkable little girl.
I dropped down next to her on the bank, grinning all over, and I pulled off my shoes, too. We both rolled up our pants. I grabbed her hand. We grinned at each other. We waded in, gasping at the cold and giggling at how good it felt!
Goodness. The current was strong, but the water was only inches deep in most places. We walked upstream as far as I dared, holding hands tightly, laughing, admiring the water and the woods around us. When the water started to get deep, and then deeper, we turned around and went back to where we started. We stood and felt the cold water rush over our feet. We dug our numbed toes down into the cold sand. It was glorious. Just as I started to make movements toward the shore, though, I saw it.
This beautiful old bottle was half-buried in sand, in a deep corner that we hadn't waded into. It wasn't within my reach, not, at least, unless I waded much deeper. I turned away, deeming it too dangerous, but just for a minute. I looked back. I couldn't resist that bottle. I looked down at Anya.
"Do you think your Mama and Papa would mind if you got just a little bit wetter?" I asked. She shook her head. "Oh no!" So I hooked my arm around her waist, held on tight, and waded deeper. She gasped and laughed, as I leaned waaaay over, grabbed the neck of that bottle and tugged until it came up. The current tried its best to topple us, but my Amma-ly determination to let no harm come to my darling won against it, and I struggled out of the deep area without getting knocked over.
I was soaked, however. Anya was wetter than I felt comfortable with (*wince*). She was exhilarated and laughing, and begged me to go in deeper, again!! We promised right then not to tell her wonderful 'rents that we nearly went swimming–not just wading–down that icy cold trout stream. So I hope they aren't reading this. They are busy young folks, after all . . .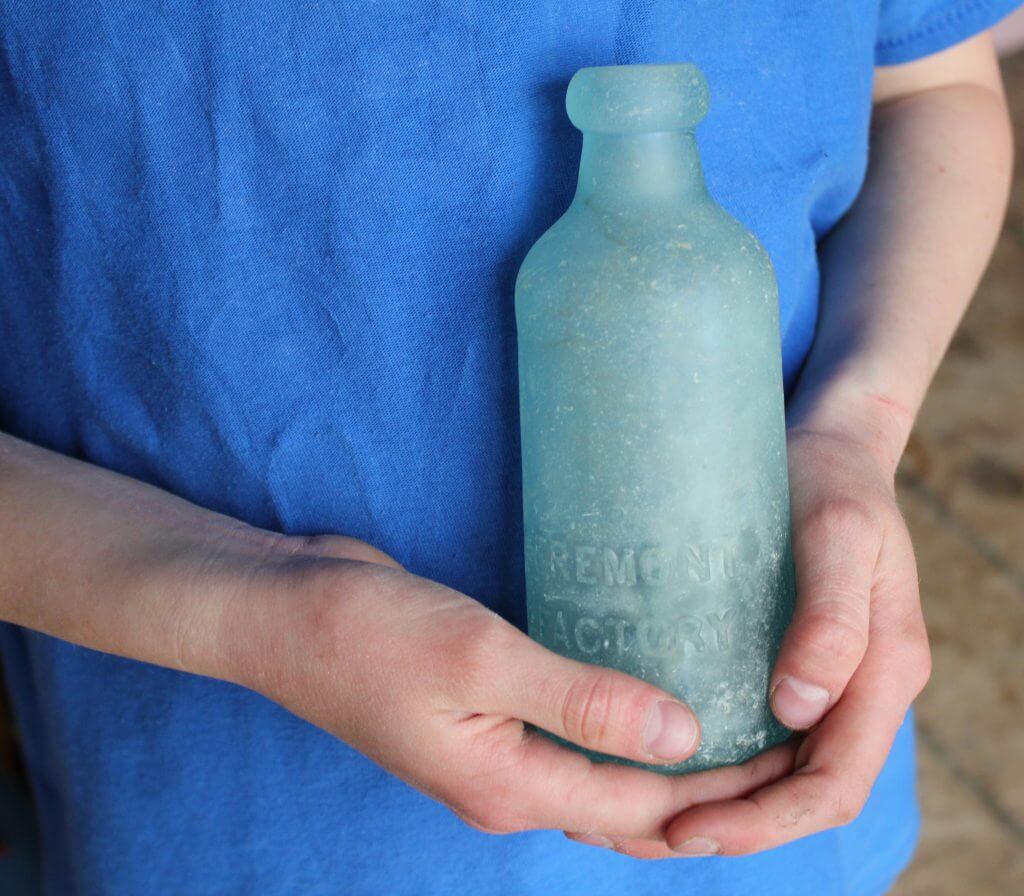 That's it, my cool old bottle-fetching story.
(Just in case Andrew and Sonia are reading this: I would never, ever take a real risk with your/our darling girl. Just feet away from this deep spot, in fact, the stream was a mere inches deep, so I knew that if we did fall in, we would have washed up to the shallow spot in seconds. Just for the record, dears!)
But back to these gorgeous Infinity Jars. Even within my lovely jar and bottle collection, I don't have any bottles or jars as dark and as accomplished as these Infinity Jars. They are swooningly beautiful. Deep, dark indigo blue, which is important, not just for aesthetics, but also for what it does: this dark dark dark colored glass blocks out visible light that can degrade organic goods. These jars are airtight, too.

I only wish I would have had one of these jars last fall, when I was harvesting and drying my basil for the winter. I grew 4 kinds of basil last year: Blue Spice, Licorice, Sweet, and Lime. Doggone it, I didn't dry and preserve all four kinds (slacker, Amy!) but I did save some licorice basil back and dried it for winter use. I've used most of it, but the little bit that I have left looks gray and tired, and no longer even smells like basil. I think that's a shame, after all the work I went to to raise it and harvest it.
I dried it the usual way, and then stored it in a clear glass jar, which is my wont. Correction: which was my wont. Until I got a couple Infinity Jars.
The Best Jars on Earth.
See, I could write advertising copy, couldn't I? And I am sincere, too. I plan this fall to store my winter's worth of dried basil, sage, oregano, and thyme, in Infinity Jars. They are excellent, also, to use as essential oil jars, because they keep everything you put in them fresher, for a longer period of time. Take a look at this photo from their website: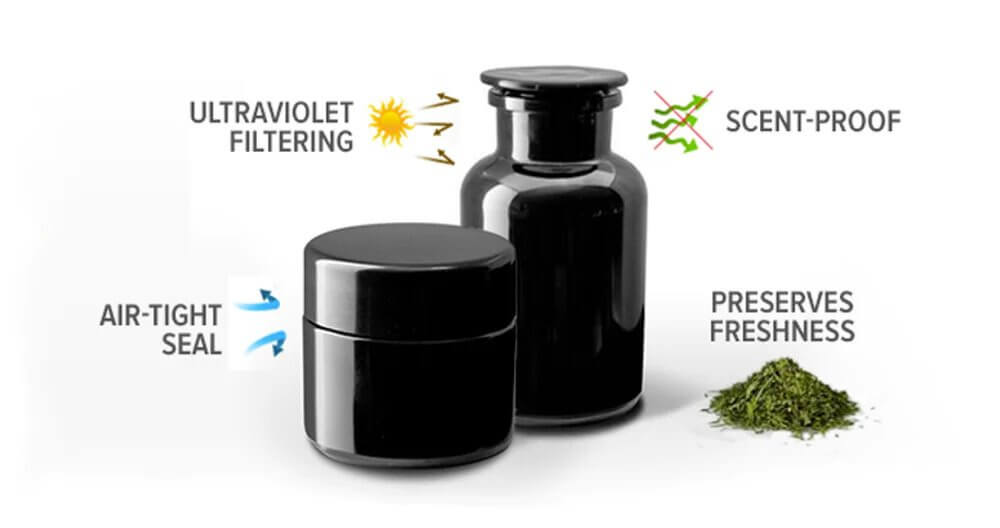 Have you ever thought that there is a better way to store your herbs and essential oils and other fine things? Well, dear gentle reader: there is.
And here's the interesting thing. Deep violet glass jars are not new. The early Egyptians were the first people recorded, actually, to produce dark violet glass. Those Egyptians! They were sophisticated enough to learn that there were substances that were preserved better if they weren't exposed to light. They stored water, precious oils, herbs, medicines, and so forth in not only dark violet glass, but also containers made of gold! Some of these substances were recovered hundreds of years later and were found to be nearly as viable as they were when they were sealed!
If you are interested in learning more about the science behind Infinity Jars, check out their website! Also, Infinity Jars offer a very large selection of not only jars, but bottles, rollerbottles, apothecary jars, lidded containers, and more.
And. If you are excited about Infinity Jars, as I am, after learning a little about them from this post, guess what? The nice (and attractive) Tania has offered a sweet giveaway for one of my Gentle Readers: a $30 gift certificate, that can be applied to any of the products Infinity Jars offers! Isn't that fun?
Here's how you enter: Make a comment below, and then, for a second entry, go to my Instagram post and leave a comment below my photo of Infinity Jars there. On Monday, April 17, I will put all the entries into a hat (literally! I'm unashamedly low-tech!) and choose a winner!
Thanks for reading, Gentle Reader! I appreciate you, I do!
*hugs*