What's going on at our place: SPRING 2019
Gentle Reader.
I have been quiet (uncharacteristically quiet!) in this tiny friendly corner of the interwebs, and relatively quiet on social media, too. The past few weeks have been wet here–too wet–a little scary, and kinda sad.
Since Nebraska has been in the national news lately, I've had several of you reach out to ask me how we are faring. We are okay, and grateful to be so. Thank you for your concern, and bless your supportive hearts. I have for you today a mixture of bad news and good about what's going on in our neck of the woods.
Let's get the bad news out of the way first.
Flooding
I guess every hamlet on the globe takes its turn, at some point, in enduring disaster. Even heaven-on-earth (my feelings about that place!) faraway New Zealand has tasted tragedy lately.
We here in Nebraska have taken our turn in the past few weeks. If you've been watching the news, you've probably seen that portions of the Midwest–especially here in Nebraska–are under water. Recent flooding from the storms a few weeks ago has caused damages estimated to be billions of dollars. Rain, snow, and frozen earth combined to make the worst flooding in recorded history. It's a mess, folks.
I've never even heard the term "bomb cyclone" before, but apparently that's what happened to create all the trouble. Also known as "bombogenesis," it's reportedly an epic drop in air pressure that triggers historic weather. Basically what ensued was a "land-based hurricane," made much more serious by the fact that Nebraska's rivers–unusually high already–had a thick layer of ice on them, and the land was not only saturated from higher-than-normal rainfall last fall, but also still frozen from an unusually cold winter.
It was a historic confluence of all these elements that caused the trouble in early March, and why parts of the states of Nebraska, Iowa, and South Dakota are still cleaning up from it.
Nebraska Governor Pete Ricketts reportedly said that while there have been disasters with greater loss of life, he didn't think "there's ever been a disaster this widespread in Nebraska."
And, say . . . If a person isn't very very careful, she or he can spend so much time looking at videos and news reports, sad photos of dead animals, broken roads and bridges, and muddy water where it does not belong, to the point where she feels not only informed, but a little depressed. One must guard against this tipping point, naturally, because a depressed person might have trouble getting her work done with a grateful heart. Be informed . . . but don't fall into despair.
I think this is good advice.
Thankfully, Nebraska is not Mozambique . . . we do have the resources to rebuild, and we are lucky to have friends and neighbors that are anxious to help. We don't have to worry about cholera, say.
And we have so much to be grateful for, living where we do. Our tiny farm is located on a hill, and not close to the major rivers that have flooded, so we are safe, if a bit soggy. But thousands of others have been evacuated from their homes. A few folks have died in rescue efforts. Dams have broken and levees have failed. Folks have dropped everything to haul and stack sandbags to keep swollen rivers from inundating their towns. And, as the flood waters recede, dead livestock, destroyed highways, and a layer of mud and detritus remains. It is heartbreaking.
I love my state. School and work pulled us to move away from Nebraska several times when we were younger, but we always moved back as soon as it was possible to do so. Our families, of course, are huge draws, since both Bryan and I were born into fine ones. But Nebraska–the state itself–I love it, and though occasionally I dream about living in a different place–there is no place that I'd rather put my roots down deep, to raise my children, to plant my garden, and to make memories with my grandies. I don't know what God has planned for me in the future, of course, but my hope is to live the rest of my life here.
And yet: it's pretty ugly and sad right now, at least portions of it. I've never seen so much water running all at once! At our place, we had muddy streams running into our little pond where streams had never been before, and vast puddles where I had never seen puddles before. It was awesome, but not in a good way. It inspired awe. It was amazing. All that water: it was a scary sight, since our little pond can only get so big before it spills over the dam, and if that happens, we'd probably lose the pond. But our house was safe because of the way the pond was designed to hold the run-off from the fields around us.
Here's a visual, from space: the normal state of the rivers in eastern Nebraska:
Here's what they look like at the moment (the flooding has receded some since this photo was taken). Check out that mighty Missouri River (on the right side of the photo):
The interwebs are crowded with videos of dams breaking and flood waters doing their thing, if you are curious.
Here's a video of the flooding in Nebraska, shot by 10/11 News. This is what Vice President Mike Pence saw recently when he had a helicopter tour.
Gov. Pete Ricketts just sent out this video of flooding in Nebraska. This is what VP Mike Pence saw as he surveyed flood damage.

Posted by 1011 News on Tuesday, March 19, 2019
Water, water, muddy water everywhere.
The floodwaters are going down now, slowly, and relief efforts are underway. Things will be okay. Nebraskans are pretty proud of the fact that they are tough folks. And neighbors help their neighbors here, and everybody is your neighbor. It's going to take toughness for everything to be repaired and restored to how it once was. And there's still an atmosphere of caution . . . spring can be very wet in Nebraska, with big storms as cold weather gives way to warmer temperatures.
Here are some relief efforts, if you feel led to help in some way.
So that's the bad news. Now on with some good . . .
Melodrama
This is for Malachi. (I will write a proper post, honey, I promise.) My son has been complaining that I didn't write a designated post about our melodrama this year. "Not yet," I remind him. (I have one in the works, so if you enjoy these annual theatre posts too, come back, okay?)
We performed "Life on the Bowery or the Liar's Doom" by Tim Kelly, a patriotic, funny show centered around Steve Brodie's historic jump from the Brooklyn Bridge, around the turn of the century. It was great fun.
We say it every year (okay–snort—nearly every year), but we really did have the best group of kids and it was intensely satisfying to work with them. Oh, also: 13 of the 20 students in the cast had never been on the stage before, so there was lots of backing up, "hold on there"ing,  and teaching basics that we hadn't taught in some time. It keeps us sharp (-ish. Sharpish!) (and mildly confused), that every stinkin' year, the group is completely different, with a different dynamic, experiences, needs, etc.
We did have crummy weather during the entire production season (lots of winter storms, winter weather advisories, icy roads, and whatnot, especially on rehearsal nights) but our folks braved it all to get to the rehearsals, God love 'em. We only called off two practice sessions, I think, when the ice was too scary to contemplate driving on. And, of course, the biggest blizzard of the season appeared on the weekend of the show . . . alas! We got dumped on . . . nearly a foot of snow fell in just a few hours, and that was on top of ice (of course) and (naturally) there was plenty of wind, as well. Shoot.
We wrung our hands in the days preceding our show weekend, waiting for the forecast to change (surely the weatherman was overstating it?), prayed for the snow to go away (but please God, it's SHOW WEEKEND, not snow weekend . . . ), watched the forecast change only to sound more ominous, until we gave in. And, after all, we were able to move the two Saturday shows to Sunday, and they went on as planned, although a share of our audience couldn't get out of their driveways, so we missed out on having some of our audience.
But the kids did such a super job. I'm so proud of them. (More on this later, Mack, I promise!) And the families and friends helped us strike the set and clean up after Sunday night's show, so the theatre was ready (ish–readyish!) to be used by another group on Monday.
Baby, you're a Turkey
Well . . Mack has always wanted to raise a few turkeys**, and yet we've never jumped into turkey raising. But a couple weeks ago, I gave in. I'll blame it on my very bad case of Spring Fever. That, and the fact that the feed store had turkeys on sale (they are usually quite expensive, compared to baby chicks) when I stopped in there one day. And that Mack happened to be with me. Kinda of like a "bomb cyclone," only not a weather one, but a new critters one: the confluence of several new-critter-obtaining-related events.
Here's the formula: Spring Fever + Sale Prices + Proximity of Mack  = Baby Turkeys at our place!
*One may ask . . . did it help my Spring Fever to buy a few baby turkeys? Yes, yes, gentle reader, I think that it did . . .

Ergo: how could I not do it? We bought a few baby turkeys, carried them home in a little box, and introduced them to our spring chicks.
This simple act made my boy happy, so why not? And it's made it a little more interesting to care for my pullet chicks every day. They are in the garage for the nonce, and they are mostly a quiet lot . . . but those little turkeys (poults, actually) stand out. When all the chicks are piling up and running in terror from me (gosh, why? I don't know. But they always do. "She's coming again . . to give us FOOD AND WATER! AIEEEEE! RUUUUNNN!!"), the three poults that we bought stand apart from the little crazies and just watch me pensively.
They are cute, stripey, and have this darling little knob right above their beaks, which (Mack–who has read up on turkeys–of course–says the knobs will become their snoods) distinguishes them from the chicks. You have to look rather closely to see the tiny knobs. I guess you might call them "snood buds." At least I do. I am. Personally I can't wait until those snood buds grow. I just loving saying the word "snood." Try it. It'll make you smile, too, maybe.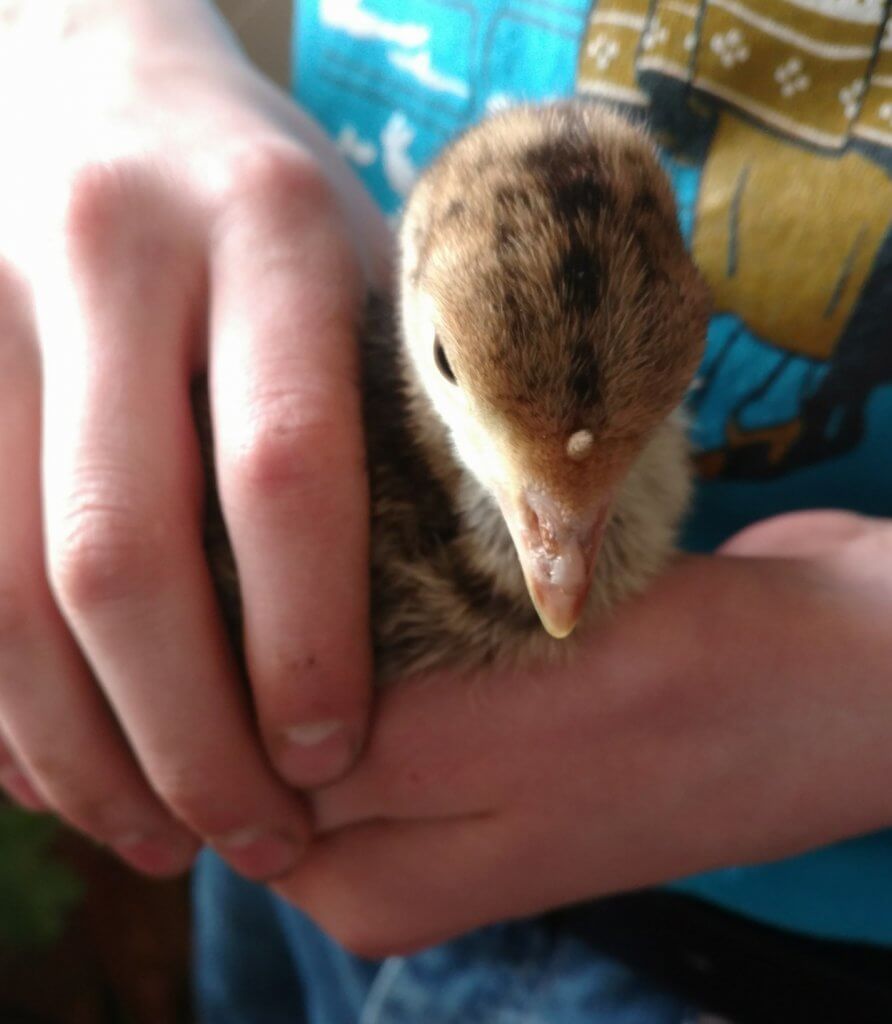 Snood . . . see? Instant smile. 🙂
Inside my hoop house
My home-away-from-home (above) is full, full, full . . . of edible flowers and fancy greens and pretty lettuces. They've been there actually much of the winter–growing sooooo slowly, or fast asleep, depending on the temperature and the amount of sunshine (or lack of). It was a long, cold, gray winter, ya know. But take a looksie now (I'll write more about it later, too, promise, but for myself, not for Mack). I have a nice list now every week, to present to our chef customers, after having an embarrassingly short list since November. I love it when my list gets longer.
Spring. Even with flooding and unsettled weather, it is such a blessed time, isn't it? Green is a relief after months of gray and white and brown. The sound of frogs in the pond and geese overhead fills my heart with relief and joy. As Bryan sighed to me the other day, "Well . . . we made it through another winter." And I guess we did.
I hope your spring is more-than-usually blessed, dear gentle reader. I love you, I really do. Thanks again for checking up on me, and, as always–for reading . . .  to . . . the . . .
very
end . . .
*hugs*
And yet . . .
Since I've been quiet for so long in this space, I realize I've left lots of strings dangling . . . and I want to pull them all together, tie them up neatly and finish some stories, for you, gentle reader.
So, a favor: leave me a note or a question that you'd like to have answered. I've started so many stories over my blogging years that I've never finished, much to my regret! So if you're curious about anything in my life right now, please ask. You are the best readers anywhere, and I appreciate you.
Thank you again . . . and I am closing now . . .
. . . promise! . . .

Amy
**Of course Mack also has always wanted to raise a few longwool sheep, and recently he has indicated an interest in Icelandic cattle . . . so . . .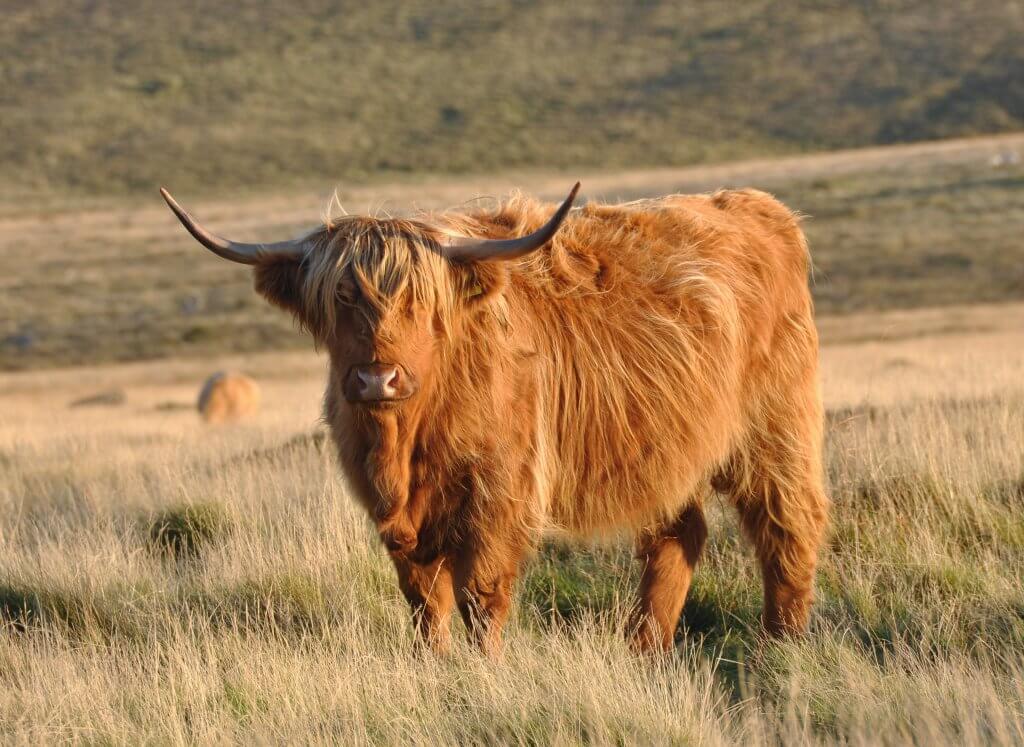 (image Wikipedia, credit to Nilfanion [CC BY-SA 3.0 (https://creativecommons.org/licenses/by-sa/3.0)]