What's going on at our house now that spring is here at last, one may wonder. (Besides lots of happy dancing on my part, of course?)
Take a look . . .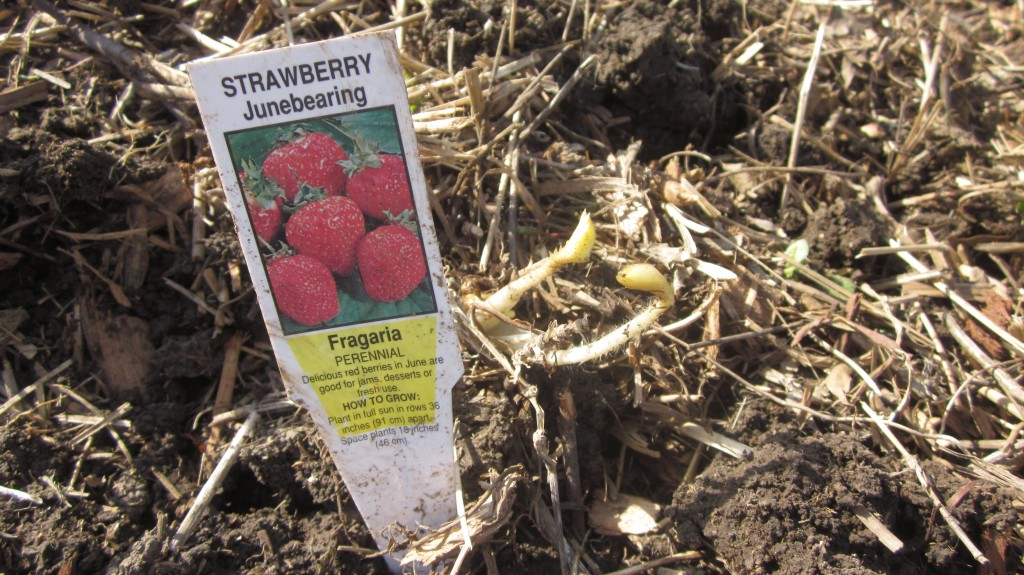 I planted 100 new strawberry plants the other day, to replace the area of my strawberry patch that got fried by the drought last summer.  This is a new variety for me–"Fragaria"–and I'm really hoping it'll be the variety with astonishing amounts of large delicious berries, and also some weed-repelling qualities that are as yet unknown to me.  That's the hard part of raising strawberries–keeping the weeds out! Also, plucking off the sweet new blossoms this year, to ensure healthy root growth for next year's berries.  Honestly, gardeners have to learn patience over and over and over again . . .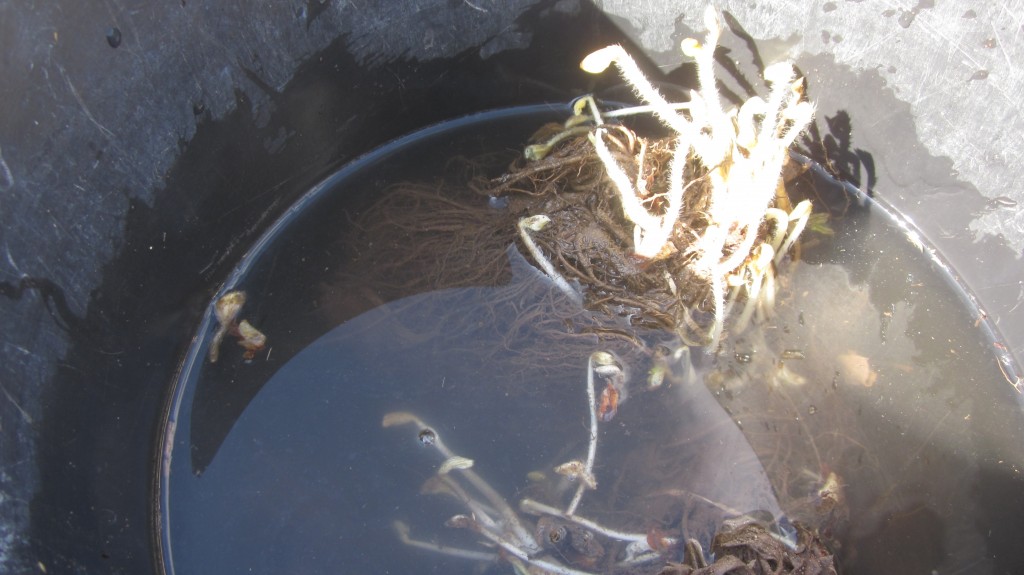 Here I give the young strawberry plants a soak for a few minutes in some compost tea, before planting.  They were smiling all over, baby.
Somebody asked me the other day: Is it time to plant my tomato plants yet?  Gosh, don't ask me!  I planted 91 plants on Saturday, in a big rush to get them in the ground (and out of the pots, honestly, they were getting leggy, as you can plainly see) before the weekend was over (and before stalwart son Timothy left for a few days, I'll be honest), and went inside to find (of course I couldn't be bothered to check the weather report before I planted them) that the weather station had just issued a frost warning.  For that very night.  Boo. Hoo.
So, later (after I got over the shockingness of my stupidity) I carried about a million sheets out to the garden and covered up my 91 tomato plants, trying not to crush them in my efforts, and feeling not-a-little foolish about it all.  Little Mack and good husband Bryan helped, fetching 5-gallon buckets and tomato cages (on which to tent the sheets) and anything else to save my tomato patch.
Here are a few of the varieties I planted, all of them lovely open-pollinated varieties which I will save seeds from this fall (providing they survive my ill handling, gulp!):  Chocolate Stripe, Dester, Pink Brandywine, Chocolate Cherry, Cherokee Purple, German Orange Strawberry, Yellow Pear, Beauty King, Jujube Cherry, Tess's Land Race Current, Aunt Ruby's German Green, Granny Cantrell, Cream Sausage, Striped Roman, Orange Fleshed Purple Smudge, Golova Negra, Dr. Wyche's Yellow, Pink Bumble Bee, and Rebel Yell.  I probably wouldn't plant so many tomatoes if heirloom tomatoes didn't have such whimsical names, doggonit. But aren't those names just delicious?
Another lesson learned:  check the weather forecast before you plant. Sigh. (Wait a minute, I've learned that lesson before . . . well, maybe not so well.)
Mulch hay is a difficult thing to find in our area this year, another casualty of last year's drought.  I ran out of mulch last year, and so weeds were A Serious Problem in my garden, and I promised myself that no matter what (insert maniacal laughter) I was not going to run out of mulch hay this year.
"Find mulch hay, and in large amounts," was on my Procrastination List, by the way, that I tackled a couple of weeks ago.  So I found a congenial hay man in our area, who sold me these big square bales, but he warned me to "cook" them a bit before using them, because they are full of weed seeds. So here are a couple of them, hauled to my garden in pieces, soaked with the sprinkler, and covered up with plastic. Tomorrow it is supposed to be over 90 (yes, this is Nebraska–frost warning last night, heat wave tomorrow–it's kind of a miracle that we can grow anything at all this time of year) and I'm hoping that it'll get hot enough to cook those dangerous little weed seeds, so I can use it sooner rather than later.
Incidentally, it's not really like me to heed the kindly hay man's warning. It's more like me to throw caution to the winds and flounce about and mulch my garden with the weed seed- filled mulch hay, believing only the best will happen, after all.  And then it's like me to spend all summer down on my knees pulling weeds, and simultaneously kicking my backside for not heeding the hay man's advice.  If that's possible, and I think it probably is.
Here's my good and sweet son Timothy with his friend Timothy, smiling in the bright morning sun, heading out for their camping trip.  They'll tent-camp in a beautiful state park a few hours from here for several days. The park is hilly and tree-filled, with trails and bluffs and trees for climbing and a three-state overlook.  I really want to tag along.  But I won't. We go there every fall with our extended family.  Hey, Timothy, it's morel mushroom season, so bring your ma some mushrooms home, ya hear? (Carpe Diem . . . er. . . . what's Latin for mushroom? Carpe Boletus edulis, baby!)
I'm having fun picking up bits of iron junk and hanging them on the end of my ugly compost bin.  It hides one end of my crude bin, and I enjoy all the shapes and textures.  Little Mack asked me the other day "What's the deal with all this junk hanging on your compost bin? It looks a little redonculous, Mom."  I just gave him the hard stare of the oft-misunderstood artist.  "You don't have to get me, you just have to love me," said I.  Or did I just think it?  Harrumph.
I wanted to say that if something as simple as hanging a bit of junk on the end of my compost bin can make me smile, then so be it, I was gonna do it, whether it looked a bit redonculous or not.  But I didn't.  He was racing off with his dogs in the other direction by the time I formulated that sentence in my head, anyway. Whatever.
We all took a day off from Life and headed to the zoo last week.  I think my favorite discovery this time around were these lovely ruffled jellyfish.  I couldn't take my eyes off of them. I stood in front of that tank for a good twenty minutes, at least. Sometimes the sight of something new and lovely will just catch my heart, and show me a fascinating glimpse of the care and creativity and winsomeness of our Creator.  I just couldn't believe those ruffles!
Here's another one.
In the "For Pete's Sake" category, here's Timothy high up in a tree.  Again.  Hmm. . . . this picture reminds me of something . . . let's see . . .what is it . . .?
This crabapple tree in our yard is just beautiful this year.  I can't remember it ever being this gloriously happy before.  I think it–like so many trees and bushes and flowers–is just happy (and probably a bit surprised) to wake up this spring and still be alive, after last year's drought.  I know I am getting to the  over-sharing (yawn) point of mentioning last year's historic heat and drought here in Nebraska , but it was memorable.  And not in a good way, either.
Oh! Hang on, it's coming to me now . . .
Here's a picture of little Mack, who grinned the whole day we were at the zoo.  He's in front of a tank of fantastically colorful sea critters.  Pretty neat, huh?
That's it for now.  TTFN, Gentle Readers!