"Making Dough with Artisan Breads" Farmer's Market ebook available!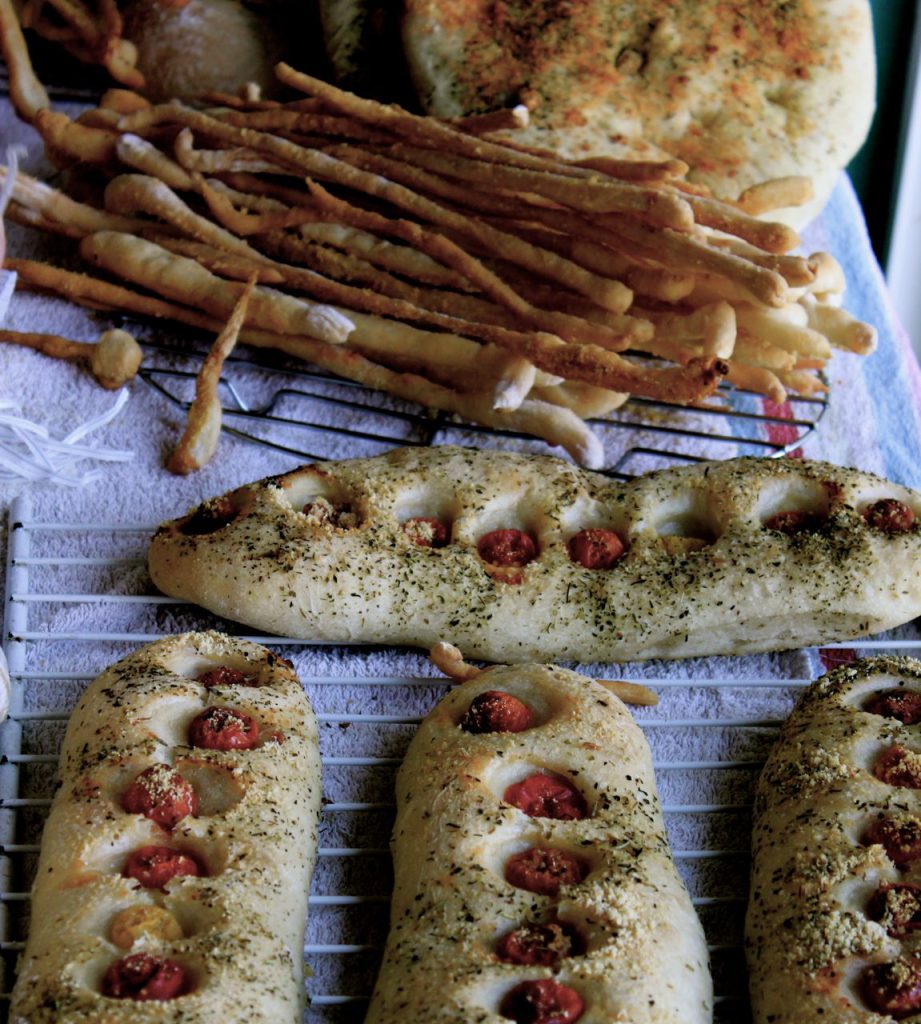 Farmer's Markets are hot!
In the past six years, the number of farmer's markets in the U.S. has doubled–from just over 4,000 in 2008 to way over 8,000 in 2014. Yep, farmer's markets are officially a thing, which is a great development not only for the consumers who flock to them in large numbers every week, but also for the farmers and bakers and candy-makers and bread-makers and knitters and flower growers who set up their tables and sell at them.
There are so many excellent reasons to seek out farmer's markets in your area to visit. First, of course, you can find locally-grown food that was probably just harvested hours ago–you don't get much fresher than that, unless you have your own kitchen garden close to your house. Another excellent reason is that you'll more than likely find locally-made treasures. At our market, you can buy beautifully crocheted kitchen items right next to the best almond toffee you'll ever eat, next to locally-produced honey, across from my mom's raised donuts and pies, next to locally-grown and cured meats, next to beautiful fresh veg grown just a few minutes away from farmers who'll share the best way to prepare what they grow, too.
It just doesn't get much better than that.
Throw in the fact that you'll likely run into friends that you might not see during the week, otherwise, and you've got a highlight to your week that gives you a lot of bang for your buck!
Sometimes you'll get to take in some free live music, too. 🙂 I love that. Is it any wonder that farmer's markets are so popular? I personally believe that they are the "front porch" culture that we miss in our busy suburban lives.
My mom and my daughters and I have kept a farmer's market business going for the past five years. We started when my garden got so big that I needed to go someplace with the excess veg, and we were looking forward to a trip to New Zealand and needing to earn some spending money. My mom is an extraordinary baker and donut-maker, and she jumped in with us, delighting our customers (and us) with her goodies.
Where else can you buy homemade donuts, still warm and dripping with icing, after all?
I sold fresh herbs and garden veg, but primarily my business was centered around fresh, crusty artisan breads. The girls made muffins and quick breads. Mom made cookies, angel food cake, and pies, and sold honey from Dad's hives. Our business grew every year, entirely from word of mouth.
I got a lot of folks hooked on crusty loaves of fresh bread and heirloom tomatoes. It's a fun thing, you know, to be part of such a healthy movement! 🙂
Last summer, while in the throes of our farmer's market season, I wrote a post or two about our adventures at the Seward Farmer's Market. Afterwards, I received several emails from readers who were interested in starting a farmer's market business with their bread-making skills, and they were looking for tips on how I had done it. After about the sixth person sent me an email with a long list of questions, I decided that this was my cue to write an ebook about everything I'd learned in the past five years. Well, nearly everything . . . to include everything I've learned would have been a very thick book, indeed.
In running a successful farmer's market business, as in so many other ventures, you learn the most in the doing. While artisan bread is my primary product (and it sells very well), because of popular request, I also make several kinds of "traditional" yeast breads. I've also delighted in growing extra vegetables and taking them to market. Since I don't use chemicals or poisons in my garden, but garden naturally, the customers who care about such things seek me out.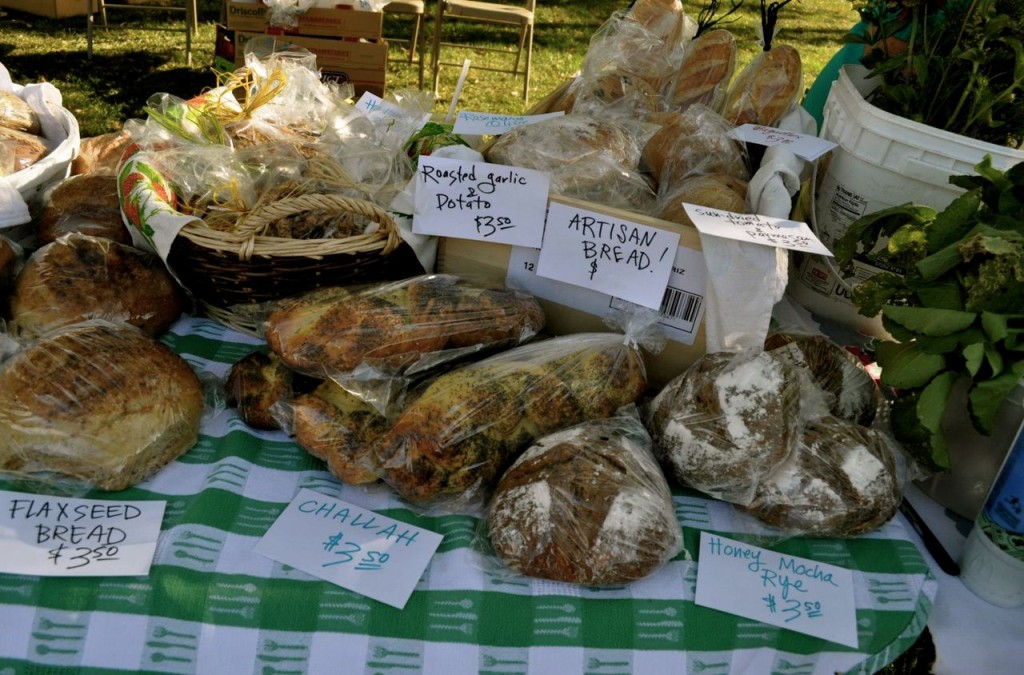 A couple of years ago when we built our hoop house, I started growing flowers and taking fresh bouquets to market, too, which made our table look extra-pretty, and was fun for me. I love growing flowers. And heirloom tomatoes. And herbs. All in great abundance. 🙂
By the way, across the board nationally, the two most popular things for customers at farmer's markets to purchase are locally-grown vegetables and baked goods. It's pretty awesome to be able to offer both.
I've learned a lot about baking bread and selling it at the farmer's market, and I've written an ebook about it.  Included is:
A short history of why we started our business, and why we've kept it going.
Why the "bucket dough" method is superior to many other ways of making bread in big quantities.
Money-saving tips that I've learned: how to maximize your profits, and minimize waste.
My favorite recipes, and the tools and products I couldn't do my business without.
An hour-by-hour schedule of my typical marketing day, i.e. how I get so much done in such a short amount of time. (Hint: it takes real focus, and even taking the 'phone off the hook. Figuratively speaking.)
A few tricks that helped me double my daily bread output.
Guidelines on how to pick which market you'll want to belong to, and why.
How to attract business and then–once you've got it–how to keep it!
Pros and cons of the farmer's market lifestyle (and there are plenty of both!).
Interviews with two other successful farmer's market bakers.
. . . and lots of fun and informative photos!
So, are you interested in learning more? I'm offering my 80-page ebook for the first couple of weeks in the same "Pay-What-You-Want" format that Amalia and I sold our Halfling cookbook at first. So snatch it up today, for as much–or as little–as you'd like to pay!
Check it out by clicking on the image below. Is it not pretty? 🙂
Thanks for checking in, Gentle Reader. Have a happy day and I hope you will be enjoying your farmer's market someday soon!
*hugs*
And one more picture, because you know that I can't help myself . . .
Save
Save