Year-end musings and a baker's dozen events that I DIDN'T write about . .
2015. It's nearly over. *sigh* Doesn't seem possible, does it?
So much happened this year at our house. Looking back, I realize what a blessed year it was for us. I've written about many of these goings-on, but there were plenty of stories that I didn't write about.
Do you hate those end-of-the-year updates and analyses that everybody and their respective dogs write about?
I don't. 🙂 I find them mildly interesting, usually, and so I shall proceed. My blog, my rules. 🙂 hehee
I'm going to have fun with this, though, my dear adorable Gentle Reader. I'm going to make a list of a dozen–no! a baker's dozen–I just know that I can think of that many–stories that I didn't write about. And here's the deal, which I'm making just for you: If any of the events I mention especially pique your interest, leave a message below in the comments. "Tell me the story of the—-" is all you need say, if you are the shy type (like me) and find it a little intimidating to type out a comment.
Ha.
I'll write about anything you have a special interest in. I am your slave for the day. Or for the next few writing jags, just in case more than one of you have a request. Isn't this fun? Have a say in your blogger's content! Power to the people, say I! I'm doing this, you know, simply because I love ya and appreciate your coming back here to this little corner of the internet, time and again. Really. You are very good to me.
*smoochies*
Can I say *smoochies* to you? Well, I'm gonna. 🙂 My blog, my rules. Ha! (Amalia would gently urge me at this point to put down the coffee—)

This is my after-Christmas gift to you, since there's no way on earth that I can send you each a present. Though I wish I could. Well–maybe if I get started now, I could get one to each of you by next Christmas . . . nahhh . . .
So without any further teasing . . . (although honestly, I could go on like this for some time. Another caveat to you, Gentle Reader. . . I'll get on with it!) let's get started:
12 Things that Happened This Year that I Didn't Write About
. . . but could . . . !

actually, 13 . . .
1. Superb Homemade Ramen
I wrote about Saia's brother John Lotulelei* you know (cough) the NFL football player, who came to visit with us in January. But I didn't write about the superb homemade ramen that Amalia and I made to welcome him to our house. It was a three-day affair, making this soup. It was amazing.
That broth? Best broth I've ever made. Elixir of the gods.
And it was totally worth it. Just ask John. My new brother. The NFL football player. *By the way, click the link above to see a photo of John–the NFL football player–hugging my mom. Not jealous, by the way. Not a bit of it. She did bring pies.

What do you think of it? Pretty amazing-looking stuff, eh?
Ladies. Gentle Readers. FYI. Because of this superlative dish, I now have a very dishy NFL football player who loves me. 🙂 And I know it's for the ramen, but who cares? Learning how to cook really is a worthwhile endeavour, people. 🙂 (By the way, sorry, ladies, he is married.)
2. Wedding Dress Shopping
I didn't write about the jillions (not literal) trips we took to shop for wedding dresses, for obvious reasons–well, maybe not so obvious–ergo, I didn't want to spoil Bethie's surprise. But I took a ton (not literal) of photos. I also learned a lot about the process. I'd be happy to share photos and insights on the entire dizzying, but completely joyful, affair. 🙂 I don't think Bethie would mind now.
Wait. To be on the safe side, I'll ask her. But I'm pretty sure she'll say "go for it, Mom."
She's sweet that way.
Spoiler alert: Bethie really did have a "This is the one!" moment. It was fun.
🙂 And: I have pictures of it.  . . . . oooh, I do love to tease you. 😉 You, Gentle Reader, are so teasable. Tease, tease, tease . . . 🙂

3. Losing Lolo
Yup. This one'll make me cry to tell it–and maybe you, too, to read it–just so you know, but I'll tell it if you'd like. I know that I mentioned the sudden disappearance of our kitty Lolo (aka "The Best Kitty in the World") and all the measures we took to find her, and also our dear neighbors and the part they played in not finding her (well, they tried, too).
We loved this little sweetie so much.
But I've never written down the entire saga, and it is a pretty interesting, though rahther sad story. Of course the accompanying tail, er, tale–is a pretty good one, too.
To wit.
4. Finding Goldberry
God is good, Gentle Readers, all the time. That's all I can say.
But I certainly could tell the rest of the story, if you'd like. It's really a neat story.
5. Amalia's Room Remodel
My darling girl is nothing if not sweetly persistent. She was determined to finish the work that we started on her room last fall, and so . . . patiently and sweetly and doggedly . . . without a hint of impatience, for this job was taking so long to finish that she certainly would have been justified in feeling impatient with it . . . and us . . . she asked us, night after night, to help her make her dreams a reality–in her room, that is. She, after all, had a lovely vision. All we had to do was buy the stuff to make it so, and then show up a few evenings in her basement room, and provide some elbow grease. I'm still amazed when I walk into her room, that it is actually in our humble house.
Her room now is just so creative and lovely now. It's so . . . her.
6. Matthew's Amazing Yet Incredibly Simple Homemade Pizza Tips

When we were down in St. Louis this summer, Matthew made pizza for us. It was very good, and (reportedly) quite a simple recipe, using bucket dough. Matthew, Matthew-like, has gotten simple, delicious pizza down to a science, and I bet I could wrangle that recipe out of him for you, if you'd like.
Sometimes the simplest recipe, after all, is the best one.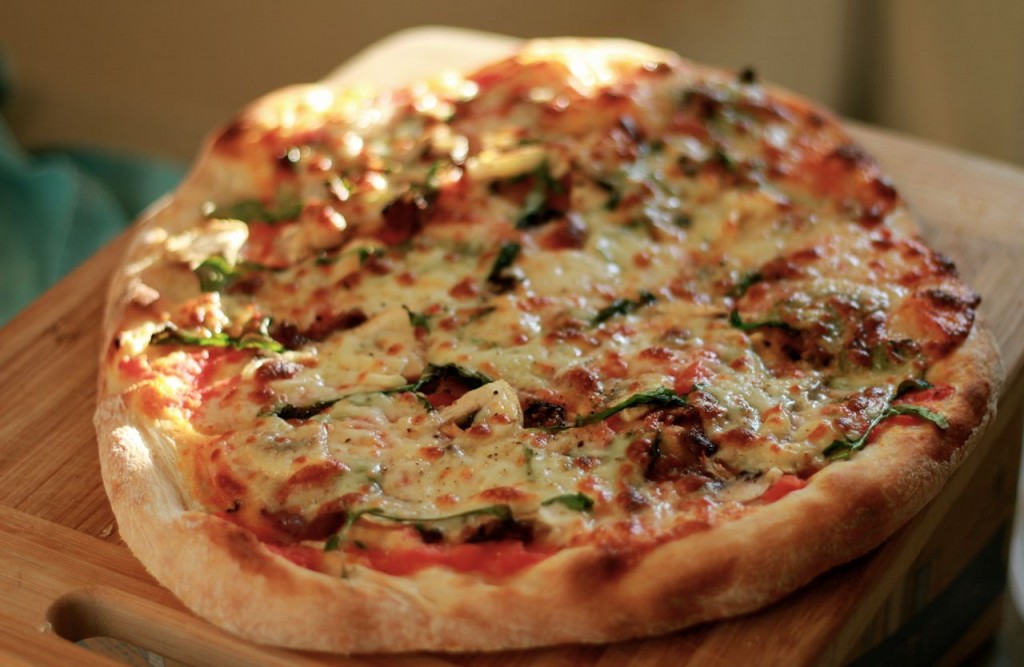 7. A Rehearsal Dinner and Party that you wouldn't believe
My sisters Anne and Mollie wanted to throw the bride and groom a fabulous rehearsal dinner, and so we (cough) let them. It was awesome. It was the best rehearsal dinner/party that I had ever been to.
Really, have you ever been to a rehearsal dinner before with a two-story slide to play on–indoors?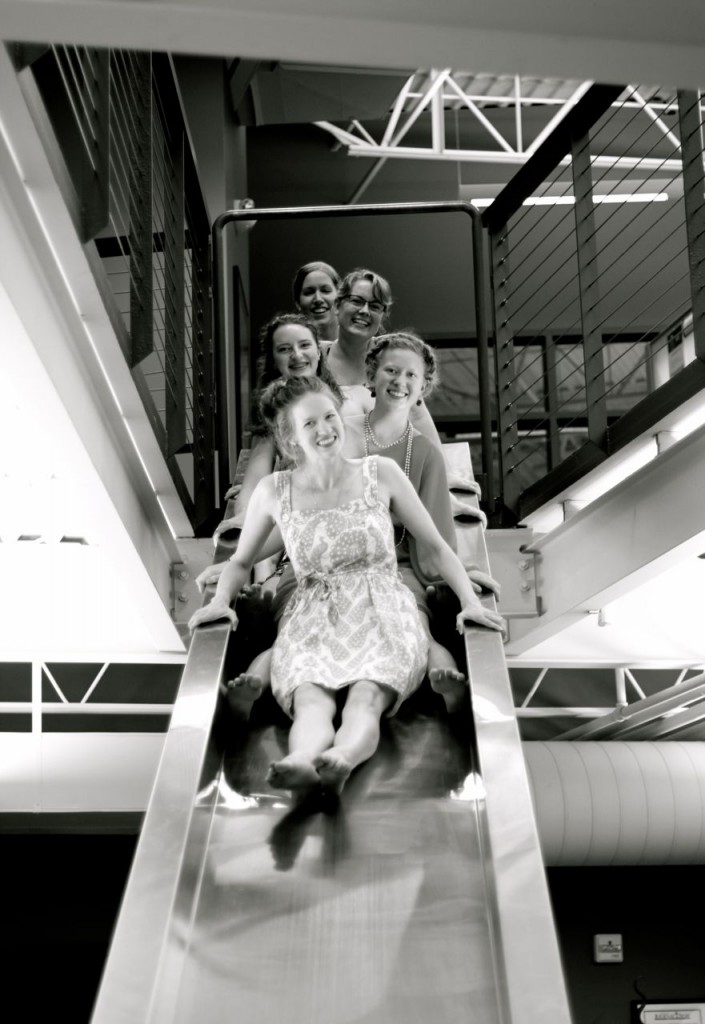 Best of all, we got acquainted with the fabulous Lotulelei family and realized how athletically inept blessed we are to be connected with them now. Truly, truly. So blessed.
They aren't all NFL football players, by the way.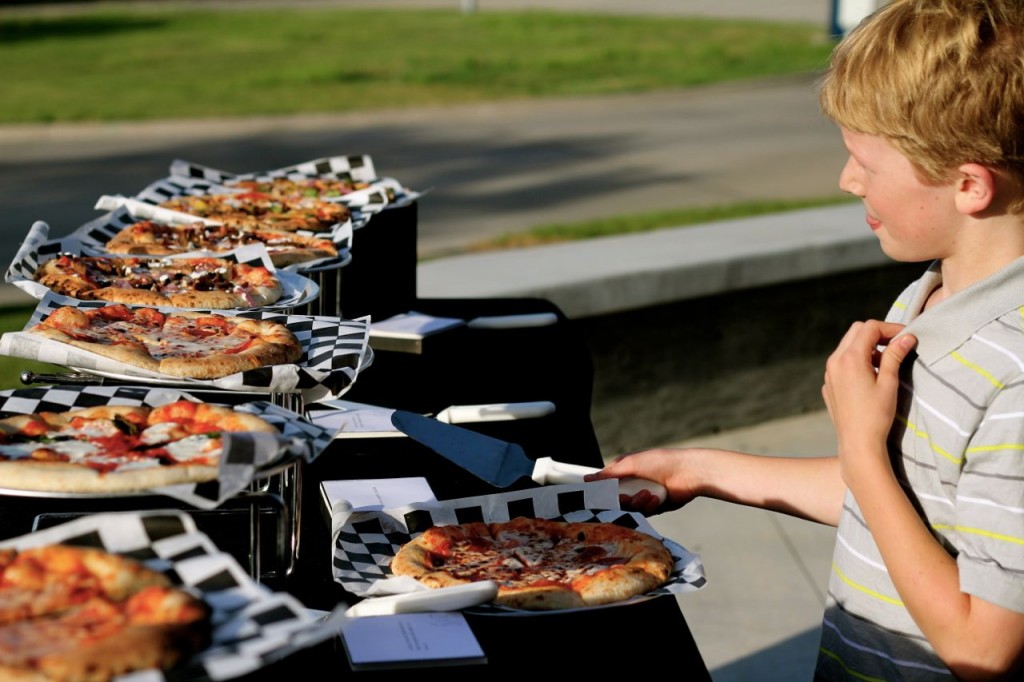 8. We didn't skip the

4th
. . . though it was a bit of a temptation, since we had a wedding just a couple weeks afterward. No, we had a fabulous time on the 4th, and I took a jillion photos to prove it.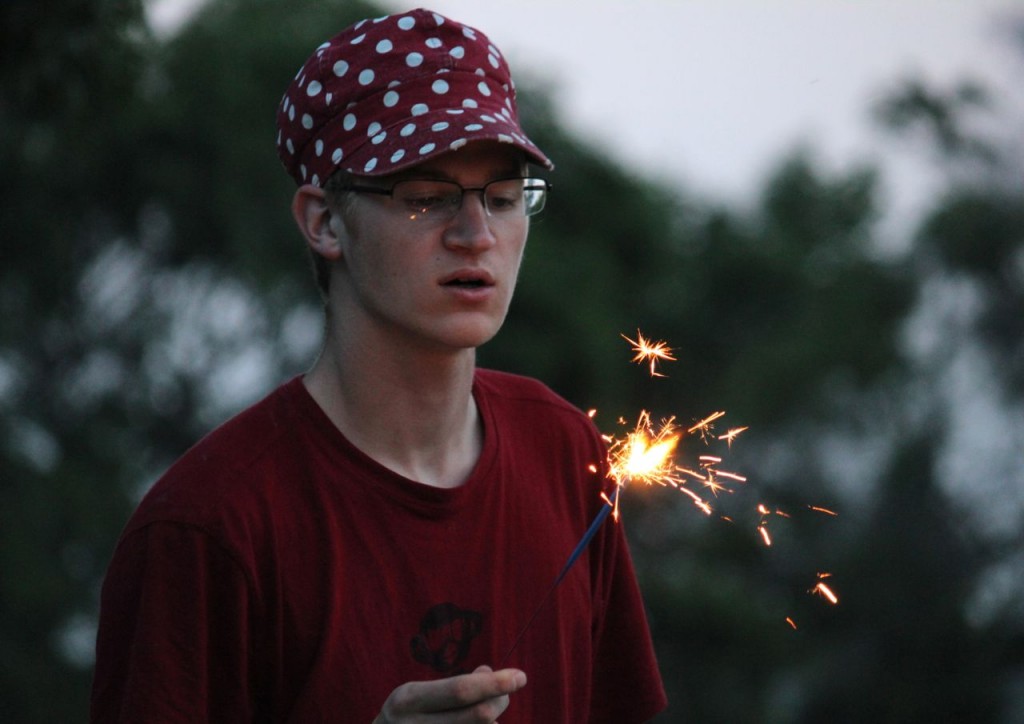 However, if it gives you the heebie-jeebies to see photos of barefoot boys shooting off fireworks *sigh* you might want to not request this post.
Word to the wise, Gentle Reader. Word to the Wise.
9. The Absolutely Infuriating Way the Rail Road Treated my Parents
(Okay. This is a bit of a rant. And not just a small rant, either, not just a rantlet, as is my wont(let). Just a warning. Now and then, a rant is called for, agreed?)
When those railroad fellows crashed in that one morning, quite out of nowhere–without a word of warning, without a letter or a quick phone call, or even a courteous by-your-leave–and tore out the lovely row of mature trees and brush and plantings between my folks' property line and the railroad property . . . Oh! I was so angry about this. Imagine. Not just my parents, but all the bewildered folks who live along the railroad, woke up that morning to hear heavy and monstrously huge equipment, tearing into the earth and decimating mature oak trees, and everything else that was growing along the property line and then rumbled away, leaving it all looking like this, and even worse:
Ooooh. My ire rises as I think about it, even now. There's much more to it, as you might expect. None of it good. 🙁 Doggone it.
And yes. I do have ire. Occasionally.

And . . . an accompanying story, which will make you smile and possibly, even, stand up and cheer?
10. My Mother's Sweet Revenge

(Hint: She is a gardener, after all.) 😉
11. This little man and his enormous dog
and their story. It's pretty neat. (No more hints.) Unexpected. Ironic. Touching. Sweet.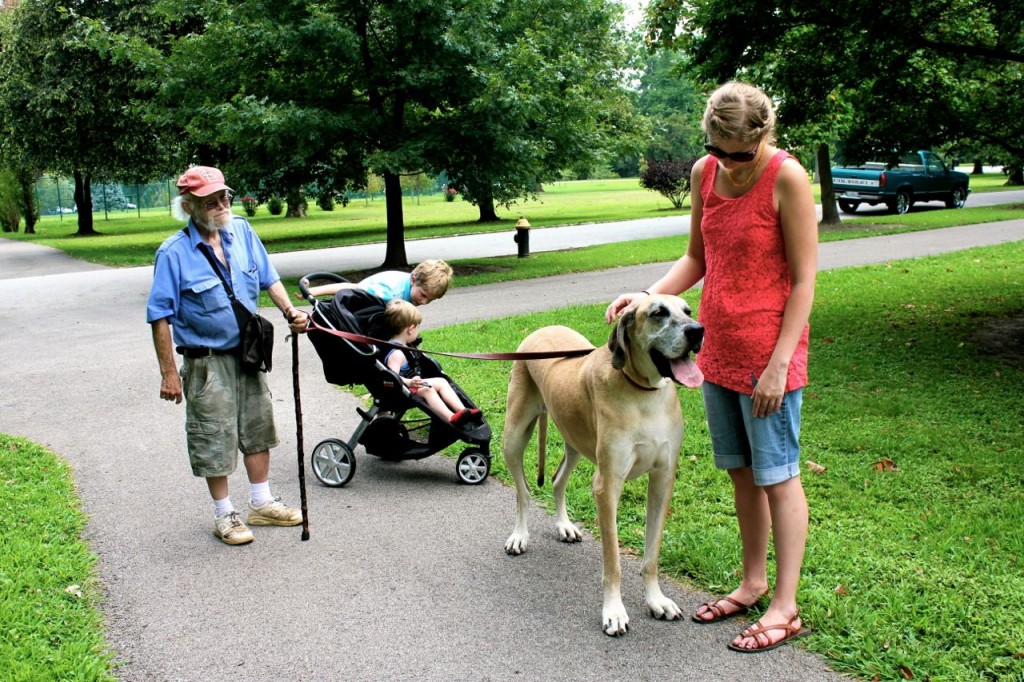 12. Exploring Neligh Mills
. . . and why I risked getting Mack and me both in trouble, by climbing up on this train car (hint: nobody was about) . . .
Besides, I'd do nearly anything for him. Someday, maybe he'll appreciate this. *rolling my eyes* Not yet. Now he completely takes it for granted that his old mama will do nearly anything for him, even climb up on something that she probably should not be climbing on. For my part . . . who's gonna arrest me? Honestly. I'm a grandma with sandwiches in my bag for later, made out of homemade bread.
Pretty threatening stuff.
My goodness, I'm already to a dozen–one more, to make it an even baker's dozen. Or odd, I guess. That brings up a good point. Why is the saying "an even baker's dozen" when the number is 13, which is an odd number?
Musing . . . musing . . .
13. This Shocking Discovery.
And why it gave my Amalia and me such tingles of delight.
Isn't it fun, to have so many stories to tell?
If any of these stories pique your interest in particular, and if you'd like to hear the rest of one, make your request in the comments below. And hey, share this post with your friends to get additional stories told. You know how much your sharing ways mean to me! 🙂 I'm not above begging . . .
Thanks a bunch, you guys!
I love you, I do! (I'll put it in red, to indicate sincerity.)

*hugs*