Elven Lembas Bread recipe: a bite will satisfy a man for a day!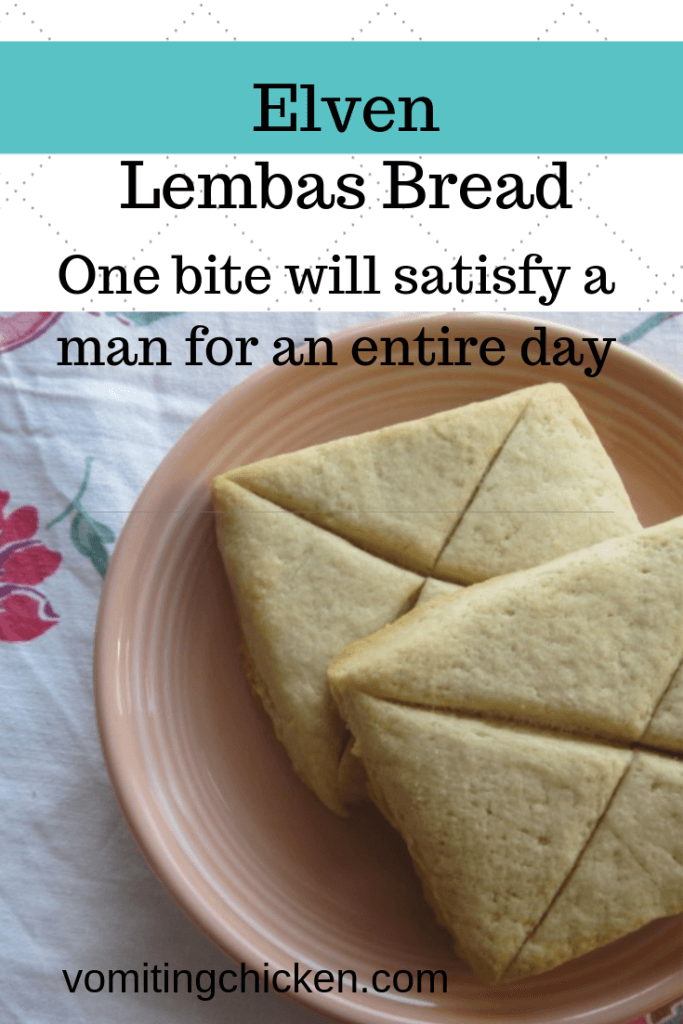 First!
It's here! Amalia and I have finished writing our new ebook for you, our fellow Middle Earth dweller wanna-bes. It's entitled "Recipes from a Halfling's Pantry: lots of these" and I think I can say with reasonable confidence that . . .
You are gonna love it!
Click on over here to check it out. It's currently set at "Pay What you Want," which means either you can get a real bargain, or we can be real beneficiaries of your generosity (hint!).
Secondly . . .
The issue at hand:
Ladies, oh, sweet, dear, hard-working keepers of the home: are there not days you'd love to just pull out the Lembas bread and put it on a plate and be done with dinner, already? And you MEN. . . those of you who would like to take off for the day without worrying about what you will pick up for your luncheon . . 
Let's pop into author J.R.R. Tolkien's imaginary world of Middle-earth, just for a few moments. The hobbits who lived in their cozy underground homes were all about peace, comfort and good food, and indeed, I get hobbits, being a little preoccupied with comfort, good food and such, myself.
To prove this point, at this very moment in my home, the wood stove is radiating heat against the chill of this breezy day; there's vegetable beef stew in the crock-pot for supper, and a batch of Lembas bread sits cooling on the countertop. If I was a foot shorter and had furry feet, I might actually be mistaken for a hobbit.
Lembas, also called Way bread, was a special type of bread or cake made by the Elves in Tolkien's books. It was pocket-sized and exceedingly nutritious. It stayed fresh for months when wrapped in leaves, and was a type of superfood carried along on long journeys. Think super-powered energy bars.
According to the books (I'm referring, of course, to the Lord of the Rings trilogy) Lembas was brownish on the outside, and cream-colored on the inside. The secret of Lembas was very closely guarded, and it was not given to anybody who was not an Elf except on very special occasions. Like other products of the Elves, it was offensive to evil creatures; the loathsome creature Gollum refused to eat it.
Haven't read the books? Oh, please, you really must:
"In the morning, as they were beginning to pack their slender goods, Elves that could speak their tongue came to them and brought them many gifts of food and clothing for the journey. The food was mostly in the form of very thin cakes, made of meal that was baked a light brown on the outside, and inside was the colour of cream." – The Fellowship of the Ring
" . . . we call it lembas or way bread, and it is more strengthening than any food made by Men . . ."
–the Elves, in The Fellowship of the Ring.
I am one lucky mama, for I have a daughter who really loves to cook who–though she's a college girl now–occasionally pops home to cook or bake up goodies for her friends and family.
(By the way . . . any mama will know that I've certainly earned this blessing.) A devotee of the works of  Tolkien, Amalia has been experimenting with a recipe for Lembas bread, the Elvish bread written about in his books.
Amalia has been experimenting with hobbit-like recipes for some time. I wouldn't be surprised if she stumbled onto the Elvish Lembas secrets, in her own pretty imagination.  She started out by using a recipe that she found online, and then she played around with it until she liked it better. We've been enthusiastic guinea pigs to her baking efforts. Don't stop experimenting (*burp*) yet, Amalia!
This last batch that Amalia made was so delicious that I knew she must be very close, indeed, to the secret Elvish recipe, and I decided that it was time to share it with you, Gentle Readers.  Because, after all, who doesn't need an exceptional superfood from time to time?
Amalia's Lembas bread recipe is buttery and rich, and just a little sweet. I don't know if one bite will honestly satisfy a man for an entire day (I rather doubt it) as the Elves claimed, but it'll more than likely satisfy your tribe for some time, anyway!
Why not give it a try today? Oh–and a skiff of peanut butter and a drizzle of honey does not, after all, go amiss on this treat! Here is Amalia's recipe:

Lembas bread: one bite will satisfy a man for an entire day
Author:
Amalia from vomitingchicken.com
Prep time:
Cook time:
Total time:
Just a few ingredients and a few minutes of your time to mix them together, and you'll please any Lord of the Ring fans with these tasty breads!
Ingredients
1 cup butter
½ cup brown sugar or ¼ cup honey
2 cups unbleached flour
Instructions
Preheat oven to 325 degrees.
Cream together the butter and sugar or honey. Add the flour and mix until thoroughly incorporated. Put out on suitable surface and knead until quite smooth, about 5 minutes, adding a bit of flour if necessary to keep dough from sticking.
Roll out to about ¼ inch thickness and cut into 3" to 4" squares, scoring with a knife halfway through each square with a butter knife. Place on buttered cookie sheet and bake for about 20 to 25 minutes, or until lightly golden brown.
Hey . . . hey . . . hey! A couple of postscripts for you:
P.S. 1: Reminder! My Tolkien-crazy daughter Amalia and I finished writing our Hobbit-inspired recipe ebook, "Recipes from a Halfling's Pantry: lots of these" and it is now available for sale!
It is a big, fat, recipe-full and photo-rich ebook, which you can download and refer to again and again for all your hearty, delicious, cozy meals. We are offering it in "Pay What You Want!" format, so click here to get yours today, for as much as you'd like to pay! $1.00 . . . or $10.00 . . . or $100.00 . . . or . . . 😉 Of course any income that Amalia and I make from this ebook, we'll use to support our blogging adventures.
P.S. 2. Here's my very favorite rolling pin and yes, you can order yourself one TODAY if you like.
P.S. 3: If you'd like to check out Amalia's bookish blog, Second Breakfast, here is where you click to get to it.
Thank you so much! See . .. here's the cover of our ebook. Isn't it a beauty??

By the way . . . do you keep an Amazon list most of the time? I find that I do. I live over an hour's drive from the city where I can shop, so online ordering if becoming more and more convenient for me. And if you can get free shipping and great prices . . . wow, why not? If you click through with my links, Amazon will pay me a few pennies, and it won't cost a cent extra for you. Any income I make from this blog, I pour right back into it, and I do appreciate your support.
That's it!
Thank you for popping in!
*hugs*