It's Here! "Recipes from a Halfling's Pantry: lots of these" ebook
I can't pinpoint the exact moment when our eyes met, Amalia's and mine, I mean–and it occurred to us that writing a Hobbit-inspired cookbook was something that we really needed to do. Our eyes met, a flood of realization washed over us, we grinned, and our course of work was set for the next few months.
It could have been after I had posted Amalia's marvelous and popular recipe for Lembas bread, perhaps, or maybe after we threw a mini-party with Hobbit-inspired meat pies for the main course? Or maybe it was after folks at our local farmer's market went crazy for the Hobbit-inspired seed cakes that we made and sold. Or maybe it was after we did a charcuterie spread with my sister Mollie for our yearly family camping trip, and somebody mentioned that Bilbo really would enjoy such a feast.
Take a look, he would.
Somewhere in there, we decided that–by and large–we cook, and eat, and grow and hoard and put by food, much like J.R.R. Tolkien's mystical comfort-seeking, hairy-footed people–the Hobbits. We decided that, in our approach to food–but for the hairy feet, the smaller stature, and the residing in Tolkien's Middle Earth–we are Hobbits.
Fussing over food, talking about food, planning food-themed events, and of course preparing and eating the best types of food–all of these things bring us joy. Bringing together great food with friends and family, and enjoying the fruits of our labors is indeed a joyous thing, isn't it?
And the fact that our extended family and our friends feel much the same way, is a source of constant joy, as well. We are blessed!
Have you thought of this? Hobbits were locavores. Hobbits insisted on organic veg, because, of course, they grew their own. Hobbits enjoyed meat, but it was good meat–raised or caught by themselves or a trusted farmer in the region. Gosh, if Hobbits were real and existing today, I might even venture to say that they'd be at the farmer's markets, selling their extra bunches of herbs and root veggies to folks in the area. They'd be leaving bags of zucchini on the doorsteps of their neighbors. Wow. Hobbits would be trendy in our foodie culture, as we try to do better than the corporate farm, mass-produced, nutrient-poor convenience foods that glut our grocery stores.
There is so much wonder and delight to be had, for those who take the time to become involved with the natural world and the fruits that it will, with some coaxing, provide. I believe this. I also know that Tolkien believed it.
"If you really want to know what Middle-earth is based on," said Tolkien, "it's my wonder and delight in the earth as it is, particularly the natural earth."
Tolkien and I would have been kindred spirits, I just know it.
So, realizing that we are, in fact, Hobbits ourselves, Amalia and I set to work cooking and developing recipes that would be suitable in a Hobbit cookery book. Meat pies, to eat out-of-hand. Ginger cream scones. Raspberry and roasted walnut scones. Short ribs roasted with root vegetables. We made everything with fresh and simple ingredients that might be available in Tolkien's Middle Earth. Not all recipes made the cut. We used chickens from our place, and herbs and veg from our own garden, in the recipes. We picked apples from a generous orchard owner, to squeeze our own apple cider, and to slice and fold into apple hand pies. We did everything as much as possible as we might imagine a Hobbit doing it.
We had several impromptu dinner parties with family and friends, who were eager to help taste-test our Meat Pies and our Superfluous Rooster and Dumplings, or our Two-Berry Tarts. We never lacked eager tasters.  All in all, it has been a completely fattening  satisfying experience.
And now our ebook is finished, and we are pleased to share it with you, Gentle Reader. We owe a lot to our designer Andrew Miller, who took our ideas and photos and recipes and put them all in a beautiful book form, never once scolding us for eleventh-hour updates, and cheering us on the entire time. Also to our lovely community of family and friends, who kept us plugging away, with their excitement and interest, and willing bellies. 🙂
Here it is . . . take a look . . . isn't it pretty?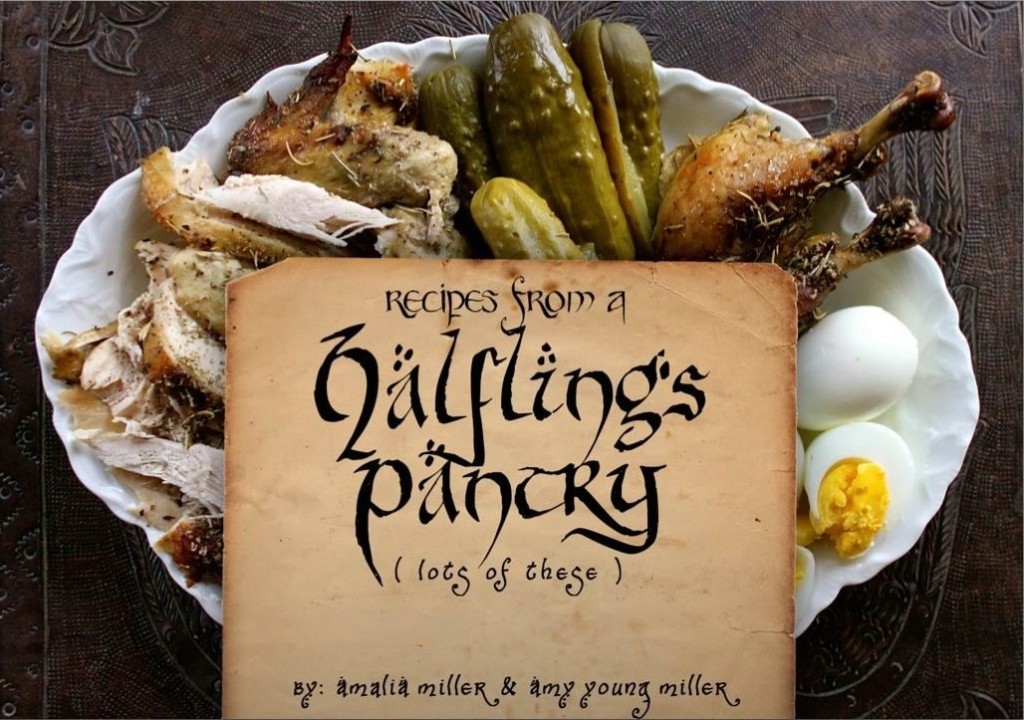 "Recipes from a Halfling's Pantry: (lots of these)" is available today in ebook form. It is 84 pages long, with 33 recipes which have all been developed, tested, tasted, and photographed by Amalia and me in our microscopic kitchen. They are all original recipes. A few of them (as noted above) have been published on my blog, but most of them have not.
Here are a few:
–Sonia's Ale Stew
–Rooster and Dumplings
–Cherry Pie Squares
–Meat Pies
–Two-Berry Tart
–Honey Cakes
You'll have to buy the book to find out what else is in it! And here's a note about buying. For the first 10 days (that is, until February 21–but only the first 10 days–) we are offering this wonderful Halfling foodie resource as a Pay-What-You-Want deal. PWYW enables those college students who may have one or two dollars to their names only, to get this new cookbook for a buck or two. Or it also makes it possible for anybody who'd like to make a small (or a sizable!) donation to our blogging efforts, to do that, too.
So . . . click on the link below, decide what you'd like to pay, and enjoy creating your own Hobbit dishes! Any income we get from this book, we'll roll back into our blogging activities (though we'll pay our designer, first, no worries, Andrew ;)).
Click here to buy "Recipes from a Halfling's Pantry: lots of these." (And thank you!)
*hugs!*
Oh, and hey–if you have time to share this post, to get the word out, we'd be so grateful!