Building a hoophouse, Phase 6: getting down and dirty!
I'm a little befuzzled on what to sub-title this post.  So many ideas.  It could be simply "Manure!"  or I could be less crude and call it "Preparing the Soil" or treat it with a bit of vagueness and subtitle it "Almost There!"(Almost where, exactly, Amy?)
Of course, all along I've thought that "It Takes a Village to Build A Hoophouse" would be particularly apt to use as a title. I feel so indebted (because I am indebted) to so many people at this point, in this hoophouse-building project. My good husband, Bryan, and my amazing "180-watt" son, Timothy, who both have plenty of other projects that they could be immersed in, if they weren't being so kind to me.  Really, now.  Timothy will work for pie. Bryan will work for . . . well, never mind.  He likes pie, too.
How sweet is that?
My brother Matt and my brother-in-law Dave, my awesome dad, who have all pitched in countless hours on hole-digging and post-setting and lots of other jobs, and daughter Amalia who has cooked for the building crew more than once, and my mom who kept the dogs out of our way more than once, and brought out food, too, and kept the crew well-hydrated, as well.  And now I need to add to my ever-growing list Neil and Donna, my dad's coffee shop friends and arguably The Nicest People Anywhere.  (Ask anybody.)
When Neil heard about our ambitious project, he immediately offered to donate a load of well-aged cow manure (also known as "black gold" around here) to the cause.
So here's how it all went . . . down, baby.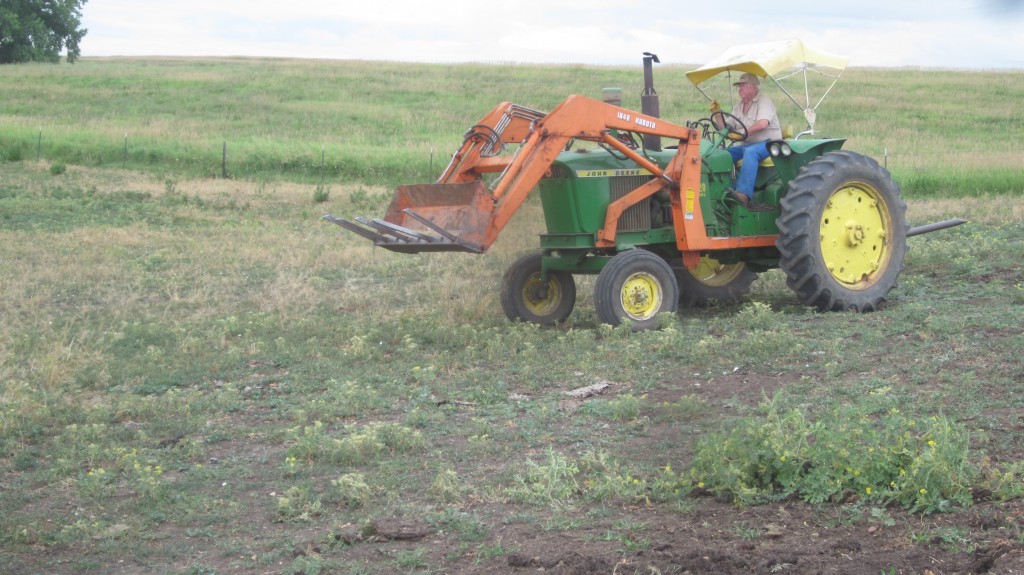 Neil met us at his farm and he got his big tractor with the loader out.  After the past few days, I'm certainly developing an appreciation for a tractor with a loader, I'm telling you!  Here he comes . . .
It doesn't take long to fill our little trailer with well-aged manure.  Not with this big-boy loader . . .
Now for the fun part: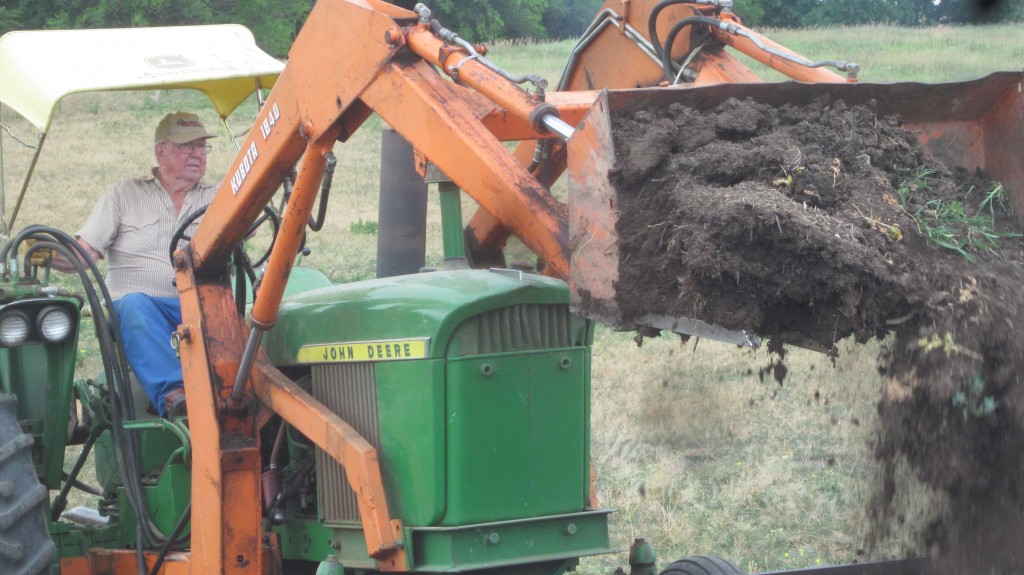 Upsy-daisy!  Right into the trailer!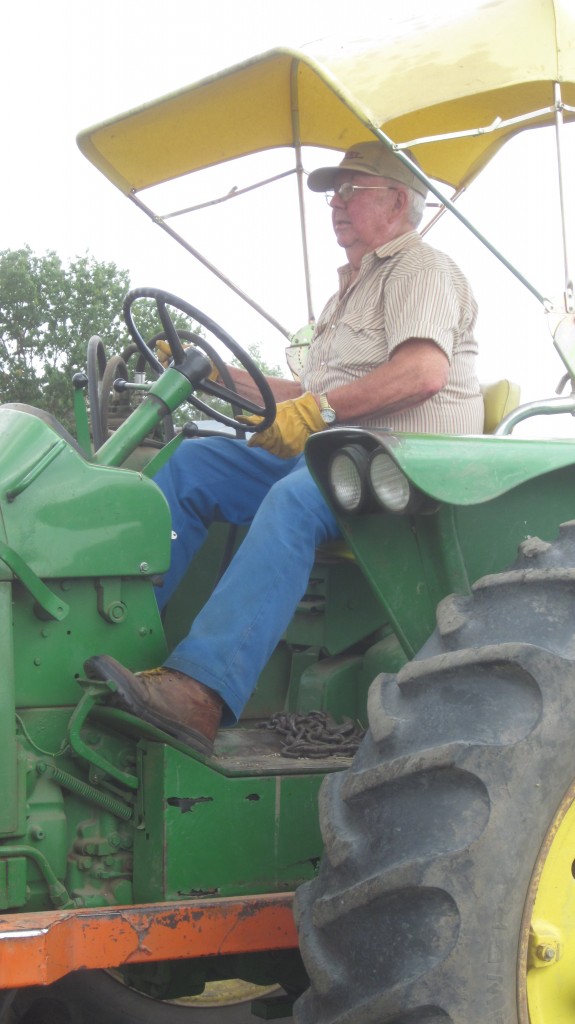 I think Neil just turned 80, and he still keeps a farm going.  This amazes me.  It impresses me and it inspires me.
I hope I can be this strong and this generous and this active and this . . . this . . . still using a tractor WITH A LOADER when I'm 80 years old.
Someday I'm going to write a post about getting older and how much I admire people who get sweeter and more giving and more active and more everything positive as they get older. I think it's a wonderful thing.
I definitely don't want to be a cranky, self-absorbed, sedentary, meddlesome old lady.  I mean, in the far—distant–future.
Perhaps owning a tractor with the loader is key and I do hope my good husband is reading this (insert dimpled grin). No question about it, he'd prefer me to be a happy old lady. (Right, honey??)
Neil and Donna's farm is a combination of pasture land, row crops, and hay fields.  It's beautiful, quiet and secluded.  Plenty of space in which to use a loader.
After Neil finished loading the trailer full of that "black gold," he then offered us rocks from his rock pile.
Our land, though only a few miles away from theirs, is curiously free of rocks. But Neil pulls rocks out of the ground all the time at his farm, and he was happy to share them with us.
So after loading up manure and a nice selection of rocks, I asked:
"How much do I owe you, Neil?"
You know, don't you, Gentle Reader, how much one little bag of aged manure costs at the store, right? Several dollars. And we had hundreds of bagsful in our trailer.
This is what Neil said:
"Oh, no, none of that.  Your dad lent me his weed whacker the other night when mine didn't work.  That's good enough for me!"
I was still mulling over this idea of a fair trade, clearly falling in my favor, obviously, as I handed a bag of fresh granola to Donna, since I knew that she likes my granola (you can find the recipe right here., that is, if you'd like to try it for yourself.  And you really should!).
This is what she said:  "Oh, my, I'll only take it if you'll let me pay for it!"
Hmm.  Nope. Your money's no good with me, Donna. 
This is what we found when we got home: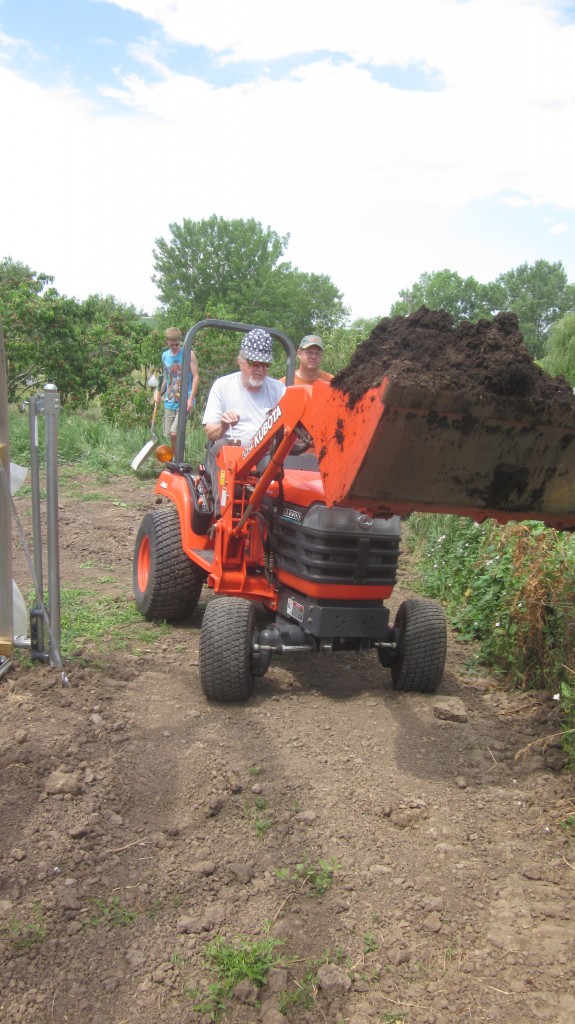 Can you believe it? How cool is this? My dad bought a dandy little tractor with a loader and he was just waiting for us to get home with the manure so he could help us unload it into the hoophouse.
And that's all I'm going to write for today. I'll pick up tomorrow right here where I left off. Be there or be square, Gentle Readers (you don't want that, do you?).