Hoophouse Building, Phase 6 part B
This ought to be a question every prospective bride asks of her suitor:  "Will you, if the occasion arises, scoop manure for me?"
I would imagine that not many marriage counselors think of that particular question, when they are attempting to prepare starry-eyed lovers for a lifetime of "for better, for worse."  But certainly you can tell a man loves you when he'll spend a good share of his day off scooping manure for you.
In yesterday's post, I wrote about obtaining an obscene amount of lovely well-aged manure from some friends to spread into our hoophouse.  If you are a gardener (and even if you aren't) you are surely aware of how valuable well-aged manure is to growing beautiful vegetables and flowers and fruit.  Our friend Neil used his large tractor with a loader to fill up our trailer.  When we got home with our load, we discovered–to our surprise–that my dad with his medium-sized tractor with a loader were waiting and ready to go to work unloading and moving the manure.
I hadn't planned to ask my dad to help (even though I knew of the tantalizing presence of the Kubota tractor with a loader in his garage) because he's been struggling with a shoulder injury.  I had planned on this manure-spreading to be spread out over several days and lots and lots of trips with the wheelbarrow.
I am so glad that my plans were foiled, and that my dad is who is he is–that is, a stubborn farm boy who won't let a wretched shoulder injury get him down. (Although, perhaps he should just let it rest.)
"What about your shoulder, Dad?" I asked. He reached up and gave it a rub.  "I don't need my shoulder that much to run my tractor," he said, smiling.
And no, none of you can have my dad, so please stop asking. He's not for sale.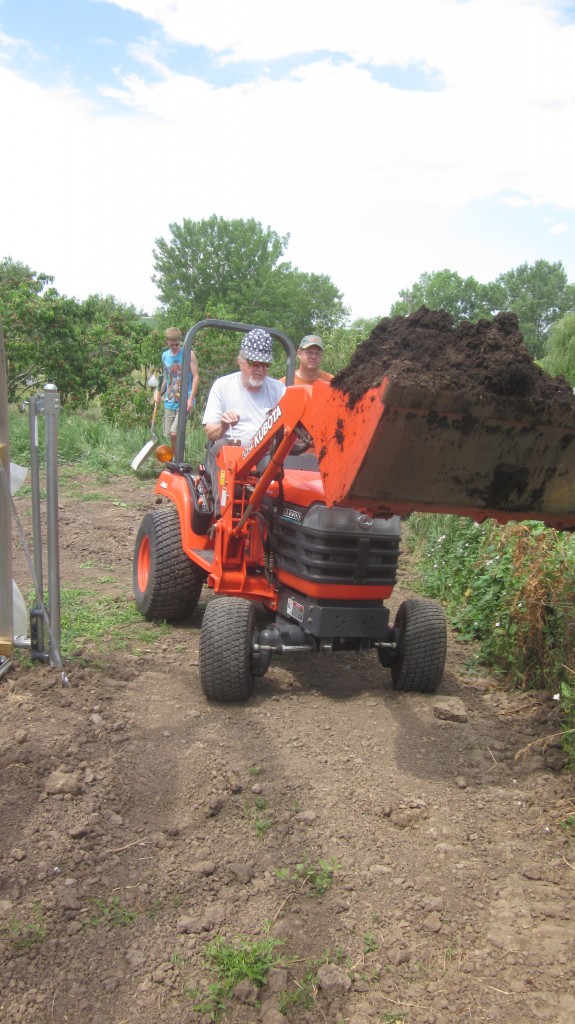 We set up our operation thus:  Dad  would move his loader into position at the lip of the trailer, and then Bryan would help him get the loader filled with his shovel.  Dad would then maneuvre the tractor along the too-narrow path to the entrance of the hoophouse and unload the manure carefully, just where I wanted it.  Timothy and I would rake it into beds, while the dogs raced around us happily.
I'm putting a Kubota tractor with a loader on my Christmas list. (I'm not kidding!)
I'm laying out four long raised beds, with paths in between.  I hope this is a smart thing to do. I don't really know.  Eventually, I'll lay out lines of drip-tape which will be connected to the hydrant that we had installed.
It sounds like it will work, doesn't it?
For now, though, we just needed to get the manure moved, and Dad's dandy little tractor with the loader really helped us make short work of this chore.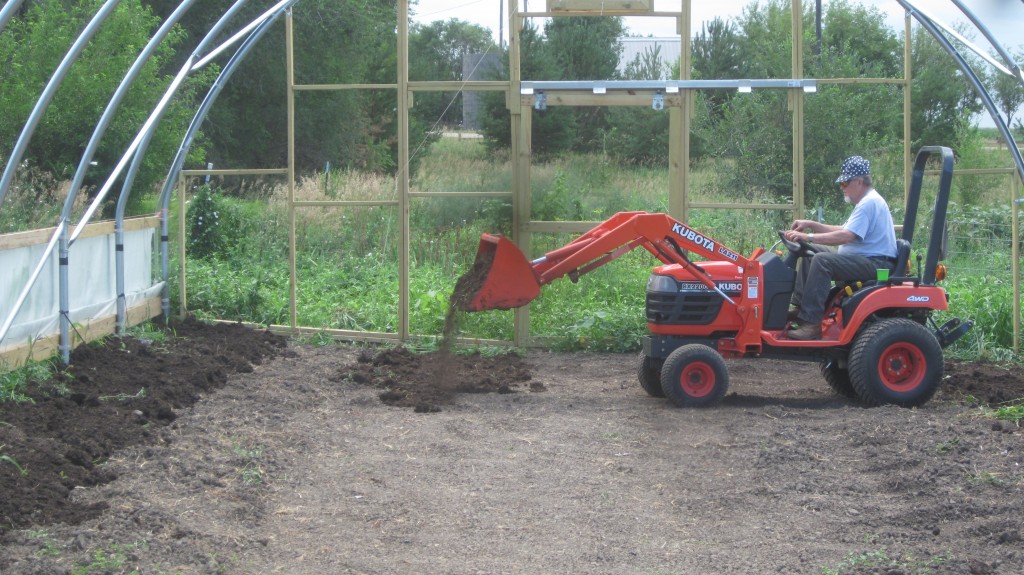 Dad has one bed laid out above, and a second one started.
If you've followed all these hoophouse-building reports, you may remember that I discovered some dewberries that I had forgotten that I'd planted, in the long brome grass near the hoophouse.  I've checked on them often during the building process, and I'm delighted to find that they are finally ripe, and (even better) the chickens haven't even discovered them!  There really is treasure everywhere, isn't there?
And occasionally, if you can find the treasure ahead of the chickens, well, then, you're blessed indeed!
Little Mack and I made a quick lunch of hot dogs and baked beans and watermelon, and we served it to the guys, with big glasses of iced tea.  They ate standing up, since they were ready to finish with this manure-hauling before it got too hot.
Oh, wait. It was already too hot!
Also, because we have no chairs out at the garden. Oh well. Another thing to add to the to-buy list.
(To watch for:  hey, outdoor furniture is on clearance right now at garden centers, right?)
But strong backs and a tractor with a loader and a hot sun beating down really does help hurry the process along, and we were finished with the manure spreading before too long.  At least before we all fell on our faces into the manure, fainting of heat exhaustion. Just short of that.
Dad bid us and our manure a fond adieu, taking his lovely little tractor with him (you could just leave it here, Dad . . . I promise I'll keep it under cover . . .) after he promised to come back with another little tractor (he has a few) to rototill the manure into my soil. . . within a few days.
Oh, yeah. There's still one more step before I can plant!  I remind myself to be patient. Rome was not built in a day! The Pyramids were not constructed in a week, and a hoophouse isn't planted that quickly, either.  I'm sure that adding the manure to the soil will definitely be worth the wait of a few more days!
Next time . . . believe it or not, I'm going to start planting! I can't wait!
By the way . . . if you are curious about this process from the beginning, you can start right here, where we discover that building a hoophouse is NOT for sissies!
Thanks, as always, Gentle Reader, for reading.  I do appreciate you!