Celebratory Coconut Cupcakes with White Chocolate Cream Cheese Frosting
We're almost finished with the harvesting and we're almost done with the preserving and putting up, too, and believe me, that means it's time to celebrate a bit! Or–a lot!
Today little Mack and Amalia and I will tear down the garden proper and clean up the hoop house a bit, too. We've canned tomatoes and salsa and grape juice and we've put containers of roasted tomato sauce and ratatouille into the freezer for hearty winter meals. We've done lots more, too. We've socked away carrots and winter radishes and turnips and winter apples in our root-cellar-cum-corner-of-Bryan's-shop and we'll have fun cooking with them all winter long. We've raised some meat chickens and they're safely tucked into the freezer, along with the skinny old hens which will be the basis for lots of nourishing pots of soup.
I've still got a couple of preserving tasks to do yet: I want to make applesauce with a couple of buckets of apples that were given to me, and I have yet to make escabeche from my piles of extra jalapenos. My friend Chef William, who has recently moved to Mexico and writes an awesome blog about his experiences and recipes, has shared with me how to do this, and I'm looking forward to making it.
But I don't think celebratory cupcakes are a bit premature, do you? We have lots to celebrate, and what better way than with something that looks like this?
You know that I've been experimenting with Virgin Coconut Oil, and I can assure you that I love using it in cooking. Also baking. Actually I've not found anything that I don't like it in, from stir-fry to fried eggs to my bulletproof coffee. It's a great addition to my kitchen, and to our healthy diet!
Here's where I like to buy it:
And here's your recipe!
Celebratory Coconut Cupcakes with White Chocolate Cream Cheese Frosting
Recipe Type
:
celebratory cupcakes!
Author:
Prep time:
Cook time:
Total time:
Cake is a very popular celebratory food around here, not made very often but when we make it, we make it right: with coconut oil, white chocolate, and lots of shredded coconut!
Ingredients
For the cupcakes:
1 3/4 cup all-purpose flour
2 tsp baking power
1/2 t salt
3 egg whites
3/4 cup coconut milk or whole milk
1 tsp vanilla extract
1/2 tsp almond extract
3/4 cup sugar
1/2 cup Virgin Coconut Oil
1 cup sweetened shredded coconut
And for the frosting:
8 oz. cream cheese
1/2 cup Virgin Coconut Oil
2 oz. white chocolate, melted
juice of 1/2 lime
2 cups powdered sugar
Top cupcakes with:
1 1/2 cups shredded coconut, sweetened or not, your choice!
Instructions
Preheat oven to 350 and prepare muffin tin with cupcake papers or spray oil.
Sift together flour, baking powder, and salt for cupcakes.
Combine egg whites, coconut milk, and extracts in a measuring cup.
Cream sugar and coconut oil with an electric mixer until creamy, about 4 min.
Alternatively add dry and wet ingredients in 3 additions, ending with drys.
Fold in coconut using a rubber spatula.
Scoop batter into prepared tins, filling each about 3/4 full.
Bake until toothpick comes out clean, 25-30 minutes. Cool in pan 5 minutes; remove and cool completely on wire rack.
For frosting: beat cream cheese and coconut oil with an electric mixer until smooth; add melted white choc and lime juice; beat to blend. Add powdered sugar and beat until smooth (it will be a bit gooey). Spread about 3 Tb frosting on each cupcake; top cupcakes with shredded coconut. Now it's time to celebrate!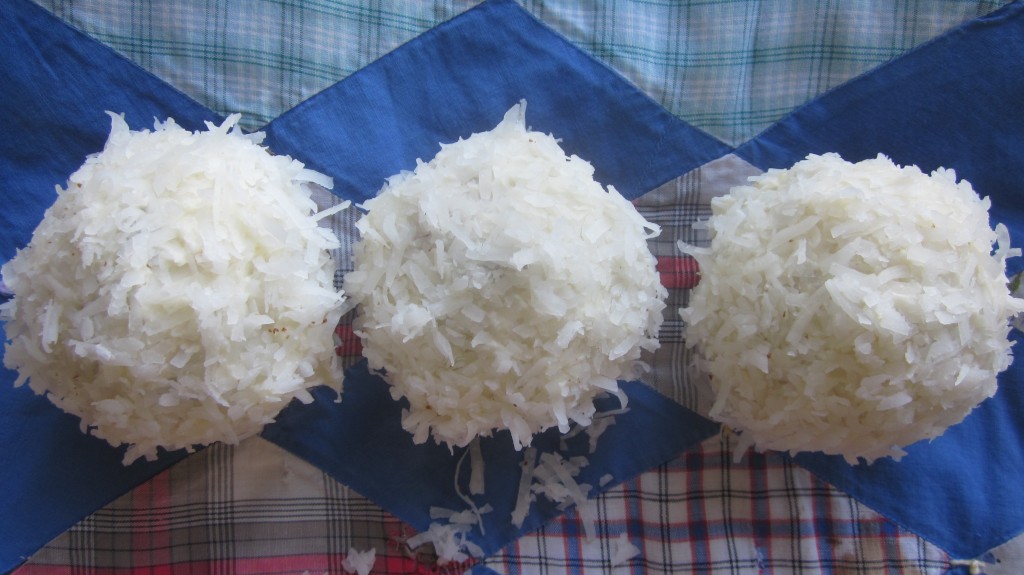 I'm sharing this post with The Prairie Homestead Blog Hop, and also the Blog Hop over at Frugally Sustainable. Come on over for a visit!