How to make excellent stock out of chicken feet!
I'm going to show you how easy it is to make stock out of chicken feet. It's not gross at all, I promise!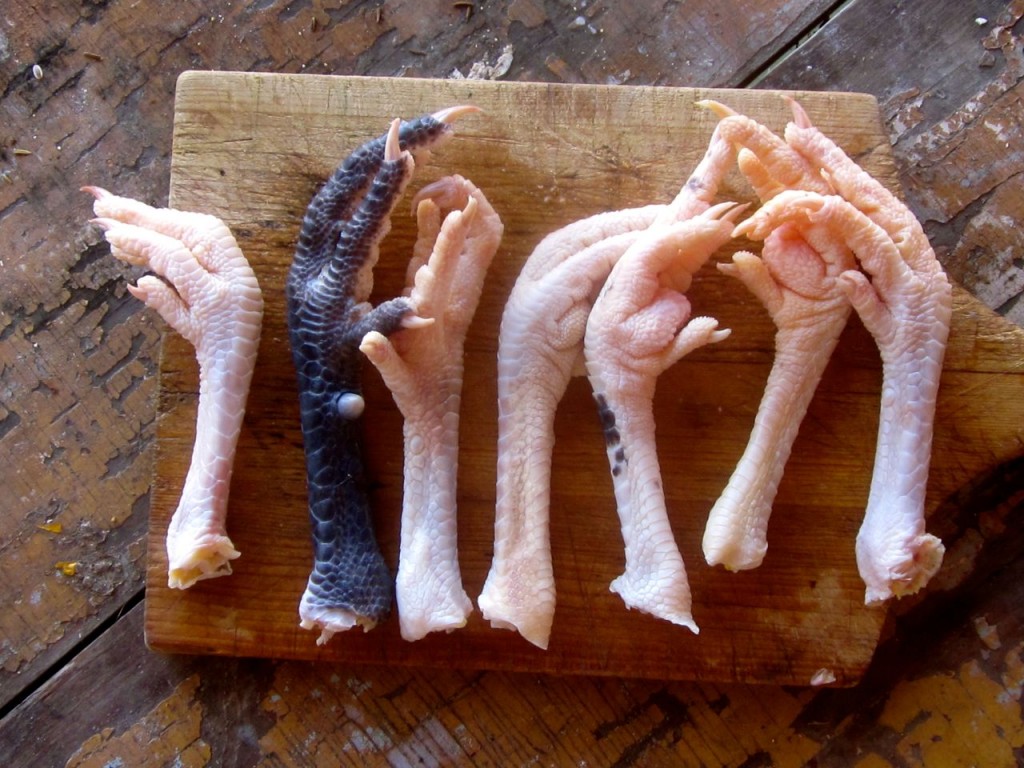 I've got two big bags of chicken feet in my freezer. Oops, no, now I can say that I've got one big bag of chicken feet in my freezer, and I do say it–with a sense of accomplishment, too, you can be quite sure. With spring bearing down on us (one of these days, mark my words, it will come, at least the calendar says so) and the promise of raising more food in the garden and the orchard and the chicken yard (if it ever, ever rains again, that is) I've been digging into the freezer, using up (stew hens, frozen sweet corn, stew beef, precious sour cherries) and tossing out (those bags of shredded zucchini that I didn't use before they became full of iciness) (the chickens aren't choosy about freezer burn, bless them) so there'll be room in the freezer for this year's fruits of our labor.
Guess what? We're thinking about getting a couple of pigs. I'm saying that very, very quietly, because I don't know if we'll get to them this year, but Bryan at least is willing to talk with me about it. We have lots and lots of spring-variety jobs to do before we get to "Build a pig fence" on our list. Wait. I don't think it's there yet. Hmmm.
Well. It's not on the list, but probably (probably!) it is in Bryan's heart, because he loves me and he also (bless him) loves good bacon. And good fun. And an adventure, now and then–not too often, though, mind you. And raising our own pigs, I'm quite sure, would result in all three of those things. Don't you agree? Remember the day the pigs came to visit?  That was an adventure. And it was fun. But, no bacon.
Also I'll raise meat chickens again and of course I've planted a bajillion heirloom tomato plants (NOT exaggerating on the number, at least, not by much) with lovely names like Pink Bumblebee, Blue Beauty, Tess's Land Race Currant, Dr. Wyche's Yellow, Berkeley Tie Die, True Black Brandywine. . . what dreams those names conjure up! I'm determined to make more salsa (I'll share my recipe with you this year, I promise!) because running out of jars of salsa shortly after Christmas is not cool. Not cool.
So many plans. So much to look forward to. But I really do need to get the pantry and freezer cleaned out. And thus, back to the chicken feet.
Every fall when I take my old hens and my meat chickens to the butcher, I ask the amiable guys there to bag up the feet for me. The man with the apron who meets me at the back door is very respectful of my request, but I can hear the workers in the back guffawing and glancing out at me. "That's the woman who always wants to keep the feet–ha–what a rube! What a throwback!"
Yes, that would be me.
And then when we get home, I bag up my year's worth of meat chickens and old stewing hens and pack them securely away into the freezer, with that big funny bag of feet. I tell you, I feel like an authentic Prairie Woman, with a bag of chicken feet in my freezer, ya'all. Every time I open the freezer, there it sits. Full of promise. Full of collagen. Full of glucosamine chondroitin (which people pay big bucks for), you know. Full of dead chicken feet.
That bag of chicken feet stays there for awhile, too, as you may suspect. I know that it'll take a bit of work to process the feet into broth, and also I know that there is just a touch of an "ick" factor involved, so I put it off. Until my stomach turns  me toward those feet.
I've been having a few stomach problems–nothing serious, just some hints and groanings which indicate that all is not well in that hidden place–which have made me think about those bags of chicken feet. I'm a great maker and drinker of bone broth, you know, and I usually try to toss a couple of chicken feet into the pot when I'm making it, but I've also read that chicken feet broth is absolutely the best source of the obscure nutrients that make a good stock so nourishing: glucosamine chondroitin, collagen and trace minerals, not to mention calcium. All that stuff is so good for your gut. And your joints, as a matter of fact.
So, my troublesome stomach urged me to dig out a bag of chicken feet and get to work. My problem knee applauded, as well. Sometimes troublesome stomachs and problem knees have to take matters into their own hands. So to speak.
Sometimes minor health problems will force you to take a little bit better care of yourself . . . and sometimes that means you have to–at last–face the bags of frozen chicken feet.
I'll bet that line has never been written in a blog post ever before. I'd bet money on it, if I were a betting person. 🙂
To be honest: at first when I started working with the feet, I did feel a bit squeamish. A part of the recipe I was following indicated that I had to chop off the toenails. I guess they can add an off-taste to the broth. Whatever. The toenails on the bigger feet were practically impossible to chop off with a knife, so I switched to my bypass pruner (thoroughly washed, of course) and it worked like a charm. However. I felt a bit savage in chopping off the toenails with a pruner, at the kitchen counter. They went flying about, the toenails, that is, with bits of the toes attached. I had to scrabble around and find each one, lest they end up in somebody's piece of cake, or something. Amalia's cup of tea. 🙂 Talk about off-putting.
Then, a strange thing happened. I was all alone in the kitchen, soberly performing this grisly task, classical music quietly playing on the radio, my troublesome stomach urging me on, my problem knee saying a silent prayer of thanks, when I heard a little voice.
"Ouch. That hurts." I jumped. Then I realized that little Mack had come into the back room and was standing in there, out of my sight. I started breathing again. "What hurts?" I called in to him. "My finger. My finger hurts," he said in a small voice. Geez. What are the odds?
A little strange, the timing, wouldn't you say?
Anyway. Little Mack joined me in the kitchen, and watched me for a moment. "What are you doing to those chicken feet?" He asked with a shudder and a grimace, though he's not particularly squeamish about anything. The lad will dissect any stinking thing he can find, it's true. "Cutting the toenails off," I said, through clenched teeth (it's not an easy task, Gentle Readers). "WHY are you doing that, and MOM, the poor chickens!"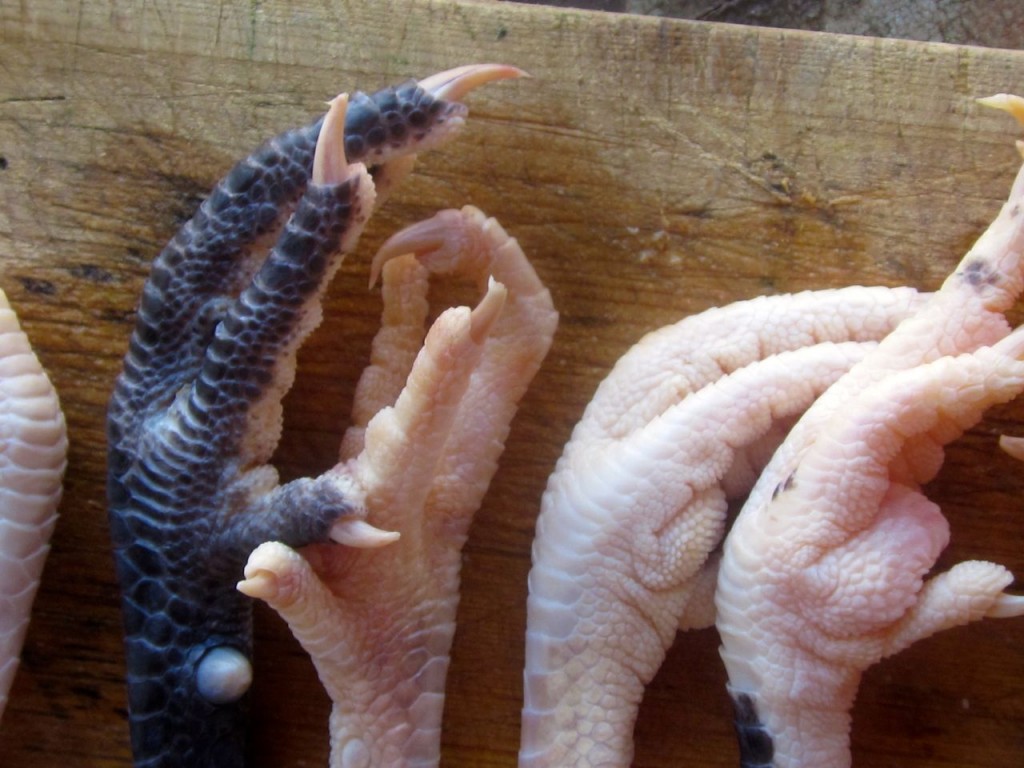 "Honey," I reminded him. "The chickens, of course, feel nothing at this point." I didn't remind him that we had probably eaten most of the chickens by now, the chickens who had once been attached to these very feet." "I know," he said, "but still-–!"
The squeamishness and the nail-chopping and everything is so worth it, because chicken feet broth is lovely and clear and gels beautifully, and has a very nice taste, as well. Every broth geek knows that the pinnacle of broth-making success is a beautiful gel, like so:
And that gel–rich in collagen and nutrients–is what I knew would soothe my anxious stomach. And my creaky knee. And probably other areas of my body which were needing attention, as well. Not to get too personal. (Cough.)
Here's how to make your own chicken feet stock, if you have a big bag of chicken feet in your freezer, or if you can find some to buy (local chicken farmers are a good source, as are butchers who butcher chickens, or Asian and Mexican markets–I've even seen them at the Wal-Mart in a nearby town that has a big Mexican population). It takes a bit of time to make this, but not overwhelmingly much.
Chicken feet broth
Recipe Type
:
broths and stocks
Author:
Prep time:
Cook time:
Total time:
Ingredients
3 lbs chicken feet, scrubbed very well
1 big onion, chopped
1 large leek, cleaned and thinly sliced
4 ribs celery, chopped
3 carrots, chopped
1 Tb whole peppercorns
1 handful of parsley, chopped
2 bay leaves
1/2 cup white wine
Cold water to cover all the above
Instructions
First, prepare the feet: if there is a yellow skin still attached, boil for 5 minutes, and peel the skin off. Chop off toenails with big knife (use care!) or pruners.
Combine feet and all other ingredients, covering entire mess with water, and bring to a boil.
Immediately decrease the heat to medium-low, cover, and simmer for 8 to 12 hours, adding water as necessary to keep the feet immersed. Skim away any scum that might rise to the top. Give that to your dog. It would add an off-taste to your broth, but your dog will love it. Speaking from experience. My dog's, not mine. 🙂
Strain the broth, discarding the solid stuff, and pour into freezer containers and freeze for up to 6 months, if you don't use it right away. (Discard the layer of yellow fat that hardens on the surface of the broth.)
That's it! Your family (and your stomach) (and your joints) will love you if you make this for them. It's so delicious, and is a great addition to soups and stews, or is just good for broth-sipping, too. Bottoms up!