Very Fast, Very Delish, Very Brilliant: Amalia's Ice Cream Sandwich Cake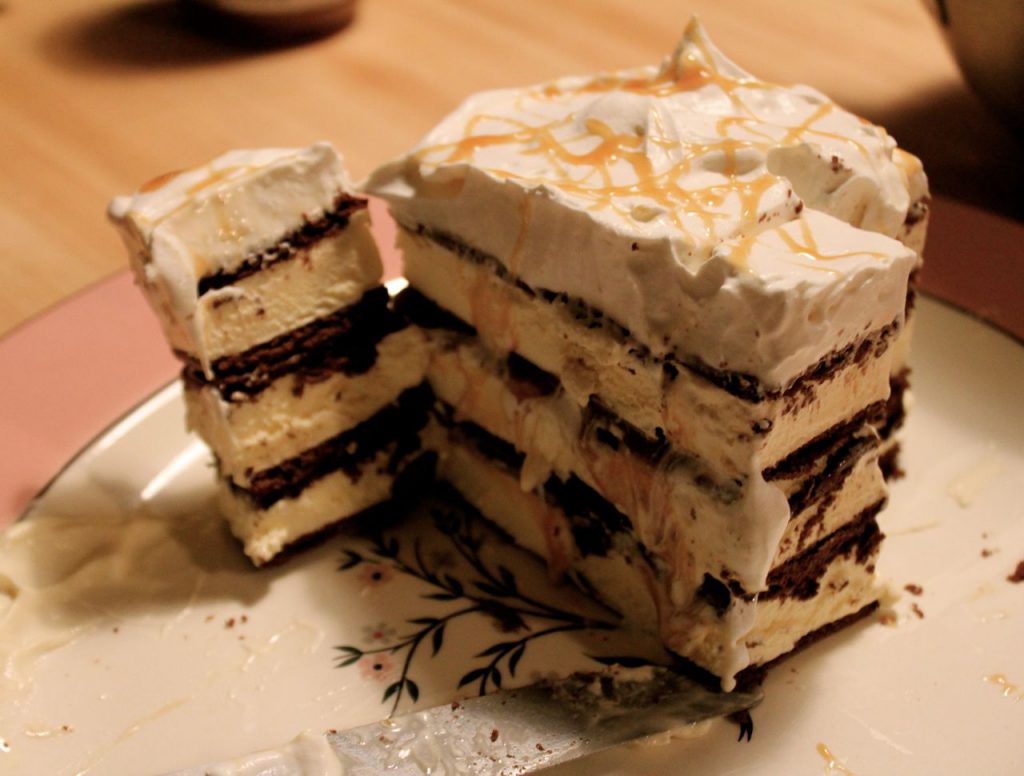 Bethie and Amalia were onstage together for the first time ever this summer, in a melodrama titled "Dark Deeds at Swan's Place." All the fun took place in a little town not far from where we live, so both girls did a lot of driving back and forth to rehearsals, and then to fifteen productions, too.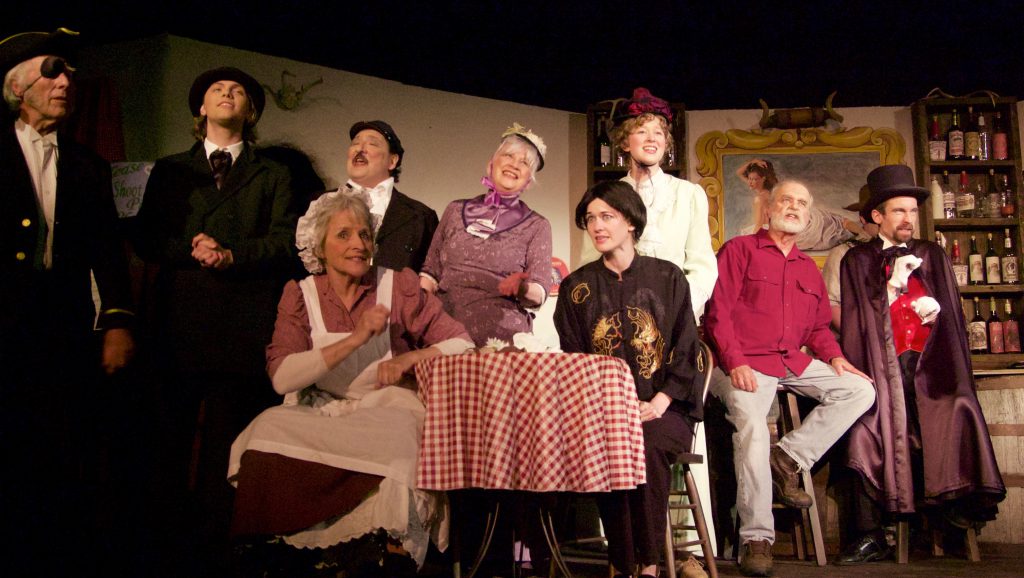 They were tuckered out by the time the show was over, as it came to its conclusion with a rollicking Sunday afternoon matinee. Afterwards, we took them to our favorite Mexican restaurant to celebrate. Because–as you know, if you do any performing–you can't go through something like this, a run of fifteen more or less back-to-back shows, without some sort of celebration to follow it.
You can't just simply say "Well, that's it," and then go home, put your feet up, and read the paper.
You've got to do something fun to let off steam–something out of the ordinary, though preferably not high-energy because you are, after all, thoroughly exhausted. Going out to eat and enjoying some (guilt-free–after all, when you've been through a stressful time like this, there is no calorie-associated guilt) celebratory foods is a must, because: how many meals have you skipped, after all? THEN you've got to do some more celebrating, in the form of conversation and laughter and reliving the moments that you do not want to forget, and perhaps even mentioning (briefly) some moments you hope you do.
It's part of the entire theatre experience, of course. And with all the reminiscences (we call them "post-mortems" at our house) being bandied about, and all the tired laughter, something sweet to eat is also appropriate. Something toothsome. We aren't a drinking family, but we are an eating family.
At times, I wish that I was one of those ladies whose house was always . . . if not clean, at least picked up enough to feel comfortable inviting company home, on a whim.
Sadly, I am not.
There are ladies (I know many of them), who actually plan ahead, and have a dinner or a dessert all ready, just in case they invite somebody over, and just in case the somebody says yes. I wish I were one of these ladies, too. But I'm not.
Conversely. I'm one of those ladies who invites folks over, and has the scant fifteen-minute drive home during which to ponder what the heck she will serve them when she gets home. (Also one of those ladies who uses the phrase "what the heck.") One of those ladies who prays like crazy all the way home that the guests will have to stop for gas, or have a flat tire, or something, so she'll have ten minutes to pick up before they get to her house.
Additionally, I'm one of those ladies who wonders if there are a few clean coffee cups and plates on which to serve the mystery dessert, or if all the dishes are (more likely) dirty in the sink, dirty on the countertops, and dirty under the beds. NOT TO MENTION I'm one of the ladies who wishes she would have taken the ten minutes it might have taken to put the laundry away before she left the house, instead of leaving it on the kitchen table. And the island. And the countertop, next to the dirty dishes.
And. For the past couple of months, I've been one of those ladies who hopes that the puppy hasn't made an embarrassing mess in the living room. Or the breezeway. Or the porch. Or wherever the puppy has been, in her absence.
I am definitely one of those ladies who wishes that she was Jane Jetson, with Rosie the robot at home, sprucing up the house for company,  whipping up a toothsome dessert, brewing coffee, and washing up the dishes, so she doesn't have to spend years every day in the kitchen, washing cups and looking for clean forks. For the company that she invited home, on a whim.
Or hey, if I couldn't be Jane Jetson, I wouldn't mind being Samantha from Bewitched, who is always dressed so nicely and puts everything in the house to rights with a twitch of her nose.
Yup. My life would be so much less stressful if I were Jane Jetson or Samantha Stephens. *siiiiiigh* But. I do believe I've gotten off the subject, strangely, since I never do that. Back to my story:
So it was, that after our celebratory meal, as we walked out into the parking lot, full of guacamole and fajitas, salsa and chips, I called out breezily to Bethie and Saia, "Do you have time for some coffee and dessert?" They were game. Gentle readers, I didn't have dessert carefully prepared and chilling in the 'fridge. That would have been too easy, ergo, it's not something that I would have done. I offered it. I did not have it. Please tell me you've done this, at least once.
Amalia and I walked to the Shimmy. "So what dessert are you serving?" she asked.
I was in the middle of a yawn and stretch. "What?" I asked, stupidly. I turned tired, blank eyes to my lovely daughter, still in her stage make-up. Eyes bright, glowing skin perfect, smiling happily, energy oozing out of every pore. We were polar opposites that very moment. Pretty much point-for-point.
"You said 'come home for dessert,'" she pointed out, politely, with a bit of concern. "Don'tcha suppose we ought to have something to offer them?" She had that painfully patient look on her face, the look that she uses on me whenever she is pitying my dotage but trying not to show it overmuch. All my kids study me closely for signs of early-onset dementia (don't try to get out of this, kids, I see you doing it).
She was studying me closely.
"Oh yeah, I did, didn't I? Hmm . . . good question . . . " I said, tiredly. It had been a demanding week, without enough sleep, and the weather had been extremely hot and humid, and I was drained. I couldn't think. I was out of words*, to make matters worse. "I've been . . . gosh . . . hmm. . . . quality . . . peep?" I said, lamely. "Do we still have some grapes in the 'fridge . . . ?" I finished, on a confusing note.
I hadn't been to the grocery store for ages. I had been getting the garden in, which takes an enormous amount of energy and time, of course, if you are me and always, always put in more garden than even a small army can keep up with. At home, the bread was all stale, the cereal was full of little moths, and the refrigerator was full of sadly tired food that ought to have been tossed to the chickens and/or pigs long ago.
My daughter, as she so often does, stepped mercifully in. "I know what to make," she said confidently. "Stop at Wal-Mart. Do you have a little money on you?" I breathed a sigh of relief. Yes, I had a few dollars on me. We stopped.
Amalia is my treasure. (Matthew, Andrew, Bethie, Timothy, and Malachi, you are all my treasures, too, by the way. For the record. I am inordinately fond of the lot of you.)
I was too tired to even walk into the store, so I sat out in the car, while Amalia hurried into Wal-Mart. Maybe this is the reason. Or maybe I didn't sleep well the night before. Something. Life. I don't know.
Amalia came out of the store with the following:
a package of ice cream sandwiches
a carton of heavy whipping cream
a jar of good caramel* ice cream topping
We were home in a few minutes, and quickly, quickly, Amalia set to work. In just a few minutes, this is what she made. I was her congenial helper, that is, I washed up a few saucers and coffee cups and left the rest to her.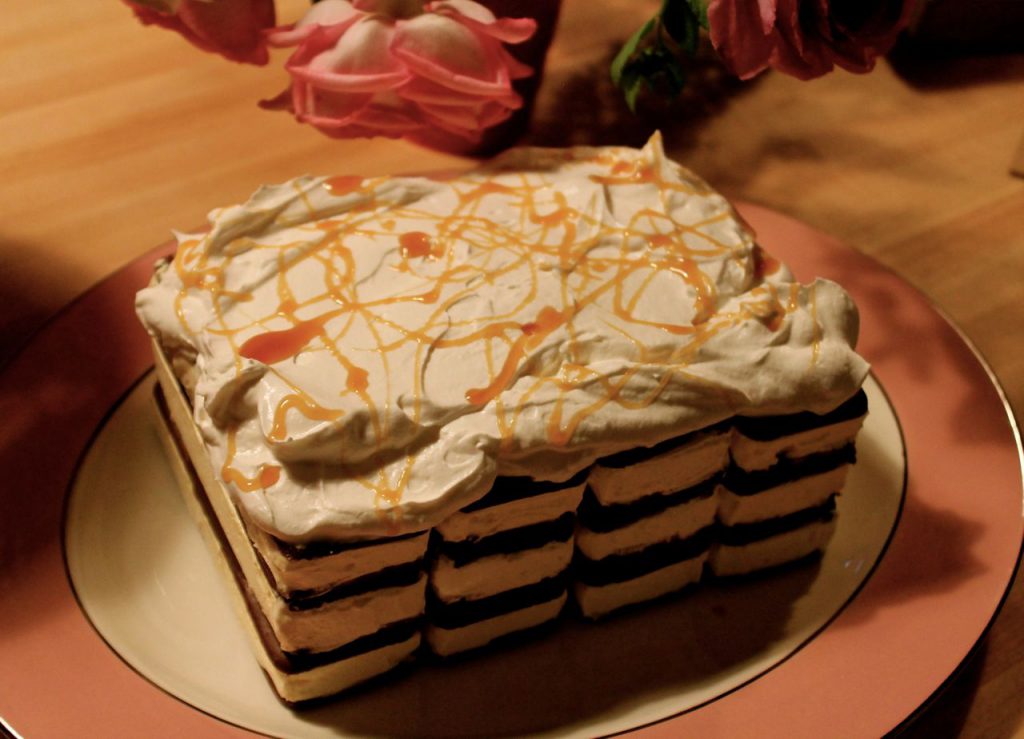 Here's how you can make this in a few minutes at your house, if you are not Jane Jetson or Samantha Stephens and need something quick and impressive to serve to guests.
Rope a congenial helper into assisting you, and have her/him begin to unwrap the ice cream sandwiches.
Find a pretty platter.
Whip the container of heavy whipping cream until light and fluffy, adding just a tablespoon or two of confectioner's sugar and 1 tsp vanilla to it. Set aside. Guard it closely against your little brother.
Lay out a layer of ice cream sandwiches on your pretty platter, and spread with a layer of caramel.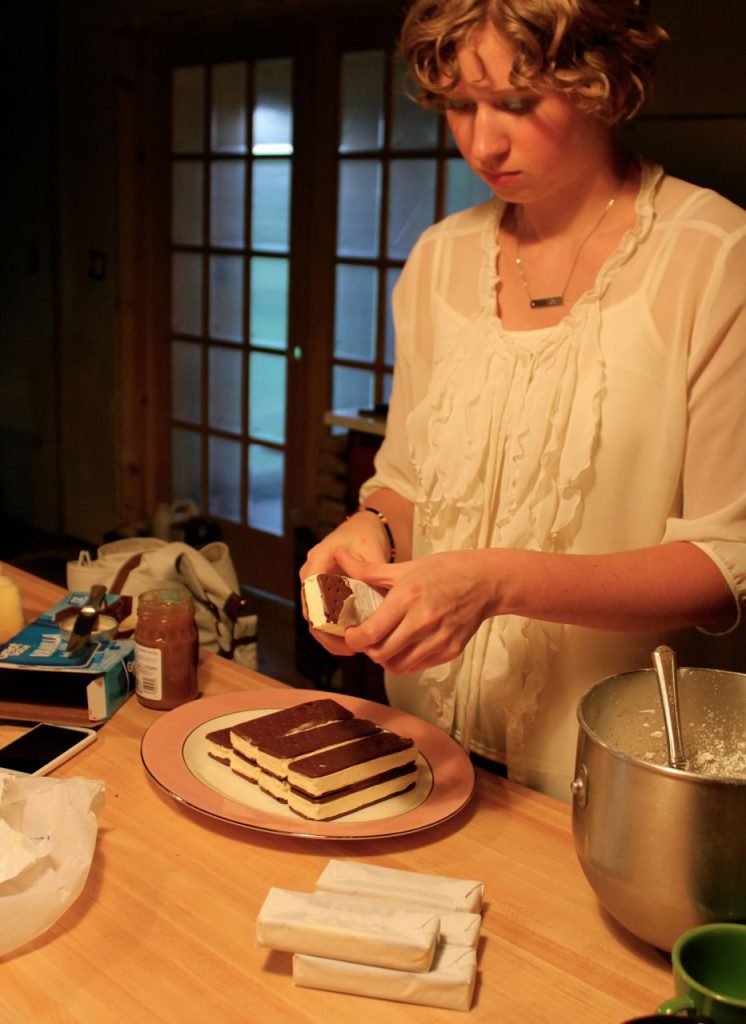 5. Repeat, again and again, until you have a delicious tower of ice cream sandwiches, with caramel between all the layers.
6. Spread freshly whipped cream all over the top.
7. Drizzle caramel in a pretty manner all over the top.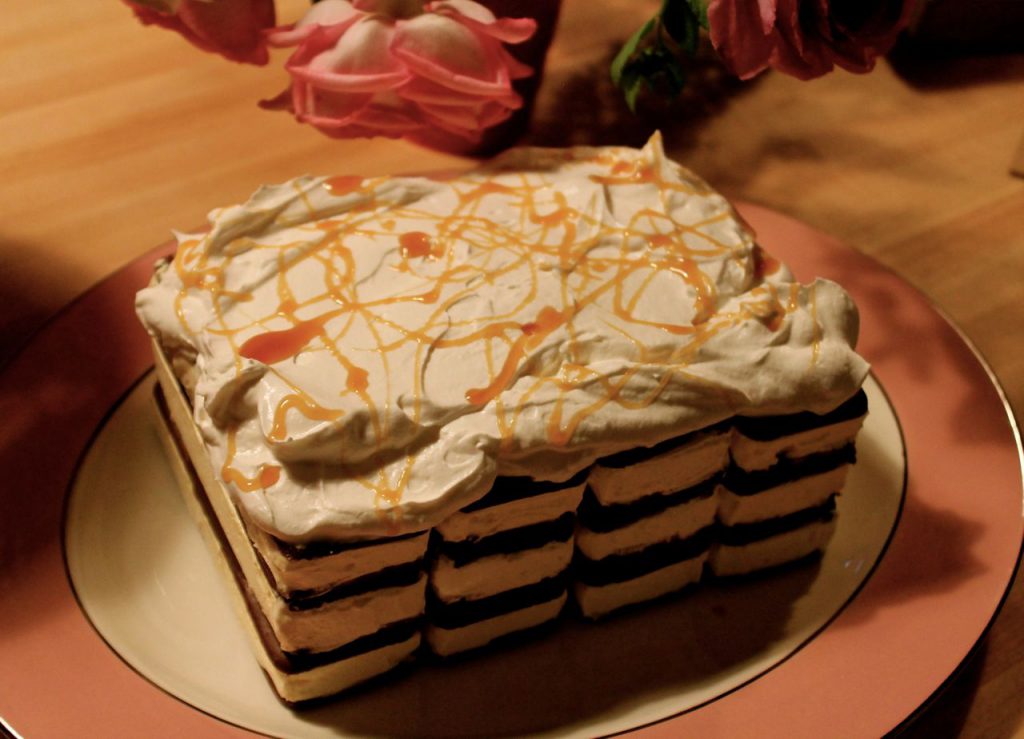 8. Serve quickly, before it melts!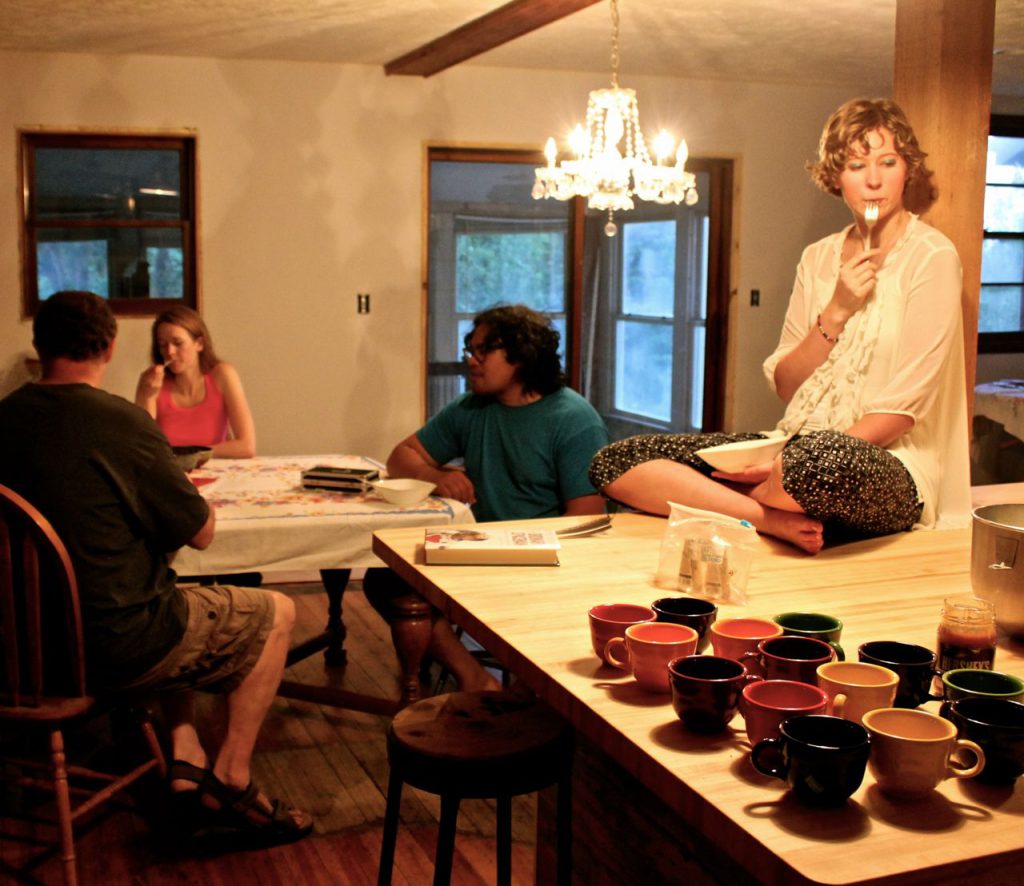 That's it! Easy-peasy, eh? And. If you have time to think about it, there are countless lovely things that you could add:
salty nuts
fudge sauce
Oreo cookies
sliced strawberries
sliced bananas
edible flowers on the top!
and so on!
Hey, guys. I've got a whole lot of blog posts coming up that you may be interested in, including:
an update on our kitchen remodel, possibly, two . . . (there's a lot to catch up on!)
my first heirloom tomato report of the summer, with some new varieties I'll tear apart, and
I'm making my first batch of pickles–pickled spicy green beans, and they are so delicious you'll want the recipe, trust me!
So . . . come back! You probably want to enter your email address in the little box thingy up there near my picture, just so you don't miss a post. Thanks!
*hugs*
p.s. *I believe that you wake every day to a certain bank of words in your head (I think, at some point, that scientific studies were done on this phenom). Some folks (like, most of my children) have many more words in their bank than others. You use your words during the day, and eventually you've used them all. And when you have used them all, you're sunk, conversationally-speaking. You may have a few odds and ends that you can still spit out, but they don't make very good conversation. And so it was on this day, I was out of words. Except for a few conjunctions and maybe a exclamatory phrase or two.
Please tell me this happens to you, too.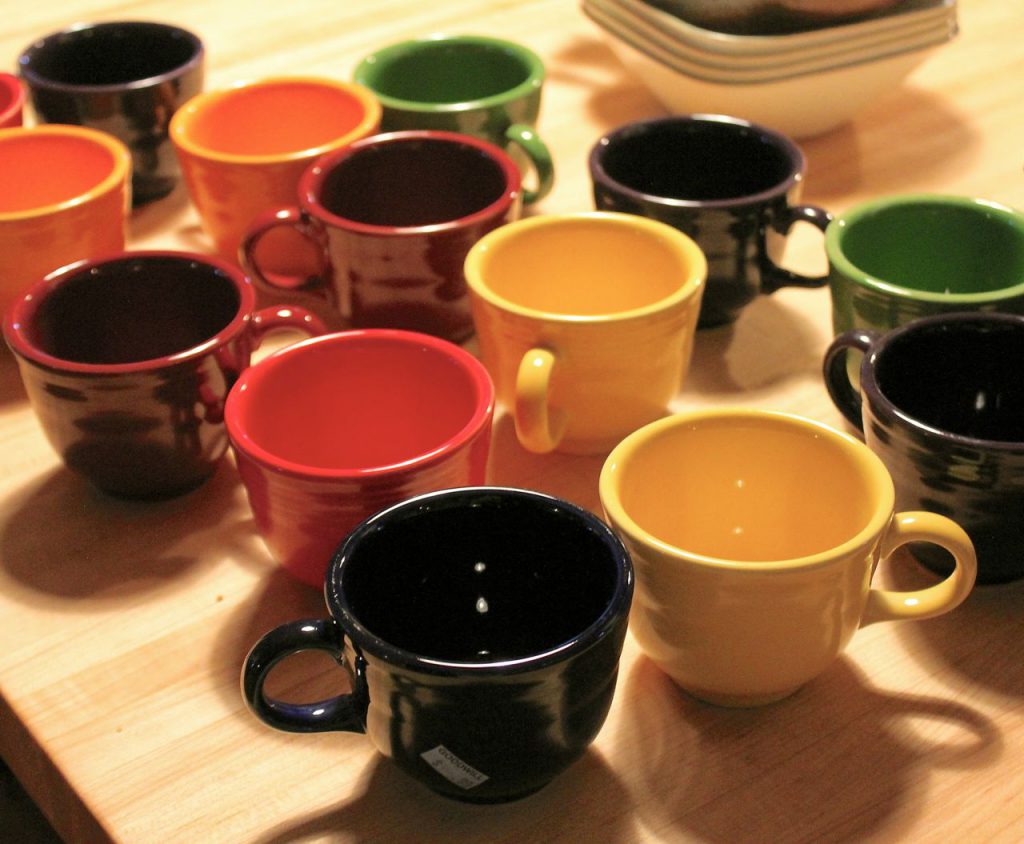 Oh, hey, if you're still reading, you are THE MOST SWEETEST PERSON IN THE WORLD and I can ask you a favor, right? To wit: if you liked this post enough to read alllllll the way to the end, maybe you'd like to share it with your friends? Pin it, share it on Facebook, tweet it, whatever and however you like to do your sharing. Pin it on the bulletin board at your grocery store.
I'll love ya forever, I will. Thank you!
Save
Save
Save
Save
Save
Save
Save
Save
Save
Save