My favorite pastry recipe & a hand-turned French rolling pin GIVEAWAY!
I've been letting you down, Gentle Readers. (hanging head in shame) Not just for a day or two, either. No. For several weeks now, I've been letting you down in a most cruel and disappointing way. 🙁
To wit: I promised you a wondrous giveaway once my Facebook followers got to 1,000. I think I probably (not like me, but oh well) made a big hairy deal out of it, too. Well. Boo, me. I passed that benchmark just a couple of weeks ago. I felt like cueing the trumpet fanfare and throwing the big party, but I didn't.
Instead, I selfishly gazed at that number and felt all warm and grateful inside. Really. It felt quite grand, but I didn't share this giddiness I was feeling. I kept it to myself.
And then I started thinking about how cool it would be when my page got 2,000 "likes." And then I started wondering about the blogs with 250,000 "likes" or more. And I started wondering how they ever reached that many people, or if those numbers are artificially inflated in some way. And THEN I wondered if Facebook was even worth fussing so much about. After all, when I post a blog post–this is unique and fresh new material, folks!–I get this notification: "this post shown to 42 people." 42 people? Seriously?? When I have over 1,000 "likes"? What gives, Facebook? Maybe more than 42 of my friends want to see what I post, mmmmm? Maybe I should decide what you show to my friends, hey, what about that?
Moving on. *snif*
In any case, while I pondered, I let a few weeks slip away without my promised giveaway. Well, I'm here today to rectify that situation. I try to make good on my promises, after all. I am not a promise-maker-but-not-keeper sort of an individual. In essence, my promise was not a pie-crust promise–easy to make, easy to break.
Which leads me to pie. I've been planning to share my pastry recipe, but I've got to be honest with you. I am always fiddling with it. I'm like my mom in this way. My mom changes her pastry recipe with astonishing turnover rates (no pun intended). It's The Elna Way. She is a scientist in the kitchen, always experimenting. Never, never resting on her laurels (although her laurels are significant and worth resting on, oh yes). We are cooks who like to fiddle, we Young women. We never really feel like we've found the perfect combination–where pastry is concerned, at least–of shortening to flour to ice water to whatever.
We're always fiddling.
That said, I'm here to share my current favorite pie crust recipe, and then I'm here to share my Dad's hand-turned French rolling pin. Two things and two things only, and then–off I go to do some fall clean-up chores outside (today I've got to pull some poison ivy that I spotted down by the pond–yikes!–and then start the fall clean-up of my garden and subsequent building of the chicken yard taco*).
So I'm going to make this short. Really. At least I'll give it the ole' college try!
First, here's my current favorite pastry recipe. And this has been my favorite for a couple of years, so I haven't felt a need to tweak it much. I really like it. This pastry holds its shape well, yet it's flaky and lovely, too. You pie makers will know why this is important. I hate it when people break a tooth on my pies, you know?
My favorite pastry recipe
Author:
Prep time:
Total time:
Serves:
3 double pie crusts
You can use this pastry for pies, hand pies, pot pies, meat pies, tarts, galettes, turnovers, basically any pies. It rolls out and bakes beautifully! (This is a BIG batch, and it also freezes well.)
Ingredients
6 3/4 cups all-purpose flour
2 1/4 tsp salt
1 cup butter
1 cup lard
3/4 cup ice water, more or less
Instructions
Stir together flour and salt.
Cut in fats until pieces are pea sized. (I use my KitchenAid mixer for this.)
Sprinkle iced water in, one or two Tablespoons at a time, tossing with a fork, until flour mixture is moistened. Don't overwork your pastry!
Divide into three balls. Divide each ball into two pieces. Each piece should be enough to make one crust for a pie.
On lightly floured surface, use your hands to slightly flatten one piece of pastry. Roll from center to edges into a circle approximately 12″ in diameter. There's your first pie crust!
Wrap pastry circle around the rolling pin and transfer to your awaiting pie plate. Proceed with making your pie!
Important note: I always brush milk on the pastry, before I bake it, and sprinkle it lavishly with sugar. So there. It's best that way. I guarantee it. Your money back if you don't find this to be true.
Now about that French rolling pin I'm giving away this week. I own several rolling pins. One is a pretty vintage one with red handles that I bought at a yard sale. I never use it, I just like the way it looks. One is a homemade one that my dad made for my neighbor Audree, when we lived in Iowa. She wasn't a baker, so she never used it, but she treasured it because she loved my dad. When she died, her family gave it to me. One is a homemade one that my Dad made for me a few decades ago, a really large one with handles that I used every day until Dad raised my rolling pin bar.
That happened the day he made me this French rolling pin.
Why do I love my French rolling pin so much? So many reasons:
It's light, yet it has just enough heft to handle pastry dough, bread dough, even play dough in a pinch. 😉
It has a lovely smooth finish that cleans up easily.
It is a Thing of Beauty, and honestly I do like to surround myself with beautiful things.
It's completely unique. My dad makes these beautiful rolling pins, and each one is special: no two are alike.
It's so slim that it will fit into the drawer underneath the board where I roll out my pastry.
It feels like a tool that a professional pastry chef would use, not just a farm-woman-cum-domestic-hack like me.
Sheesh, my Dad made it. Of course I love it. 🙂
Here are a few specifics for you:
It's made of hard maple and is hand turned, by my dad in his wood shop.
The finish is hand-rubbed, food grade carnauba wax
No two are exactly alike.
These pins will be available in my store (yep, I'm getting a store!) after the giveaway is over, which is to say, in time for Christmas gift-giving!
Special orders (different sizes, woods, design, etc.) will be available, as well.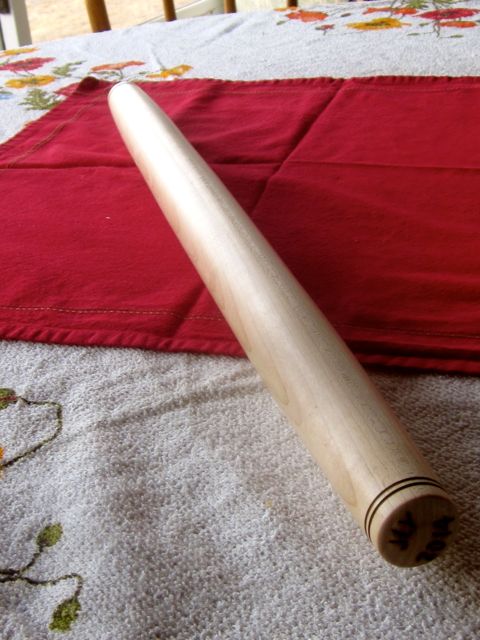 Now . . . don't you really waaaaant it? 😉
So, you would think that with such a great tool, my time spent in the kitchen is all happy sighs and glorious singing. But. Life is not all roses and cream for the owner of such a fine kitchen tool, Gentle Reader. Oh no.
You know you're going into dangerous territory here. Once you have a great pastry recipe, and an awesome rolling pin, your folks are going to expect great things from you. Pies with flaky crusts that crumble on the tongue. Pot pies that bubble gently with succulent gravies. Sweet rolls for breakfast every morning. Oh, the pressure! But I know you, my Gentle Reader. You are UP to this task. You. Are.
So enter the giveaway below. Enter early, and enter often (there is an option that you can enter daily), but don't put it off–you might just forget and then this beautiful work of art cum impressive kitchen tool will go to somebody less deserving than you.
And that, my Gentle Reader, would be a doggone shame.
Here's the doo-dad you'll need to click on for entering (it's easy-peasy, don't be shy!) . . . and good luck!!
By the way, click here to get the recipe for those lovely hand pies above!
And while you're clicking away, click on over to The Prairie Homestead and join me at their link-up! You'll be surprised at what you'll learn there! 🙂