Fried cornmeal mush: peasant food that I love
We eat a lot of "peasant food" at our house. We ate this way when I was growing up, and we eat a lot of it now. I'm glad that I learned how to enjoy these humble, simple, yet nutritious types of food. And some might argue that peasant food is not such a bad choice, economically, certainly (a packet of seeds puts me back about two bucks, but will grow a wealth of veg) but also nutritionally.
Sometimes simple food is the best.
For example, I've got parsnips and turnips right now (as we speak!) growing in my hoop house. One of these days, I'll dig them, roast them, and serve them–probably with some stir-fried Swiss chard, accompanied with some tasty fried sausages, and eggs from our pleasant, yet spoiled hens.  Ta-daa! Peasant food that we all love. And for pennies–pennies, folks–per serving.
Another peasant dish that we enjoy, and that I think most folks don't usually consider, is corn meal mush. It also costs only pennies to make, and only takes a few minutes in the kitchen the day before you want to serve it for breakfast. I raised a bit of extra sweet corn this year, so I will experiment and dry some for cornmeal, but you can just buy your own cornmeal and skip this growing-your-own-sweet-corn step. (Sweet corn does take a big portion of the garden space, after all!) Actually, corn meal mush has moved into the mainstream in recent years, with a new fancy name: polenta. But a pretty new name doesn't change what it is, which is, after all, cornmeal cooked with water and a bit of salt, and then fried in butter, or what-have-you.
You can buy polenta in a tube in the refrigerator section at the grocery store, but . . . why would you? Um, let 's see . . . it just takes me so doggone long to mix the water into the cornmeal . . . think I'll just drive to the store instead and buy me some polenta so that step is done . . . okay, now I've gone and done it.
I've probably just stepped on somebody's toes, and that is not my intent, ever, well, mostly never. It's just so easy to make this, that once you see just how easy it is, you'll never be tempted to spend money on the pre-packaged polenta ever again. Unless, say, you're going camping and it would be (admittedly) very handy for that . . . or perhaps you're on a lunar mission? Then I'd give you the proverbial pass. Anyway. Perhaps I should just get to the recipe . . . ?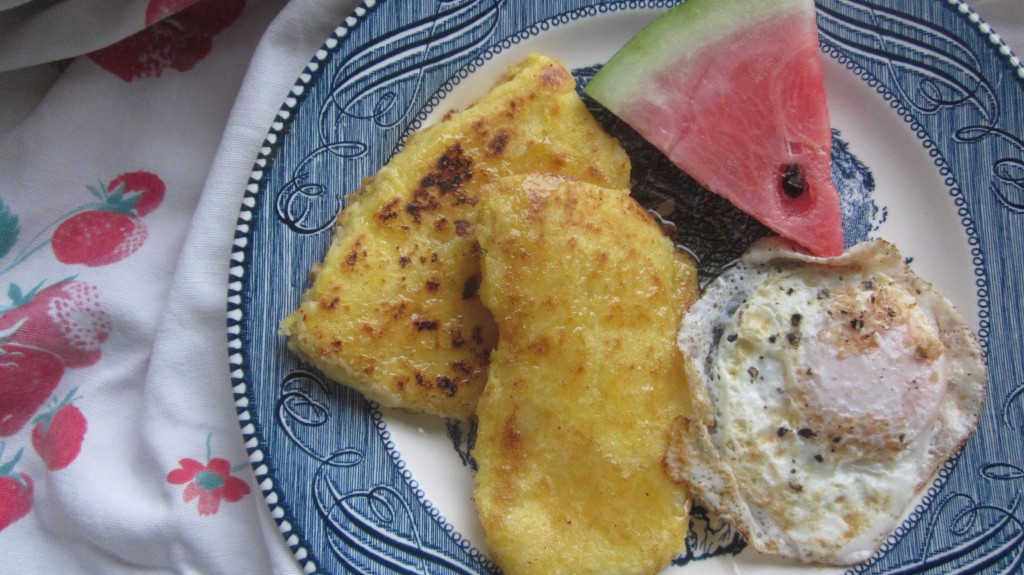 This is the way you want your corn meal mush to look: nicely browned and accompanied by a good egg or two!
In any case, I do prefer the peasant name for this dish: corn-meal mush. You just don't get much simpler than that.
Here's how I make it.
Fried cornmeal mush: peasant food that I love
Recipe Type
:
breakfast foods
Author:
Prep time:
Cook time:
Total time:
Fried cornmeal mush makes a wonderful, quick breakfast, especially dribbled with a bit of real maple syrup, or some raw honey! Some crisp-fried bacon or sausage and a couple fried eggs make a very handsome hot breakfast, indeed!
Ingredients
2 1/2 cups yellow cornmeal, preferably stone ground
2 tsp salt
1/2 cup whole-wheat flour
2 cups cold water
6 cups hot water
Vegetable oil or bacon fat for frying
Flour for dredging
Instructions
The night before: in a small bowl, combine the cornmeal, the salt, and the flour. Gradually whisk the cold water into the mixture. Bring hot water to a boil in a large saucepan over high heat and gradually whisk in the cornmeal mixture. Stir and whisk until it boils. Cover, lower heat, and simmer for 5 minutes. The mixture will be very thick and hopefully, free of lumps. Nobody likes lumpiness, right? Pour into two oiled 9 x 5 x 3-inch loaf pans and refrigerate overnight.
Next morning: cut loaf into 1/2-inch slices. In a skillet, heat 1 Tb oil or fat. Dredge 3 or 4 slices in the flour and fry them over low heat until golden brown on both sides. This is crucial! Those crusty brown edges are the best part of this dish, or maybe the creamy hot middle? I don't know. It's a difficult choice. Serve with maple syrup or honey and plan on 3 or 4 slices per person. Yum!
See how easy? Make some, and then report back! I'd love to hear how you prepared your peasant food. For additional inspiration, here's a close-up. Yum.
Yum, yum! Say, could I ask you a favor? If you like what you read here, please drop a comment below. Introduce yourself! Let's get acquainted. And if you think you might like to get an update in your email box every time I post a new recipe, family update or cool-new-thing-I've learned to grow, type your email address in the little box above, to the right and underneath MY FACE.
Thank you kindly. You just made my day.
Take care. *hugs*