My 11 Very Favorite Heirloom Tomato Varieties (this year!)
One of these nights my garden is going to freeze. It could be tonight, but the forecast says "not yet." I was out in the garden just a few minutes ago, picking one last bucket full of yellow and striped and green and pink and purple heirloom tomatoes–just in case. I popped several cherry tomatoes in my mouth as I picked. A Purple Pear. Several Pink Bumblebees. Handfuls of the beautiful blue variety, Blue Berries, savoring how each color tastes a bit different. A couple Yellow Perfections, thanking Gene mentally for that gift (one more time). Sixteen more. It's so hard to stop!
One more time, I ruined my dinner with a belly full of fresh tomatoes. "My poor kids," I mused, burping softly.
Later, when I came in from the garden, I was met with an enthusiastic "What's for dinner tonight, Mom?" (Sigh.) To which I replied: I'mnotparticularlyhungrysomakeyourown,kid . . . "It's a surprise, Darling!" I've thought many, many times this summer that if the old adage "You are what you eat" is true, then I'm a big juicy heirloom tomato, through and through. From top to bottom. Head to toe. Stem to blossom end. An heirloom tomato. That's me.
The wind is blowing cold today; it feels alien and full of promise. Promise of cold. Promises of pink-tipped noses and numb toes and chapped cheeks and clouds of your own breath in front of you. Yup. It's coming. But it's not here yet. The sun is still bright, but the air is full of shivery potential. I thought about the murmurings of some of my friends about their own tomato patches, saying that they were tired of their gardens and were so ready for them to get frozen off. I can understand the folks who are ready for their tomato vines to die. All summer long, a certain amount of time each week is allotted to picking and processing tomatoes, if you plant more than a few plants. If you ignore them, you feel guilty. All that work, the hungry children in Africa, waste-not-want-not, and so on. I get that weariness. I do. I just happen to not be there yet.
Gosh, I'm just not tired of them yet. (And honestly, I don't use strong language like that unless I'm very, very sincere about something.) I don't know if I could ever get tired of heirloom tomatoes. I still slice them in my sandwiches and chop them up and eat them with cottage cheese; I still revel in a good open-faced crispy egg sammage for breakfast, with tomato slices on the side. I'm still making salsa and soup and canned tomatoes. And I'm still selling tomatoes to the folks at farmer's market who are looking for tomatoes that taste "like the tomatoes we ate when we were kids."
Anyhoo. I live in Nebraska, you know, so there is a finite number of days during which we can enjoy heirloom tomatoes. That's why I take the choosing of my tomato varieties very seriously. I wrote about my favorites last year. I've taken note of the varieties I liked the very best (keep in mind that a neighbor's 2-4, d spraying at the wrong time, and subsequent drift into my hoop house and resulting and tragic demise of a few varieties–not that I remember such sad events with rancor–meant that I didn't grow as many plants as I usually do but GOSH, folks, watch those weed killer sprays!!) and I took pictures of them so I could share them with you, my Gentle Reader.
I wouldn't do all this work for just anybody, you know. Gosh. So here we go. My favorite heirloom varieties of 2014: (cue trumpet fanfare)
1. Dester
I have a weak spot for pink tomatoes. And this one produced beautifully and was one of the best-tasting pink ones I've grown. Even now, when many of the other tomato plants are done, my Dester plants are still churning out the fruit. This is really convenient for the tomato geeks like me who never get tired of picking tomatoes.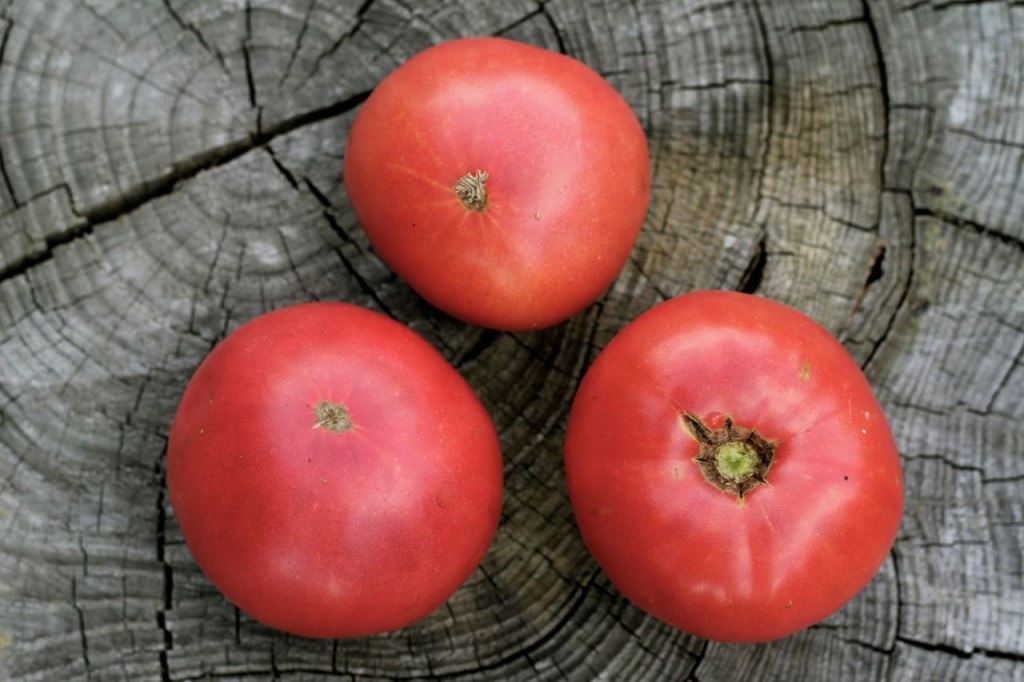 2. Green Zebra
I've grown Green Zebras for many years. Not only are they wildly prolific, they are a great-tasting tomato, very juicy and sweet, with a nice zing to them. Also, they don't have a problem with cracking. I only have a couple of Green Zebra plants, but they produce buckets–honestly, buckets!--full of these small green striped fruits every week. Sliced up, they are very pretty in a salad with other colors of tomato slices.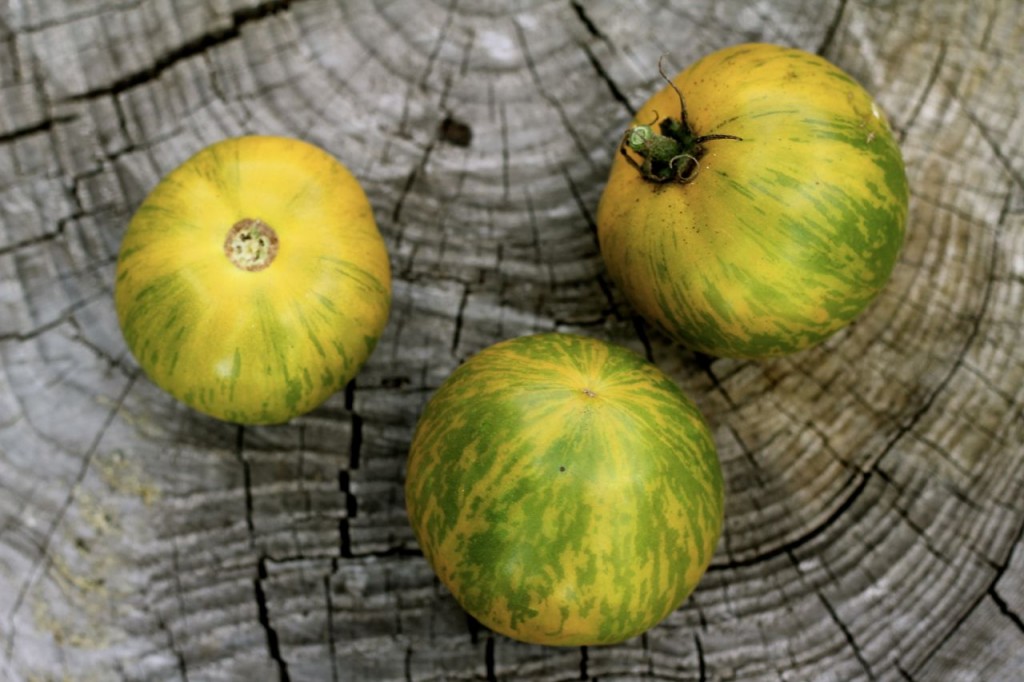 3. Purple Pear
You don't pick these beauties individually; you pick them by the handful. They are amazingly prolific, the plants just droop with clusters, and they have a rich taste that is just addictive. And aren't they pretty? They add a lot of interest to a cherry tomato mix.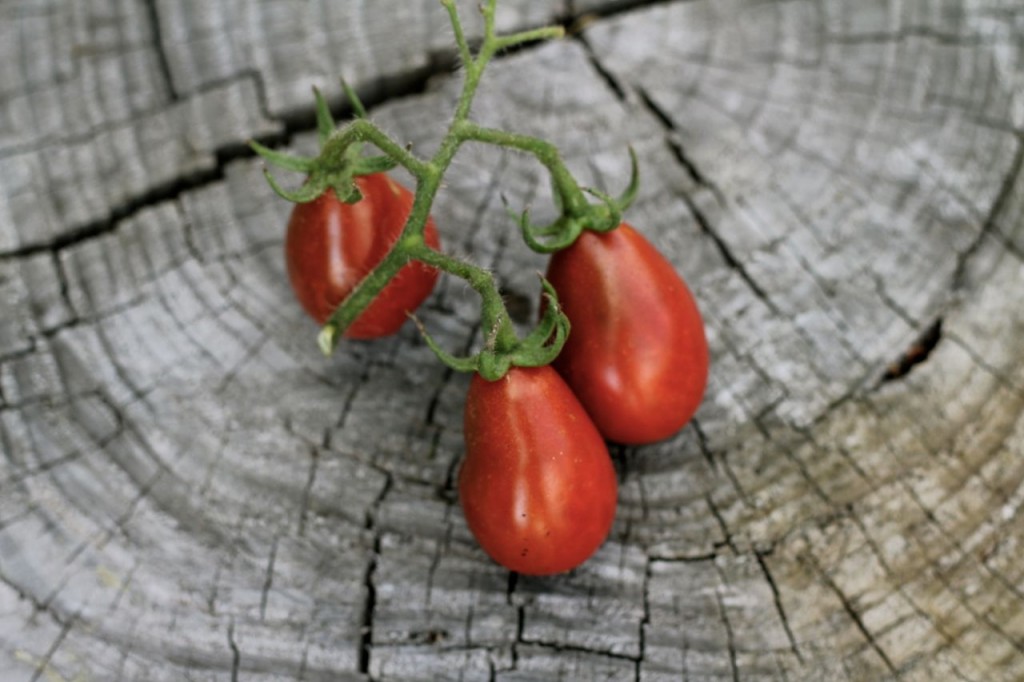 4. Pink Brandywine
This is the most popular heirloom vegetable, and there are many good reasons why. The plants produce very large tomatoes with superb flavor and they are just beautiful. You know how I feel about pink. I just love pink tomatoes. This variety was prone to some cracking, but the size and the taste are worth this risk, in my opinion. This is one tomato that my market customers request every year. It seems that everybody who knows anything about heirloom tomatoes favors Brandywines.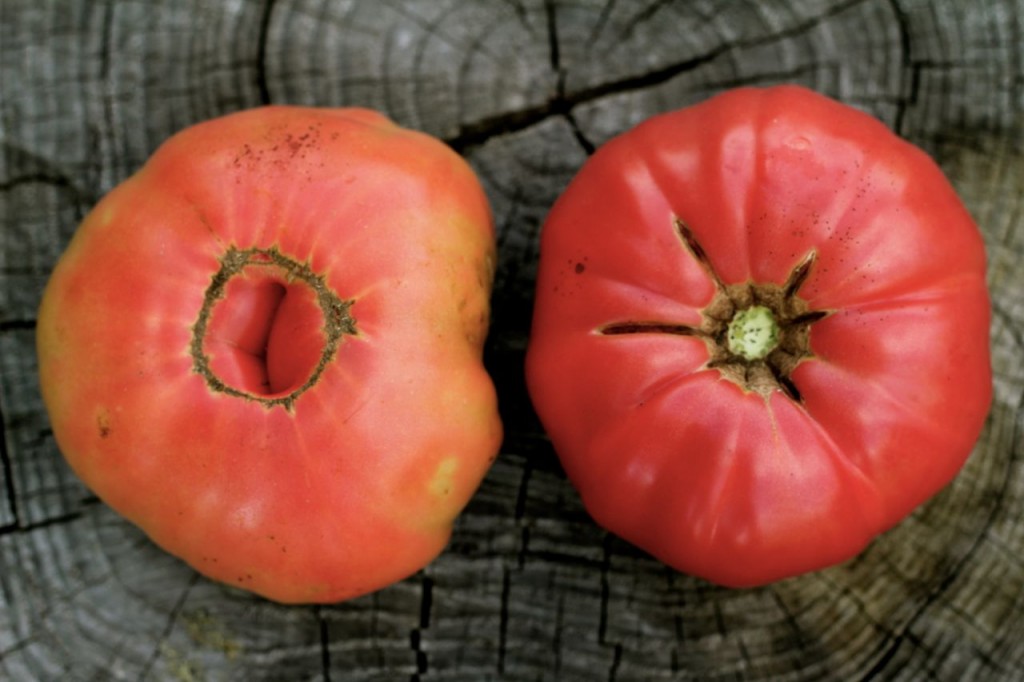 5. Blue Berries
I've been excited about this tomato for years. I saw it in the Baker Creek Heirloom Seeds catalog in 2012, and tried to order seeds, but the supplies were limited and I didn't get any. (Heartbreaking!) It's a new, small cherry variety from Brad Gates of Wild Boar Farms. Do you know about blue and purple tomatoes? The very dark purple color means it's super-rich in anthocyanins, which are powerful antioxidants that are also present in blueberries, blackberries, red cabbage, and many other fruits and vegetables. I think they reverse aging or something wonderful like that. In any case, I feel very virtuous about eating as many of these foods as possible.
To my delight, I did obtain seeds this year, and I was not disappointed by this tomato! The plants are loaded with fruit all the time, and the little tomatoes change in color: from green to a rich shiny purple blush (where the sun hits them) to orangey-red. I had one plant even produce a yellow color with a purple blush! The fruit is not as sweet as some cherry tomatoes, but is tangy and delicious. I love this tomato! It was definitely worth the wait! It's a show-stopper at market, too.
Take–a–look!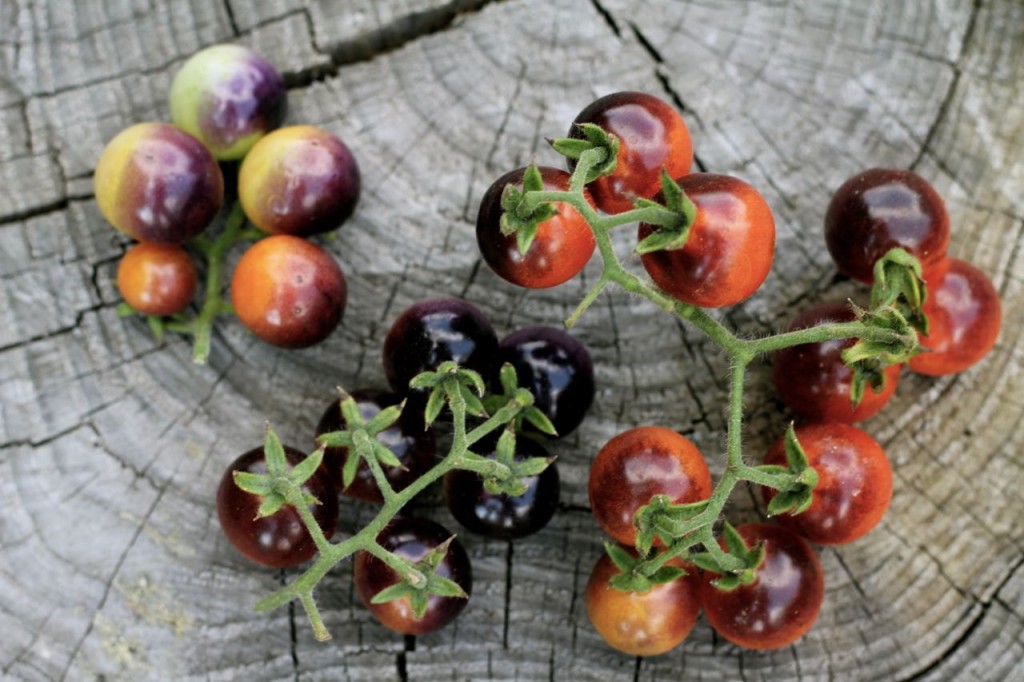 6. Indigo Apple
This is another blue winner! Late in the season, the plants are still producing like crazy, although they were slow to ripen early on. The deep purple color indicates a very high anthocyanin content, again meaning that these tomatoes are a nutritional powerhouse. So awesome that they are also delicious and crack-resistant! When ripe, they are meaty and similar to a paste tomato in texture. An impressive little tomato!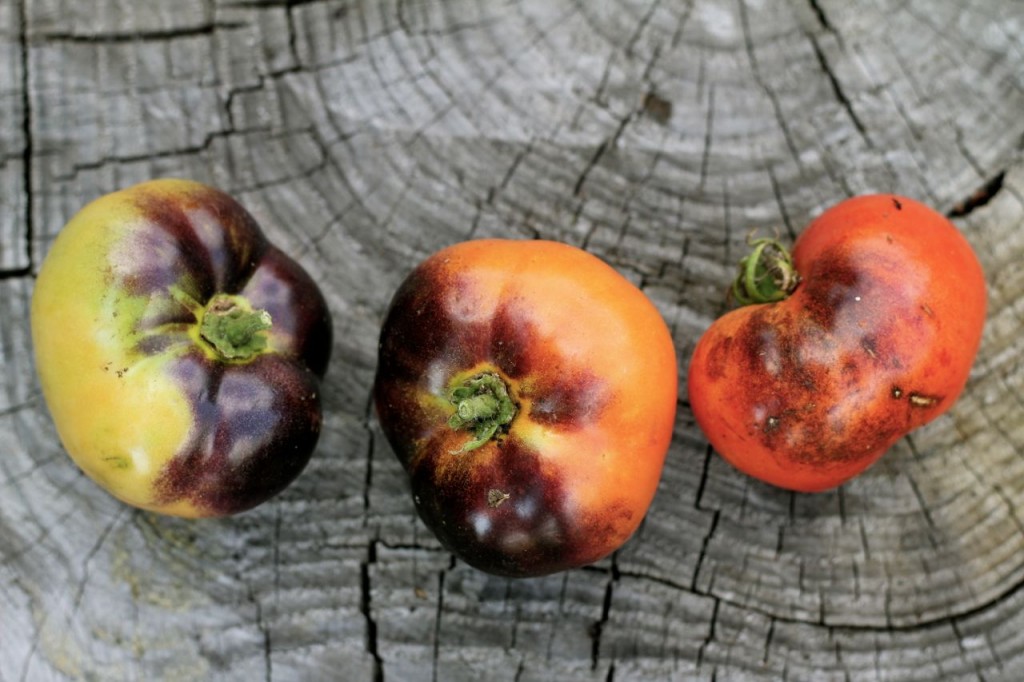 7. Pink Bumblebee
My friend Anne gave me seeds to this lovely striped tomato–a largish cherry-type–and it quickly became one of my favorites! Not only is it stunning–the striped tomatoes have a pearly sheen on the skin–it's sweet and flavorful. It's a great snacking tomato, and the plants have been loaded all summer long. It's a pleasure on the tongue, in every possible way. I'll plant this one every year now until I die, Gentle Readers, Lord willing. It's so good. (And thanks, Anne!) And of course the name couldn't be cuter, for what it's worth. 🙂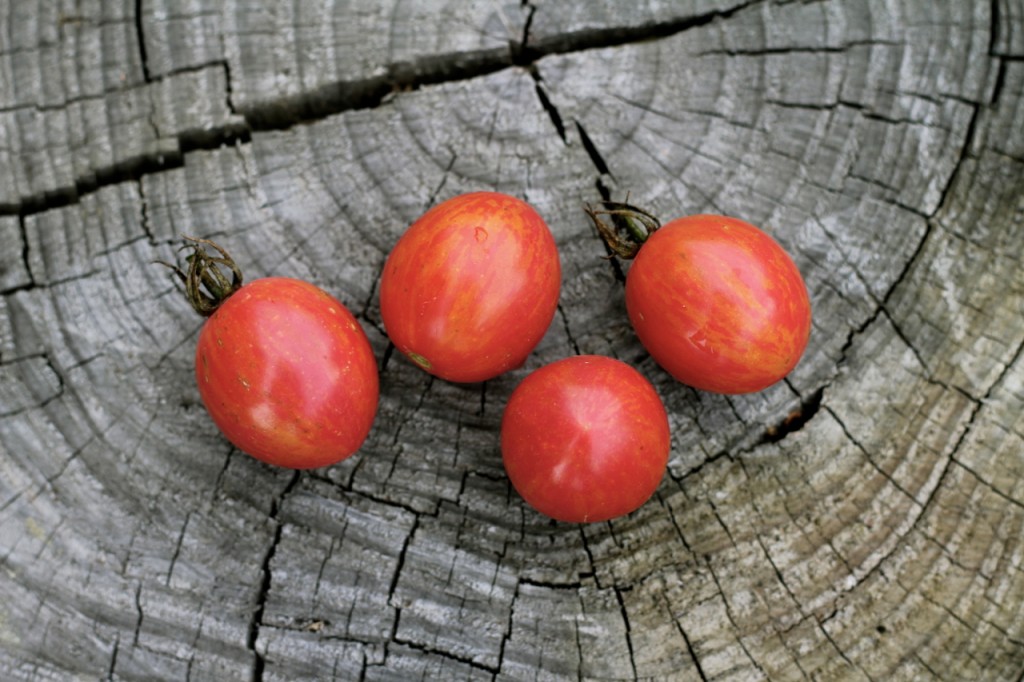 8. Dr. Wyche's Yellow
This is one of my top producers, year after year. It was one of my favorites last year, too. This heirloom was introduced to Seed Savers Exchange by the late Dr. John Wyche, who at one time owned the Cole Brothers Circus and used the manure of the elephants to fertilize his heritage gardens! The plants produce very large, beautiful deep yellow slicers, with a waxy, crack-resistant skin. It has all the attractions of heirloom tomatoes, without the negatives. These are just beautiful, consistently very large, and have a mild, sweet taste. If you are bothered by acid in tomatoes, this might be one for you to try.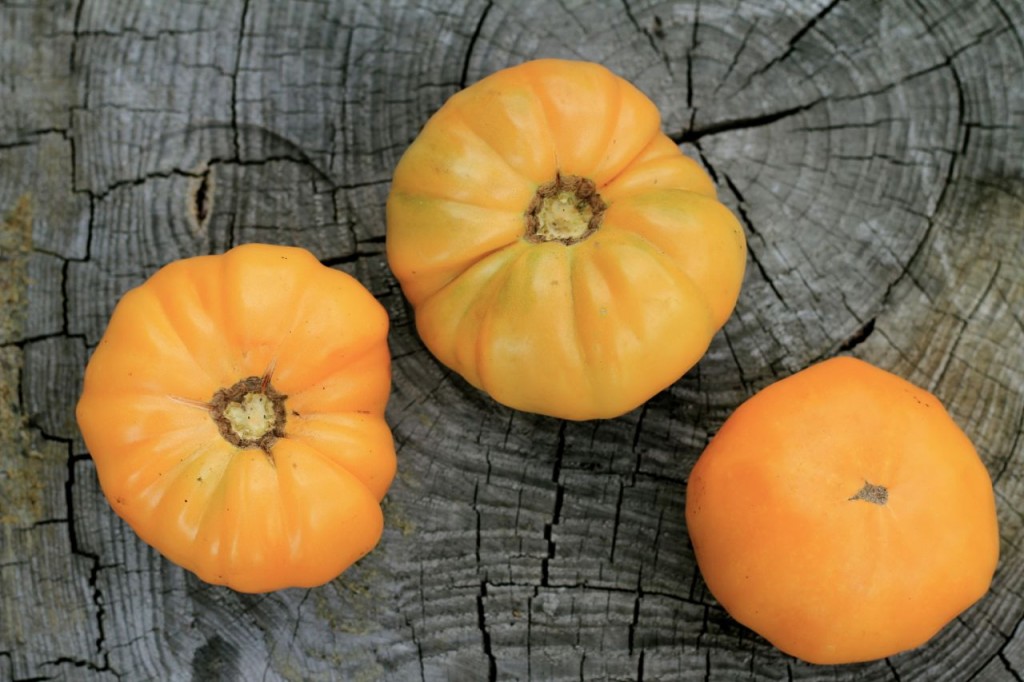 9. Hog's Heart
Early this spring, when I paid a visit to my friend Gene, he gave me a few tomato plants, the varieties of which I hadn't heard of before. It was early enough in the season that I had just planted my tomato plants out, with no hopes for ripe tomatoes for months yet. But the plants that Gene gave me already had several fruits on them. This variety became one of my favorites, producing large numbers of clusters of pink heart-shaped tomatoes all season long. The fruit is very meaty and great for sauce-making. And did I mention they're pink?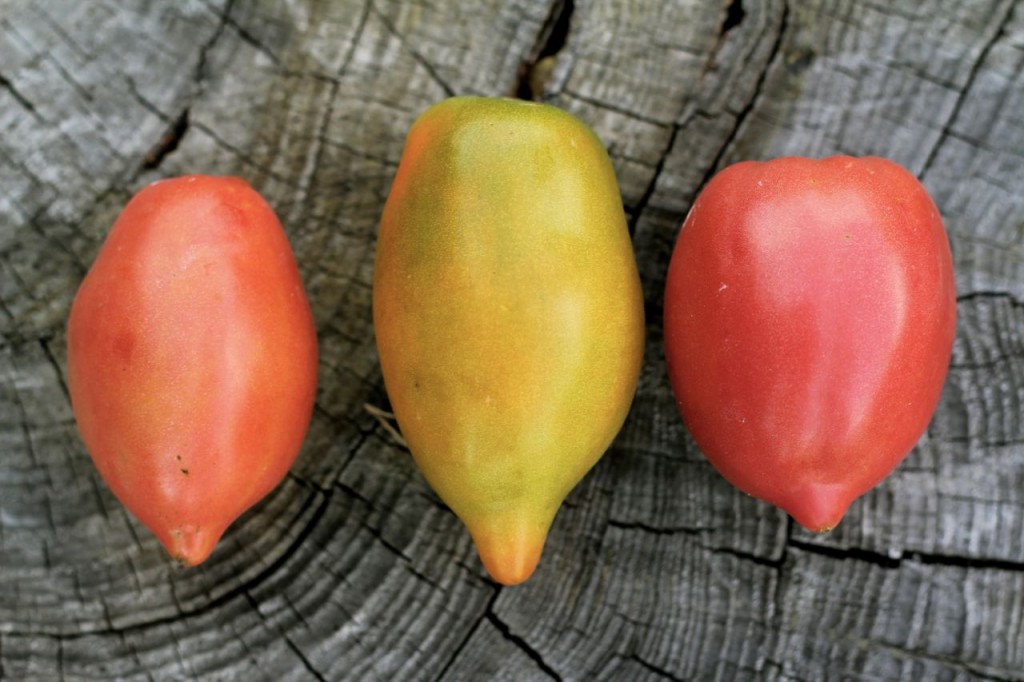 10. Yellow Perfection
Another one of the plants that Gene gave me, this was the first tomato I ate this summer from my garden, so I'll never forget it. You know how special that first tomato is, especially if it's sweet and juicy and yet a bit tangy. This glowing yellow fruit is sweet and juicy, with that irresistible tang to it. Just delicious! And it produces like crazy. I learned to pick these little tomatoes when they were still a bit green, because they get soft very quickly, once they are mature.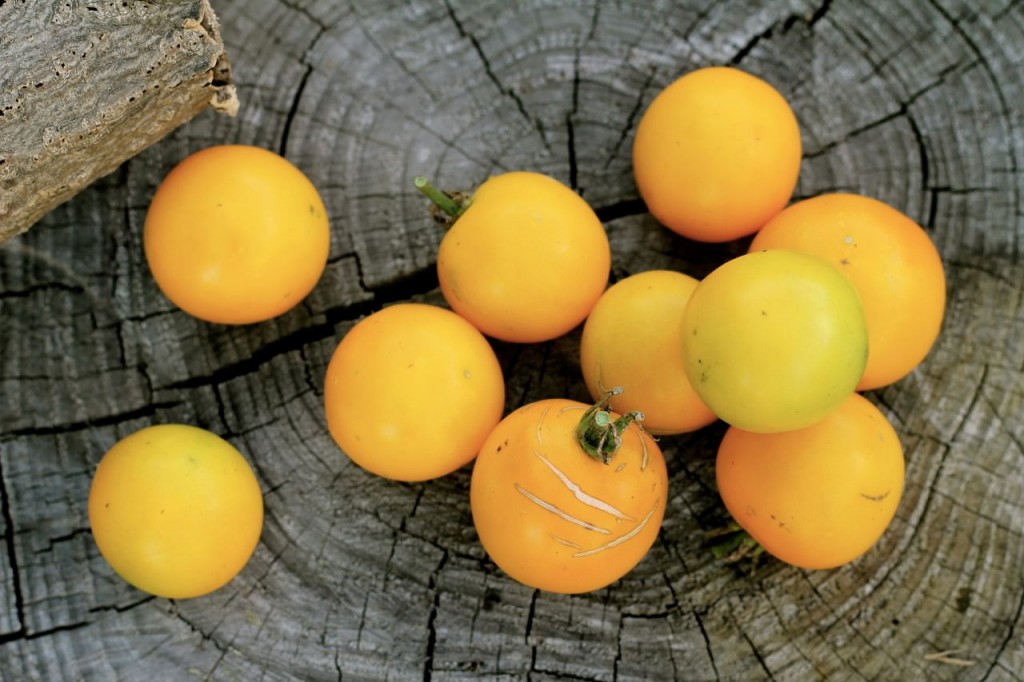 11. Tess's Land Race Current
Did you know that tomatoes all used to be this size? That's what I learned in a book that I'm currently reading, called Eating on the Wild Side by Jo Robinson. I'm going to write a bit more about it when I'm finished reading it. But tomatoes weren't always big, juicy, and sweet. They used to be tiny, tart, and they had ten times the nutrition of our current tomatoes. These tiny tomatoes are as close to the original tomatoes as you can get, from what I've learned from this book. They are a throwback, so I feel a particular sense of kinship with them.
Basically, if I was a tomato, I'd be one of these, 'cause I'm a bit of a throwback myself. One plant will produce probably about a zillion (roughly) of these tiny little gems, too, and every time you pop one (or several) into your mouth, you can almost hear your cells sing: "Thank you for that shot of ultra-powerful nutrition! I'm reversing all the aging that I was thinking about doing for the next few hours . . . " Or at least I can almost hear my cells sing in this fashion. And just look–how cute are they?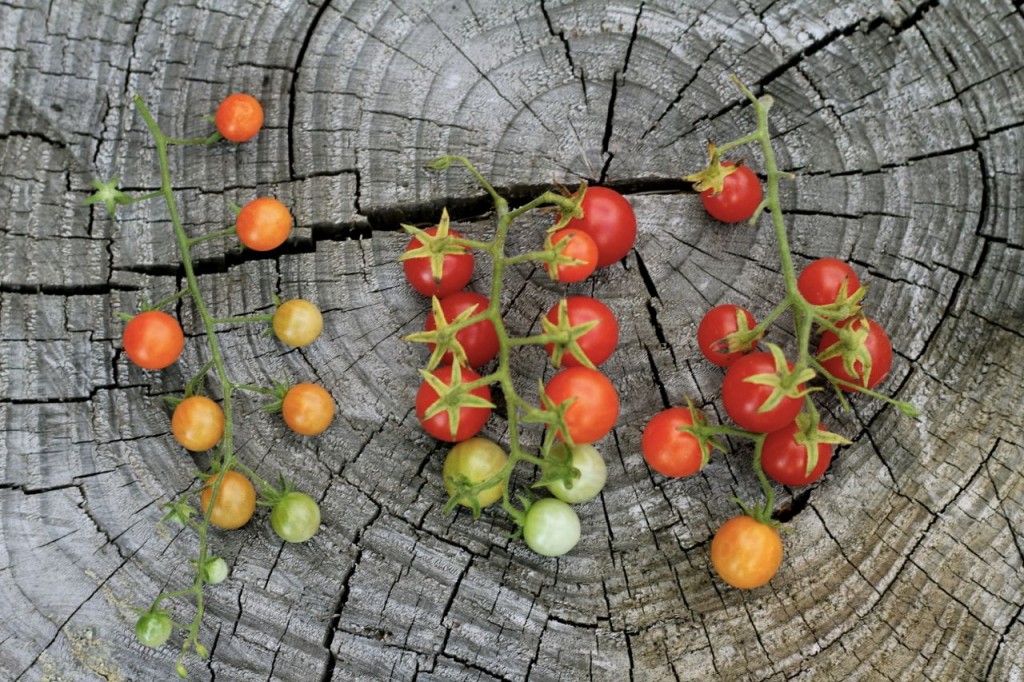 There ya go. My eleven top favorite heirloom tomatoes that I grew this year. I'm already planning for next year's garden–are you? Isn't everybody? In a couple of months, I'll plan to do another tomato seed giveaway, and I'll try to include some of these faves.
Thanks for checking in, Gentle Reader. I'd love to hear in the comments below what your favorite tomato varieties were this year. I learn lots from my readers (you're a pretty swell bunch!) and I read and appreciate each and every comment! *hugs*
Guess what? We do all kinds of fun chatting and sharing on my facebook page . . . nearly every day! Have you "liked" it yet? I'd certainly be obliged if you you did. Thanks! 🙂