Hot 'n' Spicy Chicken & Veg Soup: it'll cure what ails ya
Last week I wrote about my pathetic craving for a chicken broth so hot and spicy, that it would sear my throat lining and make me cry. I was out running errands for about three shivery days in a row without a break, recall–at least it seemed that way–and subsisting on fast food and not enough sleep–and I had this feeling that if I didn't make this broth that I was dreaming of, I would perish.
Perish, Gentle Readers. How lamentable!
That broth I was imagining: if it turned out to be as stunning of a success as I was picturing, I knew that I would live. For another day. Or at least as long as the broth held out.
Well. Perhaps that is exaggerating just a mite. In any case, still, I drove home, hauled a big chicken out of the freezer, and went right to work on the broth. Making broth is child's play, you know, and when you are brain-dead from other things, keeping your hands busily occupied in chopping veg and tossing herbs around is such a welcome pleasure. And the process brings a lovely warmth and coziness to your home, too, with very little effort on your part. This resulting broth was a delightful, throat-burning, core-warming success.
It was exactly what I had hoped it would be. Score.

The next day, I made soup out of the broth. Just listen to how simple it was: I took the chicken from the stock-making (I de-boned it the day before, when the chicken was cool enough to handle, and then socked it into Steve, our 'fridge),  and added it to a big pot of the broth, with a bunch of my favorite things at the moment–chunks of kabocha squash, cilantro, shredded Chinese cabbage–tossed in some goodies to give it even more heat–chipped ginger root, sliced (thinly, oh so thinly!) fresh jalapeno, chili sauce, freshly-ground pepper, sliced green onions–and tossed in chunks of avocado at the last minute just because I felt like it.
And I had a couple of avocados that needed using, truth is.
The resulting soup . . . oh, Gentle Reader. Just take a looksy.
Would you like the recipe?
Well, alrighty then. Here 'tis and *curtsy* you're very welcome, I'm sure. 🙂
And of course a loaf of crusty homemade bread, spread thickly with butter, would be a perfect accompaniment. 🙂
First, assemble the following ingredients:
Hot and spicy chicken broth (make the day before, or several days before and freeze)
4 cups(ish) shredded Chinese cabbage
4 cups(ish) shredded de-boned chicken (I used the one from the broth-making the day before)
1 2-lb(ish) kabocha squash, chunked (carefully!) into small chunks, seeds removed (natch')
1 handful of fresh flat-leafed parsley or cilantro, chopped
4″ knob of fresh ginger root, peeled and cut into thin curls
2 avocados, sliced into chunks and salted
chili sauce or hot sauce of your own liking
4 green onions, chopped
2 jalapeno peppers, seeds removed (or not, if you like it hot) and sliced thinly
salt and freshly-ground pepper, to taste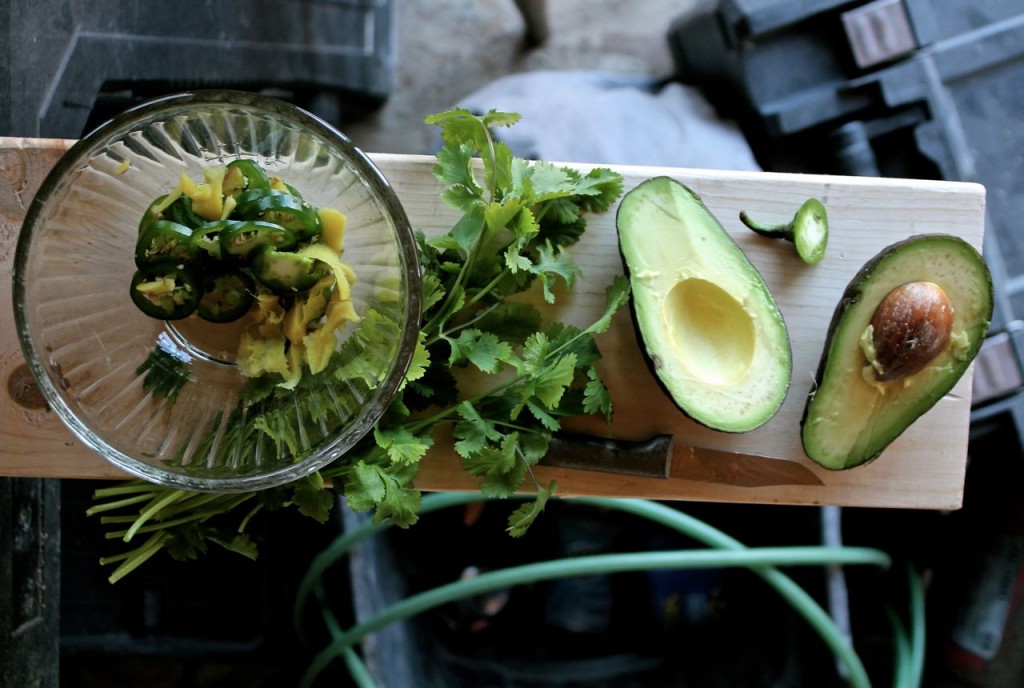 And here's how you make Hot 'n' Spicy Chicken & Veg Soup:
1. Put your Hot and Spicy Chicken Broth into a large stock pot and heat to a simmer on the stove.
2. Meanwhile, scrape out the seeds and chunk up your kabocha squash and add to the broth. Cook for 10 minutes or until the squash is soft. By the way, I didn't peel the kabocha squash and the peel cooked up soft and edible. This was a revelation to me! Who knew?
3. Add the shredded cabbage and the shredded chicken meat and simmer until heated through, about 5 minutes.
4. Serve generous bowls of broth with chicken and veg, and offer the following additions: chunks of avocado, shredded ginger root, thinly sliced jalapeno, chopped green onions, and chili sauce. Add salt and freshly-ground pepper, to taste.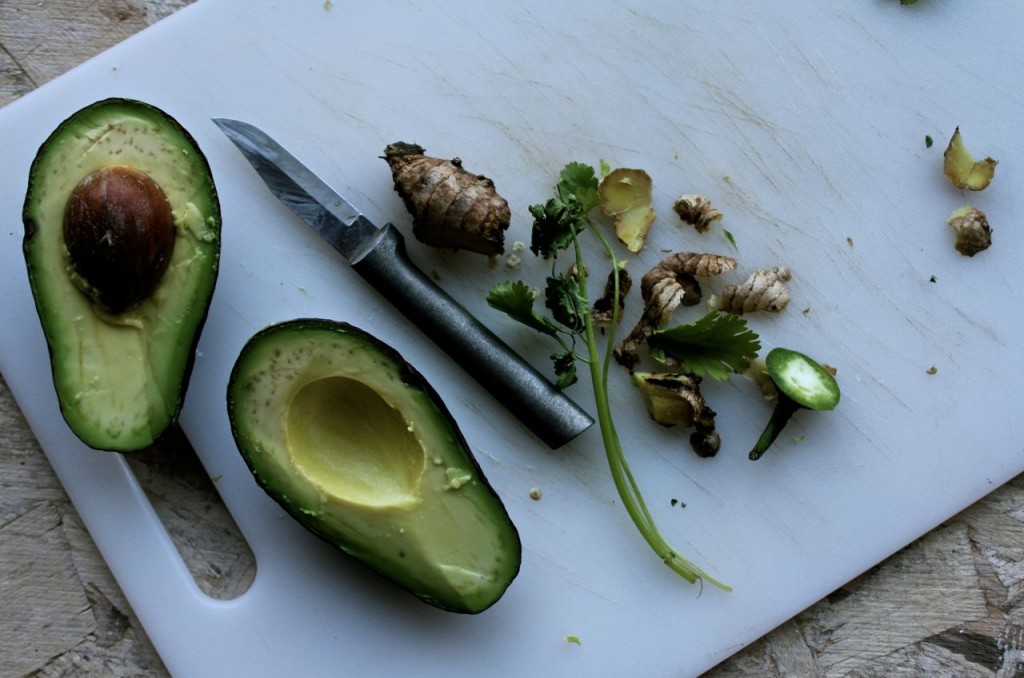 Now I'll let you go, so you can go make your soup. Time's a-wastin' you know, January is nearly half over and it is–after all–an excellent month for soup. 🙂
Blessings and *hugs*