Make hot and spicy chicken broth for soup: make January better
I'll show you how I make my hot and spicy chicken broth for soup, and your January (and February, and March . . . ) will so much better! I promise.
I've been thinking about making a hot and spicy chicken broth . . .

almost nonstop. See? This is what January does to me.
It's cold outside–this morning when I did my outside chores, it was dark, absolutely clear, and -3 (and inside it's cold, too, at times, like when the dog noses the front door open and doesn't close it behind her, and it takes a few hours for somebody to discover where that really really cold draft is coming from).
As you know, Gentle Reader, I am a constant maker and devotee of broths (that's why behind my name I have those letters: Amy Young Miller, CMADOMB. I try to keep a goodly supply of broths and stocks in my freezer at all time–I regularly make deer bone broth, beef bone broth, veggie broth, and chicken bone broth if I'm on top of things the way I aim to be, in a broth-wise sense, that is.
Make your own broths: elevate your home-cooked meals
It's about the easiest thing you can do to make a big difference in the quality of your home-cooked meals. Besides, tossing a few ingredients into a big pot, bringing it to a simmer and letting it do its thing for a few hours–this is a task easily accomplished in the bits and remnants of time that you might have in your day. And wow, there is no contest between the inferior store-bought broth, and your own homemade broth, for flavor, freshness, and nutrition.
But you knew that I'd point that out, right? Making my own broth makes me happy. 🙂 It makes me feel clever and thrifty. It's money in my broth bank, you might say. 🙂
Sometimes I want a really hot and spicy broth. Like, all this month so far, for example. Spicy enough to make my eyes water and my throat burn is what I've been hungry for. Rich bone broth makes delicious hearty soups; clear broths are great for chicken and noodles and clear veggie and egg-based soups; deer and beef broths make wonderful thick chowders and stews, and this spicy chicken broth makes you cry in January.
That is this broth's raison d'être (reason for being!). When I am craving something spicy enough to warm up my thoroughly chilled self, clear my sinuses, make me feel safe and secure, and make me cry–just a little–this is the broth I make.
Please tell me you have weeks like this one.
We had a rough, tiring week–between you and me–too full of melodrama-related responsibilities, and the weather was pretty dicey, too. One day the kids and I were out running errands. It was very cold out; it was sleeting and I had forgotten my gloves. The ground under our feet was slippey-slidey, and we really should have been heading our noses toward home. But we had been working very hard on our set; we were tired, hungry, and a bit at odds with each other, not to mention thoroughly chilled. The theatre where we had been working never did warm up completely while we there. Recent health issues of a beloved family member were hanging pretty heavily over our heads, too.
Have I set the (dismal) mood appropriately?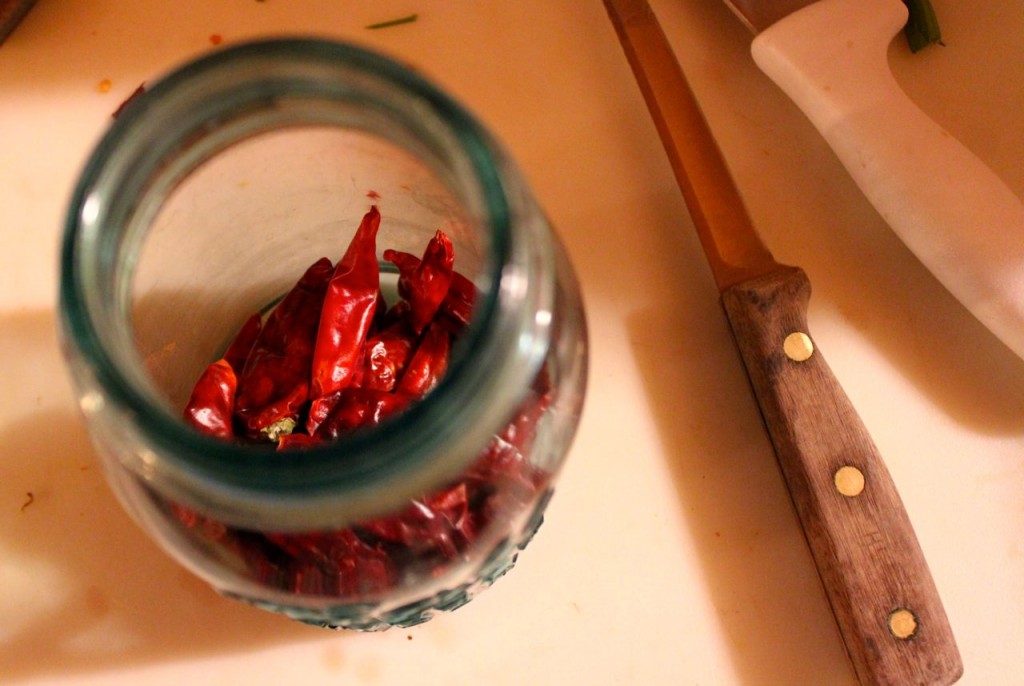 We were getting into the car and preparing to drive home, when Amalia suggested (wistfully, quietly) a quick lunch at a Mexican fast-food place. She has been on a very strict and tough-to-follow gut healing diet. So this suggestion, on nearly every other day, I would have laughed off, pointing out that it didn't fit her diet. She would have agreed with a shrug, and we would have gone home to baked squash and sautéed liver and onions for lunch.
At this low point, however, I didn't even hesitate or point out that we had much better food waiting for us at home. Without a word, I drove to the place, and we dragged in, ordered, and quietly ate burritos and steaming hot Mexifries (tater tots, basically, with a bit of spice) and if that wasn't bad enough, Gentle Reader, without a trace of guilt (well, without many traces) we dipped those fried bits of dietary naughtiness indulgently and unapologetically in hot artificial "cheese" sauce. (Shocking.)
The threat of the "additional jalapenos tax"
Furthermore, I personally ate slice after slice of jalapeno peppers, dipped into salsa, ranch dressing, and the hot cheese sauce, until my mouth–almost literally–was on fire. If they would have noticed how many of those babies I ate, they probably would have slapped an "additional jalapenos tax" on me.
I know, I know. We were tired and cold, not to mention disheartened. I didn't care. You can imagine, dear Gentle Reader, the amount of desperation I was feeling, to do this. I hope this does give you comfort, that even with our conscientious diet choices, we do now and then resort to the easiest thing possible.
What we needed, that day, was warm comfort for lunch, and that quick, hot, cheap, spicy meal, brought to us on a blue plastic tray, totally fit the bill.
Please tell me that you have days like this. Especially in January.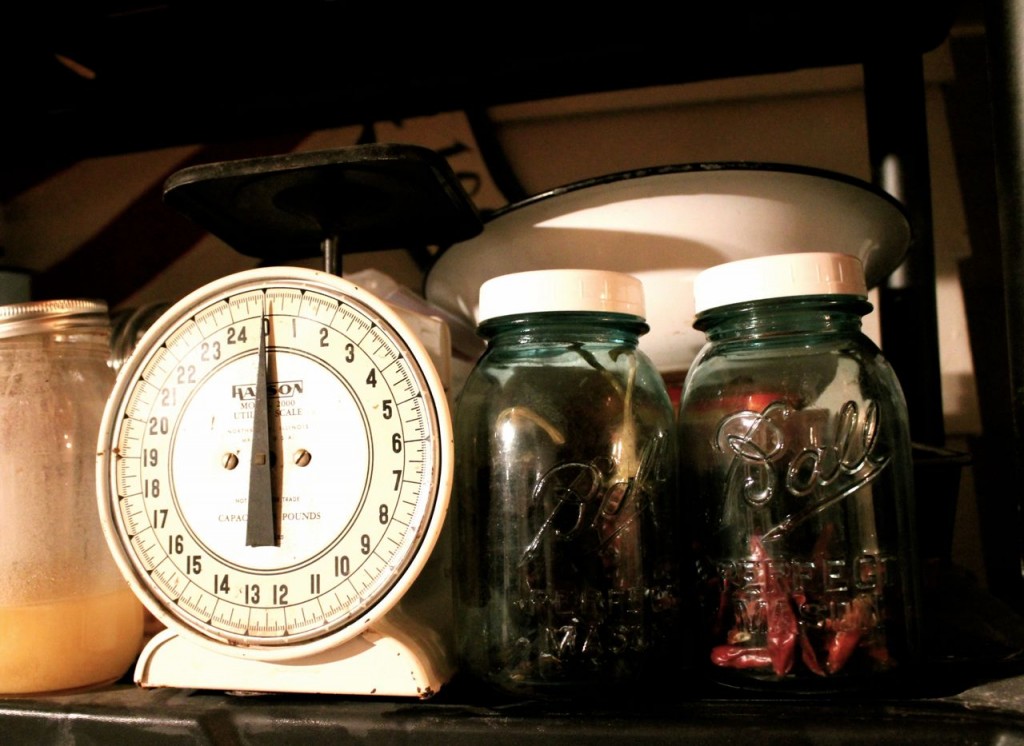 What is the color of comfort?
Is it a deep maroon, a warm brown, a rich, gorgeous blue? Is it orangey-golden? I've been musing about this. Whatever color comfort is, that is the color that we were feeling as we ate that hot, spicy food. It washed over us. It covered us like a soft well-worn quilt. Comfort,emanating up from our bellies.
We were no longer at odds with each other, as we headed for home at last. We were smiling, and laughing, our tummies were full of hot, spicy, warming foods, and we were ready to face the afternoon's responsibilities.
It was time to make hot and spicy chicken broth for soup.
On the way home, I realized that I really needed to take the time to make what I had been craving in the first place—a very hot and spicy chicken broth, lest we resort to eating nothing but fast fried stuff for the next three weeks. And questionable sauces. This spicy broth, with some chicken meat and a few fresh veg and add-ins (think kabocha squash and fresh herbs and shredded Chinese cabbage . . . maybe just a few cannelloni beans) is exactly what I've been craving lately. It's the American equivalent, I would imagine, of Pho, that Vietnamese bowl of fresh herbs, meat, noodles and excellent broth.
It's hot and spicy steaming comfort in a bowl,
and a whole lot better for you than fast-food Mexican, with a side of processed artificial "cheese" sauce, no matter how spicy, quick and easy it is.
And you can toss in as many hot peppers as you want, without worrying about being slapped with an "additional jalapeno" tax, either. (grinning)
So here's the first step towards that soup that I've been craving–and possibly you've been craving it, too?—a good, hot and spicy chicken broth. And oh, I don't pitch the bones after I make this broth, by the way. You know me well enough by now (right?) to know that I don't pitch much of anything. The bones, skin, et al–plus some fresh veg–goes immediately into the crock-pot for another day or two to make bone broth.
We're killing two birds with one stone today . . . er . . no pun intended.
Let's get started. First, assemble the following ingredients:
1 3-pound(ish) whole chicken
1 large onion, peeled and coarsely chopped
1/2 bunch celery, coarsely chopped
1 bunch fresh parsley or cilantro
2 large carrots, scrubbed, coarsely chopped
8 dried chiles
1 lemongrass stalk, tough outer layers removed, lightly smashed, coarsely chopped
3 fresh jalapeno peppers, halved lengthwise
1 head of garlic, cut in half crosswise
1 4-inch piece of fresh ginger root, cut in half lengthwise
4 bay leaves
1 Tb coriander seeds
1 Tb peppercorns
Question: How can I smell up my house something wonderful and make supper at the same time?
Answer: Make spicy chicken broth!
(This recipe was inspired by a recipe in Bon Appétit.)
Place all ingredients listed above in a large stockpot and add enough cold water to cover.
Bring to a boil over medium heat, reduce heat and simmer, occasionally skimming fat and foam from surface, about 30 minutes or until the chicken is cooked through.
Transfer chicken to a rimmed baking sheet to cool just a bit; simmer stock gently 30 minutes longer.
Once chicken is cool enough to handle, remove skin and shred meat, and set aside for soup.
Here's if you want to do two broths for the price of one: Transfer skin and bones and cartilaginous parts to a large crock-pot and cover with water. Add the following to the pot, turn on "low" and let simmer for 24 hours: 2 carrots, scrubbed and chopped, one medium onion, quartered, handful of fresh parsley, 2 bay leaves,  1 tsp of peppercorns, 2 stalks of celery with leaves, chopped.
Back to your original stock: Let it cool, then strain through a colander into a large bowl, pressing on the solids. Discard solids. Chill broth, removing congealed fat from the top.
You are ready to make soup! Or freeze broth in freezer containers for up to 3 months


Hey, love. Here are a few more broth recipes you'll love:

Collagen-filled, gut-healthy chicken feet stock! It's amazing!

the fabulous spicy chicken and veg soup that I made with this broth. I just made it yesterday. I love it.

Beefy, hearty, rich and nutritious beef bone broth.