Inside My Hoop House: take a peek!
This will be the third summer that I've grown a garden in my hoop house and it is by far (so far!) the most productive. 🙂 (Thank you, thank you, thank you again, Bryan and Timothy, for building it for me. And also to Dad and Dave and Mom and Matt and Amalia and Bethany and Andrew and everybody else who came to help when we needed it. It took a village, Gentle Readers, to erect this thing.) I'm very happy with how things are growing in there. *delighted shivers*
Curious? My hoop house is my most valuable real estate, garden-wise, and I plan what I'm going to put in there very carefully. The crops that I grow in this space have to like heat ('cause boy does it get hot!) and benefit from a little more protection.
I took a few snapshots just for you guys and gals. 🙂 Welcome to my hoop house.
After I've taken care of feeding all our critters, I do my work in the hoop house first. It gets incredibly hot in there, and buggy, so I have to work fast and early. Heat exhaustion is not something I want to tangle with this summer, and biting flies–my goodness, those things are nasty!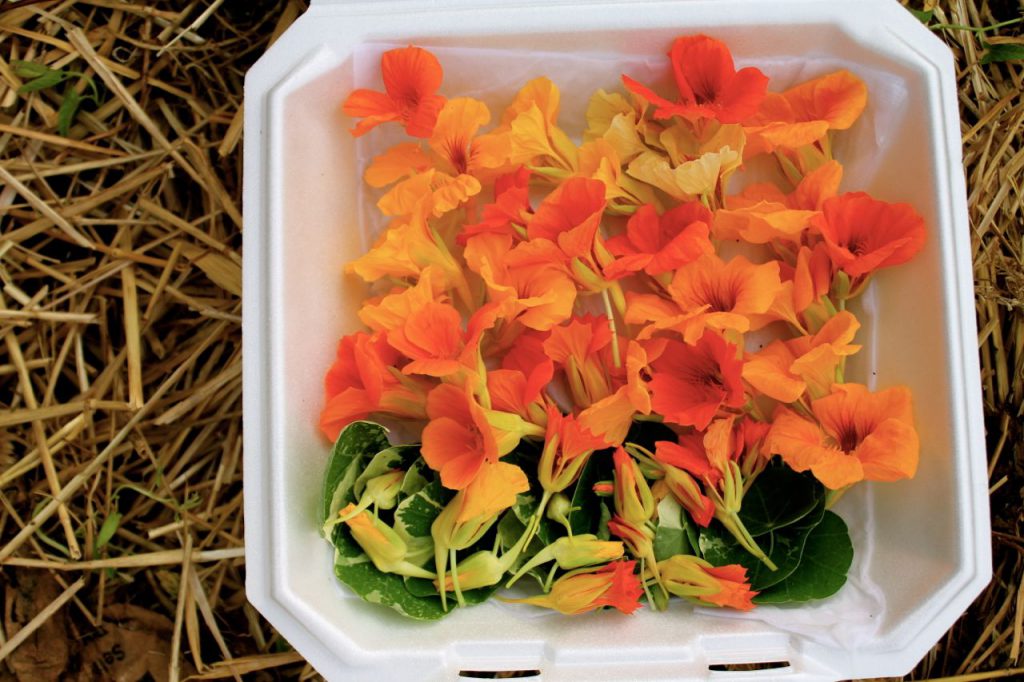 One long bed is planted in heirloom tomatoes. They are one of my very favorite things to grow. You may, perhaps, picked up on that already. 😉
The first summer I had this hoop house, I planted just a couple of tomato plants in it, just to see how they would do . . . they grew faster and bigger and were more productive than the tomatoes out in my open garden. Ever since, I've planted at least a quarter of my hoop house space in tomatoes. You know how I love all the beautiful heirlooms that are available. Endless variety! My heirloom tomatoes seem to love this space as much as I do. We're all happy.
Much of the past couple seasons of planting in the hoop house has been experimental for me, of course. For example, I planted a few lemon squash plants in my hoop house last year, and a few out in the garden. We have a lot of pests in our area that like to kill squash plants–among them, the cucumber beetle, the squash bug, and my own personal nemesis: the squash vine borer. Probably others, too, darn it.
Usually every squash plant in my garden succumbs to an untimely demise, due to one or more of these bugs. Last year the lemon squash out in my garden, as I expected, after a flurry of production, suddenly croaked. Alas. Overnight. But the squash vines in my hoop house merrily grew and produced until the fall. Apparently (now this is super confidential, so don't spread it around!) the squash vine borer isn't bright enough to find its way into my hoop house. (giddy screaming)
(You know what this means, Bryan: I'm going to need a second hoop house, just to grow winter squash and pumpkins!)
Of course the way things go, the dastardly villain could find its way into that vaulted space and kill every last plant in there. But hopefully that won't happen.
I planted nearly an entire bed with small specialty squashes and zucchinis. They are so beautiful. The plants are lush and gorgeous.
Here are a few of the varieties that I'm picking so far:
These little squashes are great in a stir-fry, or sliced up and grilled. I have a feeling we'll be eating them at least once a day until fall. 🙂 I planted a lot of them (*loosening collar*).
You can eat squash blossoms, too, did you know? But you have to be careful to harvest the male blossoms, not the female ones.
Peppers and eggplants do very well in the heat. I've got an entire bed of just peppers and eggplants, including some very unusual varieties. There are a lot of buds setting on!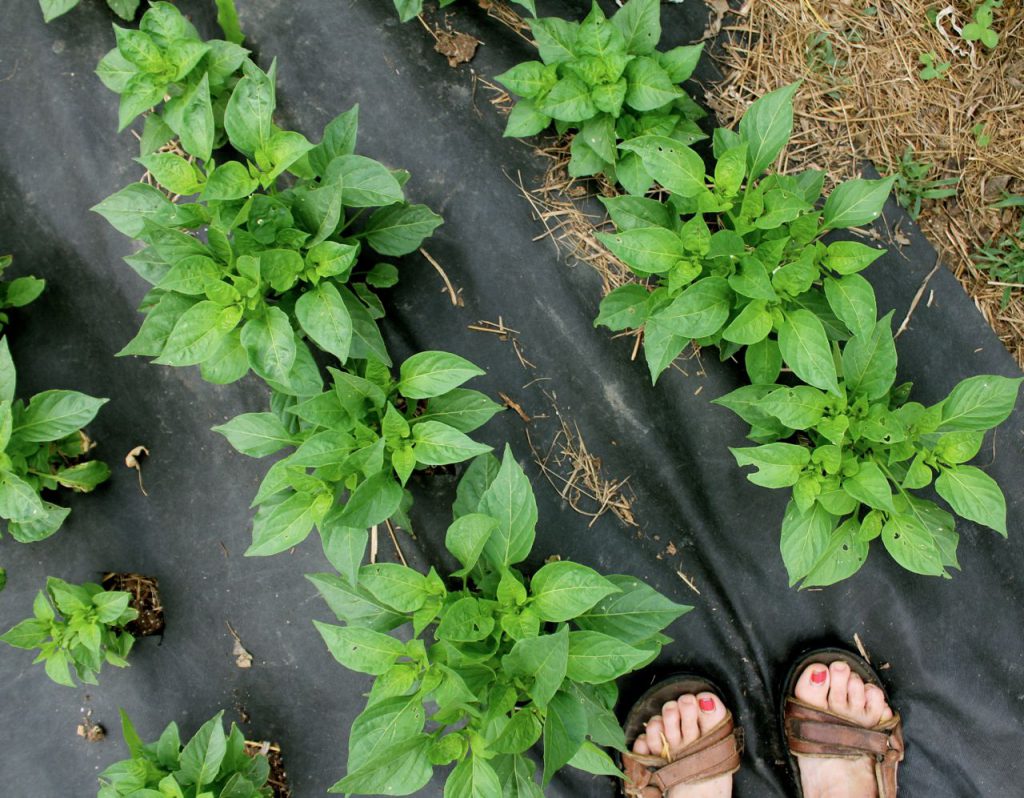 In my dreamy gazing through seed catalogs last winter, my garden-hungry eyes lit upon this little gem: the biquinto pepper. I ordered the seeds and am growing them in my hoop house this year. I can't wait to see what they taste like. Reports are varying: from smoky-hot to sweet, but everybody seems to agree that they are irresistible. I would like to add them to jars of pickles, especially to pickled Mexican sour gherkins. (Imagine them added to a charcuterie!)
These plants start out very tiny! Here's a newly-planted one:
One last thing: did you know that eggplants had such beautiful blossoms?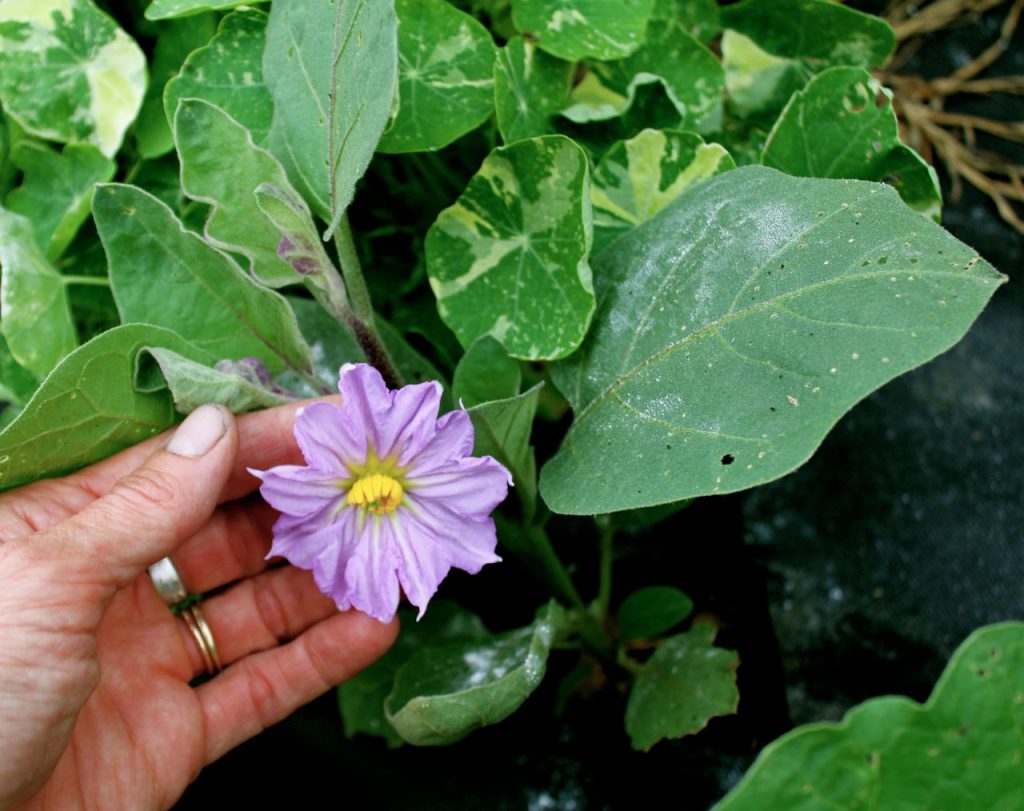 Thanks for stopping by, Gentle Reader. If you're ever in my neck of the woods, give me a hollar. I'll give you a tour for real!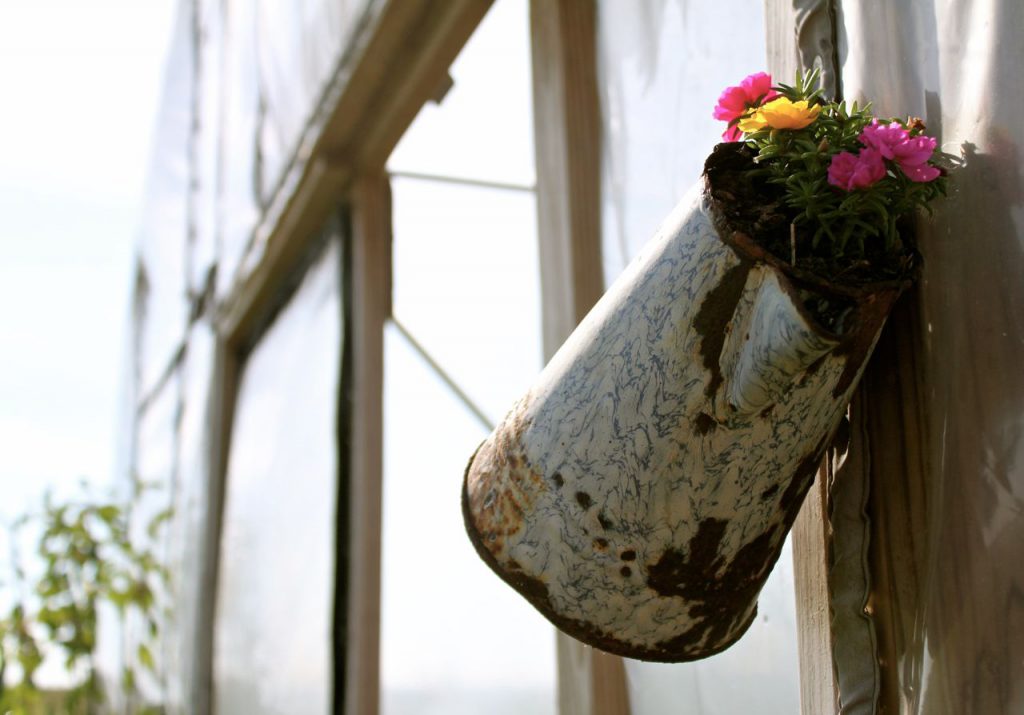 See ya!
*hugs*
p.s.! Just a few more days to enter my giveaway of 3 little bottles of doTerra Essential Oils! Better click on over there and enter!
Save
Save
Save
Save