Jump-start your running or walking routine: sign up for a race!
You are a runner, or maybe you used to be.  Or . . . you're a walker but have fallen off your routine, because of a new baby in your family, or lousy weather, or an injury, or your life got a little busy for such a frivolous activity, or whatever. In any case, you're looking for some compelling reason to get back out there–besides the obvious ones:
1.  Exercise is the fountain of youth, and benefits you inside and out,
2.  Getting out there and running or walking every day is fun, doggonit, or
3. You'll live longer if you get out and exercise every day, and will feel better while you're living, too, or maybe:
4.  You do most of your work at the computer and you need to get out of the house for your mental health!  And if that's not enough, there's this one:
5.  There are many, many events that are designed as fund-raisers for worthy causes:  you can get in shape and make money for your favorite charity or cause!  Now that's a win-win!
Need I continue?  No, I needn't–there are plenty of websites and piles of books which can give you the statistics for why you ought to exercise every day, whether it's in the form of a good brisk walk, a daily run, or an exercise routine with some dude on a DVD, well, that's for you to choose!
But if you do aspire to get your exercise in in the form of a run or a walk, take heart!  There's a great way to get this done:  Sign up for a run or a race.
I don't know about you, but I have trouble with motivation once the weather starts to get suspicious.  I love to get out and walk and run when the weather is fine, when the sky is blue and the clouds are fluffy, and the landscape is full of wildflowers and bunny rabbits and birdsong.  But when it gets windy, or hot, or cold, or whatever . . . you see my problem . . . I'm not so faithful.  I'm rather a fickle runner, depending on the weather and other conditions.  But when I've signed up for a race . . . and that date is circled on the calendar . . . I'm a different animal.  I get motivated.  I get organized.  I can fit that daily run in, no matter what.  I am a beast, as they say. Why the big change?
Simply put, I don't want to die on race day.  Nor do I want to be the last one trudging along at the end, merely because I wasn't organized enough, or motivated enough, or because I was afraid of a little wind, to prepare for the race.  No, thank you.
Still not convinced?  I'll tell you about my race year, and maybe that'll tip you off that fence you're sitting on.
I try to sign up for 4 or 5 races each year.  My running year starts by preparing for the Bee Buzz Run, in Bee, Nebraska.  I wish you all could take part in this race, but it is located in Bee, a tiny town not far from where we live.  A tiny town named after a honey-making insect.  They have a beautiful old opera house there, a roundhouse, and the proceeds from that run go towards the renovation efforts.  I love the idea of renovating that beautiful and unique old building, and I love the fact that the entire town comes out to participate.  I adore the fact that there's an accordion player playing polkas, sitting on his pick-up bed, at the half-way point, and since the run takes place in early spring in the early morning, it's almost always foggy.
Can't you just picture this?  You're running through the fog, and you hear the sound of an accordion attracting you, urging you to keep running.  It's a superlative experience, not something you get to do every day, mind you.
So I love everything about this race.  But perhaps what I love best about it is that dozens of smiling volunteers (what do they call the inhabitants of Bee, I wonder:  Bee-ites? Buzzers?) serve a massive hot breakfast, in the old roundhouse itself, afterwards, and you can eat as much as you like. And boy, does it taste good after an early-morning 4-mile run!  You can choose from homemade pancakes, sausages, bacon, hot coffee, breakfast casseroles, breakfast pizzas, biscuits with sausage gravy, and much more.  See why I have such fond feelings about this race?
In May is the Lincoln Half-Marathon, which I aspire to run but haven't, yet.  I watch jealously, though, as my big brother Mark and my daughter Bethany and many friends run it every year.  Last year I trained but injured myself, so I could only watch.  But it looks to be an awesome and a very encouraging event.  Maybe next year I'll get in there!
I've got to point out that (with the proper company) it is almost as much fun to watch these races as it is to run them.  So if you are injured or just want to cheer somebody else on, do it!  It's fun and you'll get an idea of what fun you're going to have next year when you participate!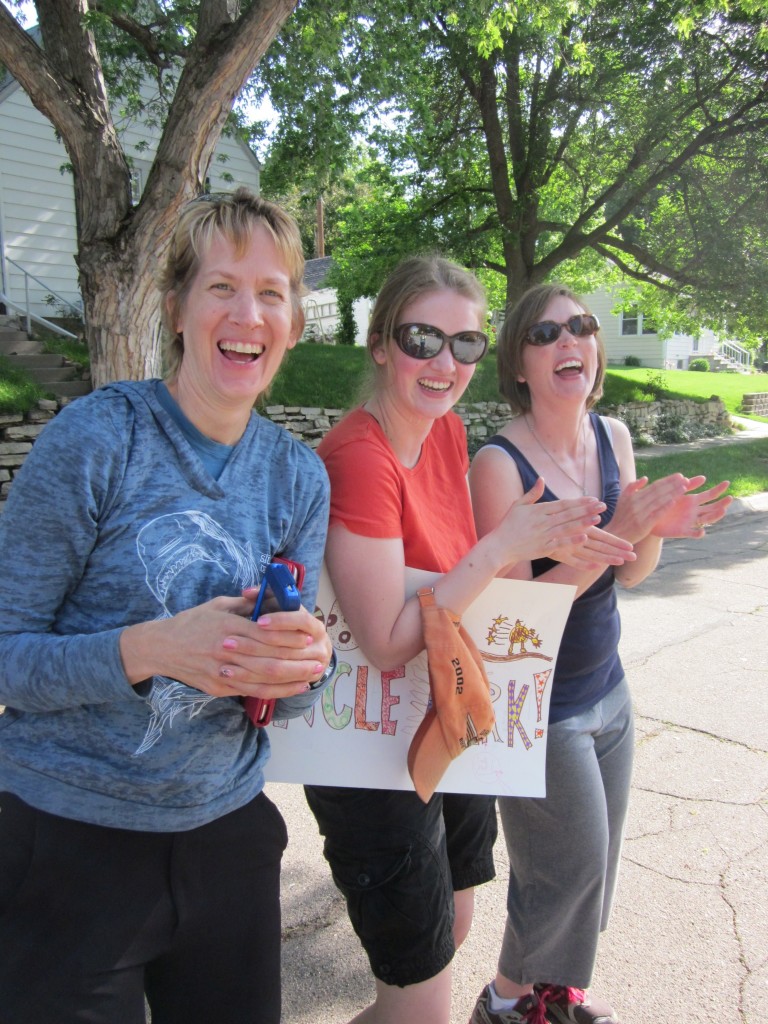 Here my sister Anne, daughter Bethany, and sister Mollie seem to be having way too much fun as we cheer Mark on!
In August, during our hometown Fun Days, I run the 4-mile Fun Run.  This used to be a small event, but it has grown and is a pretty big deal these days.  Several of my family members and friends run and walk it, and there is a decent sausage-and-pancake breakfast afterwards, which benefits the local volunteer fire department.
Once I've recovered from the Fun Run, I start to plan (and train) for my favorite race:  the Living History Farms Off-Road Race.  I could write an entire blog post about this race.  We did it last year for the first time, and we had a blast!  Even better, it forced me to train through a part of the year where I oftentimes slack off:  the fall and early winter.
The race takes place on the grounds of Living History Farms in Des Moines, Iowa.  It is seven miles through the farms, over fields, through the woods, and through several icy creeks.  It may sound torturous, but it's really great.  Lots of people dress in costumes, and it is pure fun.  It's a little crowded, though, and you have to sign up early to get in!
It's held the weekend before Thanksgiving.  It can be pretty cold in Des Moines the weekend before Thanksgiving.  So far we've been lucky to participate when the weather has been unseasonably warm.  (Phew!)
So that's it, folks!  There are lots of reasons to sign up for a race this year.  It's fun, it gets you out there taking care of your body like you should, and you'll make many wonderful memories doing it!
Have you participated in a memorable event that you'd like to share?  Leave a comment in the box below, and I'll include more events in the next post I write about races.
Now get out there, you crazy reader, you, and get moving!