I know it's madness . . . but I'm going to participate in Michelle's Ultimate Blog Challenge for July. Why do the challenge again? It's fun, I always learn a lot, and it's a great way to add to my blog content, rather quickly. When I am pushed by deadlines (posting every day) I get leaner and meaner. I use my time more wisely. I get more creative. It's a win-win for me. So . . why madness? Well. Let's do a recap of the month of June and then maybe we'll address that issue. 🙂 Or, maybe we won't have to.
1. We're on our fifth week of Farmer's Market this week, and our customers have come out to support us in a big way. We were breathless after the first half-hour of market last week, literally, because the sales were so brisk.
Me: (gasping for breath) "Stop the sales! I can't breathe!"
Amalia: (teen eye-roll) "Mom. Pull yourself together. That's crazytalk. That's why we're here–to sell."
Mack: (oblivious) "Can I please have another donut before they're all gone??"
Mom, Amalia and I were busy taking money, sacking up muffins and artisan breads and kale and donuts. (We had moaned about forgetting our lawn chairs–we nearly always do, actually–but we never had an opportunity to sit, not even once, in the two hours of market.) Mom sold her beautiful raised donuts, all nearly-two-batches' worth (50 or so) in ten minutes. I know that was some sort of record. (Mack did manage to snag one before market started, much to his relief.)
I wish I could have taken a picture of the little boy who came back for a second one (still not sure how he wiggled through the line–I guess that's just something only a little boy can do). He was holding a dollar up, his face was dotted with bits of glaze from the first donut that he must have just inhaled, and his blue eyes were glowing with happiness. "These are the best donuts I've ever eaten!" he said. "Better than Krispy Kreme!" That would have made a great advertising slogan for Mom's donuts. Mom was busy with another customer at the time, but I wish she could have seen that little boy's face, too.
See Mom? We've been telling you for years that your donuts are that good. You can read more about our farmer's market prep here, though you'll have to wait for the Part II post to see pictures of Mom's acclaimed donuts. 🙂
2. Amalia and I have been all-business(ish) about getting the garden in this month, and then trying to keep the garden weeded and mulched. I try to take a walk around the garden at least once a day to keep an eye out for pests, and to decide what needs attention the most. Amalia and I cleaned out and mulched at least two beds each morning, last week. I usually have a basket and am picking as I go, filling the basket with goodies for dinner. I'm not sure why I planted so many onions or four types of basil. So–many–onions! But I did. And, if it makes you feel any better, I still have a flat of leeks to plant (they'll probably go into the soil today, since they are looking a bit wan). Here's a picture of my garden from the chicken coop roof. From a safe distance (wince).
You don't see the weeds, though, do you? Say no. Sit. Stay. Good. Good Gentle Reader.
3. Also this month the hoop house has proved its worth (as if it hadn't already). I planted a few pepper, basil, and kale plants in the hoop house at the same time that I planted them out in the garden proper, for a sort of informal test. So informal. I'm not the formal test sort. The protected plants, of course, are growing faster and look better, especially the tomatoes and peppers, both of which really like the heat in the hoop house.
Check out the difference: tomato plants out in the garden (check out the size relative to the cage):
Tomato plants in the hoop house:
To be perfectly honest, I did plant the hoop house first, so the others are at least a week behind (that's what I mean by informal), but there's quite a difference, isn't there?
I'm delirious with happiness that my tomato plants came out of the spring frost that they endured, and then the neighbor's herbicide spraying, so well. These tomato plants are survivors, doggonit, and I expect great things from them! Let's say that I have bacon in the freezer, reserved for the first few Brandywines . . .
4. Good news: Our blueberry bushes are bearing. Bad news: the songbirds have found them. I love our songbirds. I champion them whenever I can, with bird feeders and bird houses and putting out orange halves at the right time (thanks for reminding me, Dad) for the beautiful orioles. But! When I see an oriole or a robin working away at the blueberries, fluttering intently and jabbing and pulling, meandmybadself are no longer so charitable. I have some deer netting that I'm going to throw over the bushes for the short term. Bryan started talking about a bird net-room built over the entire patch (like the one that we saw in New Zealand, basically a netted room built over the berry bushes, big enough to walk around in) and when he started talking about this–another big project to add to his already-long list, bless him–I knew the truth: my husband loves the blueberries maybe as much as I do. Cool.
A net-room, protected from the birds and the deer, and full of blueberries. Sounds like a great place to do some writing!
5. We've had lots of turbulent weather this month, with windstorms and large hail and tornadoes affecting nearly everybody we know. Many times this month (last night, in fact) Bryan and I have both headed outside after dark, because of a weather forecast. I head out to close up the hoop house (a securely closed hoop house is more likely to withstand scary winds than one that is wide open) and Bryan makes sure that all the cars are under cover, against the hail, just in case. Though we've had tornadoes very close to us, even wiping out most of the town of Beaver Crossing, (that was in May, actually) which is only a few miles away, we've been spared so far. Praise God from Whom all blessings flow!

6. We've got lots of sour pie cherries to harvest, with one small tree, two medium-sized trees, and one large tree in our orchard, and all of them just loaded with fruit. Amalia and little Mack and I will pick them, and then pit them and put them into the freezer, though I've really been hankering to make sour cherry jelly. I guess I still could, when things slow down a bit. Like in . . . hmm . . . unsure when that will be . . . .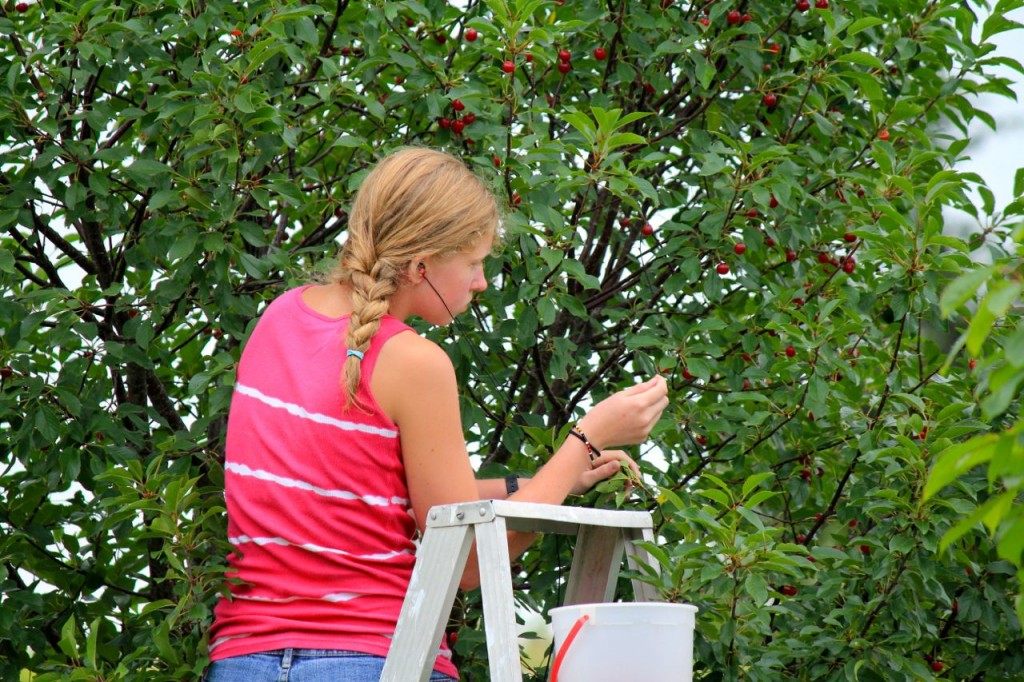 7. Little Mack is taking swimming lessons at the local pool, and we decided not to put up our little pool this year, with the constant maintenance and chemicals and salt and so forth, but instead to get a membership at the pool. We haven't done this for years, but I'm so glad that we did. Mack is a natural-born swimmer and I love to watch him in the water. I've been swimming laps during the adult swim time, and it's just the most delicious feeling. Swim time is our carrot on the stick. We work hard in the garden and then, if we've gotten enough done, we'll suit up and head in to town, to the pool for an hour or two. Not every day, but several times a week. It's joy for me. I'm sure there'll be a swimming pool with beautiful clear, cool water in heaven.
8. Our young chicks are in the 'tween stage, and not a moment too soon. We may need that nursery sooner than we thought: the intrepid hen Helen has been sitting on a clutch of (assorted) eggs in a very clever place, a little enclave of the compost pile (unless–I just thought of this–the cooking compost gets the eggs too hot?) and her hatch date should be around the middle of this week. More about this later . . . I'm keeping my fingers crossed that all will go well for her and those little chicks. I'm also a bit relieved that I only bought a few chicks this year, with these broody (and clever) hens doing such a good job of hiding nests and sitting on eggs.
9. Here's something new: Because of some bothersome and chronic physical problems that Amalia has been having, we–Bryan, Amalia and I–are all on a diet, cutting out the Big Seven foods that are most likely to cause problems to people with food sensitivities. We are hoping that Amalia's problems stem from food intolerances. Check out the seven–Dairy, Gluten, Sugar and artificial sweeteners, Soy, Corn, Peanuts, and Eggs. I know. I know. It's pretty hard in this house to cut out gluten and dairy and eggs, especially, but we're only doing it for three weeks. Then we'll start re-introducing them, one by one. I've gotten pretty creative about meals and we really, really, really appreciate every bite we take. I've been reading a book about food intolerances, called The Virgin Diet, by J.J. Virgin. Have you heard of it?
It's pretty hilarious, actually, how we've adapted to it.
Amalia: (panting) "Mom, have you tried one of those apples? They are so tasty!"
Me: "Not yet, but this avocado tastes like ambrosia!"
When you are really, really hungry, it's amazing how good ordinary food tastes, isn't it?
Here's more about the Virgin Diet.
Wow. This lady, J.J. Virgin, makes $3,000 an hour. She has amazing, hair, too, doesn't she? I think I'm in the wrong business. And I certainly have the wrong hair. *sigh*
Welp. I am out of time and you probably are, too, so I'll wrap up this recap and see you tomorrow!
I love you for being so faithful to this space! *smooch* Thank you!
And hey, I'm linking up with the fabulously fun Barn Hop over at The Prairie Homestead this week. C'mon over, You!