Meal-planning smooths out the bumps!
Do you sit down and plan out your meals every week?
You should. I have weeks where I fly by the seat of my pants, meal-wise–where I allow myself the "freedom" to go with what sounds good (i.e., what's leftover, and/or what can be prepared in a hurry with a minimum of mess) and operate without a written plan, and usually mid-week I crash and burn and we order pizza, or eat a pathetic melange of leftovers, or just resort to cold sandwiches, stale chips, and candy corn. Not so good. The overriding emotion: panic.
I really don't like the scenario above. I don't feel good about the way I'm caring for my family in this case. On the other hand, devoting a simple 5-minute planning session every Saturday, not to mention a quick weekly refrigerator clear-out, is an excellent investment of my time and reaps huge rewards the following week. And the candy corn lasts a bit longer, besides. Win-win.
This is what a 5-minute planning session will do for me: it smooths out the bumps of the week. I actually glance at my menu plan as I'm cleaning up from breakfast in the morning, and get the chunk of meat out of the freezer, or at least lay out a few ingredients on the counter that will go into our supper. There is a pleasant anticipation of making supper that night because I've planned it. I like to cook good food for my family, I really do. And the simple plan makes it so much easier. The overriding emotion: peace.
5 minutes.
I have found that the mechanics of meal-planning are not that important: sometimes I just jot down my menu on the legal pad that I keep my brain on (i.e. my to-do list, my drama to-do list, my shopping list, etc.). That's how absolutely low-tech I am, Gentle Reader; I hope you're not disappointed. Sometimes I'll get the menu into my planner, but usually not.
Here's a typical meal plan for a week for us:
Sunday: roast chicken in the crock pot with veg (make broth out of the carcass)
Monday: chicken and barley soup
Tuesday: Taco Tuesday! Tacos with lots of raw crudites, and melon!
Wednesday: Breakfast for Dinner: Crunchy cornmeal waffles, sausage, orange julius
Thursday: big ole' stir fry and rice with garden Swiss chard, carrots, cabbage, peppers, etc.
Friday: homemade pizza, green salad, ice cream!
Saturday: It's leftovers night, baby. Pull them out!

This very simple plan that I jot down on Saturday gives me lots of peace for the upcoming week. Plus, if I write it down we do tend to eat better. There is less resorting-to-the-easiest-thing, or just stopping for pizza on the way home, when I've got a menu written down that uses the garden goodies, or whatever I've socked away in the freezer.
Of course sometimes the idea bank is running a bit low. Perhaps you need some meal-planning inspiration? Then you may want to check out the awesome e-book bundle that I've been raving about. Included in it (I don't think I mentioned this in my shameless plugging post on Monday) are the following:
With the 71 e-books at the redonculously* low price of $37.00, you also get several magazine subscriptions and tons of discount codes for products at dozens of popular health-related blogs. It's really an amazing deal! Get all the details by clicking on the graphic below! And if you buy it through my website, I'll make a few pennies that I'll pour right back into making this site helpful to you! It's the Full Circle of Life.
Don't forget this bundle is only available until next Monday, October 14th! You may want to just grab it today!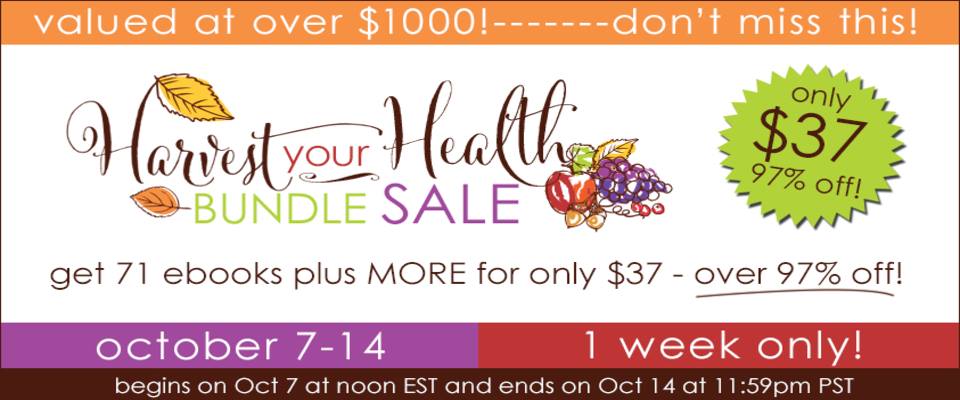 Ready to make your purchase? Then click on the box below, and thank you!

By the way, I've linked up with blog hops at The Prairie Homestead and Frugally Sustainable, two of my favorite websites. It's like a big canning and gardening and cooking and chicken-raising party over there at their blog hops, and I'd like to invite you over!