Early morning walk through the hoop house
Bryan finally got the hoop house ends all nailed together last night. So, it is finished. Bryan and Timothy and Amalia and Dave and Matt and Davey and Adam and Luke and little Mack and Dad and Mom and Bethany and Ollie and Bea have all done their part to make this hoop house a reality, and a nice addition to our little farm. Now it's up to me to use it wisely, to plant it full, keep it growing, take care of its moisture needs, and to open it up when it's necessary (hot days and the hoop house closed up tight means plants broiled in a big hurry!) and close it all back up at night (also we don't want the plants frozen during cold nights).
I honestly don't mind the walk out to the hoop house every morning and every evening to open it all up and then close it back down. When it's colder I'll just leave it all shut up nice and tight, but for now I just add this to my morning outside chore routine. Hey, it gives me an extra 5 minutes outside, (where as Anne Shirley, my kindred spirit for sure, said, "there is more scope for the imagination" not to mention, less dust bunnies, and clutter, and congealed oatmeal pans and shower mildew, and . . . ) and that's A Good Thing, as Martha Stewart might term it.
Or A Really Awesome Thing, as I might term it.
So, it's finished, although (I hate to mention it to my good husband) my hammock isn't installed yet . . . but I might wait a few days before I mention that . . . at least until my good husband has had a day or two off . . . and even then, I'll probably have to time the spoken observation very carefully indeed . . . 
It's a beautiful feeling to be finished.
So . . . you wanna hear what I've got growing in there? Please let me share!! Can you imagine the moist and earthy smell that greets me when I open up the door of the hoop house every morning? Oh, if only this 'pooter came with the scratch-n-sniff app, but no. It's such an old 'pooter that I type on every day, you know. They didn't make that app back when they made this model. It's so old that it's bicycle-pedal-powered. Honest.
Okay, not really honest. Anyway. This morning, after I fed the chickens and the goose and the dogs and the cats and the kids and the husband (honestly there is a lot of feeding going on around here) I indulged in ten minutes of poking around my hoop house (affectionately dubbed "Lovely Outdoor House of Earthy Delights" by me) before I headed back into the house to teach school, and to scrub at that congealed oatmeal pan. It smelled so good in there. And it was blissfully quiet, you know. And it was so pretty, too, what with the early morning sunshine glancing off everything.
And I wondered . . . would it be, like, bragging to take pictures of how beautiful everything is in here, and share them with my Gentle Readers? Would they, like, loathe me for showing them the beauty (and the fruitfulness) of my hoop house? Are they going to, like, lose all respect they may have for me for using the word "like" in such an irritating, like, way? (Sorry.)
But then, as I continued to ramble about my hoop house and snap photos, I thought No. My Gentle Readers wouldn't be offended. They are sweet and supportive and patient and they are very, very good to me.
Side note: I do think I have the best readers anywhere. I've enjoyed such positive comments, and I don't think I've ever read anything discouraging or negative in the comments section. Some bloggers, reportedly, have a problem with this, but not me. Also, you all are very generous in sharing my blog with others, and for that I'm so grateful. Thank you so much.
Plus, you've followed my story from Day One of building this hoop house, up until the last post where we finally got the poly pulled over the ribs and raised our cups of bulletproof coffee in celebration.
This process of growing in my hoop house is all pretty fascinating to me, since I'm in the experimental phase of hoop house growing. So here goes . . .
First of all, everything that I've grown in the hoop house so far has been less blemished by bugs and wind and weather (which I expected) and much larger than normal (which I didn't expect). Our rather, er, changeable weather in Nebraska, where we can have punishing heat one day and then snow the next (literally) and tornado warnings the very next–this is not uncommon at all–(and nearly every weather pattern is accompanied by a stiff wind, besides) is tough (sometimes fatal) on delicate plants. It's particularly hard on tiny seedlings, which can dry up and wither away in a few hours, if you're not watchful.
Secondly, and this may be just simply because I planted them so late, my squash plants are absolutely beautiful. I hate to admit the following fact, but (gulp!) since I've buttered you up already on how sweet you all are, I'll do it: I can't raise squash. 
There. It's out. My shameful little secret. I personally adore squash in a way that you would have trouble even fathoming, but I can't grow it. As soon as I plant a squash seed, forces that I don't understand (okay, I understand some of them) converge to cause failure in the squash patch. Everything bad happens that you can imagine: perhaps there is one lone bunny on our section who will eat squash seedlings. It visits one night and they're gone. Maybe one deer in the state of Nebraska has a penchant for smallish squash blossoms. It will eat mine, and then trample the plants to smithereens, to boot.
There are just a few weeks during the summer during which the noxious squash borer moth is doing its awful mischief on squash plants in our area. My sister Anne promises me that if I am diligent about washing down the squash stems every day ("Amy, it just takes a few minutes, you know,") that I won't have troubles with the borer. But no. That is always when I get sick, for example, and I'll miss a few days in the garden. Happens every time. And there's more. But suffice it to say, I continue to plant squash (like clockwork) and they continue to fail (like clockwork), until now.
My zucchini squash plants are lush and beautiful and (are you spotting a trend here?) much, much bigger than any squash plants I've planted before. Score!
My cantaloupe plants are covered with the cutest little babies.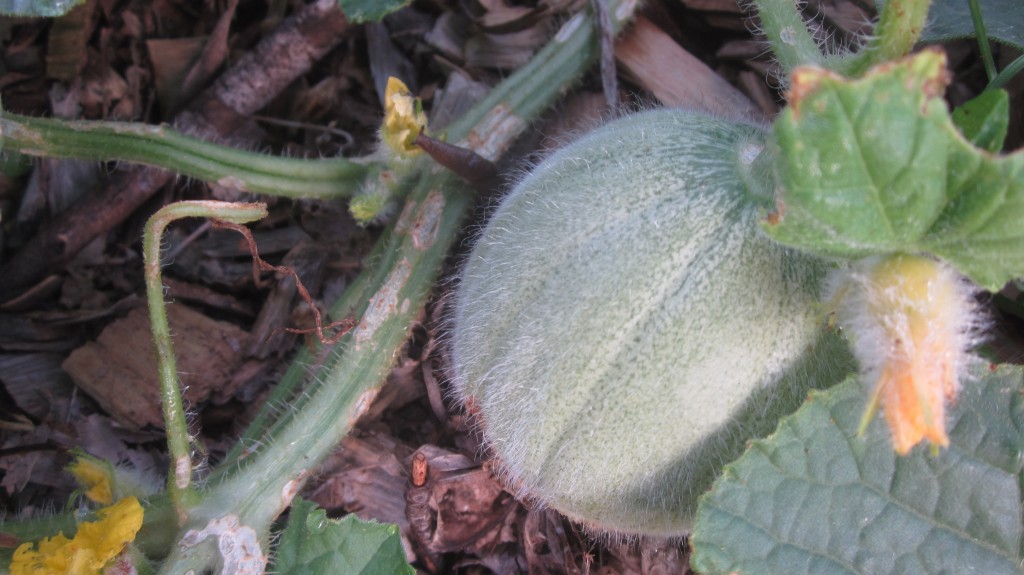 I don't know if they'll have time to mature before it's too cold in there for them, but we'll see.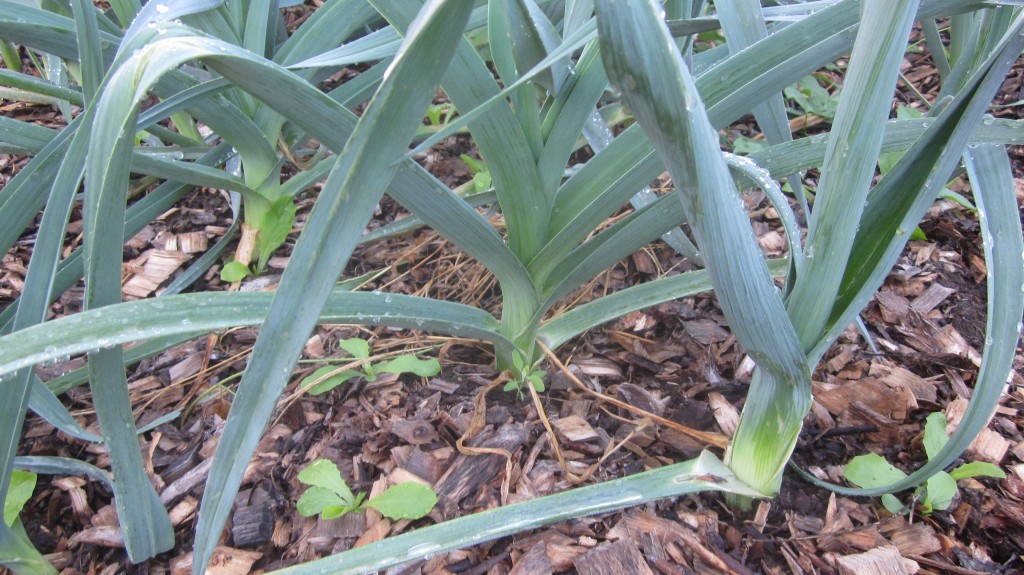 I pulled my first leek the other day for a soup addition. The leeks have matured nicely, though they have a bit of growing to do, still. I love the velvety texture that leeks add to soup, and since they are a cool-weather crop, I'm hoping that I'll be harvesting leeks through January. Leek-potato soup, anybody?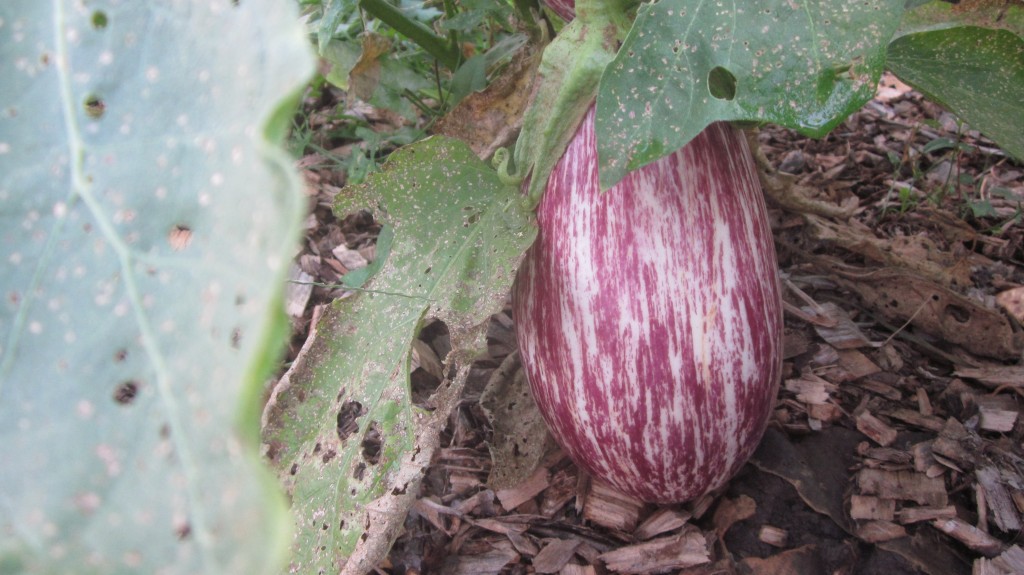 The little beetles that always like to chew on my eggplants haven't found them in the hoop house yet, although for some reason the leaves are a bit of a mess. But we don't eat the leaves, so who cares?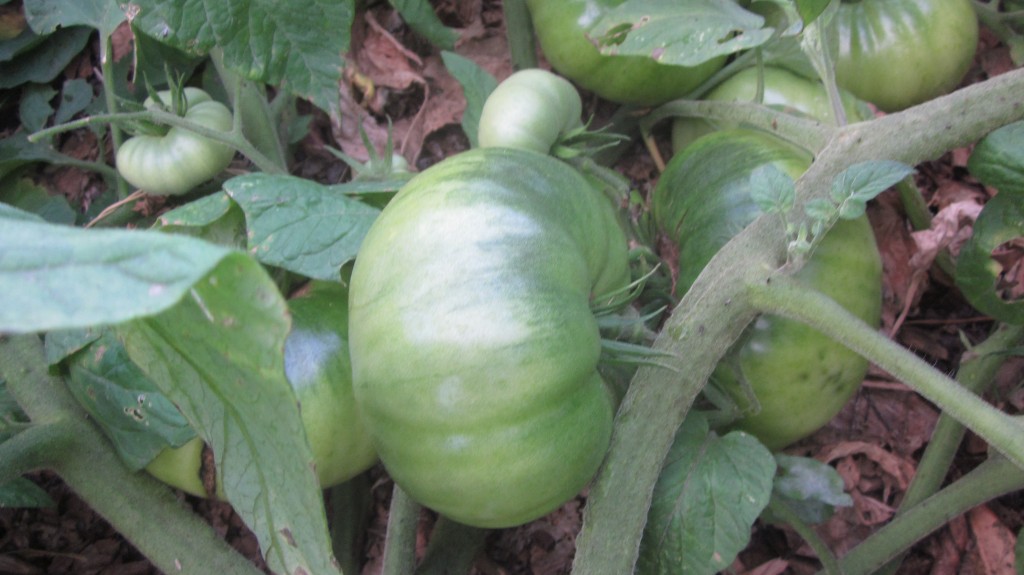 As soon as I could, I planted two tomato plants in the hoop house, with thoughts of ripe tomatoes past our typical frost date (which is Oct 10, which is tomorrow, yikes!, which is usually when my tomato jungle will be rendered, erm, dead), not to mention my dad's face when I serve fresh tomato salad at, say, Thanksgiving . . .(hehee). So far, so good!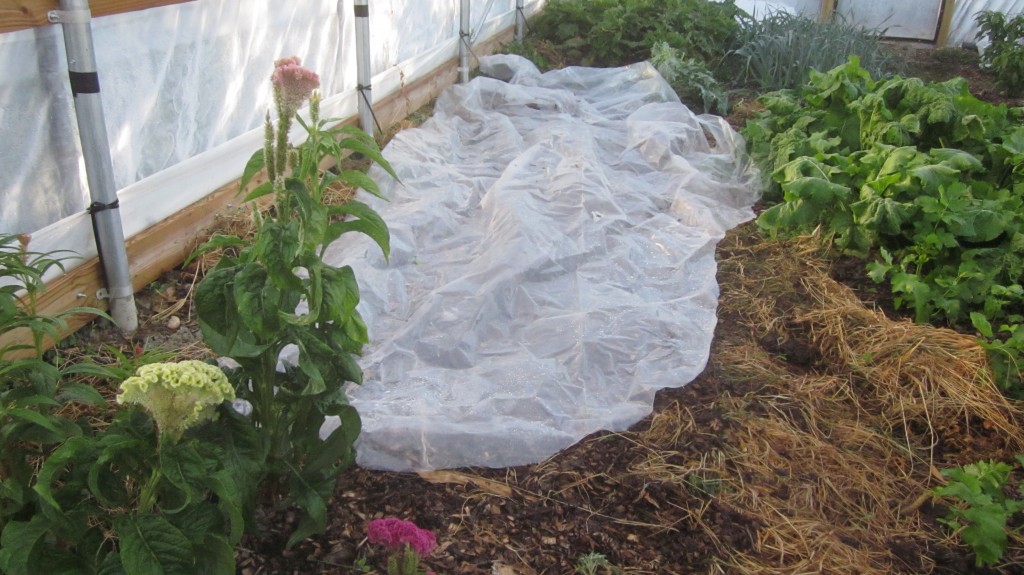 I planted a bed of lettuces and parsley and covered it with this piece of leftover poly from the construction of the hoop house. Note that it hasn't blown away. Bryan is going to help me move a cold frame in here on the weekend, and it will keep these baby lettuces even warmer, and so I ought to have fresh greens through until January, too.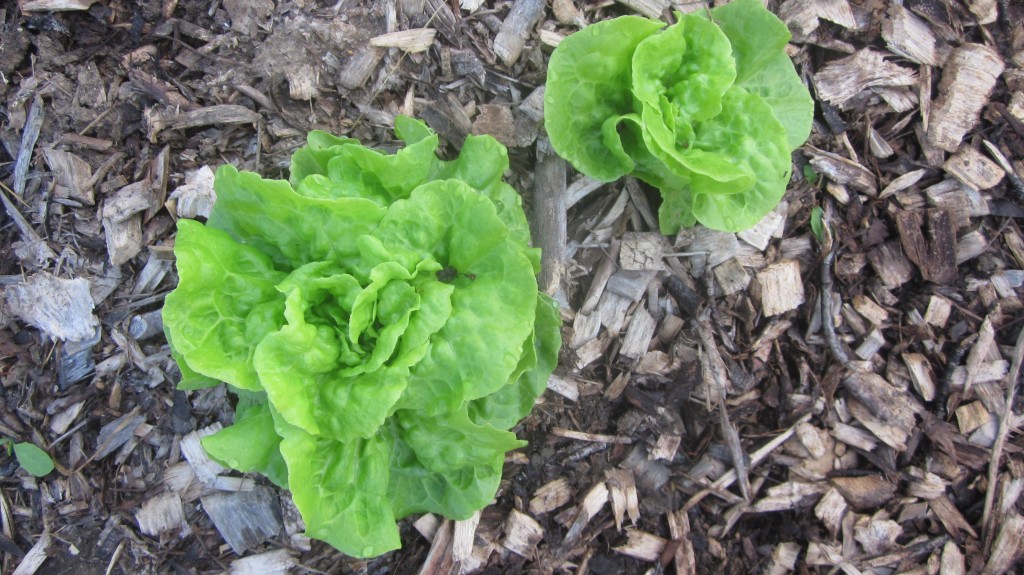 These dainty Tom Thumb lettuces are almost ready to harvest. They are so buttery and so good!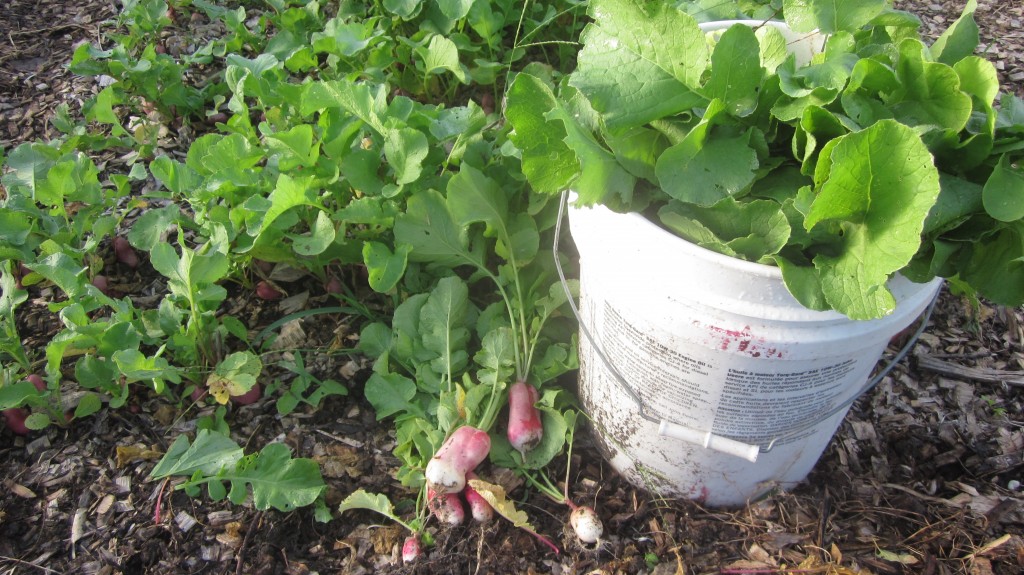 I planted way too many radishes, and every morning I pull up a bucketful of too-mature radishes with their lovely unblemished greens to throw to the chickens. When the bed is empty, I'll put in a new bed, of radishes and carrots, and then I'll cover it with my second cold frame, and possibly a layer of straw (once the radishes and carrots are up) which will keep them nicely insulated against the cold, and I'll be able to nibble away at them, bunny-like, right into spring. I'm hoping.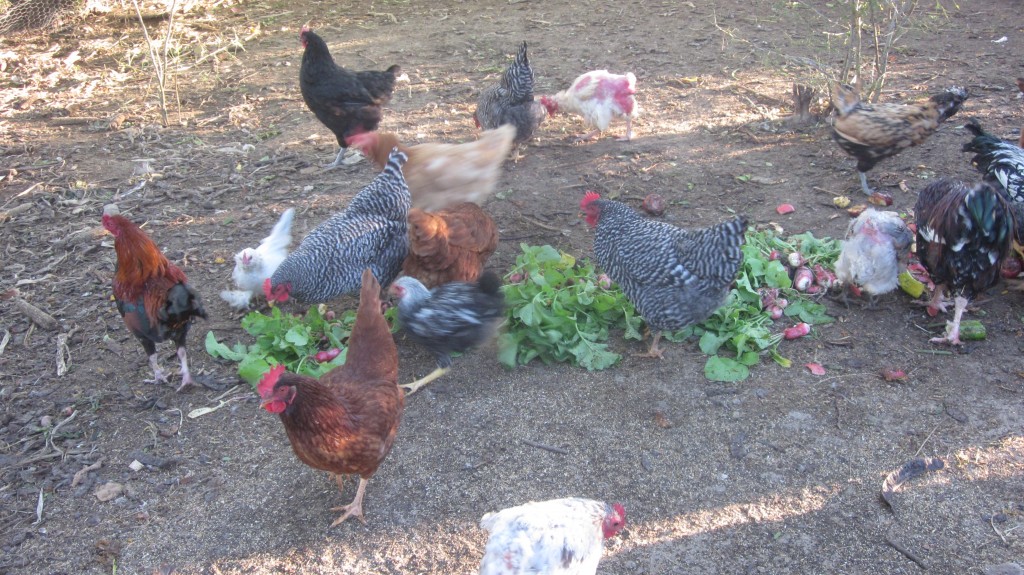 Here are the chickens enjoying their morning buffet, of too-big-for-us-radishes and apple peelings from my mom. They are spoiled hens, it's true.
Thanks again for reading, Gentle Reader! I do appreciate you! Do remember the fantastic e-book sale that is going on this week . . . Take a look!

And I'll be linking up with The Prairie Homestead's Blog Hop. Check it out!