My Mom's sweet & creamy spring lettuce salad
 How to make my Mom's simple, sweet and creamy salad with your fresh spring lettuces.

That Hassle of Procuring Decent Lettuce
Lettuce is one of the first things I plant in my garden in the spring. It's also one of the last things I harvest out of my hoop house in early winter. It is so easy to grow in all but the hottest months of the year. If you have a cold frame, a low tunnel, or an unheated hoop house, it's even easier.
My Mom's sweet and creamy spring lettuce salad is one of the first things I make with early spring lettuces. The reasons for this are many: it's made out of simple ingredients, it's super fast to stir up, and everybody loves it.
Cream + vinegar + sugar + a pinch of salt = a tasty creamy dressing that's just light enough for these delicate spring lettuces.
Public Service Announcement: If you would rather not hassle with buying lettuce again, it's totally possible to grow your own through all but the hottest months, too. Imagine: your not worrying about buying contaminated lettuce in the store that could make you sick. Also, think about not bringing home tired lettuce from the store, only to forget about it in the furthest reaches of the 'fridge. Poor forgotten bag o'lettuce!
My Mom's Sweet and Creamy Spring Lettuce Salad
What a delicious memory from my girlhood days!
My mom coaxed the most beautiful spring vegetables out of very poor soil. She primarily grew the lightest green types of leaf lettuce, such as Black Seeded Simpson, which is a "cut and come again" leaf lettuce. She'd give it a quick haircut when it was just big enough to do so, and she'd make this simple salad with it.
Mom's sweet and creamy lettuce salad probably showed up on our dinner table more than any other salad, because we all loved it, and Mom could literally make it with one hand, while bouncing a baby on her hip. Well, nearly.
What a good man will do to provide a garden for his wife
The former owners had, tragically, made the front yard of our old house in Nelson into a parking lot. When Mom and Dad decided to buy the house, Dad promised to work up that awful parking lot-cum-front yard into a garden for Mom.
He made good on his promise. Every evening after work, he'd take a pickax, a rake, and a potato fork out to the front yard, and he'd rake away a strip of gravel. Then he'd take the pickax and chunk it up into clods. Finally, he'd make a third swipe and work on it with the potato fork.
That reminds me of something that I heard once . . .
As soon as Dad had a strip cleared of gravel, and thoroughly worked up–as well as possible, at least–Mom would plant seeds in it and water. And so it went, evening after evening.
My Dad knows how to work. And my mom knows how to grow things.
A Timeless Spring Salad
I stirred up this same salad, with Mom's recipe, and was discovered that it tastes just as good now as it did all those years ago!
So, without further preamble . . . here's the recipe for you! Make it, gentle reader. My mom's a wizard with recipes, and I know that it could very well become a favorite of yours, as well.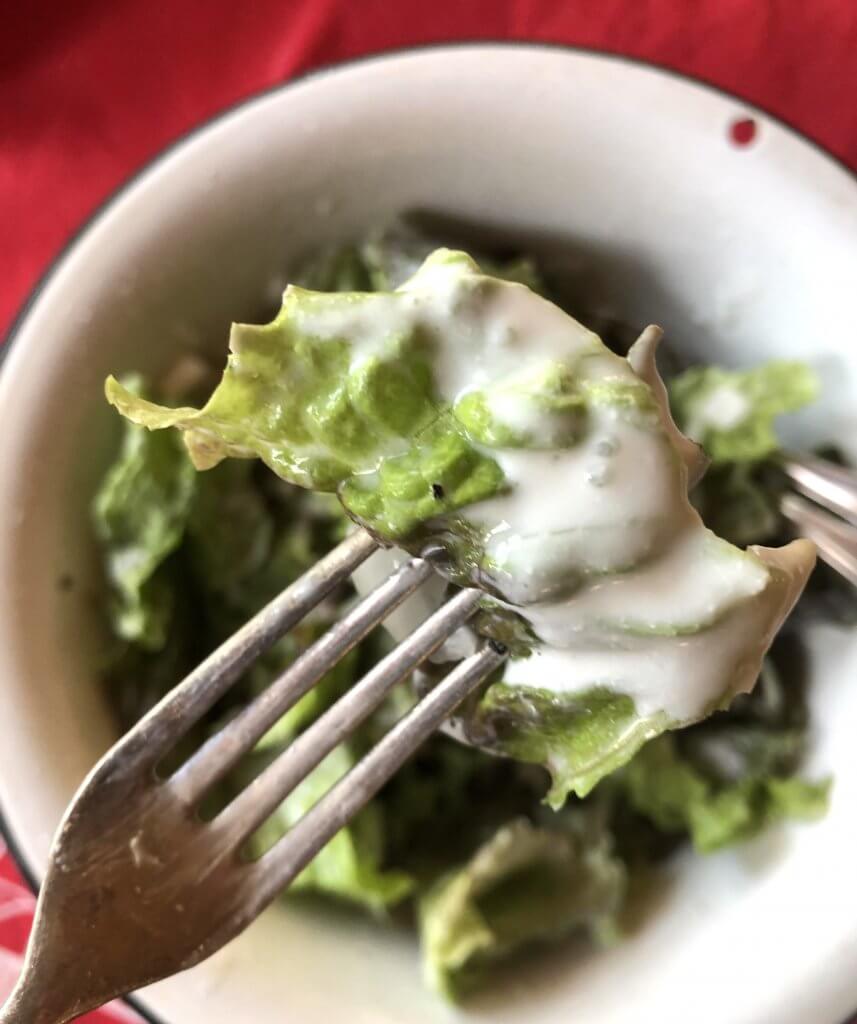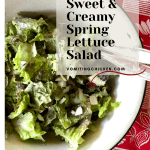 Print
My Mom's sweet and creamy spring lettuce salad
This salad is the perfect thing to make with those earliest spring lettuces, but it works well with any type of lettuce. The creamy, tangy dressing is quick to stir up, too!
Materials
Instructions
Clean the lettuces and break into bite-size pieces.

Slice the onion and toss it with the lettuce.

Season the lettuce and onion with salt and pepper.

Whisk together heavy cream, sugar, and vinegar, whisking until mixture thickens a bit.

Pour about half the dressing over the lettuce and onion and toss well. Add more dressing, if needed, to make a creamy, well-dressed salad.

Serve immediately to inevitable sighs of delight!
Why yes, a few add-ins!
This is a very simple salad, but if you want to add some fresh veg or herbs to it, feel free! Here are a few things I've added to this salad:
Bleu cheese crumbles
chopped green onions
fresh herbs such as basil, dill, parsley, fennel
sliced radishes
grated carrots
chopped zucchini
halved cherry tomatoes
anything else that sounds good to you!
HEY, I'll have some tips for how to easily grow your own lettuce in upcoming posts, so if that sounds like your cup o'tea, please jot your email address in the little box to the right, underneath my face, so you receive that post in your inbox.
Some of my favorite varieties of lettuce to grow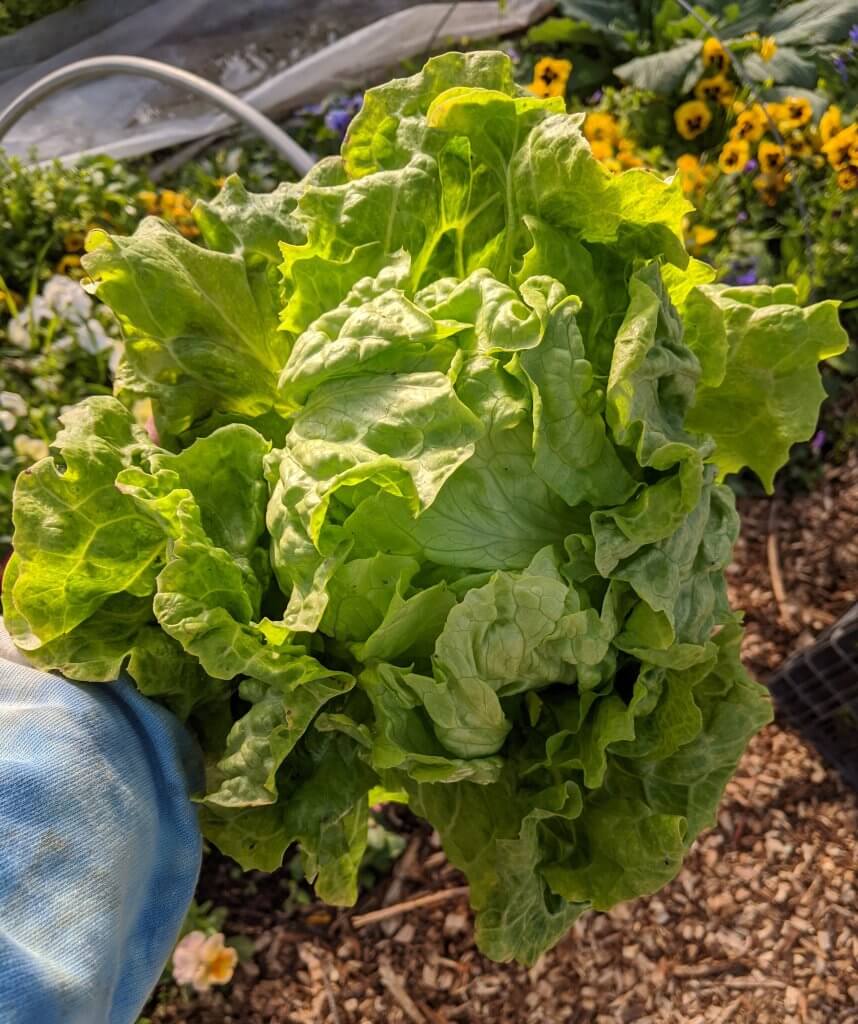 Forellenschluss Lettuce: the name means "speckled like a trout." A beautiful red-splashed Romaine type that is tasty as it is attractive.
Tom Thumb: a buttery head lettuce that makes heads just the right size for individual salads!
Merveille des Quatre Saisons Lettuce, or Marvel of Four Seasons. While, like most lettuces, it's best grown in spring or fall, you can grow this lettuce nearly all year round (with a little protection in the winter, and some shade in the summer). It's a delicious French butterhead and is (in my humble opinion) achingly beautiful, with its reddish coloring, and can be eaten as baby greens or left to develop into head lettuce.
Henderson's Black-Seeded Simpson: one of the best-tasting leaf lettuces, and the one that my Mom always grew when I was a girl. I think she may have some growing this summer, too.
May Queen Lettuce: Another stunner, the buttery soft leaves are tinged slightly with red and will form a medium-sized head if left to mature, or can be cut as leaf lettuce also. An heirloom that has been popular since the early 19th century.
These seeds can all be ordered from Baker Creek Heirloom Seeds, depending on availability, natch'.
More favorite salad recipes:
I guess I like to write about salads! Here are a few more recipes for you:
Pin it for later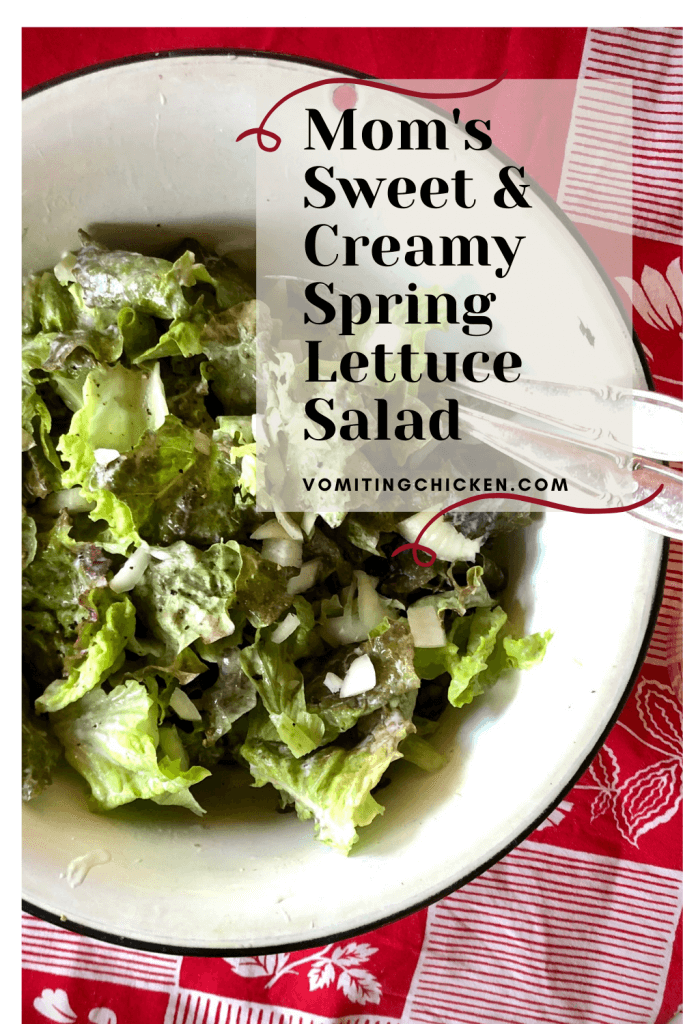 Thanks for popping in, gentle reader. I'm hoping you are enjoying springtime where you are, and that your springtime lettuces are ready to cut and make into salad!
If you like the looks of this recipe, could I ask you a favor? I'd appreciate it so much if you'd leave a comment and/or share this post with your friends and relations. (Thank you!)
*hugs*