A New Zealand Farmer's Market: a delightful find worth the hunt!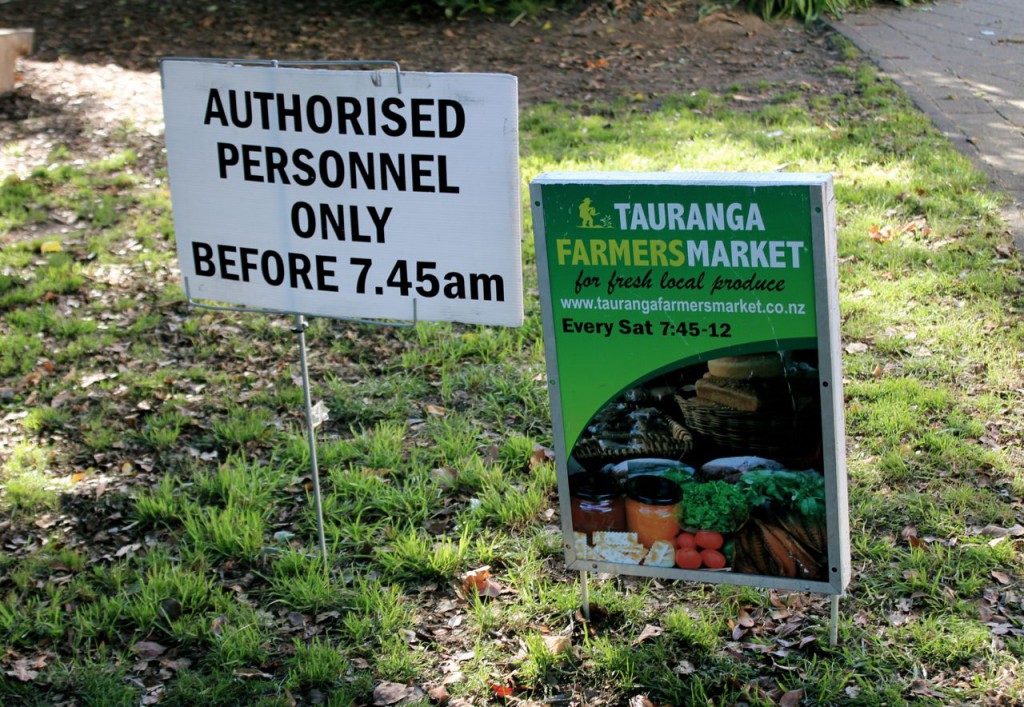 We have been home from our New Zealand trip for several weeks now, finally over the wretched jet lag nonsense, and though we are busy again with school and chores and getting the garden in, and all the rest, I still have oodles of photos from New Zealand that I am dying to share.
I am that Uncle, Gentle Readers, the one that used to come to every family gathering with a slide projector and his vacation slides. Or that Grandma who always has a fat packet of photos in her purse, ready to show you pictures of her delightful and preternaturally beautiful grandchildren . . wait, I am that, too, literally . .

I've just gotta show them to somebody! So I—choose—you!
Can you believe this? The kids and I are going to drive back out to Ohio next week because there's the tiny issue of a tiny and new granddaughter whom we must attend to. Dainty pink Eleanor, the new princess. She must meet her Amma, you see, and so I must hie myself to Ohio and meet Little She. It's a long drive. But an Amma does what an Amma's heart leads her to do, right?
The sacrifices we must make, Gentle Reader . . . !! 🙂 But I know, of all people, that you understand. 😉 You, quite simply, are the best people I know. My people. I consider myself quite blessed to be your friend and confidant.
So, before I begin to post photos and recipes from our next Ohio trip, one last post about New Zealand, okay? Then we'll resume our discussions about planting heirloom tomatoes (only a few privileged folks know how many seedlings I have out in the hoop house, waiting to be planted—but with names like Green Vernissage, Lucky Tiger, Black Pearl, Indigo Apple, White Currant, Green Zebra, Red Zebra, Striped Roman, Pink Berkley Tie-Dye, and–my favorite–Blush, *blushing* how can an heirloom-tomato-loving person like me not plant too many? Every year? Withoutfail?) and also favorite recipes and gardening tips and chicken matters, as well. We have many things to share, don't we?
And that leads me to the New Zealand photos for today.
🙂 Well. You would think that in a place like New Zealand, where the growing conditions are so ideal (at least on the North Island–60″ of rainfall per year, and temperatures swinging from the frigid (just kidding) 40°F during the winter, to the scorching (just kidding) 73°F during the summertime, that there would be Farmer's Markets on every corner.
But no.
I puzzled over this mightily, as we went about our business of a) getting to know the area, and b) having as much fun as possible, since I didn't see a single farmer's market in the nearly-three weeks we were there. I suppose even in paradise folks are busy, going to work and raising kiddos and mowing the grass, and it's so easy to just stop by the big grocery store after work and pick up a bag of meat pies for supper and a bagged salad, rather than search out a farmer's market.
(But . . . but . . . but . . . !)
Also, when your next-door neighbor has a glut of oranges ripening on his tree, and you have got the biggest avocado tree in the neighborhood with bushels to process all at once, you really don't need to search out a farmer's market that often . . . I guess . . . NOT TO MENTION the fact that everybody in your neighborhood who has superfluous fruit or veg will share, or barter, or sell their extra stuff . . . who needs a farmer's market? That's kind of the reasoning I had fallen into, since the glorious farmer's markets that I just knew had to exist, were not showing up anyplace that I could see.
I wish I would have taken the trouble and the two seconds it took to Google this matter, while I was there, rather than when I got home and started thinking about writing this post. There are definitely some fine farmer's markets in New Zealand, and you can find a bit more information about the more well-known ones by clicking here.
They aren't around every corner, it's true, but there are some there. The little market we found in Tauranga was definitely worth seeking out. It was absolutely delightful, with lots of locally-grown goodies as well as prepared foods, and a fun and friendly atmosphere that I recognized as akin to our small-town markets at home, and of course one reason that I love farmer's markets!
Without any more ado, wanna see my pictures??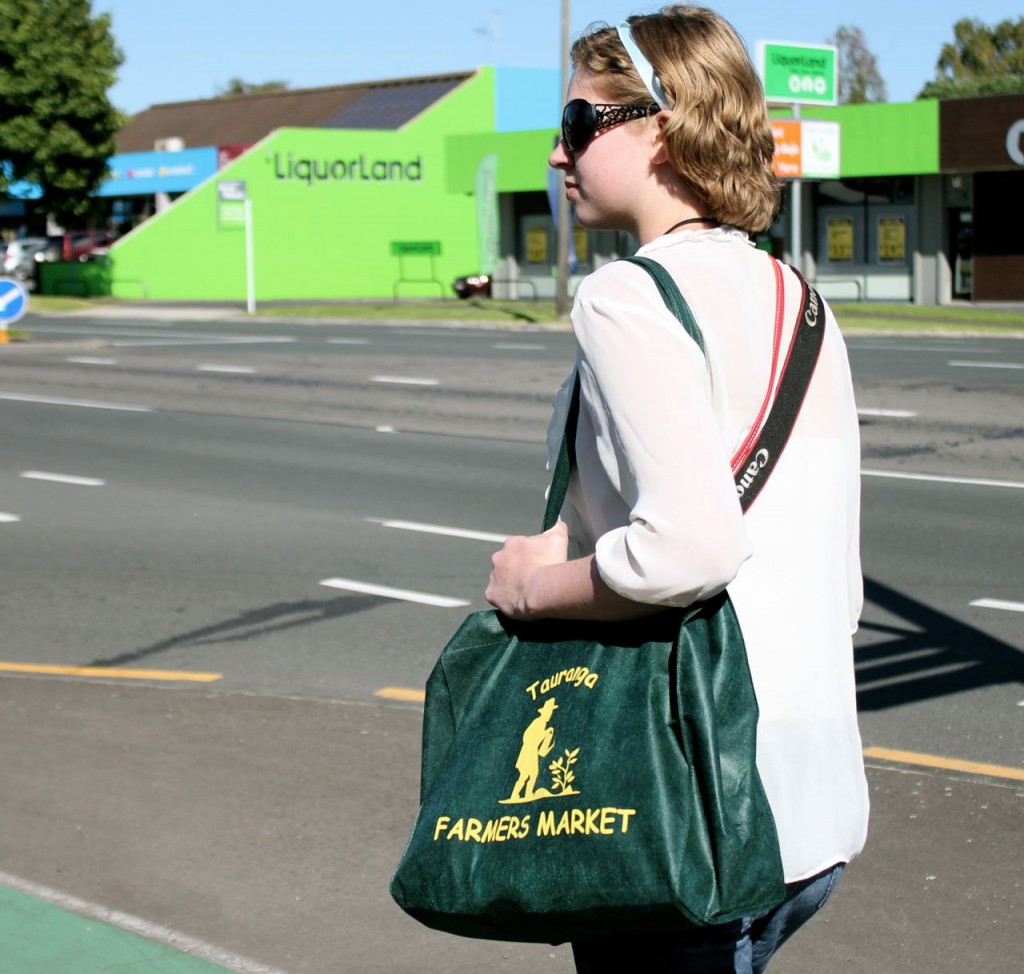 Of course we had to buy a bag. 🙂
Many of the tables looked like they could have been at our market back home in Nebraska.
And then there were plenty of sights that you wouldn't have seen at a farmer's market in Nebraska, to wit:
Those peaches were amazing! I'd never seen anything like them. Here's a glimpse of the inside of one: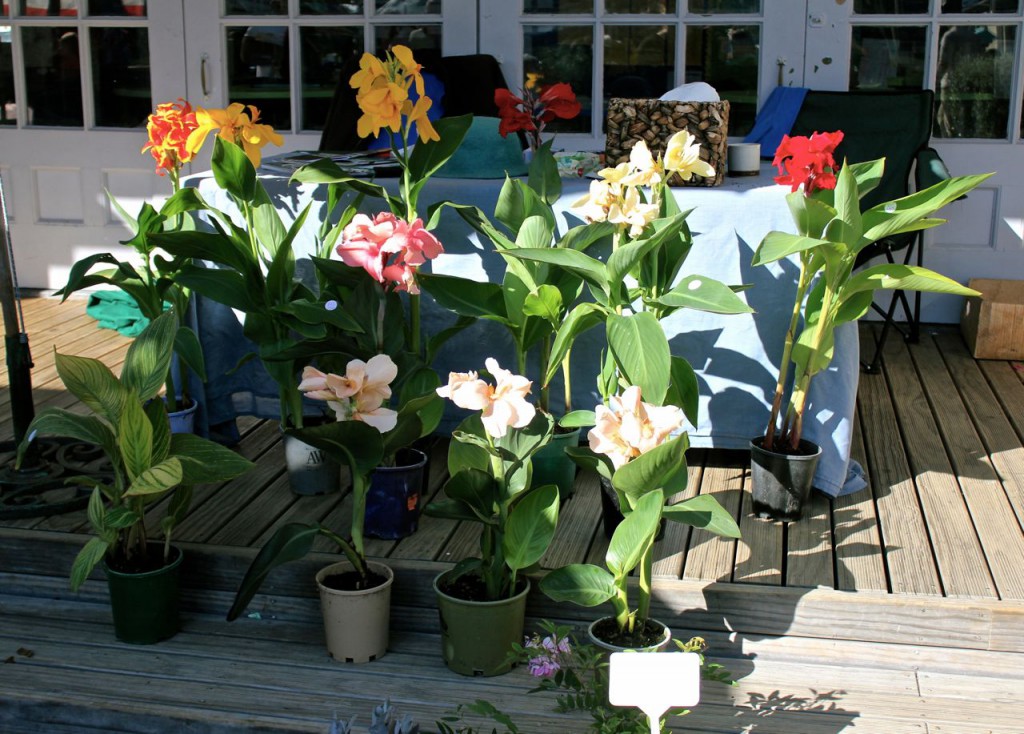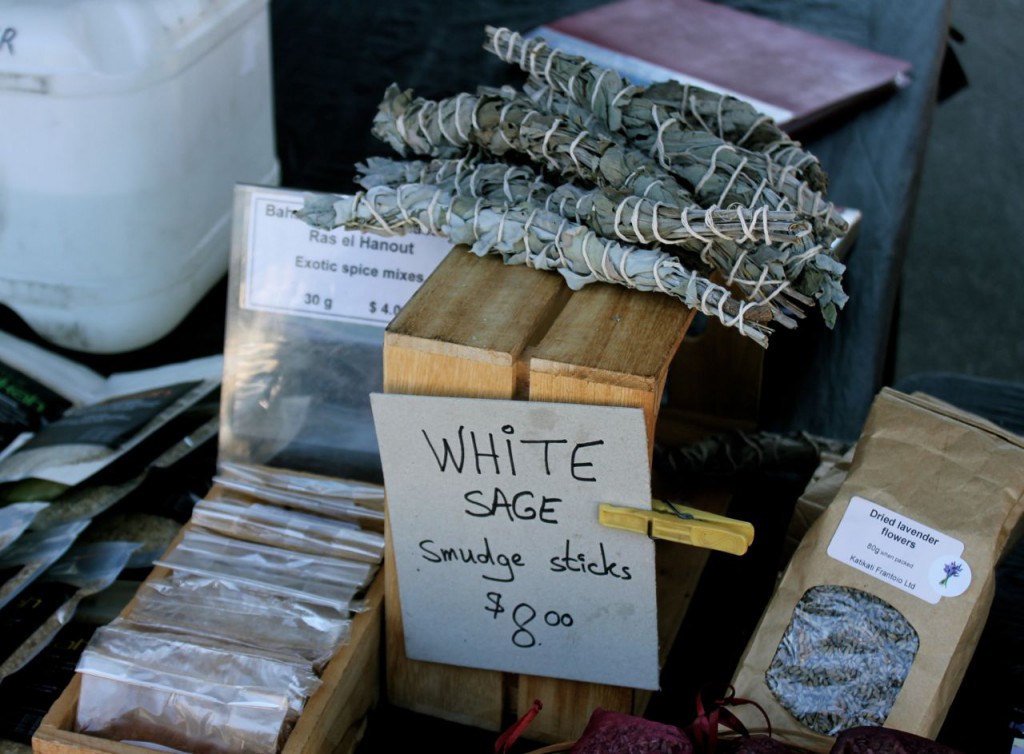 It was obvious that most of the folks there knew each other well, and enjoyed spending their time together at the market. 🙂
Another nice thing that was common to our markets, and to this one: lots of samples to try! Mmmm!
One last photo to leave with you . . . a beautiful flower–I think it is a variety of hydrangea. Farmer's markets in our part of the world are just around the corner.
I can't wait!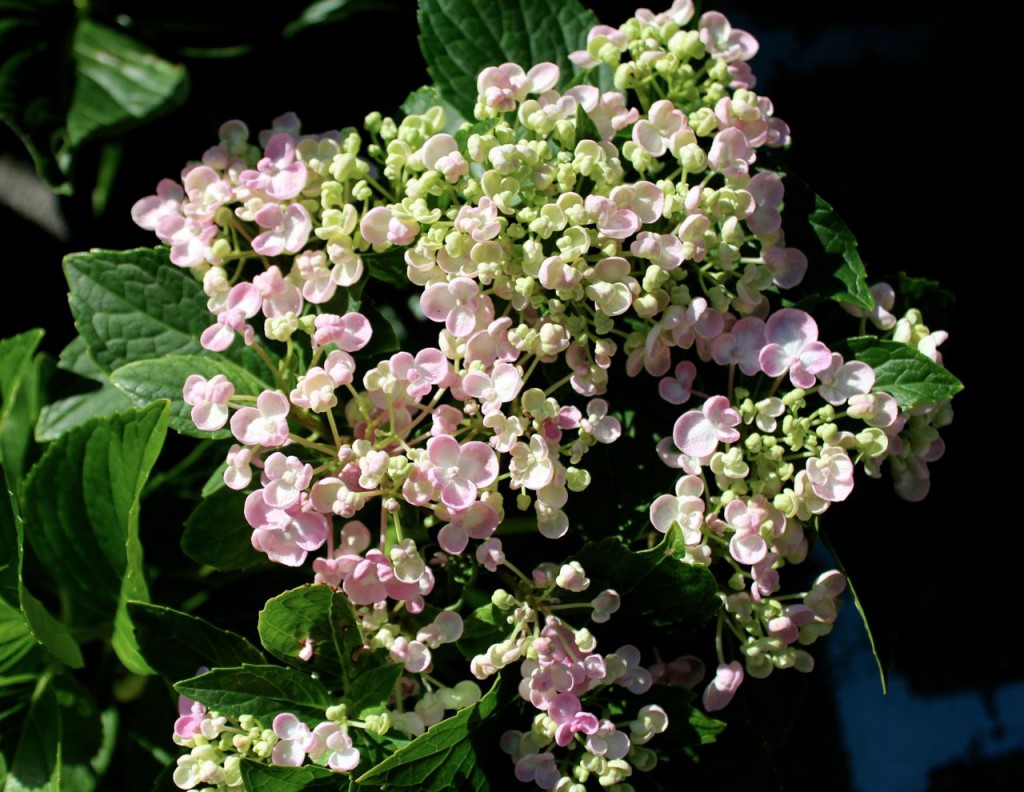 Thanks for enjoying my photos with me, Gentle Reader!
*hugs*