Peach Cobbler Bread with candied pecans on top, oh my!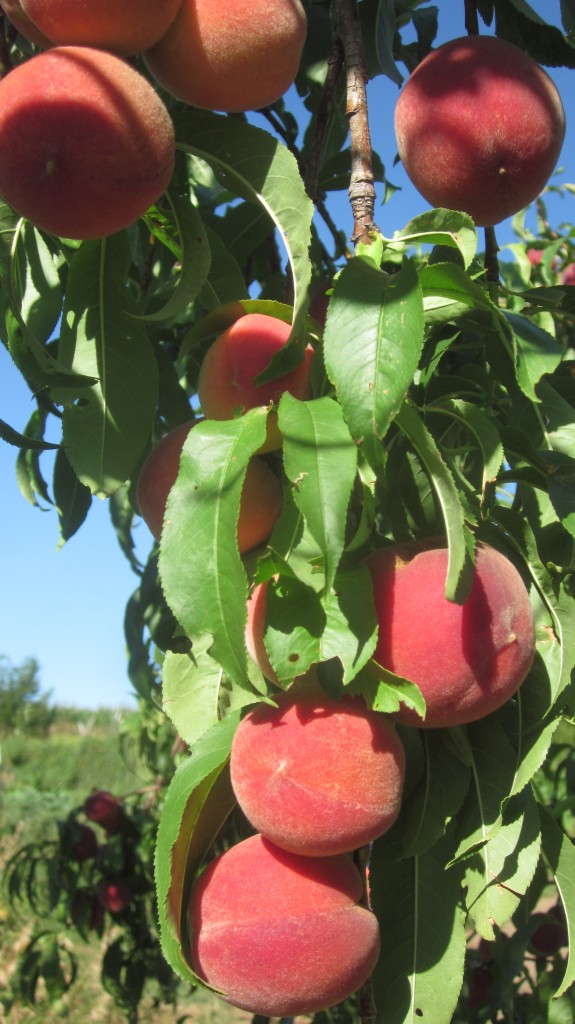 Our peaches are ripening, and you can almost hear the little trees groaning in the orchard, they are so loaded down with fruit. I don't know why this year is so unusually fruitful–was it that last year's drought made the fruit trees think that maybe they were going to perish, and since they didn't after all, they are relieved and therefore, overachieving?
Or . . . are they just so renewed by this non-drought year that they've given up to bursting forth with fruit? What, after all, are the peach trees thinking??
And I do know, for you sticklers, that fruit trees don't actually think. Or groan.  I know this. But still.
Maybe somebody can tell me why the orchard trees are just loaded this year; why the potato plants are bigger than ever; why the blueberry bushes were absolutely loaded, as well? It is amazing.
While I'm waiting for an answer . . . (I'm going to enjoy this!) . . . I'll share a recipe with you.  Because I'm that sort of person, you know. Always thinking about you, my Gentle Reader, and about what might delight and please you.
But just a word to the wise:  you may need to sit yourself down before you read this recipe.   It's going to make your knees a bit weak, and you may even catch your breath.  Your mouth is going to water and you're going to need to quickly run to the store to buy a few peaches and perhaps a pound of pecans.  On the other hand, you may have a few bushels of peaches that you need to make into something toothsome, and fresh home-grown peaches don't last forever, so maybe I'd better just get started.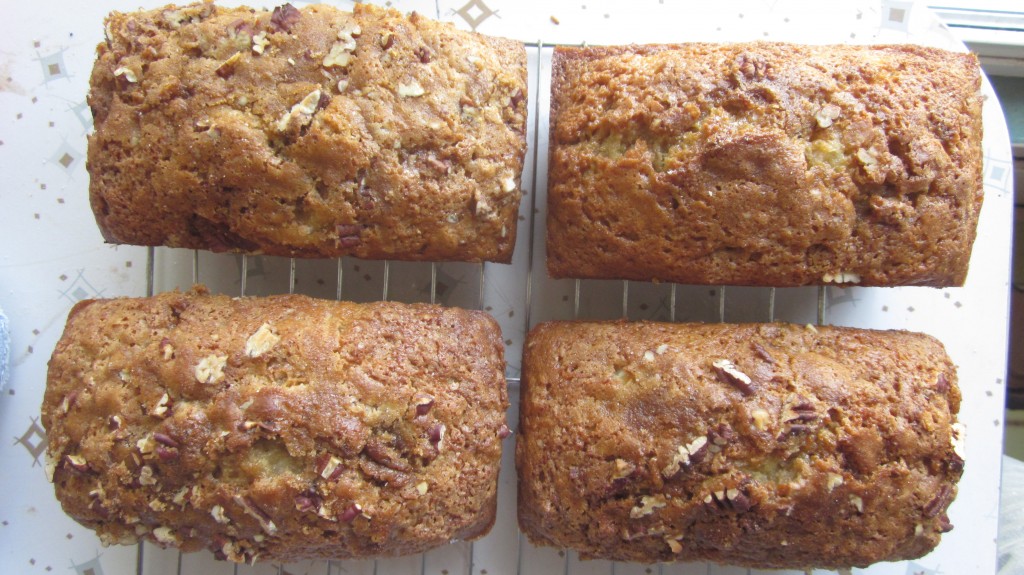 Peach Cobbler Bread with candied pecans on top, oh my!
Author:
Prep time:
Cook time:
Total time:
Adding candied pecans and fresh peaches to a sweet bread is brilliant, don't you agree? (blush)
Ingredients
For the candied pecans: 1 cup brown sugar
1 tsp ground cinnamon
1 tsp salt
1 egg white
1 Tb water
1 pound pecan halves
and for the bread:
1/3 cup butter, softened
1 cup brown sugar
2 eggs
1/3 cup water
1 tsp vanilla extract
1/8 tsp almond extract
1 cup peeled and diced fresh peaches
1 and 2/3 cups white whole wheat flour
1 tsp baking soda
1/2 tsp salt
1/4 tsp baking powder
1 cup chopped candied pecans
Instructions
First, make the candied pecans. Preheat oven to 250 degrees.
Then stir together 1 cup brown sugar, cinnamon, and salt together in a bowl.
Whisk egg white and water together in another bowl, until frothy. Toss pecans in egg white mixture, and then mix sugar mixture until pecans are evenly coated.
Spread coated pecans onto baking sheet and bake, stirring every 15 minutes, until pecans are evenly coated. This will take about an hour, depending on how much time you use up snitching hot pecans off the sheet for yourself.
Snitching, by its very nature, takes time. Don't burn your fingers, by the way. While pecans are cooling . . .
Cream butter and sugar. Add eggs, one at a time, beating well after each one. Beat in water and extracts. Stir in peaches. Combine flour, soda, salt and powder; gradually add to the creamed mixture. Chop up candied and cooled pecans, stir in 3/4 cup, saving 1/4 cup for topping.
Pour into greased 9-in. x 5-in loaf pan. Sprinkle reserved pecans on batter. Bake at 350 for 50-55 minutes, or until a toothpick inserted near the center comes out clean. Cool for about 10 minutes (you must, I know it's difficult) before removing from pan and cooling on wire rack. If you can't wait, be careful not to burn yourself on the hot peaches inside the bread! (That's a hypothetical cautionary note . . . hehee). Enjoy!
Just a side nut-related note:  I've made this bread with chopped pecans, and I've made it with chopped candied pecans. I've got a sweet tooth that has no bounds, so I do like the candied pecans option, naturally. If you prefer a less-sweet addition to the bread (or if you don't want to go to the trouble to candy your pecans first) then feel free to use non-candied pecans.  It's a free country.  Of course, if you candy an entire pound of pecans, you'll have lots leftover to sprinkle on your ice cream . . . and eat out of hand . . . and bribe your children to do their chores with . . . and enslave your significant other to do whatever . . . . just a thought . . .
Save