Bilbo's Seed Cakes: a new recipe just in time for the dwarves!
Amalia has been spending every spare moment back in her Tolkien-inspired kitchen, baking up batch after batch of Seed Cakes just in time for the premiere of the new Hobbit movie, which is released today! My bookish daughter is a passionate devotee of all the J.R.R. Tolkien books, but especially The Hobbit and the Lord of the Rings trilogy. Someday she'd like to have enough recipes assembled to have an entire Hobbit-like meal, and invite all her Tolkien-loving friends to it. She's a determined young lady, and I know that she'll do it, too!
A few months ago she experimented with recipes for Lembas Bread and once we were happy (very happy!) with the results, I published a post about it. It's a very handy recipe to know, since (according to Tolkien) one bite will satisfy a man for an entire day. Now that's a filling snack!
I've always felt like my children (and my extended Young family, for that matter) had to be carrying some Hobbit blood in them, because of their fondness for food, in quantity and quality. Tolkien tells us that Hobbits are fond of six meals a day, including two dinners, if they can get it, while in the Prologue to 'The Lord of the Rings' he points out, they "eat, and drink, often and heartily … [while] growing food and eating it occupied most of their time."
It sounds like he's writing about us. To wit: my dad called me yesterday and happily shared with me his find, a store in Lincoln where he found heirloom seeds for sale yesterday, and which varieties he bought, too. And get this–I did not question him one bit for buying heirloom seeds (yellow radishes! Tom Thumb lettuces!) in December, on a day where the high temperature hovered well below 20F, because I'm getting ready to do the very same thing, as seed catalogs have been arriving regularly in my mail box.
And this year, I don't want to miss out on the seeds for the blue cherry tomato seeds. I mean, really, who would? Last year I waited so long to order that they were sold out. I hope not to make that mistake this year!
But back to the seed cakes. Amalia did quite a bit of reading and thinking and researching and baking, and her first attempts at this recipe resulted in a heavy, doughy, dense block that made us laugh. It's still sitting on the countertop, several days later. It probably will go to the chickens today. There was no leaven in it. So she experimented some more, added leaven, added more seeds and tried it again. The cakes she pulled out of the oven yesterday were just marvelous: hearty and seedy and just a little sweet.
And absolutely delicious with a bit of soft butter schmeared on each bite. Yumm.
I love the scene in the book (and the first movie) when the large group of dwarves surprise Bilbo by dropping in unceremoniously and laying waste to his pantry. Here's the scene from the book: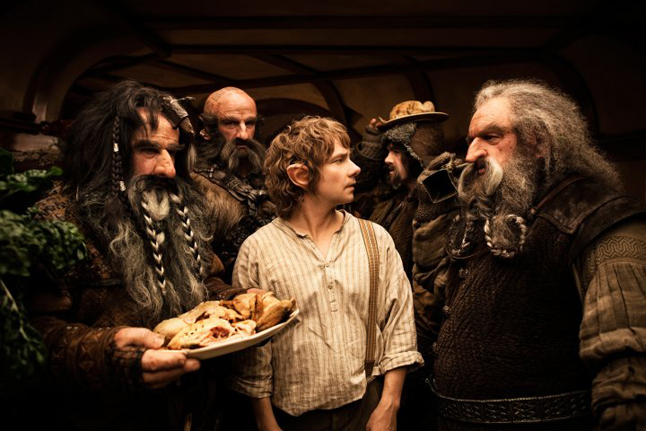 "Gandalf Tea Wednesday. Or at least this is what Bilbo should have written down … Some called for ale, and some for porter, and one for coffee, and all of them for cakes . . . A big jug of coffee had just been set in the hearth, the seed-cakes were gone, and the dwarves were starting on a round of buttered scones . . . 'And raspberry jam and apple-tart,' said Bifur. 'And mince-pies and cheese,' said Bofur. 'And pork-pie and salad,' said Bombur. 'And more cakes — and ale — and coffee, if you don't mind,' called the other dwarves through the door. 'Put on a few eggs, there's a good fellow!' Gandalf called after him, as the hobbit stumped off to the pantries. 'And just bring out the cold chicken and pickles!'" –An Unexpected Party, The Hobbit, by J.R.R. Tolkien.
Now that Amalia has figured out this recipe, I'm sure that Bilbo's Seed Cakes will be a frequent treat served at our house. Well done, Amalia! My daughter has agreed with me, that this recipe just must be shared, so here it is! Stir it together someday soon, when you have guests to impress, or maybe (as in Bilbo's case) just to feed. Let me know what you think!
Bilbo's Seed Cakes: a new recipe!
Cuisine:
Tolkien's Middle Earth
Author:
Prep time:
Cook time:
Total time:
This cake is not too sweet, and is delightfully crunchy with seeds. Every Hobbit ought to have a few in the pantry (or the freezer) in case of uninvited company.
Ingredients
2 sticks butter, softened
1 cup sugar
3 eggs
2 cups unbleached flour
2 cups white whole wheat flour
1 tsp baking soda
2 tsp baking powder
3 Tb caraway seeds
3 Tb poppy seeds
1/4 cup chopped almonds
1 tsp vanilla
1 tsp cinnamon
1/4 cup brandy, or apple juice
Seed topping: Mix together 1/2 cup sugar, 2 tsp poppy seeds, 2 tsp caraway seeds.
Instructions
Preheat oven to 300.
Grease large cookie sheet.
In large mixing bowl, cream together the butter and sugar until fluffy.
Add vanilla and then add eggs, one at a time, scraping bowl between additions.
Whisk together flours, baking powder and soda, seeds, and spices.
Add half the flour mixture to the butter mixture, stirring well.
Add brandy/apple juice and combine.
Add remaining flour mixture, but don't overmix!
Make dough into patties, about 4″ across and 1″ thick and put on cookie sheet. Sprinkle seed and sugar mixture over the top.
Bake for approximately 30 minutes until cakes are golden and firm. Cool on wire racks.
Guess what? My Tolkien-fond daughter Amalia and I finished writing our Hobbit-inspired recipe book, "Recipes from a Halfling's Pantry: lots of these" and it is now available for sale! Furthermore, for the first week or two–it's on sale! We are offering it in "Pay What You Want!" format, so click here to get yours today, for as much as you'd like to pay! $1.00 . . . or $10.00 . . . or $100.00 . . . or . . . 😉 Of course any income that Amalia and I make from this ebook, we'll use to support our blogs. Thank you so much!
🙂