"Secret Chicken Knowledge: I'm Full of It!": just around the corner!
Chickens have been an important part of the warp and woof of my life for as long as I can remember. I grew up in a small town in Nebraska, and my mom nearly always kept a few chickens in the yard. This was before towns started creating ordinances for such things. This was before towns. Or nearly so. Or–this could be the case too–Mom didn't pay attention to the silly ordinances. 🙂
For small town dwellers, we always had a stunning variety of critters at our place: pigs, calves, chinchillas, ground squirrels, gerbils, and of course dogs and cats.
But . . . back to the chickens. Mom had a soft spot for bantams, and with their smaller size they fit in well with small town living. Mrs. Cluck was a favorite–she was white with black spots, and would make nests under the back porch, and she'd disappear for weeks to sit on those eggs.Occasionally–when we also had a rooster, I guess–she'd hatch out chicks.
Another hen, Lillian, was not a favorite, and had a cantankerous nature (possibly because she knew that Mrs. C. was the Golden Hen) and she–bless her–met an unfortunate and instant demise when my little sister, Anne (a toddler at the time) tried to let her into the back porch, via the screen door. The door, that is, with the very strong closing spring—-Anne wasn't strong enough to hold it open long enough—and whomp! Lillian's neck get caught between the door and the sill.
Lillian's complaining clucks were silenced forever. R.I.P. poor grumpy Lillian.
So, when Bryan and I moved our family to our place in the country sixteen years ago, the second thing we did was to build a chicken coop. (The first thing? I knew you'd ask. It was to dig–and plant–my garden, naturally!) The coop was small, to match our budget. Our boys Matthew and Andrew–now grown-up and with families of their own–helped build it. I think probably Timothy and Bethie pitched in, too.
(My, my, how I miss having that noisy, busy crew here! It is such a bewildering transition, to go from being the busy mama of so many littles underfoot, to having just a couple of big kids at home, and so many–including ones with grandkids, now, spread hither and yon. My heart is stretched and never, ever intact again, it seems. Pieces of it everywhere.)
But . . . back to the smallish chicken coop. I have wished since that very first summer that we had chosen to build it bigger. I wouldn't have chosen, at the time, to wait for a year or two until we had more savings so we could build a bigger one, though. I'm not especially patient in matters of the heart, you know. Those were my choices–build it small THIS year, or wait a year or two and build it slightly bigger.
Of course, I couldn't wait.
I love raising chickens. I love hearing the roosters crowing before it's even light outside. I love the routine of walking out to the chicken coop in the morning, letting the chickens out and surveying my flock as they eat their breakfast. I love letting them out of their yard late in the afternoon and watching them patrol our place for bugs. Of all the critters that we've had on our place over the past fifteen years, hands-down, the chooks have been the most important to me. They not only provide entertainment, bug control, a constant supply of manure and compost-fodder, but also they feed us, through fresh daily eggs, and–less often, obviously–meat for our table.
In fact, I started this silly blog five years ago, because I had so many stories to share, chief among them chicken stories! The name of my blog (obviously) was based on a chicken story. I've learned so many great things about raising chickens–heck, about life!!–from keeping a flock. These are not things that I learned from any book. There are a lot of things written about caring for chickens these days; raising chickens is trendy! And there's always Google if you get stuck, but I've learned my most important lessons the same way my Grandma Young probably learned them–from the day to day caring for and raising chickens.
Years ago, I started jotting down tips and interesting things that I was learning from keeping chickens, things that I had never read in any other place. These items spanned a wide range–from feeding, to predator control, to caring for broody mama hens, and much more. Many of these tips I fleshed out into blog articles, but many of them, I didn't.
Eventually I had enough valuable tips jotted down that it occurred to me that they'd make a very helpful little book. So. I wrote the book that I would have loved to have when I was just starting out with chickens, myself. I intended to make it a helpful resource for all the smart folks who were starting out with chickens and would prefer not to learn everything the hard way! like I did→ 🙁
I employed my son Andrew, my favorite designer, to make it all look pretty. As a matter of fact, he is a major player in several of my chicken stories, as his heart is at least as soft as mine, and his determination fully twice as strong. (That's some combination, Andrew!)
I've titled this ebook "Secret Chicken Knowledge: I'm Full of It!" 🙂 (hehee)
[Tweet "It's nearly finished: Secret Chicken Knowledge: I'm Full of It!" my new ebook written just for you!" #secretchickenknowledgeebook]
And yes, for those casual readers who might gasp at that title: I'm still a nice person. More on that later. Maybe. (Okay, I'll tell you: I've been the recent recipient of quite a few not-nice comments on my blog, mostly centered on the stunning fact that I butcher–and eat–roosters! Also I've received comments like this: "Why the crude name "Vomitingchicken"? You actually seem like a nice person . . ?!") Somehow, to some folks, it doesn't seem to fit that a "nice person" would have a sense of humor. Or eat meat that she has raised and humanely butchered herself. Well, well. My Grandma Young–whose biggest compliment to unexpected company, would have been to slip out to the chicken coop, quickly wring a chicken's neck and "dress it", and bring it in to fry it up for dinner with mashed potatoes and gravy–this was her showing her love to her guests–would not have believed this attitude. She would have said to these folks: "Get over yourselves. And wash those dishes, won't you?"

But back to my ebook! . . .My ebook is made up of tips and anecdotes and stories and lots and lots of photos, too. Some entries are things that I mentioned on my blog, but fleshed out in detail. Some are totally new to you Gentle Readers. 🙂 'Cause I love ya'all. I do.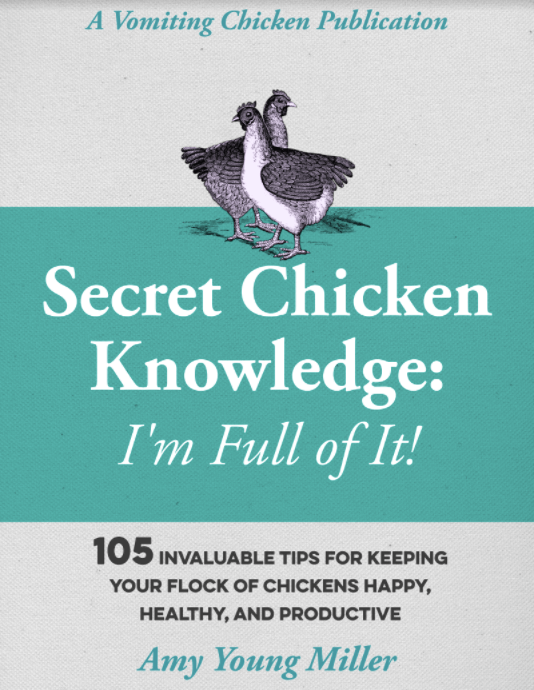 This ebook will join my other two ebooks: "Making Dough with Artisan Bread" and "A Halfling's Pantry: …" (which I wrote with Amalia) for sale on my blog.
I AM SO EXCITED ABOUT THIS! Excited enough to change my letters to red, baby!

I think somewhere in my blog postings over the past couple of months, I set the ebook launch for a wildly optimistic date which I've since forgotten (and you should, too), and which didn't happen, of course. I will thank the Gentle Reader who doesn't remind me of this, with a big sloppy wet virtual kiss. 🙂 But this time. This time, I've got my heels dug in and it's gonna happen, baby.
Secret Chicken Knowledge . . . I'm Full of it! will be available for sale on September 26–yikes, that is just a few weeks away! So. Much. To. Do! (making list: Pedicures! Spa Day. Make celebratory cake. Get a massage. Invite friends over! Plan party menu!)
It's not just this handy dandy little ebook that has me in a celebratory mood, mind you. Next month–September–marks the 5th year anniversary of Vomitingchicken.com.
I started my blog five years ago, with this post, and I published it on my son Matthew's birthday, as we headed to our Young family Ponca camp-out weekend. There was no internet there, and I was glad of it. I wouldn't be tempted, that way, to peek and see if anybody was reading my baby blog post that I had unceremoniously pushed out of the nest. Would it tumble to the earth and get eaten by a cat? Or would it lift its wings and flutter, and then fly beautifully through the air? I had no idea which would happen. But I was so hopeful that somebody would like to read what I liked to write.
Since then, though I haven't put much work into it (beyond writing o'erlong blog posts!), my blog has grown beyond my wildest dreams, really. I could wax on about this, but I don't want to bore you with stats. But a lot of good folks read my blog posts, and make great comments and share their lives with me, in turn, which I totally love. I am the winner in these relationships, Gentle Readers. You all are too good to me, by far. 🙂
I recently hired my daughter Bethany as my Virtual Assistant, so if you see a little more activity on my blog, and some updates and improvements, it is totally Bethie. (Thank you, honey!) I'm thankful for her and couldn't ask for a better VA, if any of you bloggers are looking for help on administrative and other blogging tasks. Get in touch with me, and I will put you in touch with her. She's the greatest.
Are you interested in my new ebook? Well, chickie, don't miss the launch, then, because there are going to be some fun things happening before then. Be sure to do the following, if you have a moment:
subscribe to this blog (put your email address in the little box up to the right),
follow me on Facebook (Sorry, I do have a love/hate relationship with FB, but we can use it sparingly as a force for good, right?)
and Instagram, so you don't miss a thing, and puh-lease, if you have a moment, spread the news among your chicken-loving friends and groups.
Oh, there's Twitter, too. I guess it's a thing, too. 🙂 I pop in there now and again. Not much. Too many weeds to pull and cukes to pick, baby! 🙂
How often does an ole chicken lady publish an ebook of her top tips and tricks that she has gleaned from a lifetime of being enamored with chickens? Probably not often, that's what!
To thank you for your help in spreading the word, I am giving away one chicken-related surprise package, with the following:
a copy of my ebook "Secret Chicken Knowledge: I'm Full of it!"
Haha, silly, I'm not really going to tell you what's in it: it's a surprise! I'll be teasing you via this blog space and my Facebook page with hints about what's in the package. So you will just have to pop in again to get an idea of what's in it!
This is all you have to do to gain an entry into this drawing for the special surprise package and free ebook:
Share this post with your friends (through your favorite social media channel, I don't care which one! You get an entry for each time you share it!)
Write a comment below on how you shared it, and how many places, with a quick note on your chicken-raising history too, just because. Don't have chickens yet? That's okay, too! Just let me know. It's for my snoopymind market research (cough).
"Like" my vomitingchicken.com Facebook page for an additional entry.
That is it!
I will pick a winner out of a hat–randomly, natch'–on launch day–remember, that's September 11th–and I will announce it live on Facebook! 🙂 (Fun, eh?)
Now, skedaddle. Have a good one! Get outside today. Maybe take a walk? Don't forget to hug your loved ones that put up with you so well, and stay in touch!
*hugs*