What's growing in my garden in August (besides weeds) . . .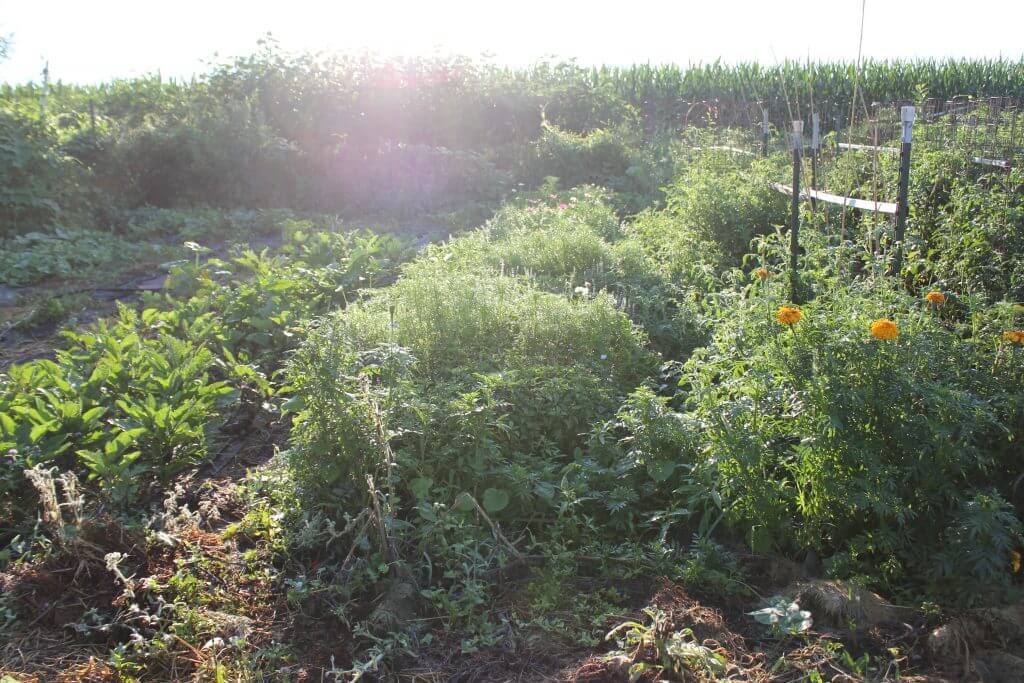 A lot. A lot is growing in my August garden, Gentle Reader. SO. Much.
But before we go there, do you mind a wee little story? *wincing* I hear a few groans, but mostly . . . confused silence . . . so onward I will forge.
Here goes: I mention my garden and business mentor, Gene, now and again, in my posts. I hope I don't embarrass him overmuch by doing this, but on the other hand, he embarrasses me now and then (for example, when he introduces me as his "oldest living mentee," not to be confused with the oldest living manatee, mind you, who–sadly–recently died in a freak plumbing accident), so possibly we're even. Gene and me, that is, not the manatee and me. Bless him. Gene. Not the manatee.
(I have tried to explain to my dear mentor that the word "oldest," no matter what other words are before or aft, is rarely a sweet word to a woman's ears, when used in regard to her. No matter her age. I have no idea how the typical manatee feels about the word, by the way. Not a clue.)
So. Anyway. Gene sent me into spirals of stupefaction one day in July when he sent me an oh-so-casual email mentioning his having invited a half-dozen or more chefs to his house for dinner and a garden tour. These chefs are employed at a fancy restaurant that we sell specialty produce to.
Read that paragraph again, to make sure you catch the full import of it. ↑ Please. Yes. See, you did read it correctly. My mentor. Cooking for professional chefs. Afterwards, giving them a garden tour.  Of his garden. IN JULY.
If you are a cook or a gardener (especially in July or August) you will agree with me that he is one brave dude.
Gene's preparing food for chefs is akin to my making pie for my mother. Which. I. Don't. Do. Ever!! My mother has spent a lifetime perfecting her pie recipes. She has experimented with every fat on earth to make the best pastry. The thickening agent within a fruit pie has been agonized over and analyzed, too. She has tinkered with her recipes for years. Soooo I make her something else–instant pudding with Cool Whip, for example. Sliced apples. Carrot sticks. Crackers and cheese. Frozen pizza. And I then hint (delicately) for her pie. Because I am not one brave dude. Or one brave gal, or even one brave sea cow. (Who prefers to be called a manatee.)
As I grappled with the intel that my mentor would be gutsy enough to cook for first-class chefs, and then give them a tour of his gardens and greenhouses, he mentioned offhandedly that maybe someday I might consider doing the same thing.
Bless. His. Heart. Such optimism. Such gentle hope. One word (more accurately, perhaps, a series of them) came immediately to mind: "hahahahaaaaa!!"

Maybe the day that the kids wrap me in an old quilt and bury me next to Bea (our little Aussie that died last summer) and Little Red (my favorite chicken who perished finally) in the weedy edge of my garden, I'll give them permission to let folks come look at my garden in July. Not before.
Of course, Gene has it All Together in ways that I do not. For example. Bryan and I ate dinner at Gene's house one night. There were glasses of wine (your choice of white or red!) before dinner–in actual wine glasses–and (get this) tasteful hors'dieuvres . . . horse'derves. . . appetizers. Just the right amount, not enough to get in the way of an actual appetite.
Then there was the garden tour. Gene's gardens and greenhouses are . . . extensive and impressive, and there are no weeds (not that a chef would notice, anyway) to speak of, and Gene tells interesting stories and keeps a pleasant running commentary during the tour. It is clear that he has done this many, many times.
Dinner, which followed the garden tour, was served by Gene and his lovely wife Dorrie, on plates that matched (each other) and (get this) in actual courses. I think there were four. Courses, not plates. Salad was served with the bread. It was all well-organized and went so smoothly. (For example, nobody had to stop the meal to dig through an o'er-stuffed 'fridge *cough* for thirteen minutes to find a mashed half-stick of butter.) Nearly all the food was locally grown, and it was all delicious. There was wine to drink during dinner, too, and coffee was served out on the porch, with dessert, after dinner. Nothing was rushed. Everything was lovely, peaceful, and well-planned.
**blank stare**
At our house–needless to say!–things would have been different. Soooo different. And where different is not (*wincing*) necessarily bad, my different would not be good. I would have had to use jelly jars for the wine–oh, wait–except that there would be no wine because we probably wouldn't be able to find the corkscrew. You do need a corkscrew to get the wine out of the bottles, right? The corkscrew at our house is always lost, which is probably a mercy because some days I could drink a lot more wine than I really ought. A LOT of wine, which makes my dear cautious teetotaling husband very nervous, indeed.
It just occurred to me that maybe "somebody" hides that corkscrew. 🙁 Hmm. I bet I know who . . .

While jelly jars are cute in a country setting, when used for ice water, ice tea, or homemade lemonade, they are just plain pathetic when you use them for wine. Using jelly jars for wine has the essence of "unashamed alcoholic" about it. Oh, but wait, there's no corkscrew. So, no wine.
That's right.
Question: Why the missing corkscrew, and why the elusive wine glasses, you may ask??
Answer: Because we are still not finished with our kitchen remodel (alas!), though we are painfully close, Gentle Readers. Painfully close. And yes. I will do a kitchen remodel update post, if anybody is still interested in one. Really! I will. You probably don't really want to know, do you? You're probably tired of this topic? Well . . . if you're still interested, leave a quick comment below, okay? 🙂 #sneakybloggertacticstogetcomments
Back to this imaginary event (which will not take place anytime soon, recall?) at our place: The garden tour in July. Or August, for that matter! This fictional event would be marred not only by the sorry jelly-jars-as-wine-glasses, the missing corkscrew, thus, no wine–the hidden, mashed stick o'butter, but also by the big collie dog that would bark and bark and bark at the strangers, and then be hauled off to take a time out in her kennel. Where she would continue to bark. Forever and a day, amen and amen. She is a barker, bless her! Probably, also, during the garden tour, our dear hay man would pull up in his pick-up truck with two raggedy sheep and a wobbly, skinny calf for Mack to pet, and he would have thirty-two questions to ask, and three long stories to tell, which on an ordinary day is a pleasant break from chores, but during a July Garden Tour and Dinner for Chefs, might be awkward.
He would ask for a ride home, afterwards, as his pick-up would die in the driveway and refuse to start up again. This would undoubtedly trap the chefs (as their cars were parked high up on the driveway) for a good long time, and they would check their watches, their 'phones, and the unhappy livestock in the back of the pick-up truck, awkwardly, as Bryan and the dear hay man did everything in their power to get the pick-up started again . . .
*siiiigh* And then the real reason I could never give a garden tour in July . . . one word . . . (okay, two, if you count articles) . . . the WEEDS. A garden tour in early May, when all is fresh and new, when you are still rejoicing over verdant green and warm breezes, when you happily munch on Hope for breakfast, Joy for lunch and Deep Satisfaction for dinner . . . it's doable, or at least contemplatable.
But in July and/or August?
July and August are SO another story entirely. (Can I hear a weak amen, brothers and sisters and descendants of Adam?) When weary and discouraged and beaten-down gardeners and farmers decide to swear off gardening and farming forever, I would be willing to bet that most often it's in the month July. Or, possibly August. But probably July.
If May in the garden is breathless hope, July and August are fierce, gritted-teeth battle. At least here in the Midwest, and here at our place, this is true. In July and August, I engage in battles with bugs, blight, determined neighbors who insist on spraying the fields next to my gardens again and again, festering tick bites, occasional drought, punishingly hot temps and equally abusive humidity levels, a toe smashed by a log that fell out of the log splitter, mysterious caterpillars that curl up inside of tomatoes and tomato vine stems, scrapes, bruises, summer colds, heat exhaustion, summer allergies, and a heat wave that bullies you around for weeks. If you do get some rain, you generally get a LOT, and then clouds of mosquitoes appear as if by magic, and are not deterred by the clouds of toxic poison you spray on yourself just so you can hang out outside for a few minutes. Sunburn. Stiff muscles Every. Day. Maybe I'm exaggerating a little bit. But not much!
July and August take some mettle, don't they? It takes GRIT to be a farmer in the end of the summer.
I'm thinking the month of July has been a toughie on this ole' farm lady.
That said, by July, I certainly have got plenty growing in the garden. Every day, I plan my menu on what I have extra coming out of the garden, and what the fancy restaurants in town didn't buy this week. 🙂 This is a terrifically fun way to menu-plan, by the way. Cucumbers. Tomatoes. Squash that got a little too big. Bushels and bushels of basil.
And then, August comes and one day you realize that you aren't seeing as many blister bugs as you were, and you feel a whiff of a breeze, and you smell fall. You see a few yellow leaves on the ground, and it hits you: the hard part, perhaps, has passed. Fall in the garden is another animal, entirely, isn't it? Not a manatee either, mind you. Something of another ilk. A little hope edges in. And you have some pictures of the good parts to show your friends. And lots and lots of zucchini and cucumbers to share.
Wanna see some pictures? Ohhhh kay. I do believe I have a few. 🙂
Well. Now you know what's growing here at our place at the end of the this summer, Gentle Reader. I hope that seeing pictures of my overgrown gardens will give you hope as you tackle your garden in this tricky, late-season time. I hope that your own garden is fruitful and pleasant, and not at all frustrating or despair-inducing!
A blogging note: I haven't been blogging consistently, but I've hired some help in the blogging department, and my Virtual Assistant will be doing some of my busy work of blogging, so I'll be able to spend my time doing what I like best–writing, and sharing with you!
I hope you are doing well in your garden and life. Thanks for popping in today. As always, I'd love to hear from you in the comments below. If you've enjoyed this post, would you do me the HUGE favor of sharing it with your friends and gardening communities? And if you haven't liked my vomitingchicken.com Facebook page, you really oughta! We have a lot of fun and share a lot of tips and tricks and recipes and such over there. It's a wonderful community.
*hugs*