So much to look forward to . . .
A gardening friend and I were commiserating the other night about getting started with our gardens this spring, and the dragging-of-the-feet that we both (astonishingly!) have experienced this year. Both of us were feeling a bit behind, since the weather has warmed up nicely (well–mostly–sometimes–except at night!–kinda--) and yet we aren't exactly out in our gardens flinging manure about and dropping little seeds into the perfectly-formed furrows just yet. We realized that–because of illness and/or busyness and/or family illness–we just weren't in the garden mood yet. Which is . . . impossible.
You know that garden mood.
The wake-up-before-dawn-itching-to-plunge-your-hands-into-the-dirt mood. The can't-wait-to-pull-weeds-today mood. The this-radish-I-just-pulled-it's-the-best-thing-I've-ever-tasted mood. You know this mood, do you not, Gentle Reader?
The truth is, I think my friend and I were feeling a little loathe to get started with what will certainly be a lot of work–and a bit surprised at ourselves for feeling this way.
On the other hand . . . we're also plenty bored with the fresh offerings of our local grocery stores. I mentioned to Anne about my discovery of The Tiniest Cauliflowers Ever at our local grocery store (and for over $3.00 each!), and also The Tiny Little Heads of Broccoli phenom of late. I would imagine the drought in California has something to do with the miniaturizing of our veg.
Then I did it. I mused over the grocery store Melons That Taste Like Nothing, compared to the Orangeglo melons that I grow in my garden every year. . . and that started it. The blood started racing for garden season. I took a deep breath. That moment that I thought about those melons did it.
The thing is, there are so, so many beautiful vegetables and fruits that you will never taste or even see, if you don't grow a garden yourself. Of course the farmers at the farmer's markets are getting more and more adventuresome in growing produce, but they will grow most of what their customers want to buy. And how will you ever know how wonderful a particular type of orange-fleshed watermelon is, or a purple carrot, or basil that tastes like licorice, if you never grow it yourself?
Not to mention . . . pink radishes! Another gardening friend, Jamie, told me the secret of pink radishes a couple of years ago, and they've been my favorite ever since. Of course I still grow lots of varieties because (cough) I can . . . and because I'm a slave (a slave, I tell you!) to my wretched love of beauty. And nothing's more beautiful than a handful of French breakfast radishes, purple radishes, white icicles and those pinks . . .
But the truth is, the pink ones are the best. I'm quite sure I'll hear something from Gene on this one. 🙂
Early spring gardening means being able to go out and gather all this and make it into a very satisfying dinner (especially if you thought ahead and made some fresh bread, first. And maybe have a chunk of good cheese in the 'fridge.
And then comes summer, and if I've taken the time to plant several kinds of heirloom tomatoes (and, of course, I have!) I'll have this to look forward to. (Again, that slave-to-beauty thing: gotta have all these colors, shapes, textures, and tastes to look forward to!)
Pink Bumblebee Tomatoes . . . (swoon) . . . so sweet that they just melt in your mouth. (Me, answering Amalia: "supper?" (wiping tomato seeds off chin) "I don't know. I'm not that hungry . . . . how about a snack night tonight?")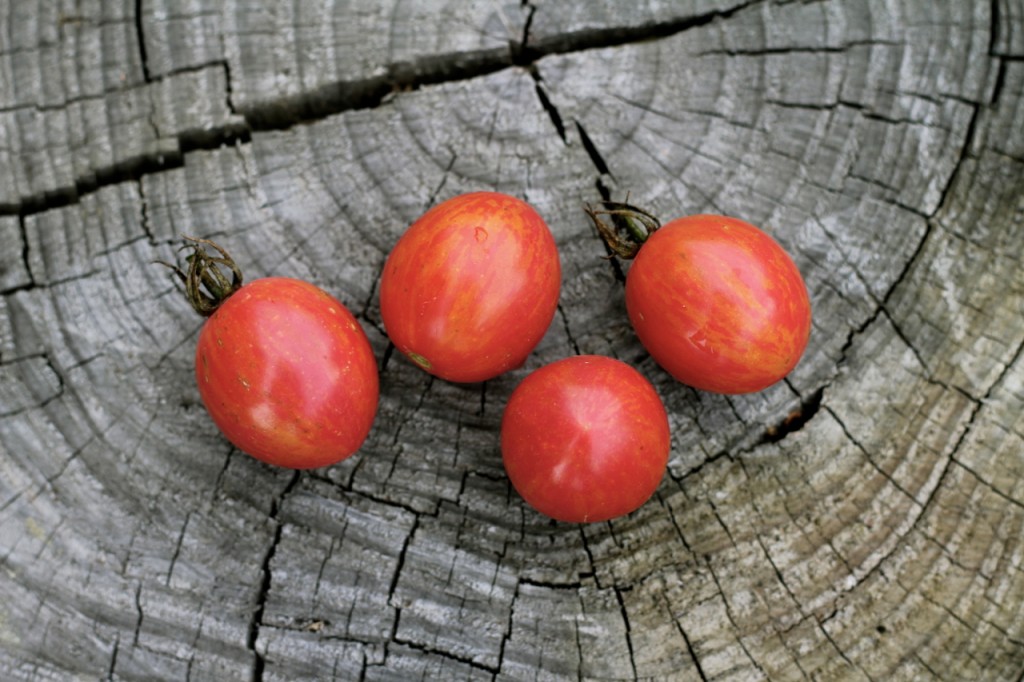 Anne and I waxed on about watermelon radishes from my garden, and how good they tasted fermented, in kimchi, and how pretty they would be, fermented on their own . . . oh yeah . . .
I thought about how sweet it is to have so much kale in the garden that you can eat it every day, if you'd like. Perhaps in this pretty salad . . .
Okay, suddenly we were both impatient with sitting and talking. I don't know about Anne, but that's all it took for me to get my creative garden juices flowing. The next day, I got up early and mixed up a wheelbarrow full of potting soil and filled several trays with it, and planted lots of goodies: cabbages (two kinds), basil (three kinds, including my favorite licorice basil, from Baker Creek), brussels sprouts, cauliflower (white and purple), broccoli, and much more. We were off!
The natural order of the universe was restored: I couldn't sleep for garden thoughts and eager anticipations that night.
This week I'll plant tomato seeds inside, and in a couple more weeks I'll plant some Orangeglo watermelons. I ate so much melon last summer that whenever I would sweat, I smelled like melon!
Hey Baker Creek, that ought to be a selling point, I think . . .