Sour Cherry Pie Squares: a celebratory recipe
Along comes National Pie Day and we all sigh in relief
Gentle Readers, did you know that there is a National Pie Day? How about this: did you know that there is an American Pie Council? I happened upon this website the other day and was poking around and saw that to get the pie recipes on this website, that you have to be a member. No problem, thought I, I'll just join up, then. Yay! More pie knowledge to be had!
But then I clicked on the link for joining: Yikes! $45.00 annual fee for the "Amateur" level of membership. Whoa, the professional must pay $75.0o. Happily for the seniors, they get a price break and only have to pay $35.00.
*Oh well* I have plenty of great pie recipes at my disposal, without having to join a club like the "American Pie Council."
I can always, always use a new pie recipe. I am a pie devotee, after all. (Who isn't?) I think about pie quite a lot. I am a member of the Young family, for whom the motto might just be "Pie. It's What's For Dinner."
The Youngs and Pie
My family takes pie fairly seriously. Especially the non-pie makers in the family. The long and lanky, stretched and always-hungry segment of the family. Last year we had 17 pies at Thanksgiving. The more sensible members of the family (i.e. the bakers of the pies) agreed that 17 pies might be overkill, for 35 people. After all, if my first-grade math skills can be trusted, that's nearly half a pie for each man, woman, and infant there that day. We all love pie . . . but . . . that's a lotta pie.
Consequently, this year, there weren't so many pies at Thanksgiving. The number was so unremarkable (possibly, even, disappointing) that I don't even remember it. But you know, I think that a national holiday celebrating something as sweet, wonderful and guileless as pie is a great idea!
A special day in the bleak midwinter to focus on pie? Yes, please!
Behold, the Pie: It is a concept. Pie is Goodness. Gracious living. Generosity. Gentility. Hospitality. Pie reminds us all that there are important things in life that take time.
Pie: it's all that, and more.
Quotes about  . . . Pie, of course
Here's a quote I found about pie: " . . . a few seconds later, someone on the internet mentioned pie. I don't blame them. It's a good subject. But pie was mentioned and I remembered there was strawberry-rhubarb pie in the refrigerator. So I went there. And pie there was none. I suspect the teenaged boy has inhaled it. And now I cling to life and hope as best I can, because my world is dark and pieless." –Tad Williams
. . . also . . .
"Never promise to make pie and fail to deliver on that promise."
― Kate Lebo, A Commonplace Book of Pie
So. Now that you know that it's such an important day: National Pie Day, what are you gonna do about it? I'll tell you what I'm going to do (surprise!): I'm going to make pie.
I love to make the traditional-shaped pie, and I also dote on these neat handy (harhar) Hand Pies (here's my recipe!) and today I'm going to share my ultra-popular recipe for Cherry Pie Squares. It's actually my mother's recipe, and it is quite wonderful. If you need pie for a large group, and if being able to eat said pie out-of-hand is an important element to the success of the gathering to which you are bringing it, then this recipe is for you.
I've got a few precious quarts of frozen Montmorency cherries that we plucked from our orchard trees last summer, squirreled away in my freezer, and I'm going to use them (yay!) to make this uber-special treat.
Here's what they look like:
Here's a close-up to drive the knife in a bit deeper . . .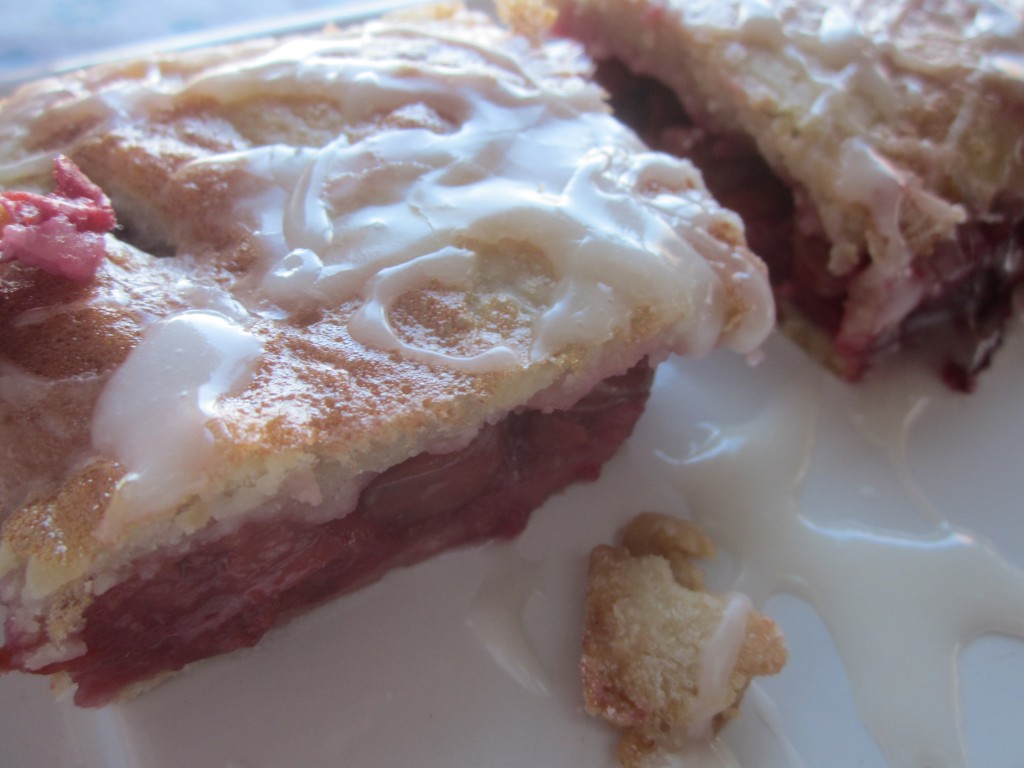 And here's the recipe!
Cherry Pie Squares
Recipe Type
:
Guileless pie
Author:
Prep time:
Cook time:
Total time:
Eating pie out-of-hand is a singular pleasure. Make these pie squares and you will see that this statement is unequivocally true. You can change these up a bit by using apples and cinnamon for the filling, or chopped rhubarb, or rhubarb and strawberry, or blueberries . . . or . . .
Ingredients
2 1/2 cups flour
1 cup + 1 Tb sugar
1 tsp. salt
1 cup shortening or butter
1 egg (separated)
milk
2/3 cups crushed cornflakes
2 Tb lemon juice
1 cup powdered sugar
5 cups well-drained cherries
Glaze: combine 1 cup powdered sugar with 2 Tb lemon juice
Instructions
Combine flour, 1Tb sugar, and salt.
Cut in shortening.
Add enough milk to egg yolk to make 2/3 cup.
Mix in so dough shapes into a ball.
Roll half of dough into a 15″ x 11″ rectangle and transfer to jelly roll pan.
Cover with crushed cornflakes.
Add cherries and 1 cup sugar. Roll out the other half of dough for top crust.
Place over cherries and pinch edges together to seal.
Brush with stiffly-beaten egg whites.
Bake at 400 degrees for 40 minutes or until golden and your family is drooling.
While hot, drizzle glaze over top. Slice into squares. Eat out-of-hand-oooh! ooh! ooooh! hot! Yum!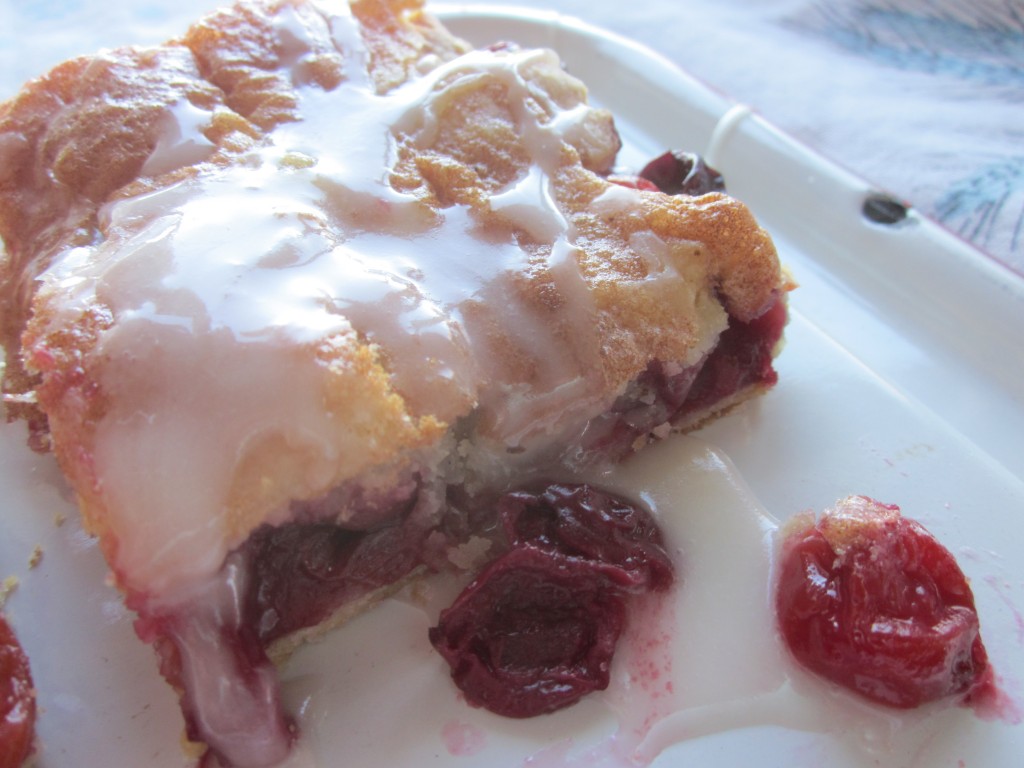 Shameless Commerce Division
It's our sacred responsibility–don't you think?–to celebrate National Pie Day in whatever way we see fit. Life is too short to deny ourselves an occasional slice of pie.
Please share this post with your friends and various relations if you agree, and *hugs* and *smooches* from me in advance for doing so!
And if you don't have in your possession a fine French rolling pin with which to roll out your pie pastry, well . . I can help you with that, too.
My Dad proves that old adage, that "The best French rolling pins are not made in France, they're made in Nebraska." Possibly you've never this before, but maybe you have? And–gentle reader–it's true.
How do you get one (or three?). Pop on over to my Blog Shop and you'll be able to order one (or three) as easy as 1, 2, . . . 3.
Possibly You Need Some Small-Batch Herbs as well
I mean, who doesn't? Pop on over here to grab some herb mixes that my farming/biz partner and I collaborated on: herbs grown right here in Nebraska, then blended together into three unique recipes that you–will–love.
Thanks for popping in, gentle reader. You make my life better. Honest. You do.
*hugs*
🙂 <—–smiles all around