Some things that make my heart race: November links to inspire
If you're me, that is. Or if you're excited about chickens, and worms, and good food, and mulch, and gardens, and whatnot, like me.
1. First: Harvey Ussery! Honestly, I just keep hearing amazing things about this new book of his. I don't have a copy yet because I'm just a little (cough) embarrassed about my "TO READ IMMEDIATELY" pile of books next to my bed, and how high it has grown. Also, it is on my Christmas list, so I'm hoping that Santa might bring it to me. Perhaps by then my book pile will not be quite so high . . .
And I promise, Santa, to be especially good if you bring me this book . . .
I ran across this great article about Mr. Ussery and his farm, and it really made me excited about spring, and gardening, and mulch, and chickens, and all those things that make my heart race. Many of the chicken practices that Mr. Ussery uses, I subscribe to as well, such as using deep litter in the chicken coop and the yard. It reminded me, too, that I haven't cleared out my hoop house yet. *groan*
You should see what he does with worms . . . well! You really ought to just take a peek at this article, and the whole website about permaculture (Google it if you've never heard of it before) is pretty amazing, too.
If you love chickens, you may be adding Mr. Ussery's book to your Christmas list, too. 🙂 You're welcome.
2. Harvey (we're on first-name basis now, though we haven't met yet) also has a website. Click here to read it. It's chock-full of great chicken articles!
3. Icelandic Chickens. Okay, this is from Harvey Ussery, too. Can you tell I'm on a bit of a Harvey kick? But take a look at these amazing chickens and you'll be excited about them, too!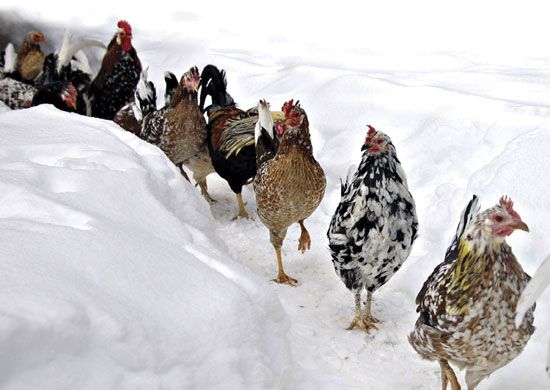 Here's an excerpt from his article on these remarkable chooks:
"I'm fortunate to have had a living example of a traditional model: My grandmother's rugged flock fed themselves almost entirely by ranging over her 50-acre farm. From time to time a hen would disappear, only to show up three weeks later with a clutch of chicks in tow. Granny kept that self-feeding, self-replicating flock going for decades. Every egg, every piece of fried chicken, and every serving of chicken and dumplings came to her table without cost."
Can you imagine? I'm going to look into getting some of these landrace chickens for the spring, that's all I can say. And: they're so pretty! Bonus! The finest chickens in the world are also so, so pretty. What a coup!
Plus: if I could somehow have a self-perpetuating, self-feeding flock with little or no cost involved, I'll bet Bryan would let me spring for that second chest freezer! Score! (not kidding, honey!) (<3 you)
 4.
I've never seen anything
quite like this pie before,
and therefore I've got to make it for our Thanksgiving dinner this week. I've been thinking about it for days.
Every moment.
No kidding. I absolutely crave tart, tangy fruits baked into a pie, and the pie cherries from our orchard trees that Amalia and I picked and pitted and squirreled away into the freezer are long gone, and I didn't put up (alas) any rhubarb this year. Nor gooseberries,
boo hoo.
But I just know that this pie will satisfy that longing of mine for a tart, tangy, toothsome pie. I'll let you know how it turns out. 🙂
5.
Speaking of pie
.
(Sigh.)
Amalia is making this for Thanksgiving.
Mom is making rhubarb, apple, and mincemeat pies. Timothy is making a sweet potato pie. I'm not sure what other pies will show up, but there will be plenty. Something about having a plentiful array of pies makes Thanksgiving very special, even if one can only try a few slivers, lest one swells up to the size and shape of Baymax in that new Disney movie "Big Hero 6."
5.5. That movie! Which we saw last week. Which we loved. Which, perhaps, you oughta see, too. It's so much fun. And touching. And surprising. And beautifully animated. A winner, in my book!
6.
Speaking of Thanksgiving.
Dad makes the most delicious turkey every year, and then the next year he raises the bar and makes an even better one. Talk about surprising! This year, he is preparing two "spatchcocked" turkeys.
I think this is the recipe he is using,
since my Dad reads Bon Appetite magazine. (True.) He already prepared a trial one, and shared it with us and I can
(burp)
attest to its juicy deliciousness. (Can't wait, Dad!)
Here are the photos Dad shared with me of his trial spatchcocked turkey:
Here is a fun article about how Mark Bittman supposedly invented spatchcocking one Thanksgiving day when he forgot to roast the turkey. I love the photo at the top of the article, with the turkey on a platter, wild plums, and tarragon, I think.
Pretty cool, eh? Rumor has it that Mom has a beautiful new platter that she found at the etc. shop for only $8.00. Actually, I've seen it and it is all that it is rumored to be.
7. Still working on that Thanksgiving dinner menu?
If so, be sure to check out this homemade roll recipe: it's the easiest ever.
And cranberries are certainly on your menu, and this is the easiest way to prepare cranberries that I've ever seen, too, and it's good.
And speaking of easy-peasey desserts, my favorite blogger posted this recipe, the Easiest Chocolate Cake Ever.
And to balance some of the rich and hearty and starchy fare, you might want to make this massaged kale and pomegranate salad. It's always good to have something green and super-nutritious on the table, isn't it?
So many choices, so many choices!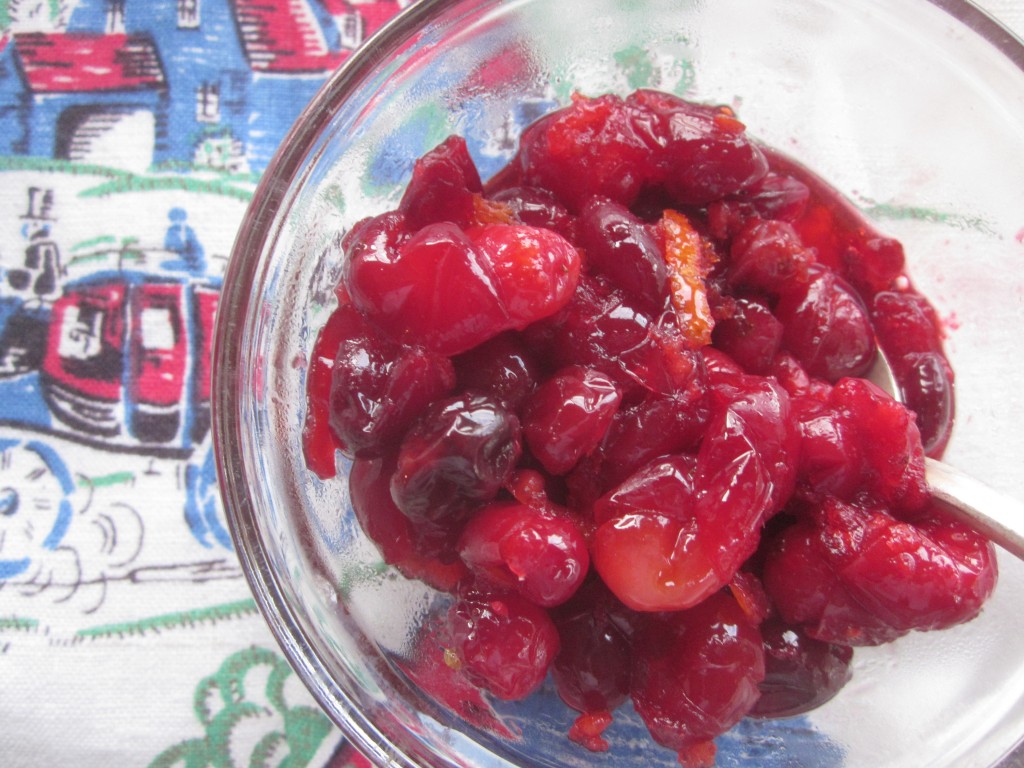 8. One more thing: I really like this article on how to be a better listener. And what perfect timing, too, when the house will be full of people, many whom I've not seen in a while. I'm going to be thinking about these points, and working on my listening skills. Although (truth is) I just wanna hold the new red-haired baby for a long while, and admire the other one, who is too busy now to be held for long.
9: Okay, I've got to share this with you, too. As the crazy wonderful holiday season is upon us, here's a list of ten things that could simplify your life that I really appreciate. I especially like the last one: "Keep a list of the things you don't want to do," for this reason, which makes perfect sense to me: "Avoidance wastes resources. Admit that you don't feel like doing it. "I don't feel like doing this!" Put it off for as long as you need to, sure. But then get it off the list. And find yourself a little lighter when you do." Yep.
10. Yikes! One. More. Thing. Honestly, this is the last one, but I just remembered it. When I was sitting in the hospital watching over my son a couple of weekends ago, I read a few magazines, and I ran across this quote that I just had to write down (on a napkin, as I had no paper). It's from The Journal of the American College of Cardiology:
"Running for as little as 5 minutes per day, even at a leisurely pace, is enough to lower your risk of death from cardiovascular disease by 45%."

Gosh, that is worthy of a repeat, and also a tweet, don't you think?
Hmm. If running for 5 minutes per day can do that much, think about what a daily 30 minute walk could do? Impressive!
And that really was the last thing, except for this:
I hope you have a Happy, Blessed Thanksgiving, Gentle Readers!
*hugs*