11 Sanity-Saving Tips for February & a seed giveaway tease!
Well. It's February, and the winter here in Nebraska–though it has been a beautiful winter, with heaps of snow (which I love)–is, by all accounts, getting long in the tooth. We here in the Great Plains (as I take it upon myself to speak for all) are generally accustomed to cold and grey Decembers and Januarys. Sometimes Novembers are no picnic, either. Even so, it seems easy enough to cope with the weather during those months, full as they are of family get-togethers, gifts to give and receive, and celebratory foods. And winter has just begun at that point, as well. But February is another matter entirely.
By the time February blows in on its bitter galling winds, we (again, speaking for the collective, as I've not heard a single friend say anything different) have grown weary of the blast of cold wind on our chapped faces, and the perilous slipping on the ice every time we venture out. Yet another weekend forecast of ice, snow, and sub-zero temperatures cause a beleaguered atmosphere.
Beleaguered:

Beset with difficulties. Hard-pressed, troubled, in difficulties, under pressure, under stress, with one's back to the wall, in a tight corner.
Personally I think "Beleaguered" is a perfect word for February. It's not the month of February, in fact, it's the month of Beleaguered. *grumps*
Here's a funny thing. I was tapping along on my laptop, working on this post, and I stopped and searched my memory for other posts I'd written about February. I knew there were some. I did a quick search. And, though I very rarely write in this space about any other particular months, I've written about February four other times in the five years I've been writing this blog. Ha!
Here are some gardening tips that I suggested to keep you sane in February; I wrote the story of Amalia's February Iowa birth,which is a good story actually (if you have a minute); I shared some February-related ramblings and a bit of my melodrama stress five years ago,(sorry!) and here's where the kids and I were in Ohio in February, awaiting the birth of little Ellie. (It's so hard now to imagine a world Before Ellie! It was definitely a sadder place then!)
March will not be a problem. January is not so bad, either, but February in Nebraska . . . it has been cold and wintry here now for a good long time. There's not usually a lot of sunshine. Or, any. One day it'll be mild and you will go out for a walk and you will imagine that you smell spring on the wind. The next day, the temperature will plummet 40 or 50 degrees (no kidding!) and you'll have to pry a shovel from the frozen mud to hack at the ground in order to release the chicken yard gate from where it froze during the night. Bother. Usually February leans toward the downright cruel end of the temperature spectrum.
So . . for this year's installment of a Shivering Surviving February post, I came up with a list of 11 things that I am doing to keep my spirits from flagging (too much) in this, the shortest yet (in my humble opinion) the toughest month. I hope you can gain some encouragement or ideas from my list.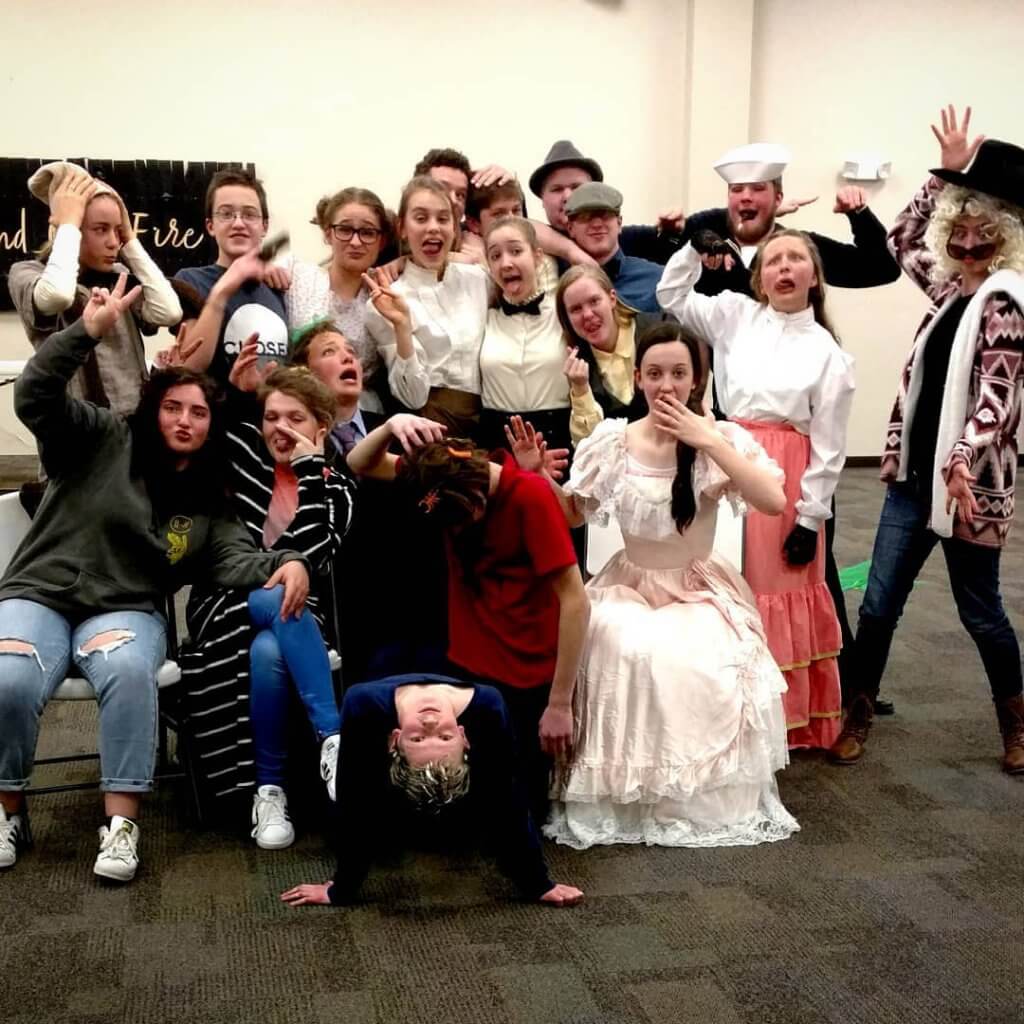 This February I am . . .
Working on producing a musical melodrama with a noisy, lovable bunch of home school kids. (This does, it's true, make the month more bearable. I recommend it! If you can connect with a bunch of energetic kids for a few hours every week, teaching them to do something that you love, the time will fly, which is good when it's February.)
Making time to do something that I love–just because–every day. (This is a long list, ha! 🙂 Currently I am combining learning about visible mending (my sis gave me this book for Christmas and I am still swooning over it) and watching through the old Star Trek series with Mack. He looooves this series and–while it moves a little slowly for me–I find it perfect background noise for my mending projects. 🙂 I see that there are several other books on mending that might be worth investigating, too. I guess mending is a Thing. Happily. My Mom has been mending in a creative way for as long as I can remember. She's a trend-setter, though. No surprise.
Connecting with others daily and intentionally. I am high on the introversion scale, and a little bit shy (sigh) on top of that, but I know that I am happier and more productive if I urge myself to connect with others. I set up meetings, make phone calls, invite folks over. I am a better, happier, more interesting person for it. As a good friend told me once years ago: "We aren't meant to go through this life alone." We are wired for community and connection. And–who knows–by doing this, maybe you'll be making somebody else's February easier on them.
Exercising and getting sunshine, if there is any to be had. *sigh* I walk our dogs, work out with weights in the (cold) basement, and just take advantages of opportunities to get out and get busy.

Planning my gardens!

I can really geek out on this, especially now that my gardening is a business, not just a hobby. I organize seed packets, obsessively search out new things in seed catalogs to grow, research how to grow new things, and make long "to-grow" lists. I keep a running grow list spreadsheet on my computer, and record every time I plant something–inside or out–and how it went. I also have a fat graph paper notebook–which, honestly, I've been eyeing but haven't started on it yet. It's the carrot on my garden planning stick.

Cleaning something every day. Beyond the daily maintenance of dishes, laundry, etc., I choose a fifteen-minute cleaning chore–a drawer to clean out, a pile to sort and get rid of, etc., and amazingly it does lift my spirits. My house is big and I have many areas of clutter and uneasiness, so it's easy for me to make a tiny difference. If your house is under control and tidy and organized, then this one won't be doable for you. Also, I pity you. (Joking!)
I play a little every day. I put it on my to-do list. I am very good at working, but not so great at playing. I coerce little Mack to play with me, because he is very good at playing. Board games, card games, throwing darts in the cold basement, getting beat (again) at chess. It's all good.
I feed the birds. Those of you birdwatchers will get this one!
I do some art and/or make some music. I consider it a great day if I can get both in.
I memorize something positive. Scripture is good, as is a beautiful poem. That way when my mind starts to churn on February-related angst, I can redirect it to something helpful and beautiful.
I make plans. It's a good month to get fun things on the calendars: family parties, vacation trips, etc.
What about you? Is February a challenging month for you? If so, how on earth do you get through it?
Oh, gosh, I almost forgot . . . my thrilling announcement!
If you are a gardener, specifically if heirloom tomatoes are one of your favorite things to grow (raising both hands!) you've probably heard of Brad Gates. Aka the "Tomato Guy" from California who has developed some of the most beautiful and unique tomatoes on the planet right now.
I've grown a number of these tomato varieties myself and can say honestly that several of them are in my permanent grow list.
I've reached out to Brad and he has graciously donated seeds for me to give away to a lucky gentle reader. 🙂 Moreover . . . he sent enough that I can grow the same seeds and we can compare notes at the end of the season. Yay!!
Sound like fun? I'm doing a happy dance just thinking about it. And, gentle reader, if I have a reason to do a happy dance in FEBRUARY, that's a miracle good thing.
So . . . please do stay in touch! Follow me on the socials, and put your email address in that little box up there. I promise I won't spam you, but you won't miss seed giveaways and other delights!
February. Hmmph. We will make it through, won't we? I'll root for you, gentle reader. We're all in this together, after all. If you find February difficult and have learned some coping strategies, I'd love it if you'd share them in the comments below. I learn the best things from you all, you know.
*hugs*