*Bug-Out!* Kitchen Remodel Update #8: Hardwood Floors
I promised myself I wouldn't write about our kitchen remodel again until it was finished. *blank stare* Well. We aren't quite finished, but we recently did tackle the HUGE job of refinishing the hardwood floors, so I'm giving myself a pass on that promise today. Time for news on the kitchen remodeling project front!
I am pretty sure that I have the most patient blog readers on the interwebs. Absolutely. (That would be you, gentle reader.)
Case. In. Point. Here we are, laboring well into our second year of remodeling our kitchen and sunporch  (rebuilding the adjoining sunporch was how we started this big project) and you must be wondering about our progress, yet I rarely hear anything more than a pleasant peep of reminder.
"Anything new on the kitchen remodeling project?" A sweet reader will ask. "No pressure . . . "
"Would love a picture or two, on the continuing kitchen remodel, if it's not too much trouble . . ." another one will note.
Such patience. Sweetness.
For those of you who are new to this space, here's the last post I wrote about our kitchen remodeling project. I had to look it up to remind myself of where I was in the story!
The truth is, you all are much more patient with this project than I am, myself. Picture me Impatient and Grumpy about the whole affair, by this time. Impatient because I just want to Go On With Life, doggonit. Grumpy because that doesn't seem possible, until this whole thing is done, also doggonit.
Exasperated. Tired. Frumpy. Unkempt. Badly in need of a haircut and a manicure. That's me, in a nutshell, about this kitchen remodel. Grateful, of course, but all the rest, too.
God answers my prayers in such humorous and creative ways. He is constantly pushing me and molding me to be the person He desires me to be. Sometimes this process is not an easy one. Most times this process is not an easy one. (Don't worry, there is a kitchen remodel tie-in to this phenomenon.)
Here it is: I had a stack of boxes in our bedroom, running all along one wall. This was all kitchen stuff. In my old kitchen, you see, I had had lots of cabinet space, running all the way to the ceilings, and I had those cabinets squirrel-packed absolutely full. I had lost track, truth was, of what was in the uppermost cabinets. I tossed a lot of stuff when I packed it all away. The remaining stuff had to go somewhere when we packed the kitchen up, quickly and haphazardly.
Back when our Nonpareil Contractor Reubsy and my Longsuffering Hubs Bryan were just beginning to take out the old kitchen wall and make lots of dust and promise me the blessed moon ("We oughta be able to finish this by Thanksgiving, or at least by Christmas!") and so forth, we packed up boxes and stashed them in the caboose (the west wing of our house), the basement, the front porch, and the bedroom. Basically anyplace there was space. If it wasn't moving, it was the happy recipient of a box of kitchen stuff.
When we tore out the wall between the two dinky kitchens to make one big kitchen, we also lost our library (which was in the second dinky kitchen) so all our books and school supplies went into boxes, also.
We packed up so quickly, knowing–knowing, gentle reader–that we'd be unpacking the boxes within a few months. I even–silly me!–packed up some superfluous (I thought) foodstuffs (tapioca, saltines, cornmeal), things I never would have packed up, had I dreamed in my wildest dreams that the items in question would have stayed in boxes for more than two years.
Gosh. So silly. Who was that hopeful and naive farm woman?
So fast-forward to present day, two years later. The boxes were still in our bedroom (I've since unpacked them), with the kitchen still unfinished. It seemed that we lacked the grit to finish it. Not to mention the time. We felt sheepish and humble about it, too, make no mistake!
We'd been hung up on refinishing the floor, you see. We knew that hiring somebody to come in and sand the floor and refinish it would be a Huge Deal, very messy and dusty and that everything–everything!–would have to be moved out of the main living areas of the house, and then moved back, and furthermore be covered in dust afterwards. We also knew that we would have to move out for three days–the dust and the fumes and so forth would be problematic, you know, to our health.
So we kept putting off making the appointment to refinish the floor. I couldn't get my head wrapped around it. So Much Trouble. How could I push the pause button on my overfull life long enough to get it done? Answer: I couldn't. So I gritted my teeth and just kept living with it.
For you ladies, put it in a childbirthing analogy: I had hit transition and decided that I didn't want to have the baby, after all. Got it? Yet I couldn't turn back the clock. I was going to have to go through with it. But how to get there? How, indeed.
And then, one night I heard a mouse. In the boxes of old foodstuffs and kitchen items which were lining the wall in our bedroom. Actually it sounded like an entire clan of mice. A multi-generational group of mice, all having a party: chewing, eating, pooping and peeing. Setting up housekeeping. Having quilting bees. Building nests. Growing tiny gardens. In the boxes in my bedroom. All–through–the–night. I laid there, sleepless and listening with despair in my heart. And I prayed: GOD, for heaven's sake–HELP ME! I couldn't see how I could possibly do it! But I had to. I had to somehow figure out how to make the time to finish what we had started.
The very next day, God did his thing, through my good hubby. It was only a few weeks before Christmastime, mind you, so I was of course crazy-crazy-crazy-busy. Bryan turned to me, out of the (supposed) Blue: "Hey, maybe we should call that floor guy (out of six refinishing contractors, we could only coax one to come give us an estimate) (I think word got around, about Us and Our Ways) and see if we could make a date for getting the floor refinished."
In the running calendar of my mind, I couldn't see a time that would work in the foreseeable future: Christmas, after all, with all the kids coming home, was only a few weeks away, and then our melodrama was just a few weeks after that . . . then it would be springtime and I would lose my mind to be outside, planting, turning compost piles, listening for the bluebirds and admiring the Wonder of Spring–but chances are, I reasoned, it would be months before the guy could come–summertime, maybe? That'd work. Probably. Summertime would be good.
I gave my hubs the sober nod of acquiescence.
Bryan turned from the 'phone, in surprise. "They can be here in three weeks from today. Will that work?"
Harhar, God, that's not funny. Not funny at all. We can't do that.
"Three weeks . . . ?" I croaked. I lost all feeling in my fingers and toes for a moment, my panic was that tactile. That would put our getting the floors done only two weeks before Christmas.
Actually not possible. We'd have just two weeks to move everything back, take care of all the dust and dirt–before the kids came home–not to mention all the Christmas preparations.
My face must have looked as hopeless as I felt. I couldn't move my mouth. My face was frozen. Couldn't–speak–! Was I having a stroke?

"That'll work, right?" Bryan pressed, his eyes very fierce and his hand on the receiver. I didn't feel that I had a choice in the matter.
"Yes," a voice that I didn't recognize came from my very own throat. I guess.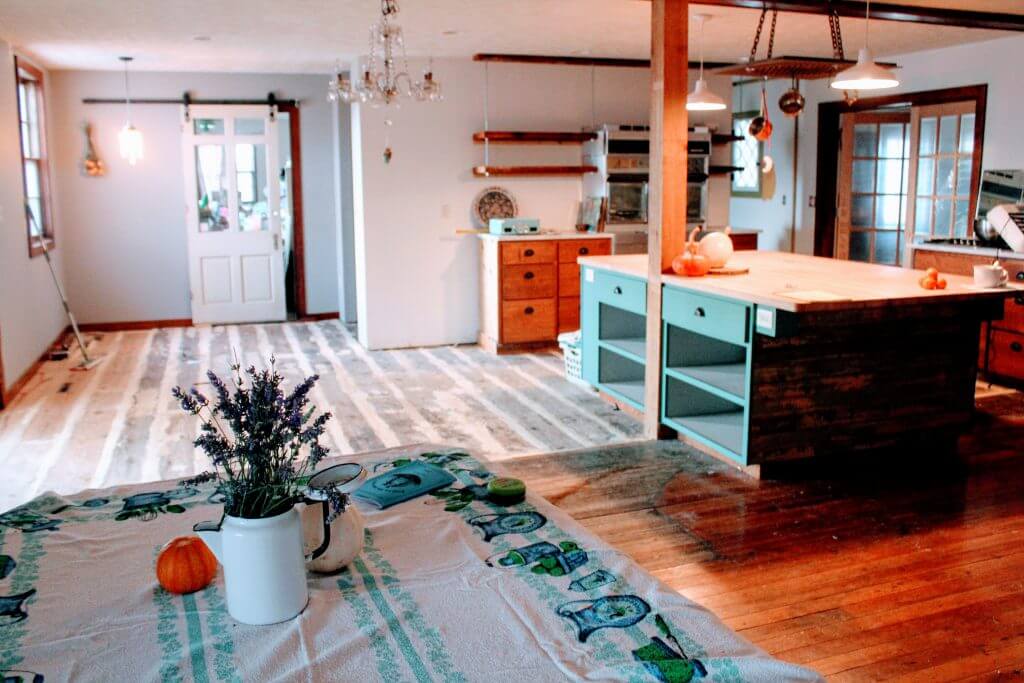 So, all that to say–three weeks later, we hied ourselves over to my parents' house–with one small suitcase each, a canary, Mack's chinchillas, our two crazy dogs, and six small chickens. It was the Beverly Hillbillies, moving into town temporarily, with the relatives. Mom's neighbors stepped outside to watch us move in.
It was humbling, to say the least. One of my folks' friends stopped by and helped me hoist the large cardboard box that I had my chicks in. "I didn't grow up this way," he mumbled. Yup. There's a reason country folks usually stay in the country.

We had a fun three days with my folks, nevertheless, and they were patient as Job in their sudden wealth (*cough*) of relatives, chickens, leggy dogs, a singing canary and rodents in cages.
We went back to our farm every day to do chores, of course, and to let the dogs run. We'd slip into the house and gaze at the floor. It was gorgeous. It was amazing. It was different than we had imagined. But it was beautiful. And. It was done in three days.
We could only stand and gawk at it for quite awhile. We weren't supposed to move furniture in again for a couple of days, and when it came time to do so, we decided not to move everything back, anyway. Let's say we got used to the open space and liked it very much.
I've still got boxes and piles to go through, but they are getting smaller and less overwhelming. (Did I tell you that one of my words for 2018 is "TOSS"?)
What's left to do in our new kitchen:
The backsplash, on two walls: My talented sister-in-law Rena is an experienced master at this sort of thing, so she's going to help me do this this spring.
Some fancy-pants woodburning on the post and the French doors which separate the sunporch from the kitchen, and then stain and varnish.
We're nearly there! *phew*
Thanks for reading, gentle readers. You are always welcome in this space and I'm honored to have you!
*hugs*