Caramel Pecan Sticky Rolls for your Dearies: Marvelous Munificence!
When I was a young girl, my dad owned a Pharmacy in Nelson, Nebraska. This is where I had my first caramel pecan sticky roll, in fact.
Nelson was a super place to grow up. Think "Mayberry" without a local sheriff, and instead a local pharmacist who does a bit of counseling, woodworking and fixing on the side, and you've just about got it.
The little town was miles from any big population center, so it was a fairly self-sufficient little town, with–besides the pharmacy–grocery stores, furniture stores, a couple of cafes, an electronics store, a big hardware store (where you could buy fabric by the yard, all sorts of "sundries," a new pair of overalls, tools and farm equipment, among other things). Nelson had grit. All this industry would be an amazing thing for a town with just 700 folks today, wouldn't it? A lot has changed since then.
Young's Pharmacy–my Dad's store–was the hang-out in town, for so many good reasons.
You could sit in the front picture window alcove and check out an array of magazines, comic books, and paperback novels. You could buy a tube of toothpaste, a wedding band, and a crystal vase, all at the same place. You could drop off the film from your camera to have it developed, and you could pick up your prescription, of course.
And, best yet: if it wasn't morning or afternoon coffee time (at which times the booths would fill up with the town's businessmen who came in for coffee and local gossip news) you could slide into a red naugahyde booth or up onto a swiveling bar stool and enjoy a decent cup of coffee (for. a. dime.) (a literal dime) or a cherry phosphate, an ice cream cone, a malt, and/or occasionally–if you were lucky!–one of my mom's raised donuts or big chewy cookies, or–be still my heart–caramel pecan sticky rolls.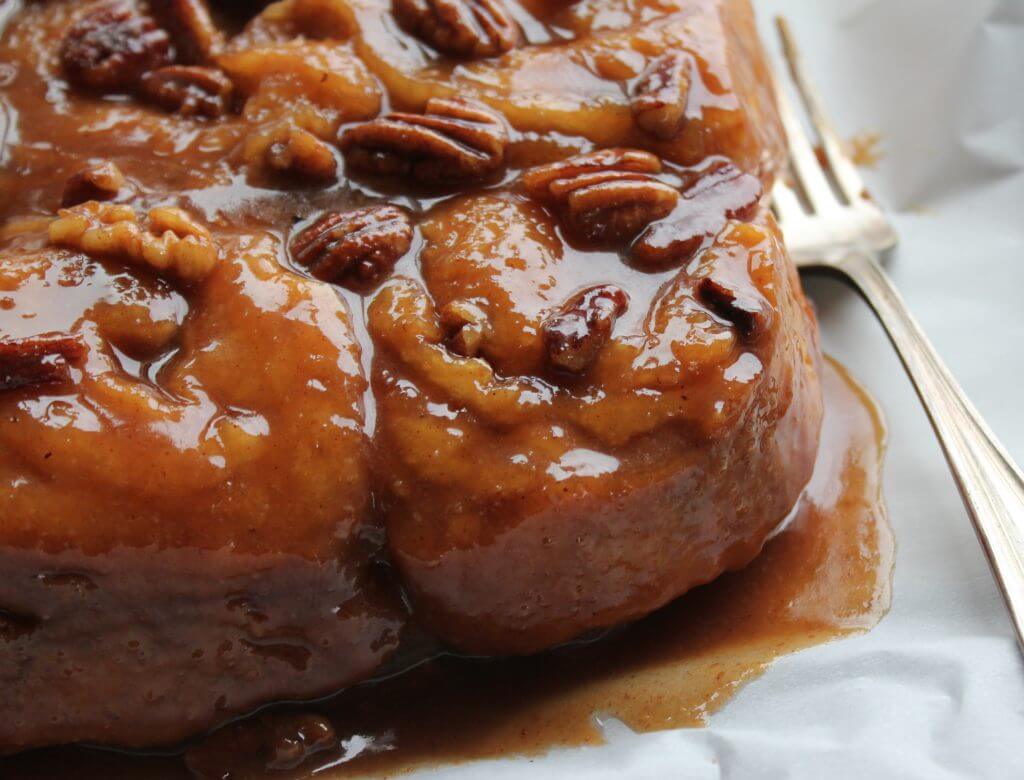 Goodness. This was before (way before) any concern–on my part–of a muffin top spilling over the top of my jeans or those surprising numbers on the scale that I love to hate. It was a time of taking pleasure in eating something as delicious as a homemade sweet roll, dripping with warm buttery homemade caramel, studded with pecan halves, and feeling supremely happy about it. And curious to see if there were enough left in the pan for you to have a second one.
My mom, by the way, is an amazing woman. That she raised all of us smart-alecky kids and still did all the things she did at the time–including helping Dad's business by baking beautiful goodies for the store–truly amazes me. And she did it all so well.
But back to me. 🙂 I could eat that big ole' caramel pecan sticky roll at Dad's store after school, slurping up some extra caramel on the bottom of the pan, and then run home (a distance, the long way, of about three blocks) (or the short way, through the playground, of about two) and still be hungry enough to eat a good supper.
*sigh* Those were the good ole' days, eh?
Well. It's the season of short days and long nights, during which time even we adults can savor buttery, rich  deliciousness (in moderation!) and not worry overmuch about the scale. That's why elastic-top pants were invented, anyway.
Several weeks ago–sweet caramel sticky roll memories in my heart–I began puttering around in odd bits of time in my kitchen, making dough, experimenting with different caramel sauce recipes, toasting pecans. I wanted very badly, quite ardently, to come up with just the right recipe to replicate the marvelous rolls that my Mom used to make for my dad's store. (She still makes them, and it really is hard to stop at just one!)
Except: I am greedy. Not only did I want a superb recipe to make melt-in-your-mouth sticky rolls, I also wanted convenience. With my dear ones all coming home for Christmastime, I wanted to be able to make these rolls for them–such marvelous munificence!–ahead of time, and sock them away in the refrigerator–in premade dough form–and then pull them out and bake them, serving them hot and gooey and impressive and glorious the next morning.
Was I asking too much, I wondered?
Hmmm . . ?
As it happened, all my puttering and experimenting in my pseudo-kitchen (yup, I'm still out there) ran smack into our Bug-Out week (more about this later), during which we had to move everything out of our living spaces, pack up enough clothing and so forth, not to mention my canary, six young chicks, two large dogs, and chinchillas–and vamoose for three days.
So I left my two buckets of dough behind, as we bugged out and descended on my patient parents (ya know, the ones with the big QUIET house) for three days.
We did return home, after all that, and I went back to work on this recipe.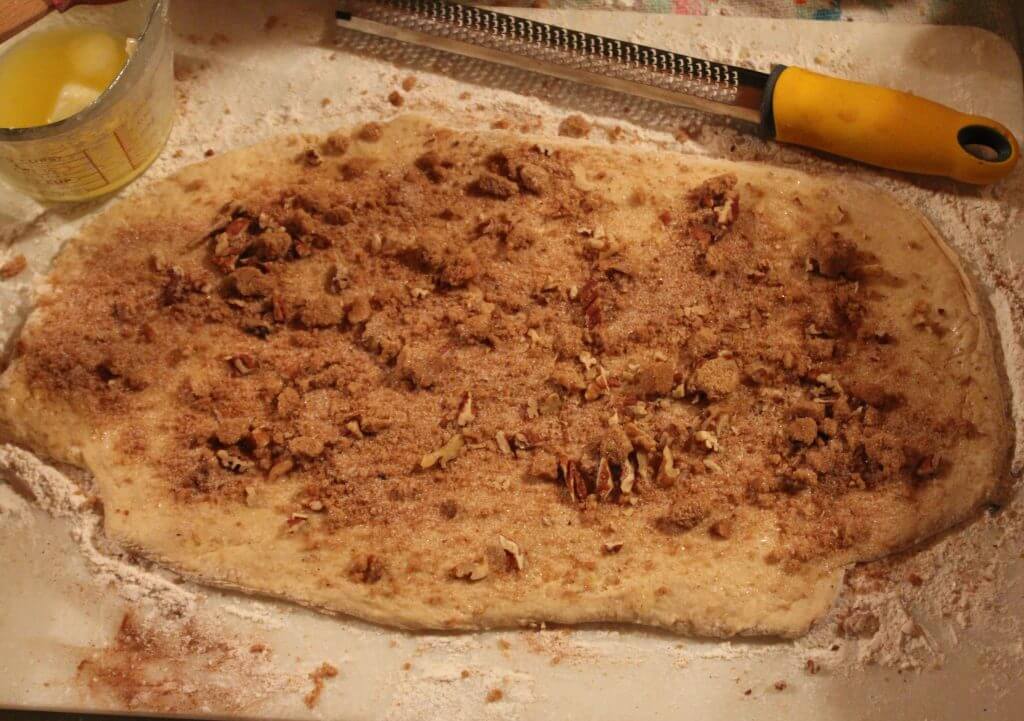 I started with a rich bucket dough recipe, because 1. It's super easy, and 2. It can be made in advance, and of course 3. It's really really yummy, yet light and . . hmm . . I'm struggling for a word here . . . silky-fluffy. Drat. I'll keep working on a word for that. But you know what I'm talking about, right?
In a few more words . . . this roll dough is the opposite of the hearty, seedy, crunchy, health-enhancing peasant breads that I make nearly every other week of the year. The Polar Opposite.
I took this lovely silky dough and I formed the rolls and put them into pans with two different types of caramel sauces. Two! If you've ever made caramel sticky rolls, then you'll know that you make the sauce first, pour it into the pan, then place your formed rolls on top. It's such a brilliant and easy concept, really! After you bake them, you flop the rolls out onto a platter or big cookie sheet, or Special Holiday Platter of Exquisiteness. This is when the magic happens! Through some sort of culinary magical about-face (at least it seems that way) that hot buttery caramel sauce on the bottom ends up on top of the rolls (and oozing down into the middle of them, too!) when you flip the pans. That's the only trick to it, I reasoned, as I went about this happy work. Easy-peasy, baby!
I trialed two types of caramel sauce: one was brown sugar and corn syrup based, the other one was mostly cream. 🙂 I made them both, and employed many taste-testers to decide which one was best.
We tried them both. With gusto. With open minds and hearts. And mouths. Huge, gaping maws, all around.
The winner, in my book?
Neither. They were certainly edible, but I wasn't 100% satisfied. First, I decided that the sugar in my roll dough was superfluous. With all that yummy caramel goop, the rolls certainly didn't need any sweetness, and in any case I kinda like contrast–sweet sauce, not-sweet roll dough.
The cream sauce one was actually subpar, as a matter of fact. I think holding that pan in the refrigerator overnight wasn't conducive to the sauce, which soaked into the rolls and uglified the pecans! Also, I hadn't toasted the pecans in either recipe, and I was kicking myself over that oversight because–gosh!–toasted pecans are so much tastier than not-toasted ones . . . don'tcha think?
Back to the drawing board. I got to work on a third type of caramel sauce, which I based on the recipe here.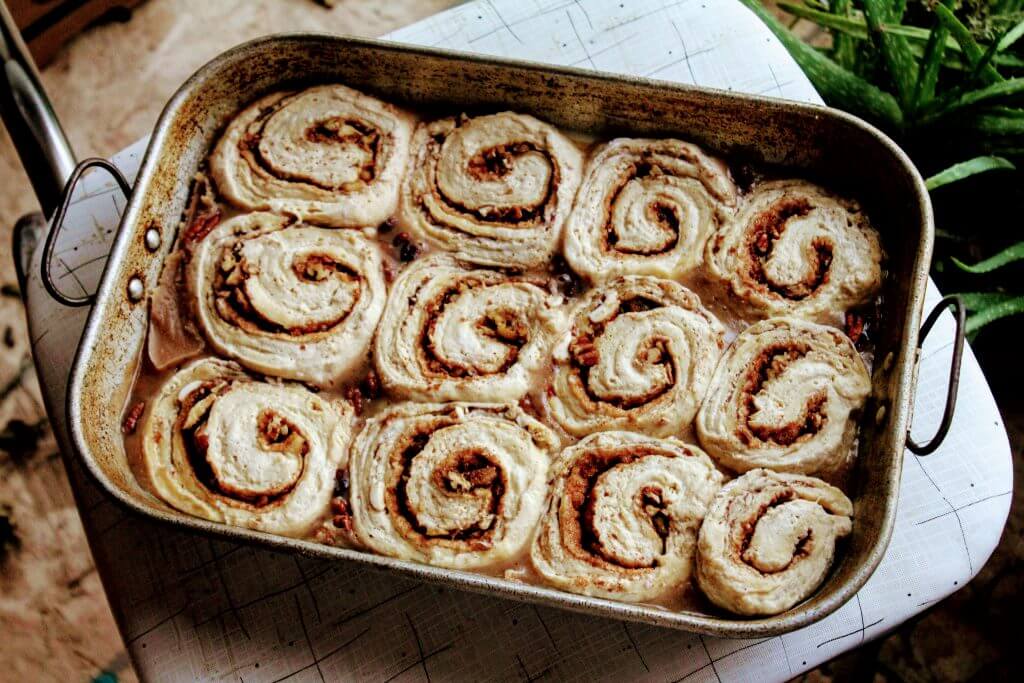 And I mixed up a new bucket of dough, this time leaving the sugar OUT. This experiment was going to go straight to the big Young Family Christmas Brunch, so I was hoping it would turn out just right.

You know what? It did. The rolls weren't too sweet; the caramel was yummy and plenteous; those rolls disappeared pretty fast. 🙂 While they were still warm, which was certainly the plan.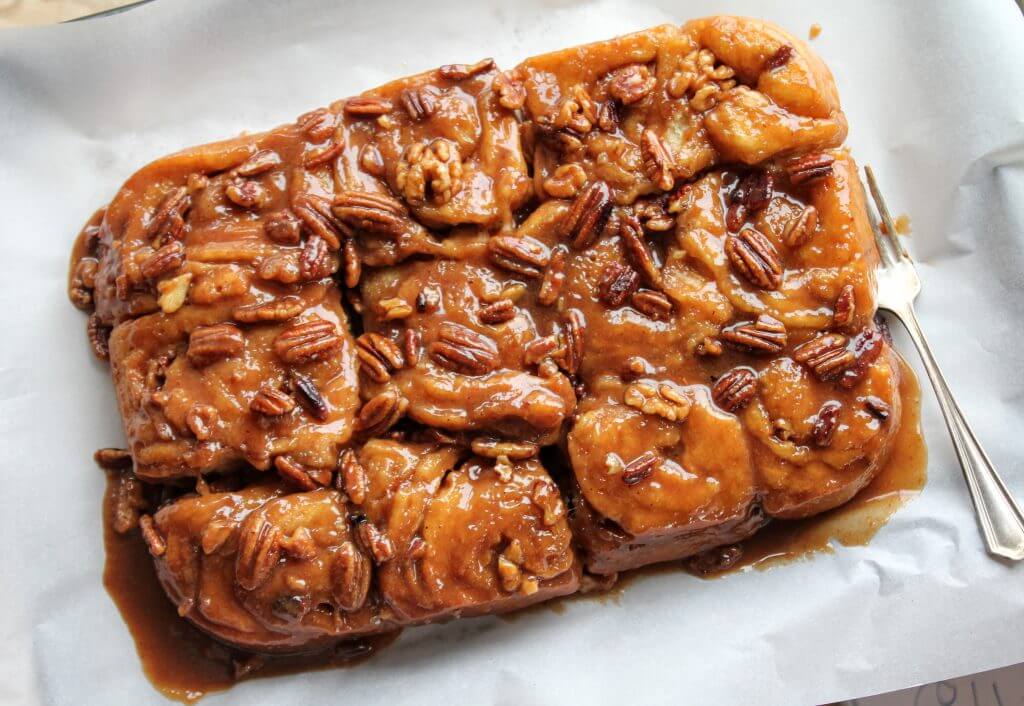 Now I've got my recipe, and I do plan to spoil my houseful of kiddos with it next week . . . but the nice thing is, I can make it the day before they came, so when they are here, I can be sitting in the living room (at least part of the time!) with them, while the rolls are baking away. In theory. Right?
Can't Wait.
The second nice thing? I can finally share it with you, gentle reader.
Caramel Pecan Sticky Rolls for your Dearies: Marvelous Munificence
Recipe Type
:
Marvelous Munificence! sweet rolls
Author:
Prep time:
Cook time:
Total time:
When you want something super-impressive and indulgent for breakfast, but you'd also like to have it ready to pop into the oven the day before, this recipe will fit the bill. Buttery caramel plus pecans, oozing all over rich, tender rolls just can't be beat for a special breakfast or for a treat to spoil your dear ones. And this recipe is easy, easy, easy with my shortcuts. Win-win!
Ingredients
Bucket dough:
1 3/4 cups warm water
1 Tb granulated yeast
1 Tb salt
4 large eggs, lightly beaten
1/2 cup honey
1/2 cup unsalted butter, melted
7 cups all-purpose flour
Filling:
1/2 cup packed dark brown sugar
2 Tb granulated sugar
1 tsp ground cinnamon
1/8 teaspoon salt
2 Tb unsalted butter, melted
Aaaaand of course:
2 cups toasted and cooled pecans (chop 1/2 cup, set aside)
Caramel:
1/2 cup unsalted butter
3/4 cup dark brown sugar
3/4 cup heavy cream
1/3 cup honey
1/4 teaspoon coarse or kosher salt
1/2 tsp cinnamon
hearty dash of freshly-ground nutmeg
Instructions
First, mix up your bucket dough.
In a bucket (or large bowl) with a lid, with a dough whisk, mix together the yeast, salt, and warm water.
In another bowl, mix together melted butter, eggs, and honey.
Stir together the two mixtures, then stir in flour, until well-incorporated.
Put on lid and let rise for approximately 2 hours, or until the dough reaches the lid. Chill in refrig overnight.
The day before you want to bake the rolls, lightly butter a 9″ x 13″ pan and set in readiness.
Make caramel sauce: Melt butter on medium heat, and stir together the rest of the ingredients, from sugar to nutmeg. Bring to boil, then reduce heat and simmer for 3 to 5 minutes or until creamy and caramel-colored. Remove from heat and let cool a little. Then pour into your prepared pan.
Now, for filling, stir together sugars, cinnamon, and salt. Melt butter.
Carefully toast pecans until slightly browned and aromatic. Chop 1/2 cup for filling. Put the remaining nuts in the pan of caramel sauce. You may snitch a few. They're tasty!
Pull dough out of refrig and dump out on well-floured board. Divide into two parts.
Roll out large rectangle (approx. 15″ by 24″) and brush with melted butter.
Sprinkle with cinnamon-sugar mixture and 1/2 cup chopped pecans.
Starting on wide side, roll up dough. Slice in 1″ slices. Put in pan, as in photo.
When your pan is full, cover with plastic and place in refrig for 8 hours or overnight. They will rise ever-so-slowly throughout the night.
Next morning: 45 minutes before baking, pull out of refrig and let rise on the countertop.
Preheat oven to 350.
Bake 40-45 minutes, until quite golden brown on top, and caramel sauce is bubbling up all around.
(Carefully use a fork to check doneness in the middlemost rolls. Doughy rolls are ick.)
When done, remove rolls from oven and carefully loosen the edges with a butter knife. Invert onto a cookie sheet or platter lined with parchment paper. Be careful! Hot caramel will burn!
Eat while hot.
That's it!
It has taken me quite a long time to conduct all these delicious experiments and come up with this recipe. I'm very happy with it! If you make these rolls, I'd love to hear about your experience in the comments below.
And if you have friends who'd love to try making some sticky rolls for their dearies, could I ask you a favor? Would you mind sharing this post with them? That's the best favor you could do for me, and it would only take a few seconds, right? Thank you!! 🙂
*hugs*