Homemade Herby Garlic Salt: make it in minutes!
Turn your fresh herbs into a gourmet seasoning: you can make your own homemade herby garlic salt in just a few minutes' contemplative chopping time, plus a bit of drying time. Gosh, see, aren't you clever!? (Yes. Yes, the answer is yes!)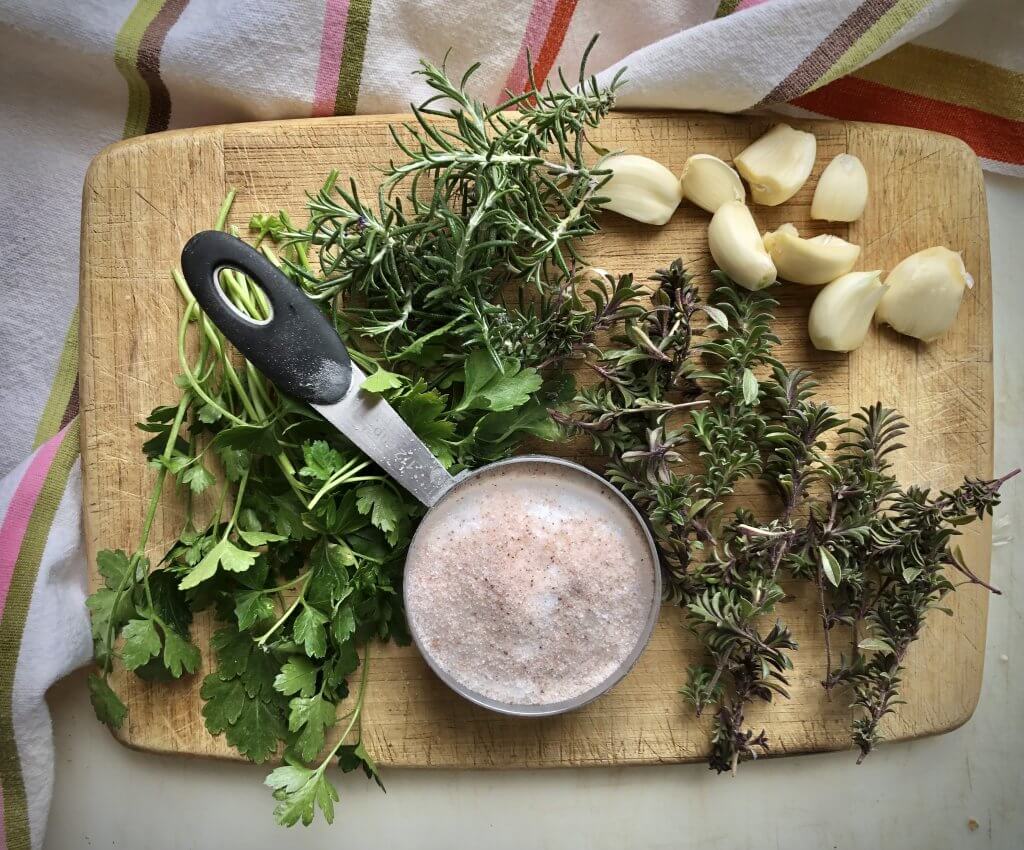 A truly handy thing about growing your own herbs is that sometimes–often–actually, who are we kidding--nearly every time, once the plants get established and if they're happy, natch'--you'll have more fresh herbs than you can shake a stick at!
You can clip and share and dry for later, and do All the Things and still have such a lovely quantity of herbs to use in your cooking.
It's a very nice problem to have. Color me Smug is how I feel about this situation. 🙂 Frankly.
From my experience, here in Nebraska, zone 5, off the top of my head:
Sage becomes a vigorous, unapologetic bush, and through the winter makes secret underground plans for its imperialistic growth, and will get bigger and bigger and take over more real estate every summer.

Basil

seedlings are tiny and sweet, so you put in several . . . er . . . dozen of them, planting them too closely together, of course. As you do. They surprise you then by quickly growing nearly 3′ high and almost that wide, and every single leaf can be harvested and made into pesto, baked onto pizza, and made into any number of toothsome dishes. Moreover, you find out that if you don't let them go to seed (as much as possible) by pruning them frequently, you can prune leaves off every single day until frost. It's a lot of pressure. You don't like to waste anything, especially basil leaves, which you can only grow through the very warmest months. But you soldier on, and your hands smell like basil all through the summer and fall, which is very nice indeed.
Parsley* will last through the winter if it's protected (mine is in my unheated hoop house, and I also have some under lights in my basement jungle) and you can cut-and-come-again until the end of time. (Hopefully that's awhile yet, but I'm personally beginning to wonder.)
Rosemary*,

a lovely houseplant visitor during the wintertime, will grow slowly and benefit from infrequent watering and occasional trimming, and the scent when you trim it will make you smile and think of summertime. (Guaranteed!)

Chives 

plants just keep getting bigger and more lush, year after year, and the more ardently you ignore them, the happier they are. Trim them all the way down to the ground and they show their pleasure by putting out new lovely baby growth immediately. And, bonus: they'll drop seeds that will grow up next to their parents in the nicest sweetest baby plants you can imagine. Truly. An infant chives plant type of gift, the best kind.

Thyme* is a slow grower, but is steady and true, and of course who doesn't love those aromatic little leaves? They make everything better, from focaccia bread to fish.

That's just a short list, off the top of my head, of herbs that are very easy to grow in your garden, and several of them can even be brought inside to overwinter. (I've marked with *'s the ones that I dig up and bring into the house every winter.)
Question: So what do you do with all those leaves?
The herb leaves, that is. What do you do when your sage plant, for example, takes over the spot where you wanted to grow oregano, and is eyeballing the spot that you wanted to plant a few zinnias?
Complicated answer: There are, roughly, a million and one things you can do with the prunings/harvest of your herb plants. They will be happier, it's true, and prettier if you prune them occasionally, and this pruning will also keep rampant, taking-over-the-garden growth in check. (In theory, at least, haha.)
Simple Answer: Make this herby garlic salt with the excess leaves, and then sprinkle it on everything, except not the family dog. Then: take a curtsy. You're gonna love it so much.
(Secret pro tip: Gosh, this just came to me. Make this herby garlic salt all through the summer and collect pretty little jars with lids. Fill the little jars when the salt is completely dried, and sock them away someplace cool and dark. When Christmastime comes–shazam, aren't you clever, kid, you've got all the stocking stuffers all ready to go, for your average person who loves to eat well!)
Homemade Herby Garlic Salt . . .
. . . will elevate your human existence in so many ways. You will drop casual comments when your family is eating dinner, for example (as they exclaim over the amazing deliciousness of the roast chicken) "It could be the herby (sage-rosemary-parsley) garlic herb salts that I whipped up last week. I find it adds a piquant kick to the roast . . . I grew the herbs too but no biggie at all . . . "
Further, when you are invited to a dinner party, you give your hostess a small jar of your latest batch of herby (this time with thyme-chives-sage) garlic salt, and elevate her culinary experience and prestige, as well. We aren't, after all, selfish people. What a favor you'll be doing her. (I almost typed "flavor" which is true, as well.)
And to think she underestimated you until now! NO. MORE.
Here's the deal
A few handfuls of herbs and a few cloves of garlic, chopped together with some really good mineral-rich salt will elevate your cooking, and at very little cost, especially if you grow your own herbs (which you truly should) and use my discount code (saltychicken) at checkout. (That's for the salt.) Ooh. That was smooth, wasn't it? (Affiliate disclosure is above. Redmond salt doesn't pay me to mention their brand, but I do earn a discount for you and me on their products. And I love the salt so much I'd mention it whether I got a discount or not, truth is.)
The Recipe
Note: I adore garlic, so this is a garlic-heavy recipe. It you aren't in love with it as much as  I am, you may cut the quantity, or leave it out entirely and just have a wonderful herb salt without the garlic. I won't judge. It's a free country, at least where toothsome seasonings are concerned. For the time being.
Homemade Herby Garlic Salt
Directions:
Coarsely chop the smashed garlic with half the salt to form a chunky paste. Slowly add herbs and remaining salt and continue to chop into a fine paste. (You can use a food processor or a good chef's knife and your cutting board, which is what I do.) Spread on a parchment paper-lined baking sheet and let sit uncovered overnight or up to 24 hours until completely dry and crumbly. Store in an airtight glass jar up to 1 month, or indefinitely in the freezer. Use on roasted meats, veggies and whatnot. In quiches and on salads. Sprinkle your homemade focaccia bread with it before slipping into the oven: yum. Experiment, have fun, enjoy! Suck the marrow out of the bone of life, baby!
Pro Tip
This makes a very nice hostess gift, or gift in general!
Step 1.
Chop the smashed garlic and kosher salt.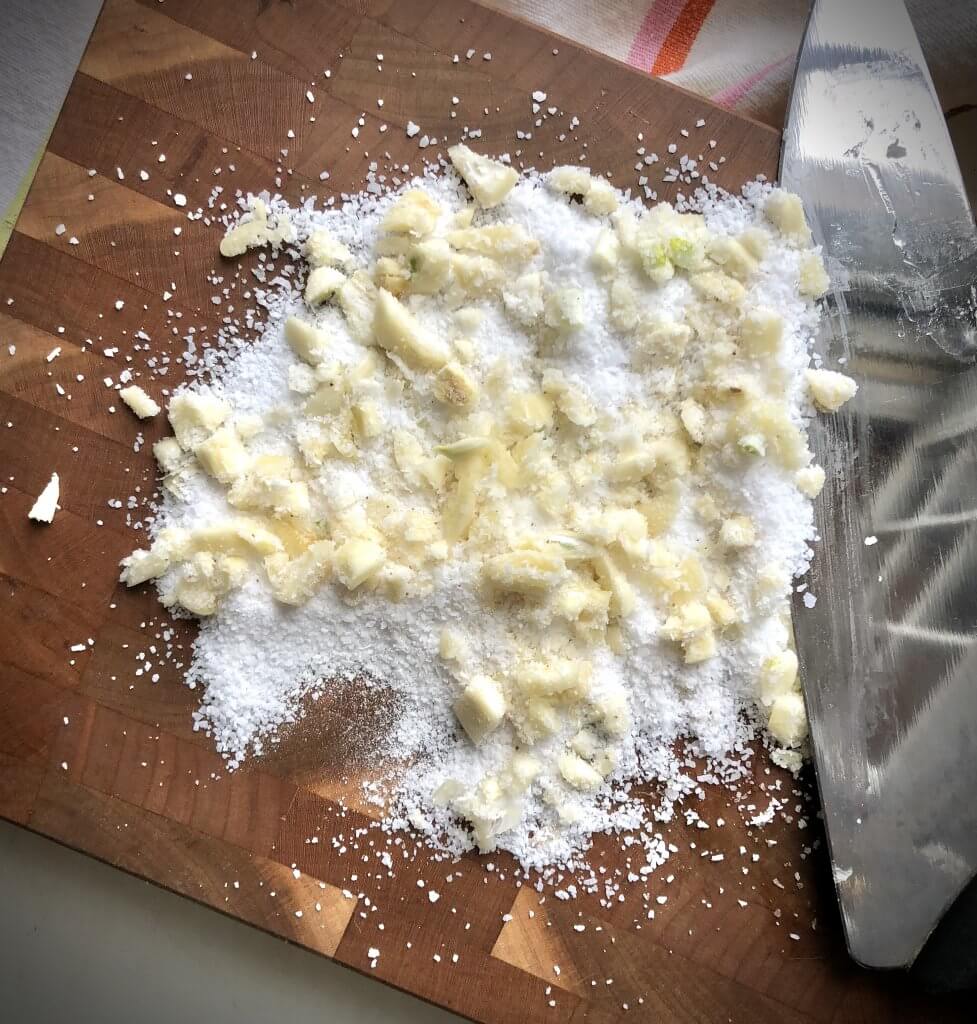 Step 2.
Add the fresh herbs to the board and chop, chop, chop some more. (Remove the woody stems if you use herbs with woody stems such as rosemary, thyme, or winter savory.)
You can also use a food processor, blender, or a combination. I chopped by hand first, and then tossed it all into the blender and gave it a few whirls to make it nice and paste-like.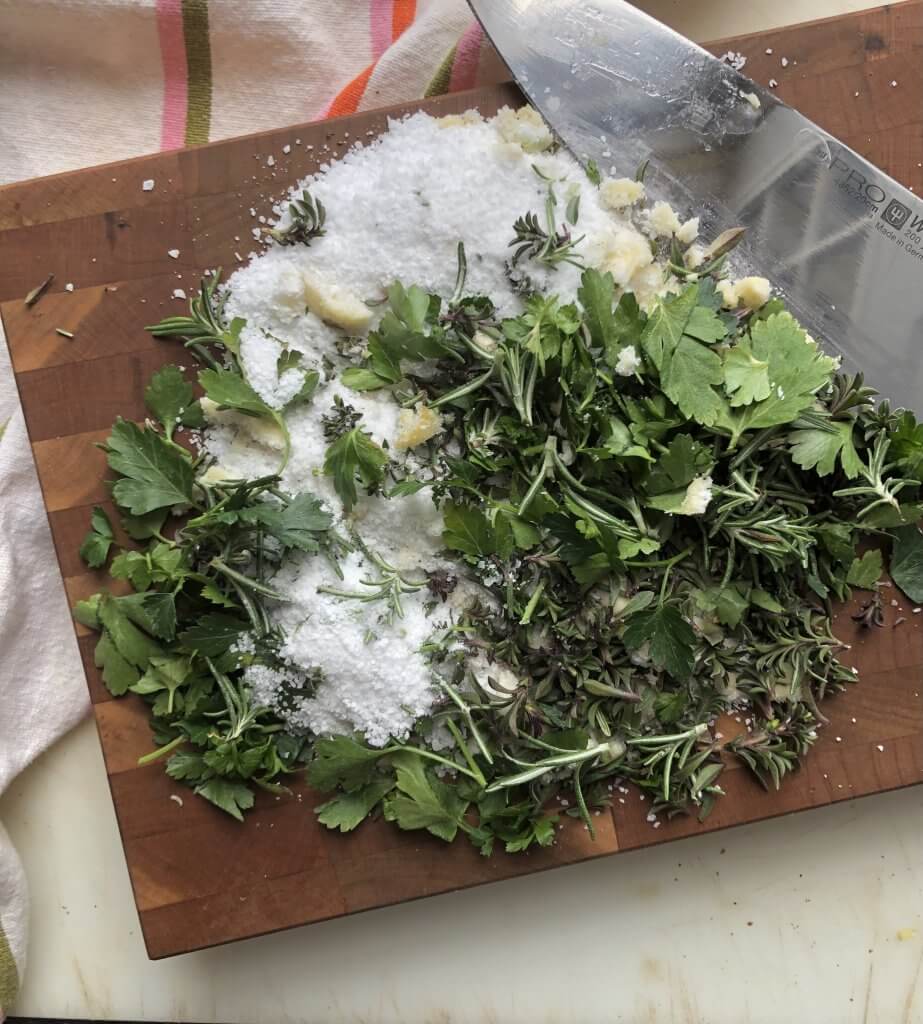 Step 3.
Spread out your homemade herby garlic salt on a cookie sheet or parchment paper and let dry overnight, or until it is completely dry to the touch.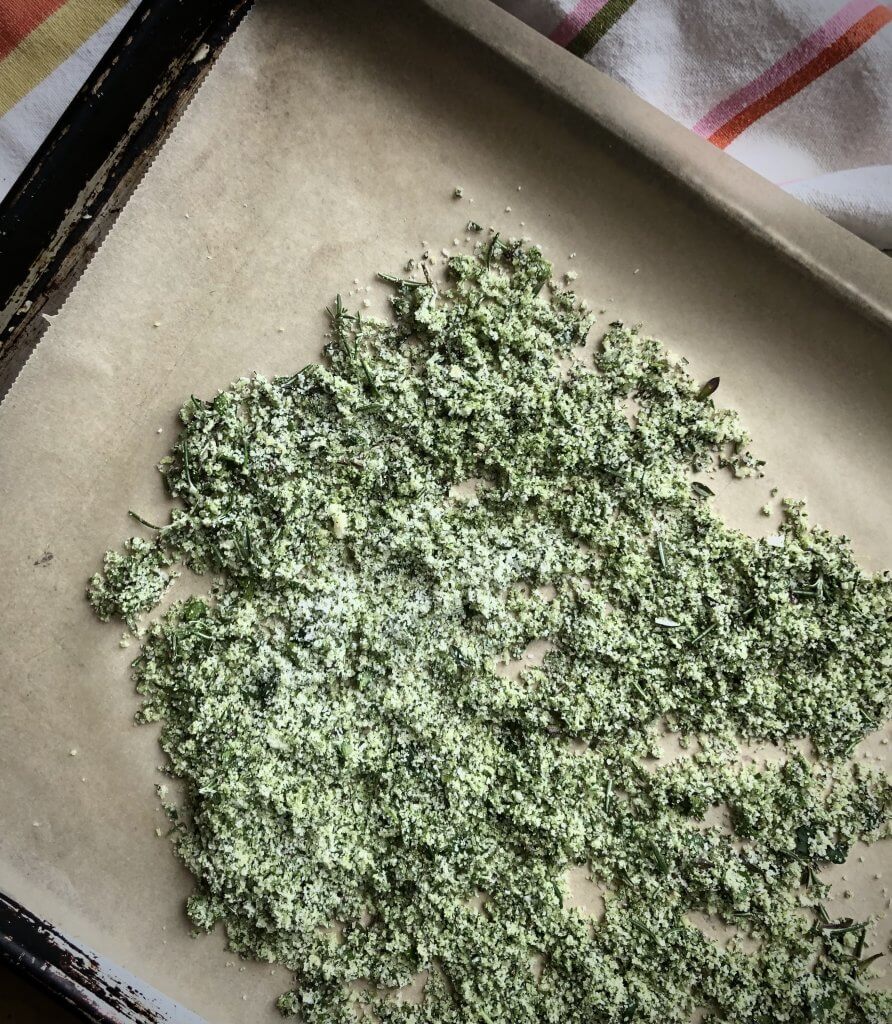 Usage and storage
I keep my homemade herby garlic salt in a little bowl on the kitchen island, and I smugly , so smugly sprinkle it on chicken, focaccia bread and other breads, fish, salads, salad dressings . . . well, the uses are endless, I suppose.
Store your herby garlic salt in your pantry in a closed container for a month, or in your freezer indefinitely.
Pin it for Later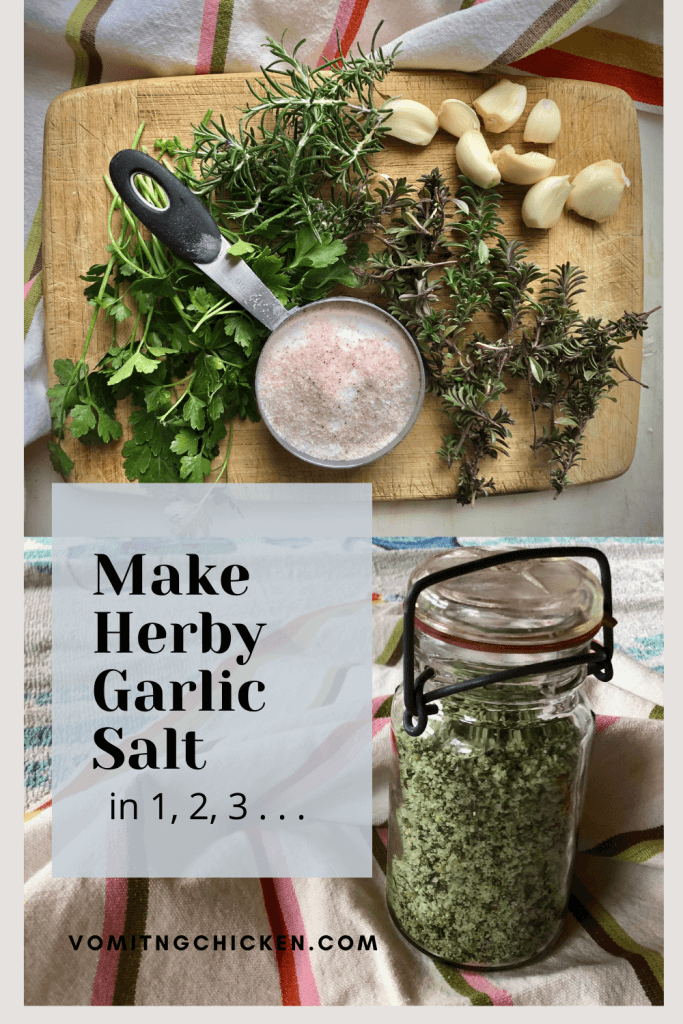 A few extra goodies you might like:
Shop this post
The links below are affiliate links. If you click through and then purchase something, I'll earn a small amount from the affiliate, though you won't pay extra. Full affiliate disclosure here.
My son Timothy made the gorgeous edge wood cutting board from cherry wood that you see in the photos above. It's so special to me. But there are similar ones to be had. Edge wood cutting boards are self-healing (to a degree) so they are a wise investment!

My son Matthew (gosh, I am realizing that my sons have outfitted my kitchen for me, practically!) gave me the impressive chef's knife you see in the photos (if you look closely, you'll see a reflection of the side of our house!). I use it (literally) every day and I don't honestly know how I managed BMCK*. *Before My Chef's Knife.
Thanks for popping in, gentle reader. It would be the ultimate thank you from you to me, if you enjoyed this post or got value from it, to share it with your friends and relations. Humble thanks.
*hugs*