Make Swiss Twisted Bread (Wurzelbrot) with Rosemary Garlic Butter
I'm going to show you how to quickly make this fancy Swiss Twisted Bread (Wurzelbrot) with rosemary garlic butter, from a bucket of dough that is already in your refrigerator!

Shall we proceed?
There are those days
That is, in the life of the family cook, where the laundry is caught up; the weather outside is inclement; the wood fire is crackling and popping; and the dear lady settles in to cook a sumptious meal for her menfolk,  and the kitchen is a blessed place to spend the afternoon.
The pantry is well-stocked, her apron is freshly washed, and this family cook takes particular joy in preparing a hot meal for her family, with the hopes that there will be leftovers for another meal in the week ahead.
And then there are those other days
Yes, it happens, particularly when the weather is enticing, and she has spent the afternoon outdoors, doing one sort of pleasant task after another, and when she finally drags inside, rosy and happy, she is met with the stark realization that she must now make dinner.
The good lady (or man, if the home has a male cook) opens the refrigerator door and remembers that, after all, it is quite stuffed with leftovers that were delicious the first time around, and that are reasonably fresh, and that might–with judicious planning–do quite nicely for the evening meal.
When hope fills one's heart
The cook, at this point, smiles and rubs her hands together, dreaming as she does for a moment or two of the extra time she may spend later, reading an extra chapter of her current book, say, or putting together another quilt square or two. A meal of leftovers, of course, makes this an attractive possibility.
She savors this notion. Decent leftovers give the cook a calm assurance, a peace that passeth all understanding.
Except then: she remembers.
Her dream of leisure activities comes to a sudden and unpleasant halt, and she catches her breath just a little, when she remembers that there are inhabitants of the home (cough/Mack/cough) who aren't overfond of leftovers.
Strange though it may seem, this humble lad in the household who is always hungry, prefers to eat something fresh and new every night of the week. (It goes without saying, and totally without rancor, but just as a general observation, that he is not the one doing the cooking.)
"To despair is to turn your back on God."
The good lady, however, remembers this quote from Anne of Green Gables' Marilla Cuthbert, and she smiles. To despair, in fact, is not in her DNA. She is, after all, the Queen of Making Lemonade out of Lemons. She does this on a daily basis. This day will be no different.
She gets a cunning idea.
In fact, it's a wily, clever, shrewd idea which will please not only her leftovers-averse son, but her own dreams for a little time engaged in something besides the constant making of meals. And whatnot.
She'll make some delicious, hot, tasty breadstuffs–something so fancy and fine that her lovable-yet-probably-spoiled-son will not even notice that he's forking giant bites of leftovers into his pie hole. So distracted by the fancy hot bread he will be.
She'll make Swiss twisted bread (Wurzelbrod) with rosemary garlic butter.
(cymbal crash!)
A bucket of refrigerated dough in hand, she sets to work, and, in less than an hour's time, she pulls the humble leftovers and the super-fancy Swiss Twisted Bread (Wurzelbrot) out of the oven, pours herself a (well-deserved) glass of wine, and calls the menfolk to dinner.
Boom. Dinner's ready in record time; it's something she can be proud of; there's time for leisure in the evening.
GENTLE READER I JUST THOUGHT OF SOMETHING.
Would you like this recipe? I'd be so happy to share it with you.
Here goes:
How to make Swiss Twisted Bread (Wurzelbrot) with Rosemary Garlic Butter
Author:
Prep time:
Cook time:
Total time:
Swiss Twisted Bread (Wurzelbrot) can be made quickly with a bucket of refrigerated dough, and baked while you're heating up your leftovers. Or whatever. Everybody loves it, and if you bathe it in warm garlic-rosemary butter as soon as it comes out of the oven, you'll probably elicit cheers and confetti.
Ingredients
3 cups lukewarm water
1 Tb yeast
1 to 1.5 Tbs Kosher salt
1 Tb Molasses
1 cup rye flour
5 3/4 cups All-purpose or bread flour
Sesame seeds
4 Tb butter, melted, and stirred with
2 Tbs snipped fresh rosemary and
4 cloves of garlic, smashed and diced
Instructions
Mix yeast, salt, and molasses with the water in a 6-quart bowl or a lidded bucket
Mix in flours without kneading, using a Danish whisk or wooden spoon (Danish whisk preferred!)
Cover (not airtight) and allow to rest at room temp until dough rises and collapses, approximately 2 hours.
Dough can be used immediately after rise, though it's easier to handle when cold. Refrigerate dough and use within the next 14 days.
On baking day, cut off a 1-pound (grapefruit-sized) piece. (This will be about one-quarter of the bucket of dough.) Dust with flour and quickly shape into a ball.
Elongate ball, stretching as you go, until you have a long 1.5″ wide rope, about 15″ long.
Cut rope into thirds.
Hold one end in your hand and twist the other end to create an irregular twisted shape. (6-7 twists minimum!)
Repeat with other ropes. Place ropes on a parchment-lined cookie sheet that has been liberally dusted with sesame seeds. (Using a parchment paper makes clean-up easier.)
Your bucket of dough will make approximately twelve ropes.
Preheat a baking stone in your oven to 425 degrees, while the ropes rest.
Allow ropes to rise for 40 minutes.
Sprinkle liberally with sesame seeds.
Place a small pan in the bottom of the oven and add 1 cup of hot water to the pan.
Slide the parchment paper carefully onto the hot stone. Bake for about 20-25 minutes, or until deeply golden and firm.
Slather with rosemary garlic butter and eat while hot.
Pin it for Later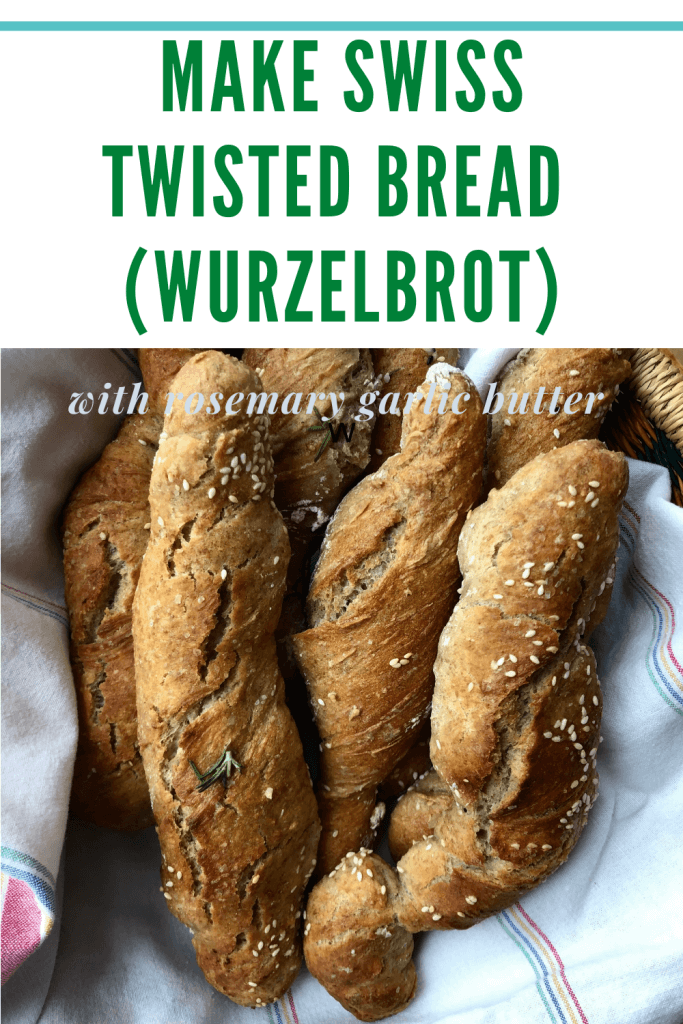 Credit to whom it is due
I have to give credit to the authors of this book, Jeff Hertzberg, M.D., and Zoë François, who worked together to perfect the "bucket dough" method of artisan bread-making that I've been working with for so many years. This Swiss Twisted Bread (Wortzelbrod) came from their cookbook, and I added a few changes because that's the way I like to roll.
and one more thing:
If you make bucket dough on a regular basis (highly recommend) you might want to grab up one of these:
Here are a few more posts about delicious things you can make from bucket dough:
Caramel Pecan Rolls that will make you weep with joy,
Delicate Cinnamon Rolls, made with honey!
Rosemary-Sea Salt Focaccia bread that many have stood in line for (not kidding) . . .
Ahhhh dear gentle reader, I do hope you're doing well. The world is a troublesome place, but I'm praying that you are fiercely speaking out the truth, no matter what. That you are praying constantly. And that you still have the wherewithal to make bread, to raise your own vegetables, and that you are steeped in a supportive community. That you still are filled with joy at the wonders of the world. There are so many!
And that you do try your hand at making Swiss Twisted Bread (Wurzelbrot). It's a wonderful way to show your family and friends that you love them.
I'm pulling for you. And for all of us.
*hugs*
Amy