Spicy exploding wheatberries & accoutrements: a 5MBM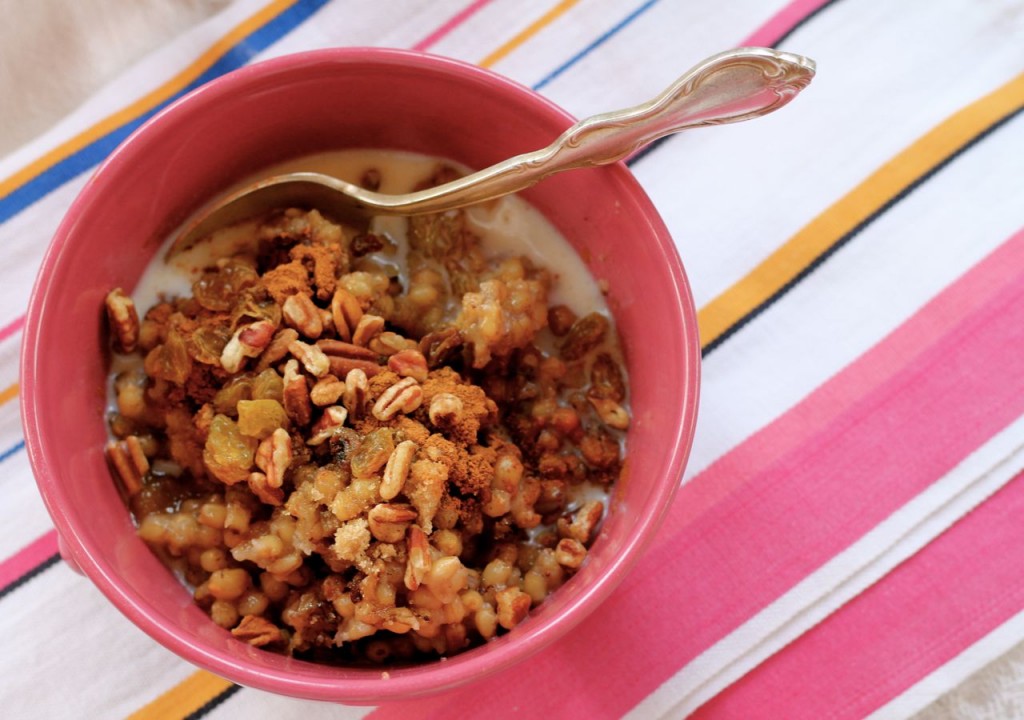 This post may just contain affiliate links which may just benefit me in some tiny way if you click on them. In fact, they may just put a bit of jingle in my pocket, make my hair shinier and my skin smoother, which–naturally–will benefit my ever-growing blogging journey. In short, my life (and possibly, yours) just might be better if you click on the affiliate links, so chickie–what are you waiting for?
This is my easiest 5-minute breakfast yet, Gentle Reader. This could almost be a 3-minute breakfast, but if you tried to make it in that short of time, you might raise your blood pressure, and we don't want that. We want peace and quietude and gentle smiles in the morning (not to mention the night before, when you are stirring this together), not a harried sense of "she said I could make this in 3 minutes, so by gum I'm gonna do it–"ishness. Right?
Of course, right.

My daughter Amalia and I are working like crazy on an ebook that we'll share with you soon, full of recipes that might have been made by Hobbits, or Halflings. So I'm not going to get all chatty and philosophical on you this morning. I've got to get to work on it. I'm just going to write down this excellent recipe, pull up a couple of photos, and boom: get along down that road.
Let's chat just for a moment, first, about wheat. I'm going to throw my hat in the nutritional ring here, Gentle Readers, although I know I'm going to stir things up a bit. Wheat has gotten a bad rap over the past few years, what with the carb-free craze, and now the gluten-free trends. Some folks do have troubles with wheat, but for those who don't, it's a fabulously nutritious grain, and actually the most widely consumed grain in America.
There are many varieties of wheat–the most commonly used around here are red, soft white (used for pastry flour), and hard white (the kind I buy and grind for most of my breads). Wheat berries are high in carbohydrates and dietary fiber, as well as vitamins and minerals. Wheat berries are rich in vitamins B1 and B3; and the minerals magnesium, phosphorus, copper, manganese and selenium.
Wheat berries, like most whole grains, are an excellent source of dietary fiber–which promotes digestive health; helps lower blood cholesterol and blood sugar levels; helps you manage your weight and keeps you (cough) regular. The Harvard School of Public Health reports that whole grains, such as wheat berries, contain plant estrogens or phytoestrogens that may reduce your risk of developing certain types of cancers–particularly with the minerals found in whole wheat–such as magnesium, selenium, copper, and manganese.
So. Did you know that wheat was so packed full of goodness?
You can buy bags of wheat at your grocery store, or at the health food store, or online. I was surprised to see how many types of wheatberries are available online. This one looks particularly good to me.
So back to our 5-minute breakfast. All you need to do is mix up a few ingredients in your crock pot at bedtime, and set it on "low." If you really want to make things easy on yourself in the morning, also lay out your accoutrements–whatever you want to sprinkle on your hot wheatberries in the morning–and you're set.
When the wheatberries cook on a low heat for awhile, they swell and burst . . . and become chewy and squeaky in your teeth. I love that!
In the morning when you rise, you'll smell the delicious smell coming from your kitchen–it's your breakfast, in your crock-pot, all ready for you. You can stumble out there, make yourself a cup of coffee or tea, and as it's brewing, dish up your hot breakfast with your eyes half-closed, say a prayer of thanks for simplicity and your own cleverness, and eat.
You know that the day will be a good one, too, with such an auspicious beginning. I just know it.
So here's the recipe.
Spicy exploding wheatberries with accoutrements: a 5-minute breakfast
Recipe Type
:
5-Minute-Breakfast
Author:
Prep time:
Cook time:
Total time:
Easiest hot breakfast ever: all the prep is done the night before!
Ingredients
2 cups of wheatberries, any type, rinsed
3 1/2 cups of water
1 cup of milk
1 tsp cinnamon
1/2 tsp allspice
1/4 tsp freshly-ground nutmeg
2-inch knob of fresh ginger, peeled and split in half
2 Tb butter, unsalted
2 Tb coconut oil
4 Tb raw honey, reserved until morning
milk or half-and-half
accoutrements: candied ginger, pecans, raisins or other dried fruit, additional cinnamon, coconut, berries, or whatever makes you and your family happy. Sliced apples are good, too.
Instructions
Mix together in your crockpot the first 9 ingredients (down to the honey–it will be added in the morning), and stir well. You can add or subtract spices as you like. Ginger and cloves are dandy additions, especially if you don't have allspice, say. Cover, and set the crockpot on "low" for 6 to 8 hours.
In the morning, stir in the honey, add a bit of hot water if it's a little dry, and your hot cereal is ready to eat. Dish it up, add any of the accoutrements that sound good to you, pour on a bit of milk, and eat!
Once again I'll be sharing this recipe with the nice folks over at The Prairie Homestead's Barn Hop. I know that they'll love it. I hope you do, too!
And Hey, if you like the sounds of this 5-minute breakfast, you can read more about my 5-minute-breakfast mission here, and check out lots more 5-Minute Breakfast Missions here.
Happy Breakfasting! 🙂 Not to mention . . .
*hugs*