Best Runza Recipe from a Nebraska gal: my 5 secrets!
Learn my 5 unique secrets for how to make the very best, hands-down, no-contest, runzas.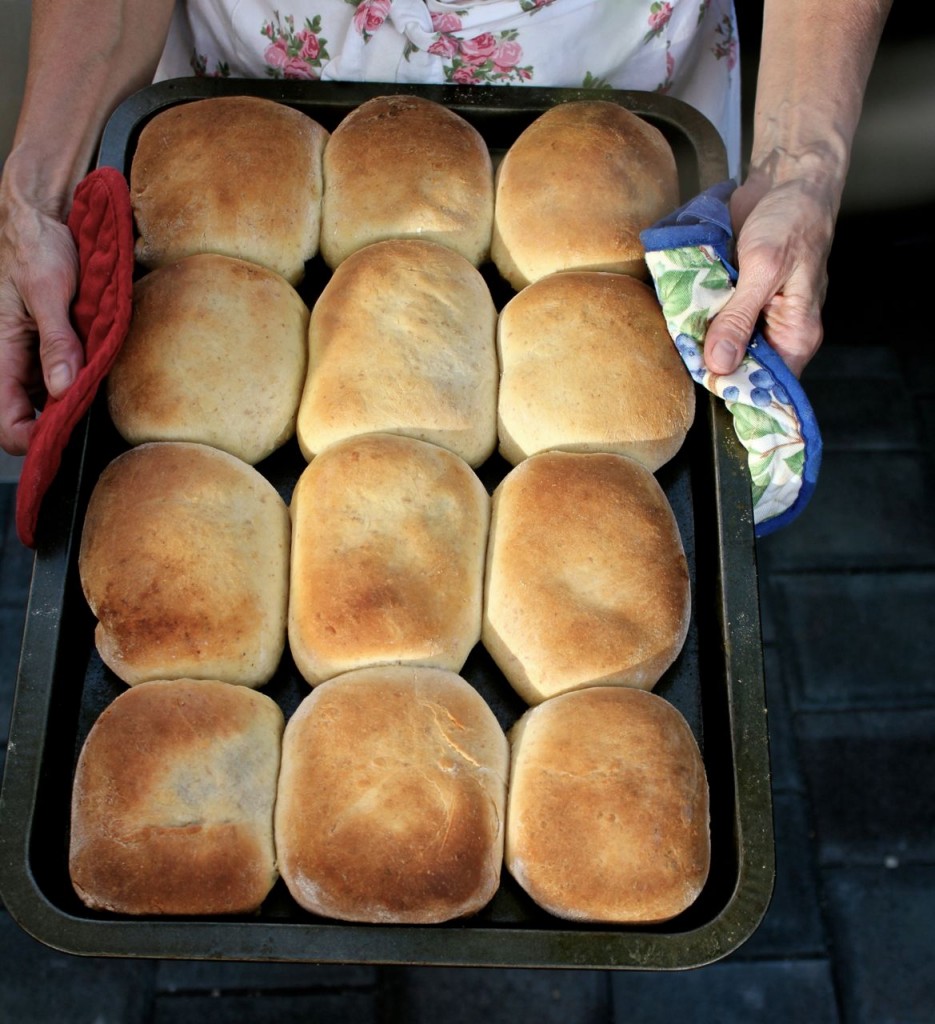 Everybody's Gotta Eat . . .
. . . even when you are in a paradisiacal land of plenty like New Zealand, which is where we were most of the month, by God's grace and great blessing, during which I made the runzas pictured here. I was tickled that I had already refined and perfected (cough) my runza recipe before we went to New Zealand.
This is, quite simply, the best runza recipe you will find out there (she admitted, with all earnestness and humility).
My explanation for how I found myself making runzas in our host family's Tauranga kitchen one lovely afternoon goes as follows. We were all going to be home that evening; I didn't have access to a car that day (so no going out adventuring); the kids and I had already been to the beach and had our daily ice cream cones (our ambitious goals for the day); we were all a tad homesick, and I wanted to do something nice for the folks who opened up their home to us for our stay.
All those things added up to one thing: I needed to make runzas.
 . . . and what are runzas? Please explain.
Runzas, I would guess, most–if not all–Nebraskans are familiar with. After all, the history of the Runza restaurants that are scattered across several states in the Midwest started in 1949, when Sally Everett and her brother, Alex Brening, opened a small Runza restaurant near Pioneers Park, in Lincoln, Nebraska, to sell their hot cabbage-and-hamburger-roll sandwiches.
The two sold the sandwiches there for nearly twenty years, before Sally's son Donald Everett Sr. bought the franchise and started a Runza Restaurant at another location in Lincoln. The chain has only grown steadily and slowly since then, with dozens of locations now throughout Nebraska, and a few in Iowa, Colorado, and Kansas.
And back to today
When we are not gallivanting about the globe, that is to say when we are home in Nebraska, we crave runzas regularly. Thankfully, there's an easy fix for this: we can drive twenty miles in three different directions and get to a Runza restaurant and order piping hot runzas and "frings" (a combination of french fries and onion rings) in short order, and fairly often we do this.
But we don't always want to go out to get these delicious sandwiches/er, meat-filled buns/delectable hand-held . . . what are they, anyway?
But wait . . . you can actually make them . . . ?
Yes indeedy you can! . . . It's easier to make them then explain what they are, almost. Quite often I make runzas at home. Everybody loves them, and they are so great to sock into freezer bags and pile into the freezer for quick heating later.
Hot. Tasty. Filling. Scrumptious. That's what these homemade runzas are.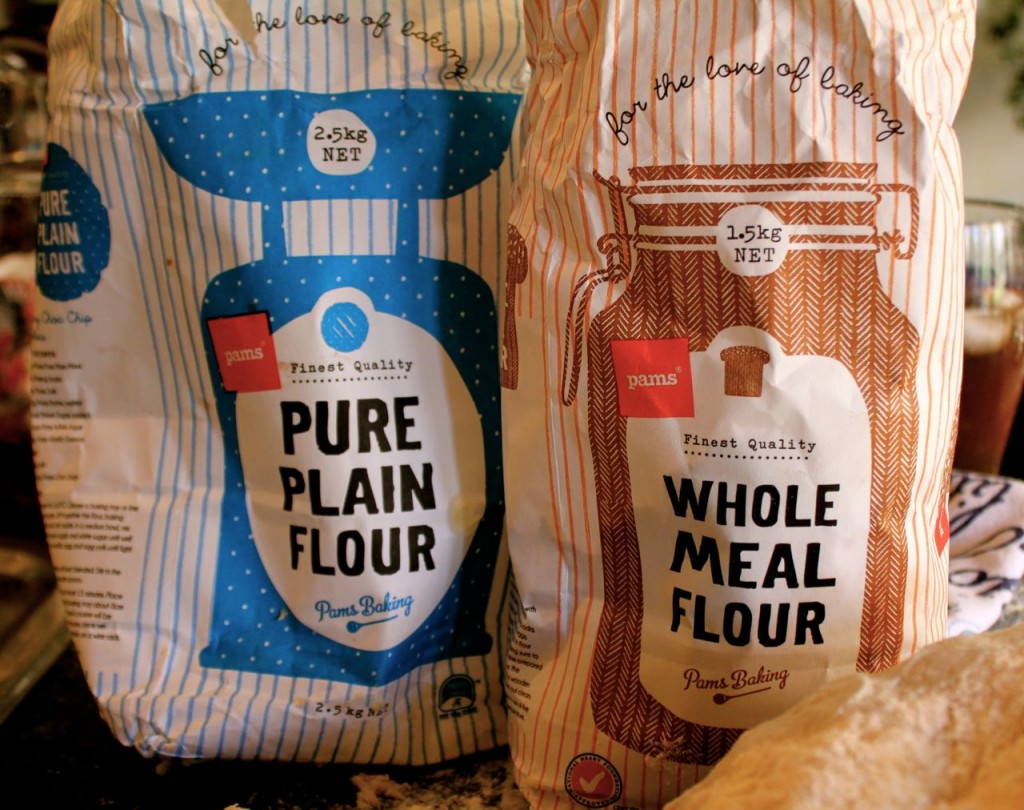 However. The sad, painful fact is this: it's easy to make runzas at home that will elicit the following disappointing reaction from your family: "Meh." Furthermore . . .  it's a worthy challenge to make the best runza recipe, the one that elicits cartwheels and swooning glances from your family. That would be this one right here, gentle reader. Even better, the batch that results in these words, the ones you know you desperately want to hear:
"You are the most amazing person on the face of the earth, bar none. And this runza just made my day better."
I certainly live for these words, myself. 🙂 No kidding.
I've made runzas enough times in my many many many (yawn) many many years of daily cooking and baking, to have amassed five crucial secrets to the really great and best runza recipe that you can make at home, rather than the mediocre ones that it's too easy to come up with.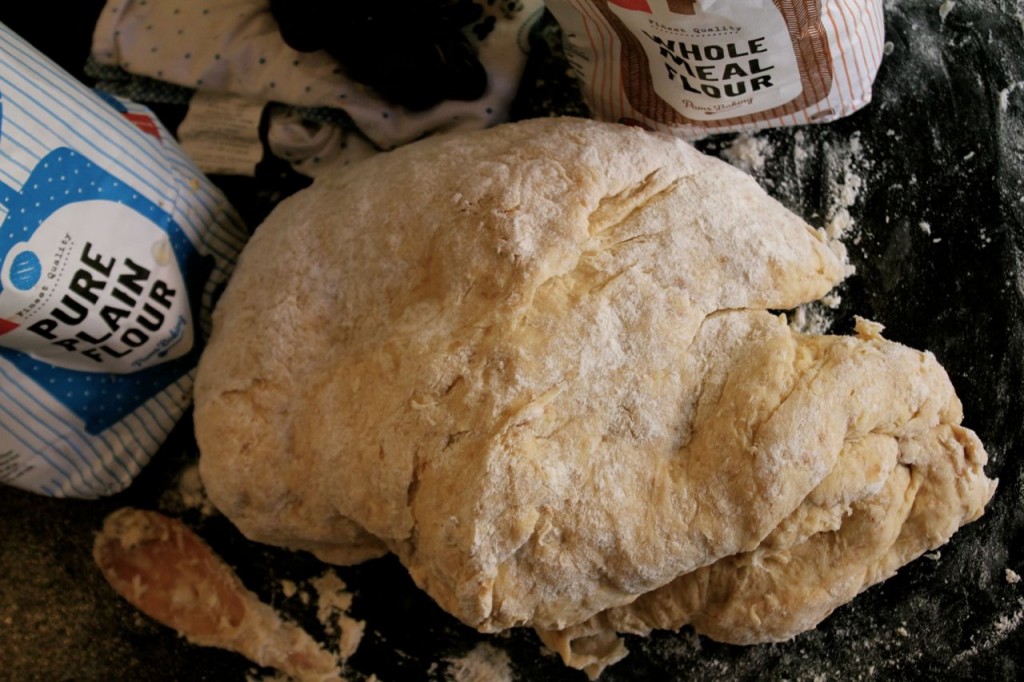 Mic drop moment
Furthermore . . . I'm gonna share these secrets with you. For. Free. Consider this post your very own personal shortcut, Gentle Reader, to delicious homemade runzas at your house, from the best runza recipe there is.  (You're welcome, I'm sure. 🙂
This best runza recipe is a culmination of many, many runza-making sessions, not only in my own kitchen, but in my mother's, as well. We've tried to break the runza-making code together, Mom and me. So some of these secrets are from her kitchen. I also gained a tip or two from this website, so a hat tip for this blogger, also a Nebraska grandma who shared her insights on runza-making. Nebraska grandmas rule!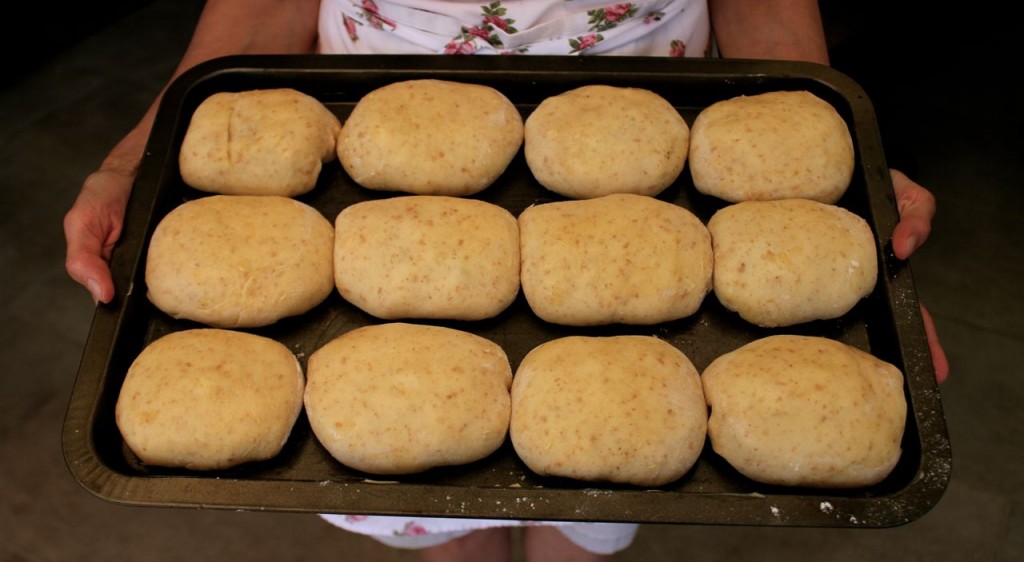 Okay, let's get on to the recipe, and then I'll share my runza-making related secrets, and then we'll all have a big party in my honor. Not really. Well, why not? I'll bring the bubbly. 🙂
The Recipe, at last
5 Secrets to the Best Runzas You Can Make, no matter where
Author:
Prep time:
Cook time:
Total time:
It's not difficult to make a decent batch of runzas, but it's doggone tricky to make a FANTASTIC batch of runzas. This recipe has the secrets to superlative runzas, those iconic cabbage and hamburger baked sandwiches that you can find in Nebraska and just about nowhere else.
Ingredients
Filling ingredients:
chopped onions, 2 cups
garlic cloves, 2 smashed and diced
2 pounds ground beef
1 large head of cabbage, shredded
1 small can saurkraut, with the juice
salt and pepper to taste (more than you think!)
(optional) cheese of your choice (also more than you think!)
Dough ingredients:
1 cup butter, unsalted
2 scant Tb of dry yeast
4 cups warm water (or warmed milk)
1/4 cup sugar
2 Tbs salt
4 well-beaten eggs
15-16 cups flour (14 cups unbleached, 2 cups whole wheat)
Instructions
First, make the filling:
Chop onions and garlic and sauté in a large frying pan with a little butter or olive oil until tender. Add ground beef along with generous amounts of salt and pepper. Cook through and drain well.
Put browned ground beef into a large pot (I like to use my crockpot). Stir in cabbage and kraut.
Simmer 3-4 hours, stirring often, and seasoning and tasting. 🙂
(If using a crockpot, cook on "low" for 5 to 6 hours.)
For the dough:
Stir the yeast into the warm water.
Add the butter to the water to soften, too.
In a large bowl, mix together sugar, salt, and eggs.
Stir in yeast mixture.
Add flour one cup at a time, stirring well after each cup.
When the dough becomes too stiff to stir, turn out onto the counter and incorporate remaining flour by kneading.
Knead 100 strokes until the dough is elastic and smooth. Let rest in a covered bowl one hour or until doubled in size.
Cut off golf ball sized pieces to roll out and fill.
Follow instructions below for rolling and filling.
Preheat oven to 375 while letting filled runzas rest for 30 minutes.
Bake for approximately 30 minutes, until approaching golden. Swash with melted butter and bake for 10 more minutes.
Serve while hot. Urge caution! The filling will be very hot! Enjoy!
Quick note on this best runza recipe:
The dough recipe is double what you need for the filling, because I figure a double batch is no more trouble than a single batch, and then the leftover I make into cinnamon rolls the next morning, or dinner rolls the next night. This is my preference (clever, eh?). And it's lovely to have dough sitting in the 'fridge waiting for you to use it up. 🙂
If you don't feel up to such cleverness, however, cut the dough ingredients down by half, to match the amount of filling.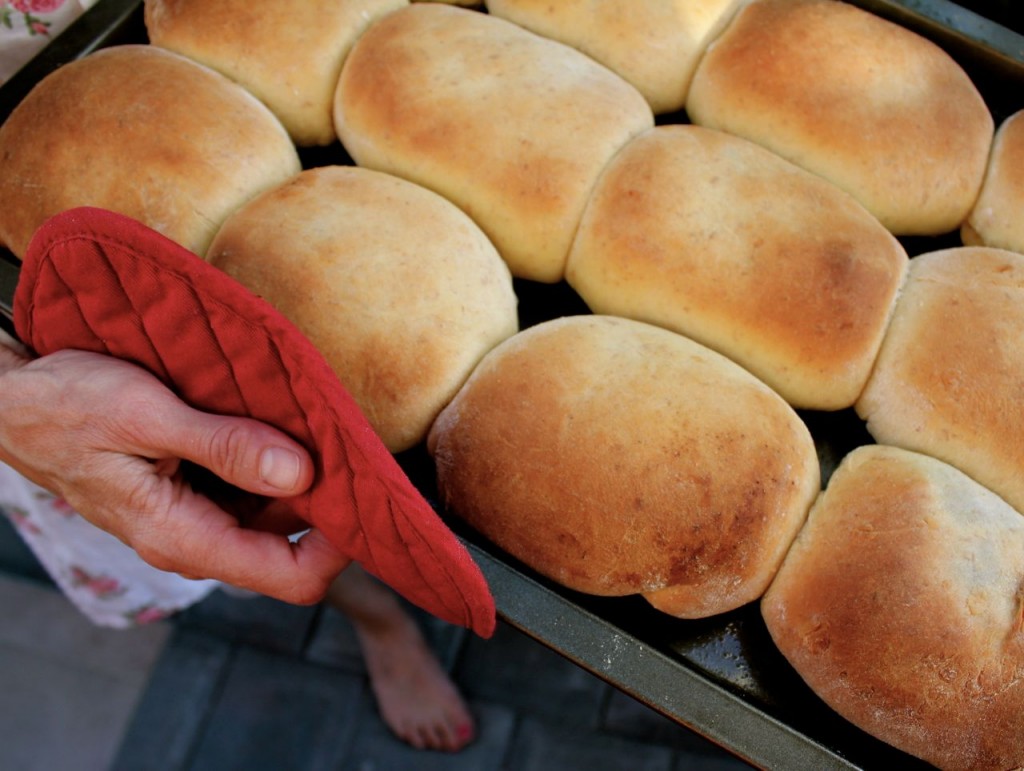 Now on to the secrets!
Secret #1: the Crock-pot secret

After you brown your hamburger with chopped onions and cabbage, dump it all into a big crock-pot and let it cook (on low) all afternoon. Trust me on this. It makes the filling so oozy-tasty-delectable. You don't want the cabbage to be crunchy at all,  and this long, slow cooking does the trick to render it all sloppy and soft, like you want it.
Secret #2: Over-season the meat mixture

Salt and pepper it just a tad more than you regularly would. Season it, then taste. Taste and season. Over and over again until you think "Hmm. That's just a little too peppery," and then you know that it's perfect. The bread part of the runza will temper that overseasoning. Be more careful with the salt than the pepper, WTTWGT*. *word to the wise gentle reader

Secret #3: Behold–how to form a runza that won't leak

My mom taught me this secret for runza forming. (Thanks, Mom!)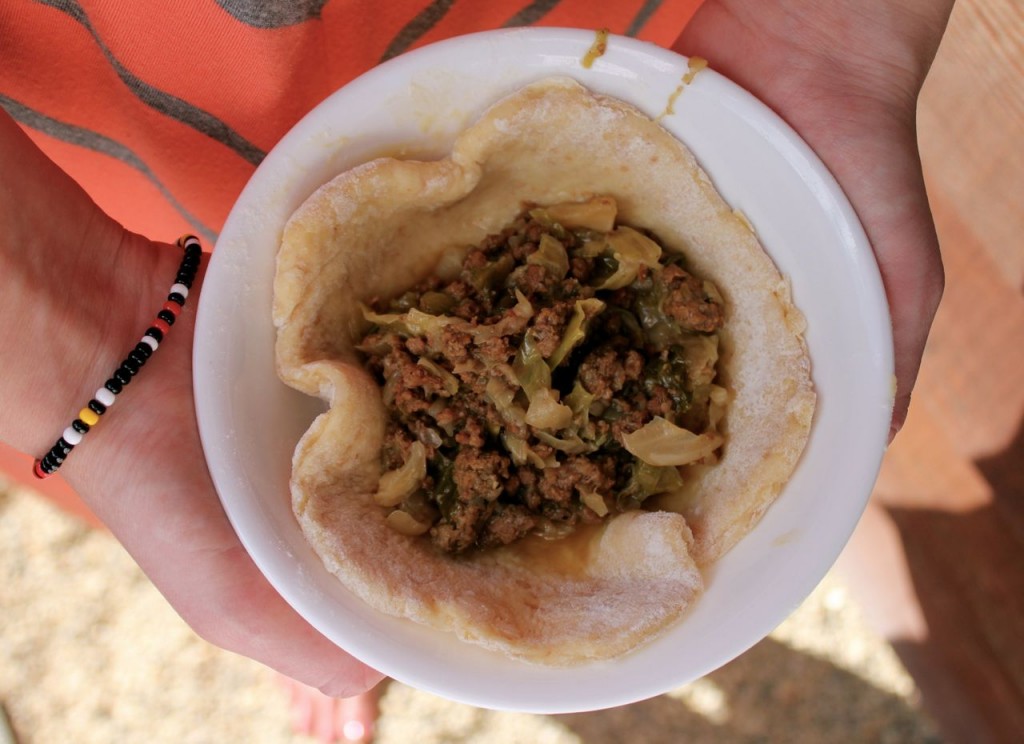 First, roll out a circle of dough approximately 1/4″ thick. It shouldn't be so thin that it is breaking up into holes when you handle it.
Then place it into a bowl, which has been nicely smeared with soft butter.
Dump your filling on top of the dough, and then pull the dough around the filling and pinch and pinch and so forth until it looks like this:
Then, flip it over and it'll look like this: Pretty, huh?
Secret #4: Add a cup or two of whole wheat flour to the dough.

It makes a prettier runza dough. And, finally:
Secret #5: Slather melted butter on the runzas during the last ten minutes of baking time.
This simple hack increases the prettiness, too. And that buttery taste on the hot bread: who doesn't love that? Nobody, that's who. 🙂 We like pretty, don't we, you and I? Not to mention pretty and buttery. Yum.
That's it, Gentle Reader! If it seems like a complicated recipe, it actually isn't–and if you don't have time in one day to make all of it, you can make the filling and dough one day, and then put them all together and bake them the next.
Just a tip. Word to the wise. And whatnot.
A few other posts of interest:
Another New Zealand adventure: going to a Farmer's Market and finding treasure . . .
If you don't have a decent rolling pin with which to roll out your runza dough, shop for one right here in my li'l ole shop, all made by my talented li'l ole geezer dad. <3
Here's a recipe for fresh mint milkshakes–a treat I whipped up after returning home from New Zealand. We had spearmint milkshakes in New Zealand that were to die for. Mine is a pretty good copy, if I say so myself! They go well with runzas. And there are more New Zealand photos in this post, if you can't get enough of them. (I love them.)
Pin it for later!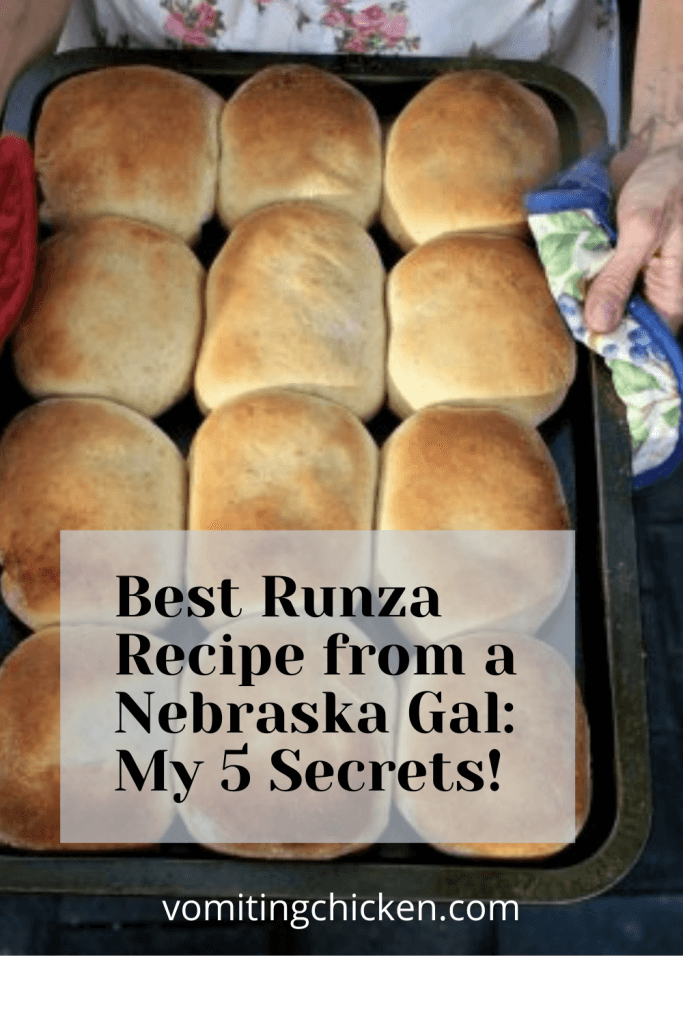 Now go. Make runzas. Conquer your fears. And eat well. The world is counting on you to make a difference. 🙂
I know you can do it.
*hugs*
By the by . . . have you got an Amazon list? I nearly always do! I live a good hour away from most stores, so ordering from Amazon has been a huge and convenient (sometimes too convenient) blessing for me. If you click through from my links to Amazon, they'll give me a tiny commission on anything you purchase (though it won't cost you another cent!) and I'll love ya forever! It's a win/win!