Fleeting Days of Rhubarb-Cherry Bars . . .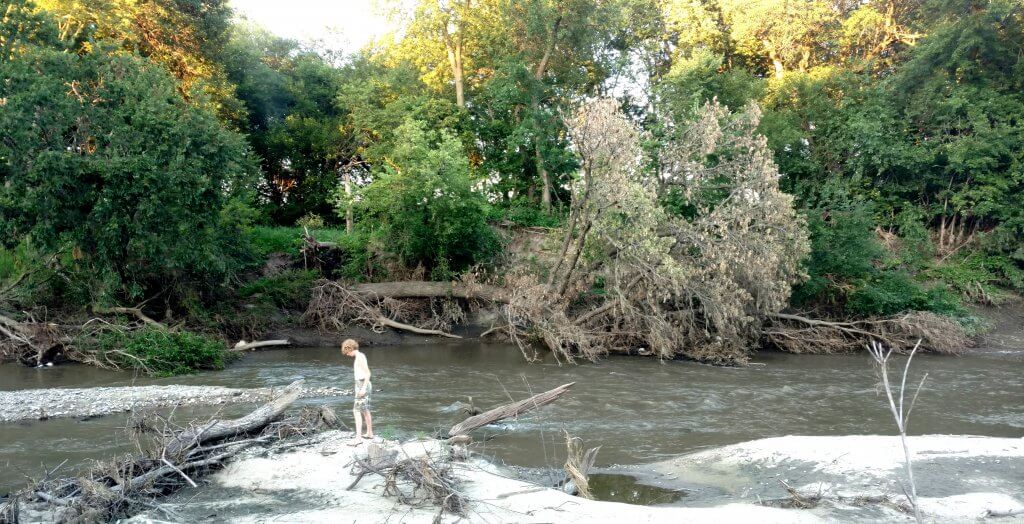 Our summer turned from delight–halcyon days of sweetness, early fruit, daily wonders and lush growth brought on by heavy (too heavy, but oh well) rainfall–to misery. "Excessive heat warnings," confusing biting flies (why do they bite?) and ravenous Japanese beetles pushed the loveliness to the back of our minds. On the farm, my helpers and I did what we could to adapt to the heat by moving our start times to as early in the mornings as possible, rushing to get outside work done before our bodies began to tell us to get the heck out of the sun.
Then, unaccountably (and thankfully), back it went again . . to temperatures in the 70s and 80s, with the resulting constant ache to get outside. (During the weeks of dangerous heat indexes, I did have hopes of tackling the more cluttered parts of my poor house . . . !)
Don't worry, dear house . . . it'll get hot and miserable again. (I will get that room painted, I will!) I see it coming in the weather forecast. It's only early August, after all, and we usually do have periods of hot weather into September.
And yet. And yet . . . there is still sweetness in the honeysuckle blossoms.

And the rhubarb is still so good. The bugs haven't found it yet, perhaps because of the protective shelter of weeds that I've got (cough) on my daily to-do list to topple. And that's not all that's still sweet. Our blackberries now produce several handfuls every day, though (bummer) the kids have finally caught on that there are blackberries out there. (Last year, I quietly ate them every day as I worked, reasoning that the handful or two per day that my brambles produced wasn't worth the trouble to carry to the house.) I've actually been sharing them this summer.
Truth: I threw some into a cobbler one day. (Amalia: We have blackberries? WHERE??) 
Furthermore . . . the breeze feels almost cool (and if not cool, at least breezy) if you hop onto the back of your ATV and let your boy do the driving. (And the boy dearly loves to be in the driving seat, dreaming, no doubt, of the day when I hand him the car keys, oh boy.)
Don't tell his cautious papa, but . . . he goes so fast. (*gulp* Like his mama.)
The lightning bugs in the dark are enchanting, and honeybees gather nectar from the clover blossoms, which means we step carefully when we are barefoot. (Yes, we have two hives this summer, and they are doing so well, as far as I can tell.) Daily sightings of butterflies bring hope. The frogs in the pond sing so loudly at night, and cicadas are buzzing in fits and starts all throughout the day and night. Life is good. I'm grateful.

By Steve L. Martin – Grand Canyon Swallowtail  (This is a Grand Canyon Swallowtail and I saw one fluttering around the Coneflowers in my garden yesterday. What a treat!)
With the initial change in the summer weather, from lovely to dire, I felt my spirit turn on a dime also. Can you relate, gentle reader? Having put in several months of very hard work getting my gardens and flower beds planted, I felt a weariness of body and heart, as sweet June too quickly melted into steamy July. The annual soul-searching about summer work vs. fun took hold of me: Had we had any fun yet this summer? Mack has learned to work alongside me without constant complaining, but he is still a kid. Guilt stabbed my mama heart. I determined (once again) that FUN needed to be worked back into our daily to-do list.
Why is it that I keep learning these urgent lessons, over and over? A better question might be: why do I keep forgetting them? And why, oh why, does time insist on moving along so quickly?  I've done a double-take several times this summer, when my eyes light on little Mack. He's taller than me now, by several inches. How did that happen so quickly?
Since that moment, Mack and I have made fun (his version of it, and actually mine too) a priority: bike rides, evening walks with the dogs, scoots around the neighborhood on our ATV (we both decided that having an ATV puts the FUN into farming . . . FUHarming . . ), fishing jaunts, sweaty evenings on the town tennis courts, and vacation planning, too. There's always work to do. But kids grow up too quickly, as everybody knows. Summer goes too quickly, too. It's important to be grateful for each moment, isn't it?
And it's easier to be grateful when you're not worn to a sweaty, exhausted frazzle.
A Few Random Facts Regarding Fun:
Fish don't bite when it's terribly hot.
Remember to pack the anchor when you plan to fish from your boat. Especially if it's a terribly hot and windy day.
Your typical wind will blow your rowboat quickly across the lake and into the choking weeds, if you forget your anchor. So don't forget your anchor. Ever. Again.
It's a gruesome job to row the boat back across the lake, out of the treacherous weeds, against the hot wind. I hear.
Bring extra water when you play tennis, because everybody will be hot and thirsty, even the parties who didn't bring their own water.
If you have a few bucks to spare, ice cream after tennis tastes splendid. SPLENDID.
*Don't try to keep up with the kid any longer. Face facts. He's faster than you now, and forevermore.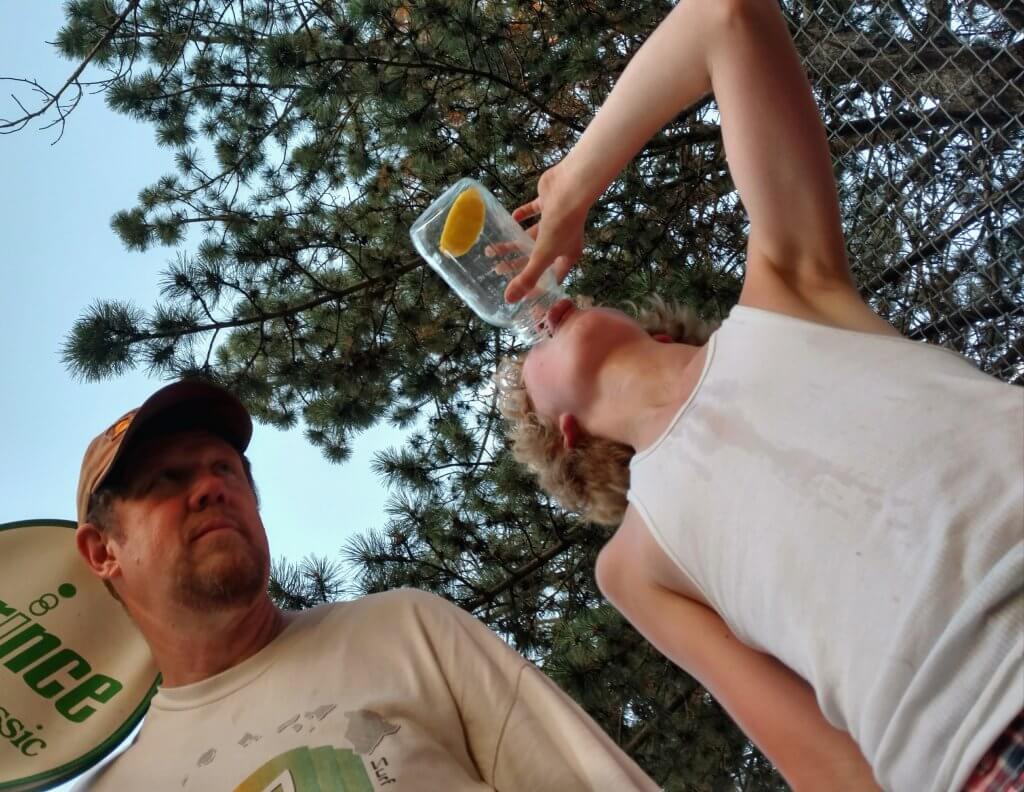 But where we were . . oh yes, rhubarb. Do you grow rhubarb? (You should. It's easy to do. Then you could make this.) It is the easiest and most forgiving of perennial crops, and it's easily shared with others. The tanginess of rhubarb is something that I crave during the winter months, but it's only around for a short time, just like summer itself. It's the same with sour cherries, gooseberries, sour summer apples, dewberries, wild plums, elderberries . . . these are summer tastes.
So. During rhubarb season, not only do we eat rhubarb often, I squirrel it away, neatly chopped (by Amalia, usually: she's an enthusiastic chopper), in zippered freezer bags, for winter cravings. If I neglect this task, in January I will search the freezer, in vain . . . then cry crocodile tears, after all, there may be tired strawberries or frozen raspberries in the grocery store, but there is not a stalk of rhubarb–fresh or frozen–to be found. Like summer, daily rhubarb is an exquisite pleasure that doesn't last long enough.
We won't dwell on those sad days today, though. We still have a week or two of rhubarb left, and possibly just about that much summertime, too.
When my rhubarb plants look like they need a break and the stalks are all about the diameter of a pencil, I'll stop picking it. I'll mulch my plants heavily, water deeply, and heap some good chicken manure-laced bedding on them, and look forward to next May.
Now for the recipe that will knock your socks off! I adapted this recipe from one featuring raspberries on Smitten Kitchen, easily my favorite food blog. I've thrown in sour cherries because we've been squirreling them away, too. 🙂 (These are the knives that I use every, every day, by the way. I think my Dad gave them to me in the very early days of our marriage, that would be to say, during the Pleistocene Epoch. I used them at that time to de-bone the Mammoths that Bryan hauled home for dinner.) (And while we're talking about dandy kitchen tools, here's the rolling pin that I use every day and it is, hands-down, the very nicest rolling pin that money can buy.)
Here it is. Now you've gotta make it.
Fleeting-Days-of-Rhubarb-Bars
Author:
Prep time:
Cook time:
Total time:
A firm, crunchy bar with a gooey tart filling, to take to your social events, or to build an event around. Add cold hard ice cream for a fantastic dessert. Share with somebody new and become their Best Friend Forever.
Ingredients
1 cup whole almonds (or walnuts or pecans), roughly chopped
3 1/4 cups all-purpose flour
1 teaspoons salt
1 1/3 cups cold, unsalted butter, cubed
1/3 cup cold water
1 cup granulated sugar
Filling: 5 cups chopped rhubarb
1 3/4 granulated sugar
3 cups sour pie cherries, pitted
1 tsp vanilla
Instructions
Place flour and salt in the bottom of a large bowl, stir to combine.
Add butter cubes to the flour mixture.
Toss them around so that they're coated and used your fingers to work the butter into the flour until the largest butter bits are the size of small peas. (Or use a pastry blender, either way is fine.)
Divide butter-flour mixture into two bowls (each will have a scant 3 cups of crumbs).
Drizzle cold water over first bowl, use a spoon or spatula to mix it into shaggy clumps, then use your hands to quickly, gently knead it together into one ball.
Wrap the dough in plastic wrap, flattening it slightly.
Chill for 1 hour, or until firm.
To second bowl of butter-flour mixture, add sugar and chopped nuts and use your fingertips to pinch them together, mashing up the buttery bits, until a loosely clumped streusel is formed. Set this aside. At this point, you can refrigerate both the crumbs and the dough overnight (and up to 3 days) and finish when you're ready.
Assemble your bars: Preheat oven to 375 degrees F.
Coat an 9×13-inch cake pan with nonstick spray, and line the bottom and two sides with a fitted piece of parchment paper.
On a well-floured counter, unwrap your packet of dough, sprinkle the top generously with flour, and roll dough to a 13 x 17-inch(ish) rectangle.
Gently fold it into quarters and unfold it into your prepared pan. Don't obsess. It doesn't have to be perfect.
Press into the bottom of the pan and 1-inch up the sides, folding the extra dough over the walls and pressing it against the sides to reinforce the edges. Patch any holes that may occur.
Mix together chopped rhubarb, sugar, and pie cherries.
Fill base with fruit and sugar mixture, and sprinkle evenly with crumble topping. It may seem like there's too much of it, but it will settle a bit during baking.
Bake bars for 50 to 60 minutes, covering with foil if it browns before it's done. Bars are done when they're an even golden brown and (this is the most important part) you can see the berry juices bubbling through the crumbs. (Pro tip: This is a test for pie doneness, as well!)
Let cool for 20 minutes on a cooling rack, then use the parchment sheet to lift bars out of pan and cool the rest of the way on the rack.
To serve: Sprinkle with powdered sugar, if you wish, and use a serrated knife to cut into squares (or if a round pan, wedges). Bars keep at room temperature or the fridge, lightly wrapped, for 5 days. They'll last even longer properly sealed in the freezer (but who wants to wait to eat them?)
p.s. If you don't care if the bars are sliced in a tidy manner, I'd recommend digging into this while it's still (very) hot and serving it with dollops of vanilla ice cream. I can't think of anything sweeter than this.
Except, maybe, for Summer. *siiiiigh*

Even in its current, complicated iteration, Summer holds enormous charms, and I am loathe to wish the last week or two of it away. Enjoy every day. Hug your kiddos! Enjoy the rhubarb. They–and it–won't be around forever.
Thank you, gentle reader, for popping in and reading to the very end. You're da best.
*hugs*